| Recipes |
Roasted Chicken with Cabbage, Leek, and Fennel
| September 20, 2022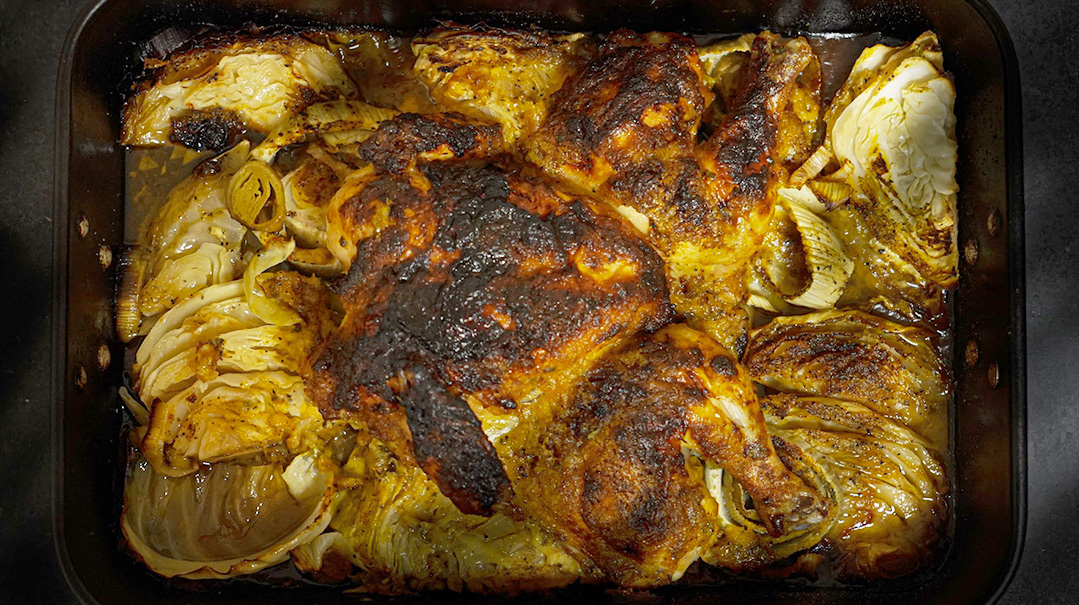 Styling, and photography by Menachem Goodman
This chicken may sound scary, but it's so good. The leek and cabbage not only make a perfect side dish, but are also included in the simanim.
SERVES 6–8
1 leek, sliced thinly
1 head green cabbage, cut in quarters
1 bulb fennel, sliced thinly
1 whole chicken, cut down the spine
½ cup olive oil
Spice Mix
1 Tbsp kosher salt
1 tsp black pepper
2 tsp garlic powder
1 tsp chili powder
1 tsp onion powder
½ tsp dried dill
Honey-Mustard Sauce
¾ cup mayonnaise
¼ cup honey
½ cup fried onions
2 Tbsp yellow mustard
2 tsp dried parsley
Preheat oven to 425°F (220°C).
Arrange the vegetables in a non-disposable 9x13-inch (23x33-cm) baking pan. Place the whole chicken on top. Push the chicken down so the thighs and legs are spread out. Drizzle oil over the chicken and vegetables.
In a small bowl, place all the ingredients for the spice mix. Mix well and sprinkle over the chicken and vegetables.
In another bowl, combine all the sauce ingredients. Smear over the entire chicken.
Bake the chicken uncovered for an hour and a half. Check the internal temperature. If it's 165°F (74°C), remove from oven.
To make in advance, place the chicken in the fridge once cooked. Remove 1–2 hours before serving and allow to come to room temperature. Reheat covered on 350°F (175°C) for 1 hour, or until hot.
(Originally featured in Family Table, Issue 811)
Oops! We could not locate your form.
>