| Washington Wrap |
Rivlin and Biden Close the Circle
| July 6, 2021
Is Biden bargaining with Tehran or engaged in diplomacy theater?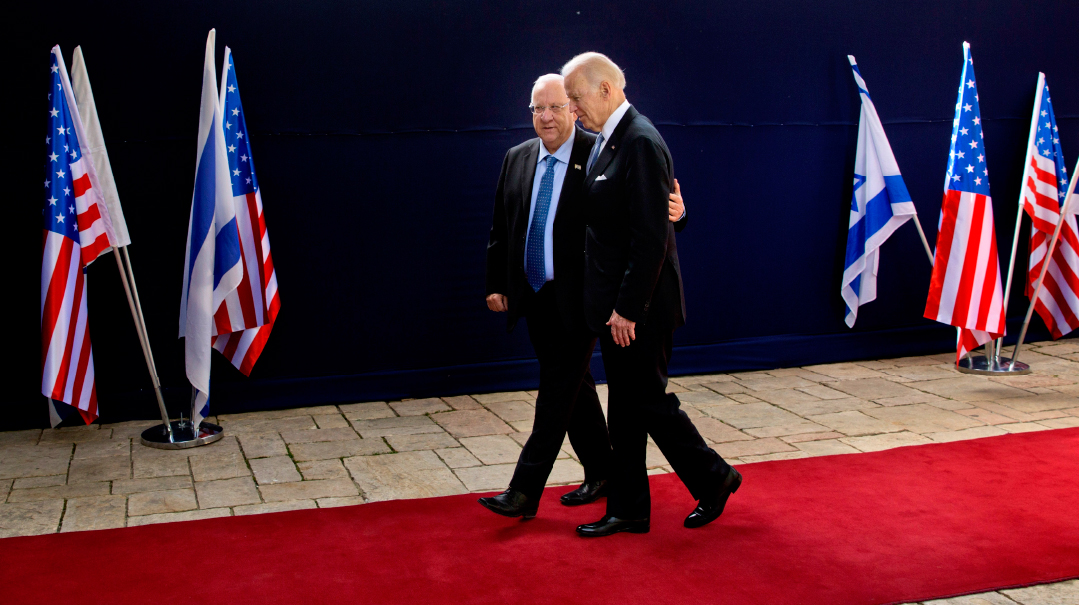 The first time Ruvi Rivlin met Joe Biden was in 1973. Biden was a freshly elected senator from Delaware who had come to see the Holy Land for the first time, and Rivlin, a young official with the Jerusalem municipality, had been appointed to show him around the city. Forty-eight years later, Israel's outgoing president arrived in Washington to close the circle with the new president of the United States.
It was Rivlin's third meeting with a US president over his seven-year term. He met Obama in Washington in 2015, and President Trump in Israel in 2017. This last meeting is Rivlin's political swan song. Rivlin was the third world leader to meet Biden in a White House still subject to severe Covid restrictions. (Journalists had to take an antibodies test and produce a vaccination certificate before being allowed onto the grounds.) As expected, Rivlin was received with great warmth in the Oval Office, as well as in the Capitol Hill office of House Speaker Nancy Pelosi — but these weren't just courtesy calls.
President Rivlin came to the White House meeting with his military secretary, Colonel Ala Abu Rukon. On the American side, the meeting was attended by Deputy Secretary of State Wendy Sherman, National Security Advisor Jake Sullivan, NSC Coordinator for the Middle East and North Africa Brett McGurk, and NSC Director for Israel-Palestine Julie Sawyer.
Before the cameras, Biden pledged never to allow Iran to obtain a nuclear weapon. But clearly an important conversation took place behind closed doors. Biden's aides passed in a note after an hour to remind him that the time scheduled for the meeting was up. But the discussion continued, even when a second note was passed in 20 minutes later. The meeting ended up running on for an hour and 40 minutes.
Among other things, the two discussed Iran's credibility, as well its growing rapprochement with the Arab world. Rivlin told Biden that if the Americans intend to pull out of the Middle East, the Iranians will find a way to fill the vacuum. Rivlin also brought up Secretary of State Blinken's promise to reach a "longer and stronger" Iran deal, observing that if America wants to reach such an agreement, then Biden should meet new Israeli prime minister Naftali Bennett as soon as possible. It was on this background that the White House announced its intention to host Bennett in the near future.
Rivlin said later he thought going in that the Americans were determined to pursue a diplomatic solution with Tehran. He tried to pour cold water on their hopes, reminding them of the nuclear archives Israel uncovered in 2018. They have no problem with not telling the truth, he said. When he left the meeting, he signaled that the Americans wouldn't rush blindly into a deal.
"Things are far from settled," he told reporters.
Rivlin felt that among other things, IDF chief of staff Aviv Kochavi's visit to Washington two weeks ago had made a strong impression.
The Palestinian issue also came up during the conversation, with Rivlin showing Biden a recent survey that found only 27 percent of Palestinians supporting Abu Mazen, compared to 59 percent who support Hamas. He added that in this climate, the two-state solution is irrelevant. Rivlin also raised the issue of precision-guided weapons, telling Biden that the more cutting-edge weaponry Israel has, the fewer civilian casualties there will be in the next round of fighting.
(Originally featured in Mishpacha, Issue 868)
Oops! We could not locate your form.
>