| Jr. Feature |
Ride the Train Underground | October 28, 2020
Mass transit in general and some of the unusual things that can be seen on any ordinary day, from Lower Manhattan to the high Himalayas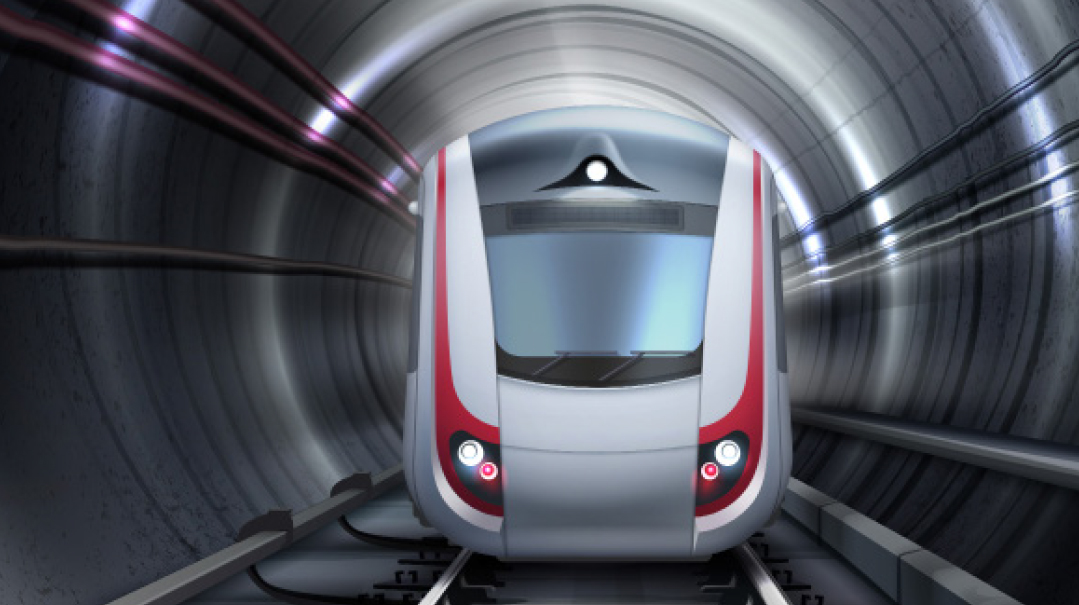 New York's Secret Subway Station
Almost nobody knows about the No. 6 train that runs to the historic City Hall station in Lower Manhattan. The station's there, but you can't get off, as the train makes its loop back uptown. You can, however, view its beautiful arched ceilings and ceramic tile walls from inside the train. It's on the subway map, but not on the signs directing riders to the different trains. Weird. And hands over ears… scre-e-e-echy.
City Hall station was designed by architects of the City Beautiful movement in the late 1800s, who believed that if you made the city beautiful it would influence city dwellers to behave more beautifully.
Several times a year, the New York Transit Museum conducts a tour of the station (they do birthday parties, too). When the city's first subway ride departed from here in 1904, 150,000 people showed up. The station was closed in 1945 because it's only big enough for five-car trains, and since then the system uses ten-car trains.
Of course, that's not the only station worth a look-see. Like under the New Yorker Hotel at Eighth Avenue and 34th Street, by Penn Station.
Through the basement, on the other side of a sealed door, is a tunnel filled with antique chairs and carpets, and zippy Art Deco tiling. The tunnel runs underneath 34th Street in a zigzag that leads to a brass door that would open onto the E line, if the MTA hadn't blocked it off in the 1960s.
But you can see the collection of choice objects from the hotel's glitzy past, on display in the lobby, where old-time big band music plays again.
Subway Art, Not Graffiti
Wavewall is a more recently created landmark. The West 8th Street/New York Aquarium subway station's colorful addition is the work of Vito Acconci, part of the MTA Arts for Transit program, and was added in 2005. His design is wavy, like the waves in the aquarium. Get it?
Another of the 450 stations in the Arts for Transit program is called "Life Underground," which features 130 bronze sculptures at the 14th Street/Eighth Avenue station. There's an alligator slithering out of a manhole cover, an elephant, and various creatures clutching their subway tokens.
It was finished in the 1990s, but artist Tom Otterness just couldn't stop, and kept going until 2004. "I just got so excited I donated more and more work to the system, and in my view, nothing didn't fit, everything seemed to have a place," he told the New York Daily News.
Sometimes the best secrets are in plain view, but people just don't notice. For instance, the aerial tramway that connects Manhattan to Roosevelt Island, running 250 feet above the East River. For years, it was the only such aerial tramway for commuters in the US. Now there's another one in Portland, Oregon.
Ups and Downs from Dubuque to Darjeeling
It's hard to compete with giant New York City for unusual transit sights, but tiny Morgantown, West Virginia (population: 30,955) does a pretty good job.
The advantage of cars over mass transit is that you can get into your car and go wherever you want when you want. But cars are expensive. On the other hand, traveling by bus or train, you have to go on their schedule. And you can't always pick who sits next to you.
Morgantown Personal Rapid Transit system gives you the best of both. Press a button anytime and the automated train will come and pick you up and take you where you want to go. And it carries just a few people at a time, like a car. But the PRT also has regularly scheduled stops, like a mass transit system.
The PRT's 71 electronically powered, rubber-tired cars travel on an 8.7-mile (14-km) route connecting downtown with the West Virginia University campus. The website says it's provided 83 million passenger trips without a single injury. Not as exciting as the MTA, but you can't have everything….
If you're going west, young man (or woman), by the time you reach Dubuque, Iowa, you might want to stop and rest. But to sightsee at the top of Dubuque, at historic Fenelon Place, means climbing a steep hill. Too tired? No problem. The Fenelon Place Elevator, "the world's shortest, steepest railroad," will take you up the 296-foot incline and back down.
Hills and mountains are a challenge everywhere. Britain's Lynton & Lynmouth Cliff Railway has been going up and down — from Lynton to Lynmouth and from Lynmouth to Lynton since 1890. It claims the title of the highest and steepest water-powered cliff railway in the world.
Lest you worry that something might break down on this ancient carrier, rest assured that the railway is upgrading all the time. (Pardon the pun!) On January 13, 2020, a new, three-ton wheel cover was put over the original wheel, and tests were done with X-rays and ultrasound to make sure the system was in good shape.
Taking a zigzag path makes climbing hills by foot or bicycle easier. Which is also why some railways use a zigzag track to scale heights. The most famous of these is India's Darjeeling Himalayan Railway (DHR), also known as the Toy Train, because it's real small, running on a two-feet (60-cm) wide track. (The US standard is 4 ft, 8.5 inches wide.)
Six zigzags and five loops enable the diesel-powered locomotive to pull the train from 328 feet above sea level in New Jalpaiguri to 7,218 feet high at Darjeeling.
As a UNESCO World Heritage Site, the DHR is entitled to special protection.
Cities without Subways
Not every city has mass transit, or wants it. In the US, there are five cities with populations over 100,000 that don't.
Cape Coral, Florida. The city of 183,000 was built on swampland, and has 400 miles of canals, more than Venice, Italy, which is world-famous for its canals. The others are: Broken Arrow, Oklahoma; Olathe, Kansas; Port. St. Lucie, Florida; and Arlington, Texas.
In Venice, an old city, getting around is by foot or by water. You can take a touristy gondola, or a motorized waterbus. That's the only concession to modern urban transportation. Venice is Europe's largest car-free city.
What happens if you fall into one of the canals? It's a frequently asked question. The canals double as a sewer system, and the dirty water is supposed to be kept separate from the clean water, but who knows?
It happened to travel writer Kelly Memphis in 2018, when she slipped on a walkway and fell in. She says she had "a bruised arm and a bruised ego," but that's all.
Venice depends on tourism, so it makes a point of keeping the canals as clean as possible. The canal water isn't clean enough for drinking, but if you fall in you probably won't die from it.
Subway Maps for Cities without Subways
Austin, the capital of Texas, has a bus system for its population of 978,908, but no subway. It does, however, have subway maps!
Not just to make it easier getting around the city in your mind, but it was sort of like that at first. An eighth-grader named Ivan Specht dreamt up and drew a map of Austin as a Father's Day present in 2014.
"Ever since I was about five, I have been fascinated by mass transit systems, especially that of New York City, which is where I now live," Ivan told business magazine Fast Company. "[My Dad] really liked the gift."
Since then, Ivan Specht has made subway maps for at least ten more cities that have no subways, including San Antonio, Texas and New Orleans, Louisiana.
Specht's subway didn't reach its last stop in his mind, though. In January 2020, Austin city officials (somewhere past eighth grade, but you never know) published their own maps for a proposed subway system. The project will cost $3.2–$10.2 billion, depending on how big a system gets chosen. Choosing should be done this year.
How far can these imaginary railways go? Well, anywhere. Flint, Michigan; Roanoke, Virginia; and eastern New York State are on the list. There's one for the Bering Strait to connect the US and Canada with Russia and China.
One imaginative fellow made a subway map to connect Billings and Bozeman in Montana, and hopes to extend it to the rest of the planet.
The prize for most unusual — and least practical — goes to Ali Carr, who created a map of the London Underground based on shared words! For example, stations with "Heathrow" in their name are shown with rail links, as are stations with an ampersand (&) in their name (there are six of those).
If you get on at Elephant & Castle, you can ride straight through Harrow & Wealdstone to Totteridge & Whetstone, without wasting time at any non-ampersand stops. In the same spirit, the West Acton line is the best way to get to West Brompton, West Finchley, West Ham, West Hampstead, West Harrow, and West Hounslow. Same for stations with East in their name. Well, you get the idea… Amazingly, the map looks no more complicated and rather less confusing than real subway maps.
Maybe you can think of your own fantasy subway map? Write in and let us know.
Beautiful Downtown Moscow?
The concept of the "beautiful city" isn't only in America.
Cold, dreary Moscow has a surprise for you. The Moscow Metro has been called "the most beautiful museum in Moscow," full of dazzling artwork with scenes from Russian history, marble walls, crystal chandeliers. Like walking through a royal palace on the way to work.
It's not just pretty, either. It works. The system serves about nine million people a day, and the on-time rate is 99.9% (says the Metro).
One part of the system you don't get to see is Metro 2, rumored to be a vast, secret underground that the communist dictator Joseph Stalin began building before World War II that still has tunnels connecting to the Kremlin, with bunkers and command centers in case of war. It's not just rumor, though. A US Department of Defense report written in 1991 said it exists.
Stockholm, Taiwan, Paris, and New York's own Grand Central Station are also famed for their good looks. Dubai tried to outdo them all with its gigantic chandeliers shaped like jellyfish glowing blue. The Atocha station in Madrid, Spain, is festooned with tropical gardens to make you forget where you are. And the Bund Sightseeing Tunnel in Shanghai is especially for tourists, including audio-visual effects.
The Bamboo Train
From the grand to the makeshift: The Cambodian norry, also known as the "bamboo train," as Smithsonian describes it: "a breadbox-size motor on top of a bed-size bamboo platform on top of two independent sets of metal wheels — all held together by gravity. It's built from bamboo, old tank parts and motors ripped from broken motorbikes, rice harvesters and tractors. To accelerate, the driver slides the motor backward, using a stick as a lever, to create enough tension in the rubber belt to rotate the rear axle."
As it clackety-clacks through the countryside, you have to hold on (look Mom, no walls!) and watch out for wild shrubs on the roadside liable to smack you in the face. Gaps in the tracks slow down the norry, while the driver realigns things.
The single track poses a singular problem: What to do when a norry stacked high with wood comes from the opposite direction on the same track? The crew with the heavier load helps to take apart the lighter one (passengers are asked to help) and, after passing it, reassemble it on the track.
If all this sounds inconvenient, just remember, the fare is less than 75 cents. So don't complain. This is Battambang, not Paris. And don't expect UNESCO Heritage artwork for sightseeing; expect cows and chickens grazing alongside, and sometimes on the tracks.
Okay, last stop, this ride's over. Everybody off. Watch your step.
Fun Facts
The word "metro" comes from "Paris Metropolitan."
It is illegal to eat, drink, or smoke on the Washington (D.C.) Metro because of the cost of cleaning the carpet. Yup, the Carpet!
Only four cities in Africa currently have metro lines: Casablanca (Morocco), Cairo (Egypt), Algiers (Algeria), and Tunis (Tunisia).
(Originally featured in Mishpacha Jr., Issue 833)
Oops! We could not locate your form.
>