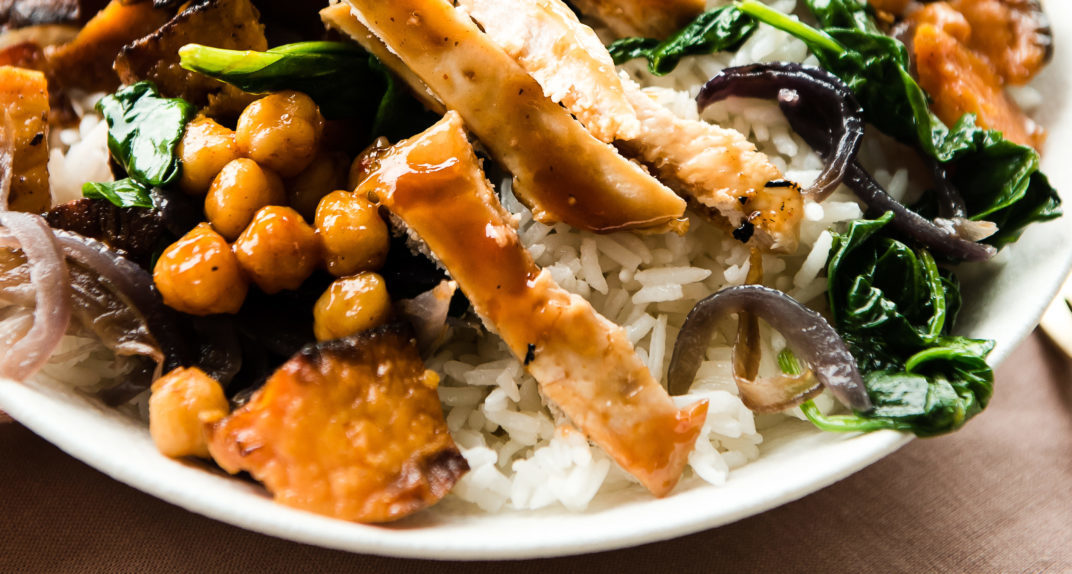 Styling and photography by Sina Mizrahi
Rice Bowl
Dinner in a bowl provides you with a perfectly well-rounded meal. This recipe gives you a protein, vegetable, and starch, beautifully presented, all in one bowl.
Serves 4
5 Tbsp canola oil, divided
1 5-oz (140-g) pkg baby spinach leaves
sea salt, to taste
2 medium red onions, sliced
2–3 small sweet potatoes, peeled and sliced
¼ tsp cayenne pepper
2–3 Tbsp pure maple syrup
1 12-oz (340-g) container cooked chickpeas
1 lb (450 g) thin chicken cutlets
1–2 Tbsp olive oil
kosher salt, to taste
black pepper, to taste
chili powder, to taste
1 cup basmati rice, prepared according to pkg instructions
Maple Barbecue Sauce
¼ cup barbecue sauce
2 Tbsp pure maple syrup
2 Tbsp lime juice
Heat 1 Tbsp oil in a large skillet over medium heat. Add spinach and a pinch of salt and cook, tossing until wilted, about 1 minute. Transfer greens to a paper-towel-lined 9x13-inch (20x30-cm) pan.
Return skillet to heat. Add 3 Tbsp oil to pan. Add sliced onions and cook, stirring frequently, for 8–15 minutes. Sprinkle with salt and pepper. Using a slotted spoon, transfer the onions to the paper-towel-lined pan, keeping them separate from the spinach.
Add 1 Tbsp oil to pan. Slice the sweet potatoes in half lengthwise and then into quarters. Slice each quarter into ¼-inch (½-cm) slices. Add cayenne pepper to the skillet and return to heat. Add additional salt. Spread sweet potatoes in a single layer and cook for 2–3 minutes. Flip over and cook an additional 3–4 minutes (check for doneness by piercing with a fork). Add the maple syrup and cook an additional 2 minutes. Transfer sweet potatoes to the paper-towel-lined pan, keeping them separate from the spinach and onions. Set aside any remaining oil.
Combine maple barbecue sauce ingredients in a small bowl. Set aside.
Preheat oven to high broil. Line two baking sheets with parchment paper and spray with cooking spray.
Spread chickpeas on one sheet and lay chicken cutlets on the other. Season chickpeas and chicken with olive oil, kosher salt, pepper, and chili powder, to taste. Brush chicken with maple barbecue sauce. Drizzle ¼ cup maple barbecue sauce over the chickpeas and toss. Place both pans in the oven and broil for 3 minutes. Remove pans from oven. Toss chickpeas [return to oven?] and turn chicken over. Baste chicken with sauce and broil an additional 3–4 minutes. Slice chicken cutlets into strips.
To assemble the rice bowl: Prepare four bowls. Pour reserved oil over the cooked rice. Arrange rice on the bottom of the bowls. Layer wilted spinach, sautéed red onions, sweet potatoes, chickpeas, and chicken slices decoratively over the rice. Drizzle with remaining maple barbecue dressing.
(Originally featured in FamilyTable, Issue 722)