| Recipes |
"Reuben-Taschen"
| March 8, 2022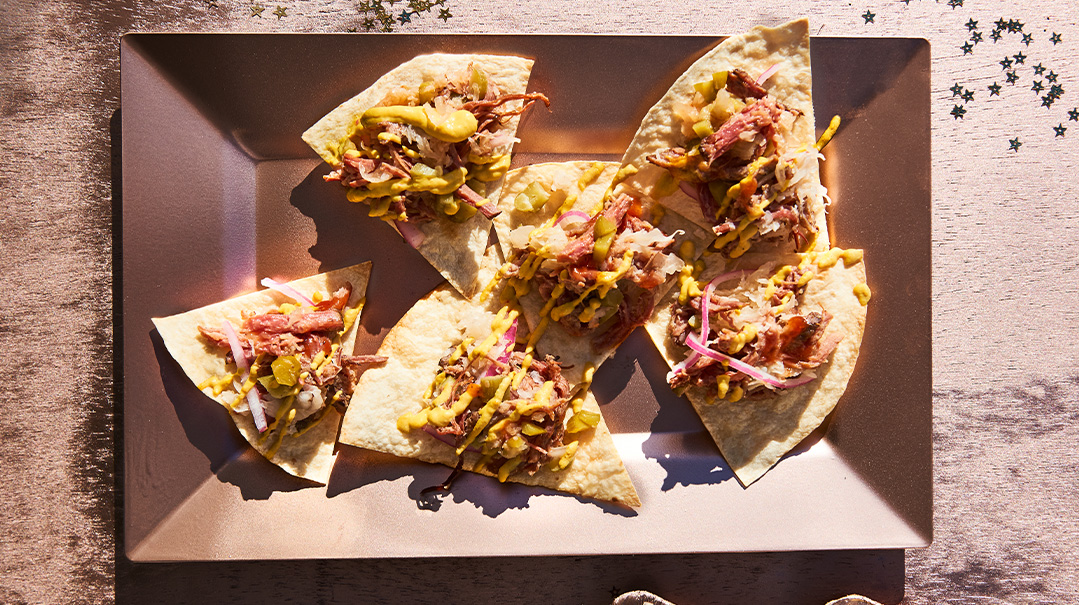 Styling and Photography by Sina Mizrahi
I find Purim to be hit-or-miss with gauging appetites. Either everyone is ravenous and there's no food, or there's a feast for all the villagers, and no one even blinks an eyelash at the spread. These little bites are really versatile. They're perfect as a much-needed snack, or for casual nibbling when you're too full to cut a piece of meat.
Win/win.
YIELDS 30 TRIANGLES
5 flour tortillas, cut into 6 triangles each
olive oil, for brushing
coarse sea salt, for sprinkling
Pastrami Topping
1 2-lb (910-g) navel pastrami roast
⅓ cup sauerkraut, liquid drained
1 small red onion, sliced into semicircles
10 Israeli pickles, chopped
yellow mustard, for drizzling
Dressing
¼ cup ketchup
3 Tbsp honey
1 Tbsp balsamic vinegar
1 Tbsp fish-free Worcestershire sauce
2 Tbsp vegetable oil
1 Tbsp lemon juice
salt and pepper, to taste
Preheat oven to 400°F (200°C).
Arrange triangles on a baking sheet and, using a pastry brush, brush each piece with olive oil. Sprinkle with coarse sea salt. Bake for 10–12 minutes. Allow to rest on the baking sheet for 5 minutes before removing.
To prepare the topping: Place the pastrami roast into a Crock-Pot and cook overnight, or put it in a pan filled with water and bake at 225°F (105°C) overnight. Remove from the vacuum seal and shred.
Combine dressing ingredients in a small bowl. Mix pastrami with sauerkraut, onion, pickles, and dressing.
To serve: Arrange a scoop of the pastrami mixture on each triangle. Drizzle with yellow mustard.
(Originally featured in Family Table, Issue 784)
Oops! We could not locate your form.
>