| Recipes |
Red Wine Minute Steak Roast
| March 14, 2023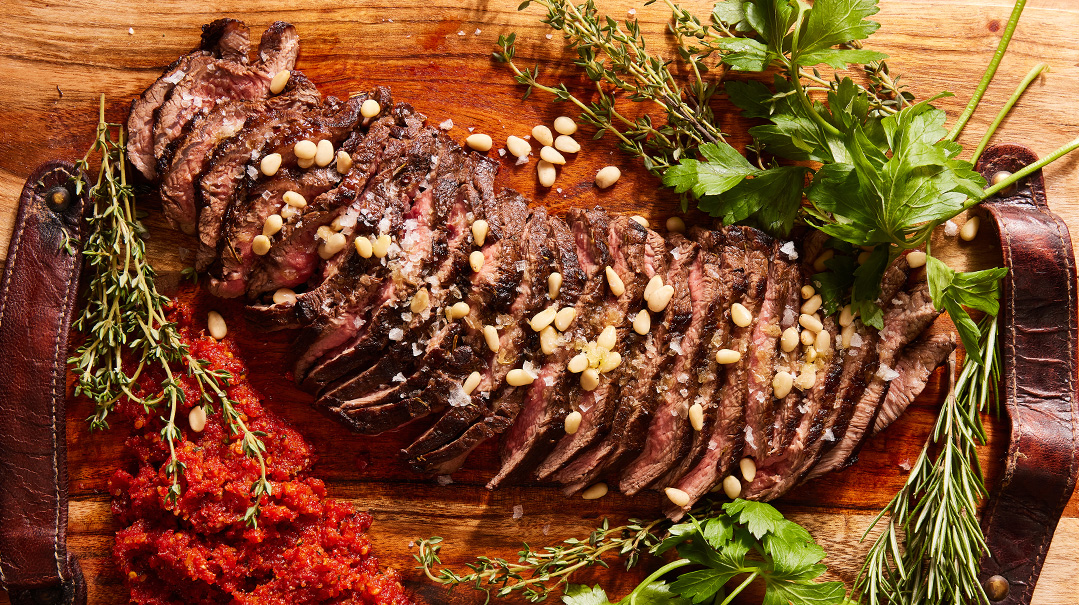 This dry red wine and herb marinade may have you thinking, Not my taste. May I be so bold as to say be brave and try this recipe? The alcohol bakes out and leaves you with a depth of flavor that cannot be duplicated.
SERVES 4–6
2–2½-lb (1–1.13-kg) split minute steak roast (see note)
Marinade
2 cups dry red wine
2 cloves garlic, crushed, or 1 tsp garlic powder
2 tsp dried rosemary
2 tsp dried thyme
½ tsp oregano
½ small white onion, diced
1 tsp Tuscanini Lemon Juice
kosher salt and black pepper, to taste
toasted pine nuts, optional, for garnish
Sun-dried Tomato Pesto
Chef Suzie Gornish
8 oz (225 g) sun-dried tomatoes
¼ cup olive oil
¼ cup toasted pine nuts
2 cloves garlic
1 Tbsp chopped fresh parsley
1 tsp kosher salt
Combine marinade ingredients in a large ziplock bag. Add the split minute steak roast. Seal and marinate overnight. (This step will tenderize the meat and should not be omitted if possible.)
Around an hour before you're going to cook it, remove the meat from the fridge and allow it to come to room temperature.
Preheat oven to high broil. Remove roast from marinade and broil about 5 minutes per side.
Remove meat from oven. Allow meat to rest 10 minutes to retain its juices, then slice against the grain.
For the sun-dried tomato pesto, combine all ingredients in a food processor and process until smooth. Serve alongside minute steak roast.
Note
Ask your butcher to remove the vein from your minute steak roast.
(Originally featured in Family Table, Issue 835)
Oops! We could not locate your form.
>