| Communities |
Record-Breaking Challah Bake | October 28, 2015
In preparation for the Shabbos Project, 2,000 New York women join together to bake a record-breaking-ly long challah, sharing the beauty of Shabbos with all of Hashem's children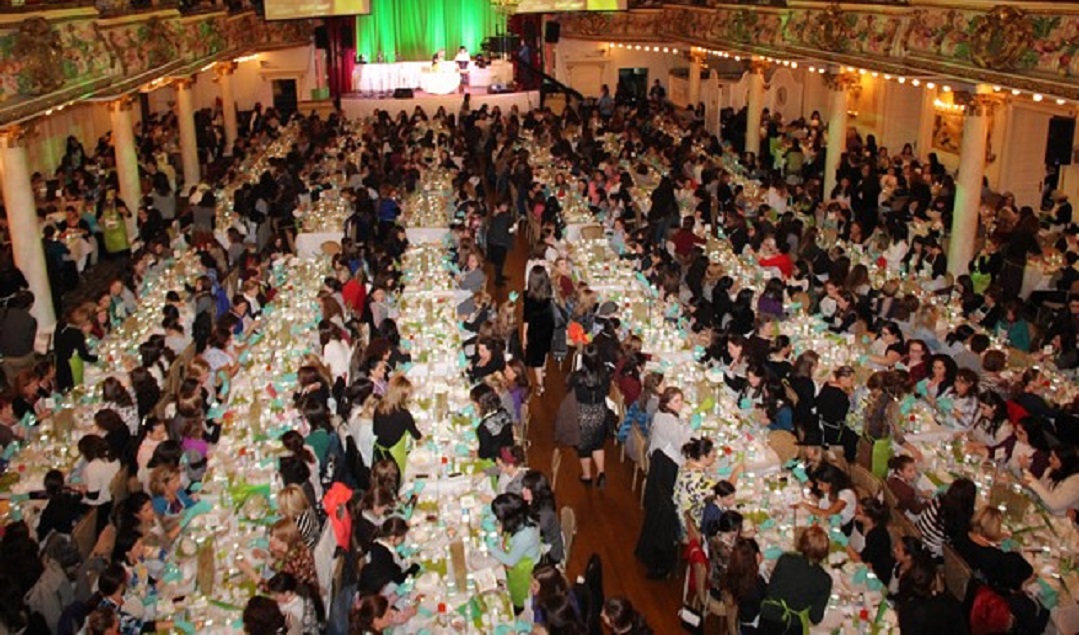 T
here are certain moments when we find ourselves marveling at the incredible lives we live as Jews. As the high dies down from the incredible Great Challah Bake, a prelude to the revolutionary Shabbos Project, we find ourselves experiencing such a moment.
Wednesday evening, October 21, the Grand Prospect Hall was set up to accommodate over 2,000 women, 2,000 challah doughs, and one record-breakingly long challah.
With the catchy slogan "We Knead You!" the Shabbos Project committee invited all Jewish women of Brooklyn and the surrounding areas to a history-making communal challah baking event. The event was spearheaded by the tireless efforts of Mrs. Chani Mandel of Project Inspire. Mrs. Mandel, who is actively involved with outreach, attending Project Inspire Shabbatons and accompanying the JWRP trips of unaffiliated Brooklyn mothers touring Israel for the first time, has been working for months to pull off last week's incredible event.
Her enormous shopping list consisted of 180 dozen eggs, 525 5-lb bags of flour, 75 5-lb bags of sugar, 65 gallons oil, 42 containers salt, 200 cans of spray oil, 21 1-lb bags yeast, 4,200 oval aluminum pans, 2,200 8-oz water bottles, and 2,100 sports water bottles! She also had to organize minute details ranging from poppy and sesame seed packaging, and bigger efforts like going down to Be'er Hagolah and visiting each classroom with token bilkelach, as she invited the girls to the event. "It has just been an incredible, eye-opening journey of achdus," Mrs. Mandel says.
She laughs as she relates a mishap that occurred just a week before the event. "We were measuring out 2,000 portions of flour," she said, "and we found ourselves extremely shorthanded. The seminary girls who were supposed to help never showed up! So I called a friend of mine. Next thing I know, her entire block shows up! There were 5-year-old boys standing next to 50-year-old women and measuring out flour! It was incredible, not to mention really funny… but at least the flour got measured!"

With the help of Mrs. Mandel and her crew, the Great Challah Bake set out to look like, well, the greatest thing since sliced bread! Imagine 2,000 Jewish women — frum, unaffiliated, less affiliated, and in between — joined together in one room to perform the age-old ritual of baking challah for Shabbos. It brings to mind Sarah Imeinu and the crowds of women she drew to her, or Rivkah Imeinu and the smell of fresh challah that permeated her home all week long.
Reservations for the Great Challah Bake were required, as each table was personally assigned a diverse mix of women, so that everyone would have a chance to meet people outside of their normal bubbles. Each table was also designated a "challah coach." The coach, chosen for her personable and friendly disposition, did her best to create a sense of family at her table and assist with logistics such as braiding and measuring. She also had the opportunity to start the ball rolling by setting up learning partners or Shabbos guests between the women right in front of her — creating connections that will potentially transform, and may have already changed, lives.
Shimi Adar, an incredible Zumba dance teacher and the director of Girl Zone, emceed the event with her usual dynamic personality and positive energy. Mrs. Chanie Juravel spoke about the reason behind the mitzvah of baking challah for Shabbos, its power, and its connection to women. It is taught that when a woman bakes challah and makes the brachah on the dough, she is bringing blessing and goodness into her home and into the bread that she baked for her family and loved ones.
A choir, led by the wonderfully talented Malky Giniger, sang a meaningful song about unity. Once the doughs rose, Chanalee Fischer, owner of The Challah Fairy café in New City, NY, guided the 2,000 women in the art of braiding challos while explaining the significance of this action. She also instructed the women what to do with their challos once they got home. Each participating woman left with her two challos and a "swag bag" filled with items she could use to create Shabbos in her own home, such as cards with the brachos for challah and Shabbos candles, as well as a list of the event's sponsors, including Amazing Savings and Glatt Mart.
Last but not least, before leaving this exhilarating, uplifting, and historical event, each woman donated one piece of her dough to help create a Guinness World Record breakingly large challah! With 2,000 doughs, one piece goes a long way.…
The idea to break the record for the World's Biggest Challah was the brainchild of Rabbi Yaakov Giniger of Project Inspire. He wanted it to be a true "Challah of Unity" consisting of over 2,000 women's dough contributions… and it was. In order to beat the record for the Guinness Book of World Records' largest braided bread, the challah had to reach 20 feet.
On the night of the challah bake, a Guinness official flew out to oversee the event. Eli Berman of Strauss Bakeries, along with his team, supplied and braided the gigantic dough. They were busy weeks before testing two different versions of the dough, an egg challah and a water challah recipe, to make sure it would be tasty and fresh enough to serve at a communal dinner held in Brooklyn for the Shabbos Project.
After searching the city high and low for an oven big enough for such a bread, a contact at the OU who certifies a pita factory manufacturing 11,000 pitas and flatbreads an hour came through. The owner of Damascus Pita is an Arab Christian American who offered his industrial-sized oven free of charge because he thinks the Shabbos Project is "so cool"! Damascus even reengineered their oven to fit the behemoth challah.
As the challah emerged on the oven's conveyor belt, several workers maneuvered it onto an awaiting flatbed truck, which transported it through the city, speakers blaring, to announce to New York that "the Shabbos Project is coming!" The Orthodox Union was also on hand during the event as mashgichim, making sure that everything is as it should be. It was their vital part in the achdus of the Shabbos Project.
In the two short hours of the Great Challah Bake, participants took part in a project much larger than themselves, much larger than their own lives, and much larger than their insulated communities. As they measured, kneaded, and braided, they reminded themselves and their tablemates, as well as the Ribbono shel Olam, that we are all looking out for one another, regardless of labels and sects.
After all, we're "keeping it together."
(Originally featured in Family First Issue 464)
Oops! We could not locate your form.
>