| For the Record |
Rav Leizer Yudel's Stamps and Letterheads
| October 19, 2021
The interwar period was marked by constant traveling on behalf of the yeshivah, which necessitated stamps in no less than four languages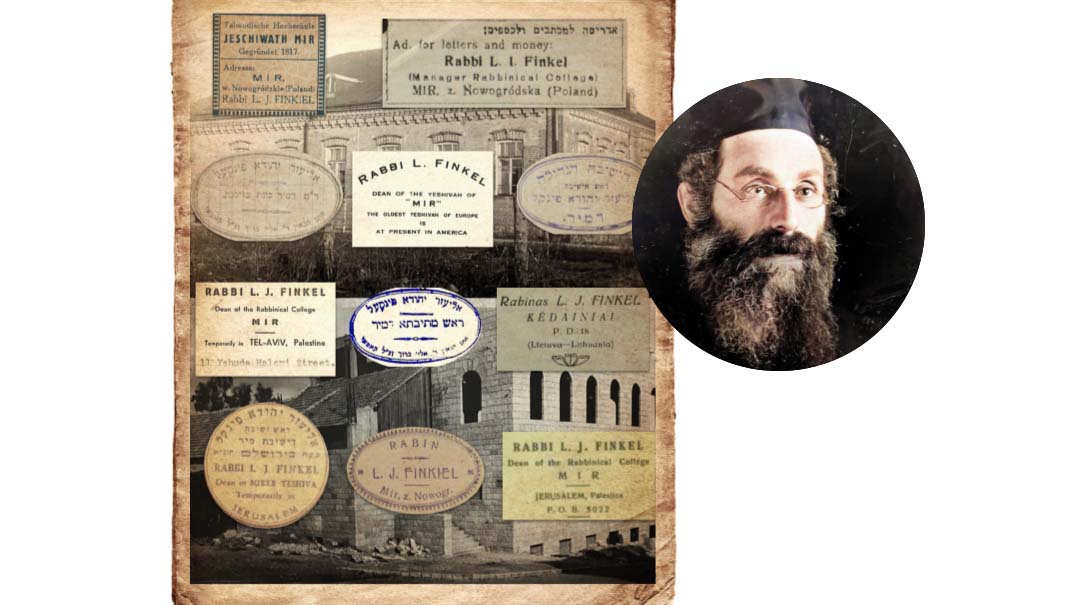 Title: Rav Leizer Yudel's Stamps and Letterheads
Location: Europe and Israel
Document: Collection of stamps and letterheads used by Rav Eliezer Yehuda Finkel
Time: 1917-1965
For most yeshivos in the Russian Empire, the 19th century was a period of relative stability. The Mir yeshivah, nestled in a small shtetl in the Minsk district, was one of the oldest in the region. Nurtured by generations of the Tiktinsky family, it grew in both numbers and prestige during the half-century tenure of Rav Chaim Leib Tiktinsky. Shortly after the turn of the century, Rav Elya Baruch Kamai was appointed rosh yeshivah. A fire ravaged the yeshivah building in 1911, and a young son-in-law of Rav Elya Baruch named Rav Eliezer Yehuda Finkel took the initiative to fundraise and administer the rebuilding project. Completed in 1912, the impressive brick edifice expressed the hope of continued stability.
In August 1914 illusions of tranquility were shattered with the outbreak of World War I. As the war raged across Europe, the refugee Mir yeshivah went into exile, ultimately finding temporary refuge in Poltava, Ukraine. Upon the passing of Rav Elya Baruch Kamai, his son-in-law Rav Eliezer Yehuda Finkel ascended to the yeshivah's helm (his son Rav Avraham Tzvi Kamai would inherit the Mir rabbinate). Confronting famine and pogroms amid the horrors of two world wars, his years of leadership were marked by wanderings, fundraising, and relentless rebuilding.
As a result, Rav Leizer Yudel presided over the yeshivah in a multitude of locations. First stop after World War I was Vilna, prior to returning home to Mir, Poland. The interwar period was marked by constant traveling on behalf of the yeshivah, which necessitated stamps in no less than four languages — Hebrew, English, Polish and German. At the onset of World War II, the yeshivah once again went to Vilna and then spent several months in Keidan, Lithuania. Rav Leizer Yudel himself arrived in 1941 in Eretz Yisrael, then called Palestine, and established a temporary base in Tel Aviv and then Jerusalem. Was it the decades of instability that led him to add "temporarily" to the Yerushalayim location? That temporary location seems to be more permanent than ever!
Rav Leizer Yudel's letters themselves were unique in that many of those sent to the United States were written in a beautiful English cursive. While Rav Leizer Yudel himself was not proficient in the language, his daughter Chana Miriam (later Rebbetzin Shmuelevitz) was taught the language in Warsaw as a teenager. This skill came in handy again during the war years, when English was often the language used in Shanghai's international settlement.
Not Just the Mir
Rav Leizer Yudel's quest to build Torah was not limited to the Mir yeshivah. Rav Yitzchok Scheiner related that Kamenitz Yeshivah was struggling during its early years in Yerushalayim. Rav Leizer Yudel found out and began sending funds on a monthly basis. He was also instrumental in assisting in various other yeshivos' rebuilding efforts after the war, at a time when the Mir yeshivah itself was struggling.
A similar story was told by Rav Dov Berish Weidenfeld, the Tshebiner Rav. Shortly after he settled in Israel, Rav Leizer Yudel appealed to the roshei yeshivah of Yeshivah Chayei Olam to appoint the Tshebiner Rav as the nasi of their institutions. They replied that they had already planned to do so, but the yeshivah lacked adequate funds and they wouldn't dare approach him without offering a respectable salary. Rav Leizer Yudel assured them that he would personally subsidize his salary.
Riding the Train
As a young rosh yeshivah in Poltava, Rav Leizer Yudel risked his life to obtain food and basic necessities for the talmidim. He related that he once had to hide under a pile of suitcases while on a train, hiding from roaming Ukrainian marauders.
(Originally featured in Mishpacha, Issue 882)
Oops! We could not locate your form.
>