| On Site |
Rancid Roots   
| November 15, 2022
   

A Long Island town's Nazi past is finally exposed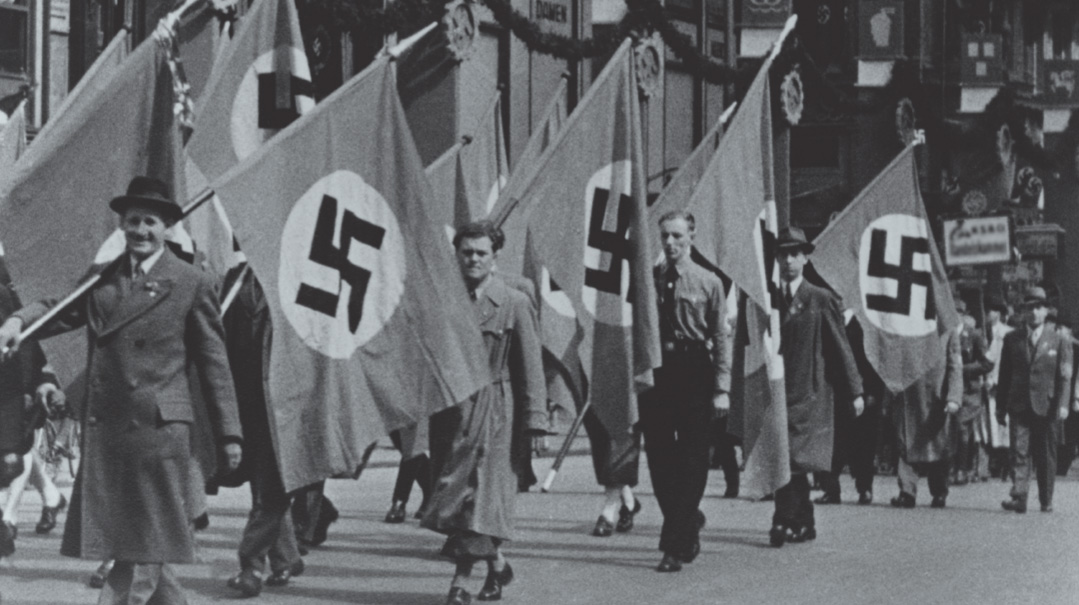 IN
1999, when newly-married Philip Kneer and Patricia Flynn heard from German-American relatives about an available house in a small Suffolk County community called German Gardens in Yaphank, New York, it seemed like they were moving to a model locality. While they thought it strange when a member of the homeowner association of German Gardens probed their ethnicity and even went to visit Patricia's mother, who was listed as a reference, it was a pleasant, well-kept neighborhood — and besides, where else would they find a house on Long Island for $70,000?
Once they'd moved in, however the American-born Kneers (whose parents had come from Germany) were surprised to see that the complex was so overtly German that the local grocery store even stocked German-language newspapers. Were there any "regular" Americans here, not to mention Jews, blacks and other minorities?
What they didn't know is that in becoming homeowners in German Gardens, they would find themselves entrenched in a community with a checkered past and dubious present. When they finally decided to move out after the birth of their second child in 2006, it was easier said than done, because the bylaws of German Gardens left them unable to advertise their house to the public on the open market. Even a "For Sale" sign was prohibited.
Although it would take another ten years and a lawsuit to extricate themselves, in so doing the Kneers would break open the long-kept secret of the town, and make an indelible mark on the face of housing legislation in the State of New York.
With its retro-feel homes, manicured lawns, hammocks and lawn chairs in the yards, German Gardens looks like an attractive, homey, pastoral community, a throwback to quieter, less complicated times. But all that belies the existence of a historic stain on this place, which for years was an active Nazi enclave. The little-known story of German Gardens and its adjoining former Camp Siegfried provide an eerie glimpse of the stark reality of Nazism in the US in the prewar years.
Until the 1920s, Yaphank was just another hamlet in the middle of Long Island, with its surrounding farms, central grocery store, train station, barber shop, and a few bars.
The influx of up to 450,000 German citizens to the US between the two world wars created fertile ground for a German immigrant named Fritz Gissibl to establish a branch of the Nazi Party in Chicago. The ideas he espoused — a combination of Nazi ideology and American patriotism (laced with anti-Semitism) — appealed to many of his landsleit, and to many Americans as well. Ku Klux Klan supporters also found an ideological ally and partner in the new movement, originally called the Free Society of Teutonia. (For the record, the pro-Nazi stance before World War II was not focused on creating an active military alliance with Germany, but rather on keeping the US out of war in Europe.)
The 1930s was a time of great political fluidity, with millions of dissatisfied souls turning to the left and the right. Within a short time, Gissibl's movement had spread far beyond Chicago, with branches in cities throughout the United States, including Detroit, Newark and New York. Although at least half its members were affiliated with what was then called the "Adolf Hitler Party," American government agencies weren't overly concerned. Gissibl himself never hid his admiration for Hitler. In 1932, he even changed the name of his organization to "Friends of the Hitler Movement," and four years later, he returned to Germany and was given a senior post in the Nazi Party's propaganda organization. At that time, the movement changed its name again, to the German American Federation, or Bund.
At that time, a decade or more before the outbreak of World War II, American patriotism and German Nazism could exist side by side without creating a moral dilemma. In fact, in 1937, the bylaws of the Bund affirmed that its goals were to "uphold and defend the Constitution and laws of the United States," and "remain worthy of our Germanic blood, our German motherland, our German brothers and sisters."
"With mainstream strands of anti-Semitism, popularity of the Ku Klux Klan and worsening economic conditions in the Great Depression, German-American ultra-nationalism provided a voice for thousands in America," wrote Professor Ryan Shaffer in a 2010 article entitled "Long Island Nazis: A Local Synthesis of Transnational Politics."
German Gardens was actually something of an afterthought, because it started as an appendage to Camp Siegfried, a youth camp in Siegfried Park in Yaphank.
At first glance, it appears to have been a typical camp of its times. Sports and hikes and picnics were all part of the wholesome rigueur de jour. But Camp Siegfried, founded in 1935, was actually far closer to the camps you'd expect to find in the countryside outside Berlin or Munich than in a sleepy hamlet in New York State. Its sponsor, the Bund, would not have tried to deny that either. Its expressed (but not publicized) goal was to indoctrinate children and youth of German descent in the glory of their heritage. Boys were to be trained as leaders of the Aryan-dominated American nation they foresaw as their future, and girls were taught to make motherhood of a large Aryan family their goal.
And before long, there were adults coming too. For German-Americans, Camp Siegfried provided an elite country club where they could celebrate their German roots and swear their allegiance to the Fuhrer. By the late 1930s, the camp was so popular that the Long Island Rail Road ran a daily Camp Siegfried Special from Penn Station to Yaphank, where uniformed marchers greeted guests with salutes and Nazi songs. And in the summer of 1938, over 40,000 people came from all over the New York area to celebrate German Day festivities in the camp.
Not surprisingly, the townspeople of Yaphank weren't too happy with the onslaught of visitors, who were loud and rowdy and trampled on their lawns. But they were afraid of their powerful presence and were anyway unfamiliar with the goings-on of the camp. It was private property and there were warnings to stay away.
Not long after Camp Siegfried started, the Bund-sponsored German American Settlement League bought an adjacent piece of land for a housing complex so that people of German descent could actually live all year round in an elitist all-German dorf. "You will meet people who think like you," read its fliers. And the main street, which ran the entire length of the town, was even called Adolf Hitler Strasse.
The enclave of simple bungalows, known as German Gardens, shared the same ethos of Camp Siegfried, and it's likely that some of its residents were personnel in the camp.
While some people suspect that the freedom of pro-Nazi policies indicated an underhanded pro-Nazi agenda in the upper echelons of US government, it's a little more nuanced than that.
"It was not illegal for an American citizen to sympathize with Hitler," Dr. Rafael Medoff, Holocaust historian, author of several books relating to the Holocaust and US policy, and professor at Yeshiva University, told Mishpacha. "Remember that the Roosevelt administration maintained friendly relations with Nazi Germany from 1933 right up until the US entered the war in December 1941. And even then, German-Americans were never looked upon the same was as Japanese Americans — President Roosevelt put 130,000 Japanese-Americans in detention camps but never considered taking similar action against German-Americans."
AS "un-American" as the Siegfried Park scenario sounds, it was not unique. Camp Siegfried was one of several camps sponsored by the Bund, an organization that played a major role in the lives of their massive following of Nazi sympathizers in America in the 1930s.
But it all came to an end after the first shots of World War II, when Germany became an official enemy of the West and the FBI opened an investigation into the leaders of the Bund. Fritz Kuhn, who headed the organization, was convicted of fraud and tax evasion and sentenced to four years in prison. After his release, he was arrested again — this time on charges of aiding the enemy during wartime — and deported from the United States.
In 1945, the FBI officially shut down Camp Siegfried and even expropriated the land from the German American Settlement League. But a new chapter was just beginning. With the return of peace, the GASL demanded their property back. It was only a housing development after all — what could be wrong?
There was some wrangling, but within a short time, an arrangement was made through which German Gardens became a type of co-op; the League owned the land and the residents owned the houses. And no one seemed to notice that the GASL never changed the bylaws.
Camp Siegfried is long gone, the local train station stands empty, the swastikas have disappeared, and the street names have been changed. While the neighborhood is still called German Gardens, Adolf Hitler Strasse became Park Street, Goering Strasse became Oak Street and Goebbels Strasse turned into Northside Avenue. But many other things have stayed the same, simmering under the surface — such as the policy of separation and the purity of the Aryan race.
As the Kneers would later realize, houses in German Gardens could only be sold by word-of-mouth so that no "undesirable" house-buyer should be able to move there. When no suitable offers came their way, the couple tried to take a loan on their property to expand it, but the banks refused to lend them money as the League owned their land.
In desperation, the Kneers begged the League to change its bylaws regarding home sales, but their request was declined.
Eventually the Kneers contacted Long Island Housing Services, a nonprofit that handles fair housing cases, who agreed to assist them in securing their release from German Gardens.
The Kneers then upped and left their home without warning, subsequently filing a lawsuit that declared that the League's housing practices were a violation of the Fair Housing Act.
Stunned by news of the lawsuit, their former neighbors were quick to defend the neighborhood.
"Most people don't even know anything about our past," GASL president Robert Kessler told a New York Times reporter when the media got wind of the lawsuit in 2016. Kessler admitted that the bylaws were "antiquated' and gave the assurance that some of their younger members had spouses with Italian, Irish and Jewish ancestry. In any case, the only events related to Germany to be found there were three annual parties in the clubhouse. Regarding the rule against advertising on the open market, he said that with houses in German Gardens so much in demand, there had actually been no need to advertise a sale: Everyone knows when a house becomes available.
Once German Gardens knew they were under attack, the other residents were naturally furious with the Kneers. They had been well-liked in their complex and were regarded as good neighbors. League president Kessler said he and his wife had regarded the Kneers "like grandchildren," and spoke about their "betrayal" with tear-filled eyes, claiming that "they were simply bitter that they couldn't get the price they wanted for their home."
Whether or not their claim against the Kneers was true, it no longer mattered. Because the Kneers' lawsuit was no longer their personal gripe against German Gardens. It had become a federal lawsuit, with the Court of New York wanting to know exactly what was going-on.
The German Gardens defense, however, bore little weight. Even a claim that they had tried to change its bylaws in the 1990s was quickly torn down by evidence that the board had voted against it. In contrast, the legal team of the prosecution was armed with ample ammunition. Patricia Kneer's carefully prepared portfolio of the 1930s Camp Siegfried/German Gardens photos evoked shock to all those that had not known what went on there (and that included locals). But it didn't end then. A recent picture of a Nazi medallion topping a German flag in the community clubhouse was included to draw a comparison between past and present.
While the photographs had shock value, it was a simple legal provision that won the day for the Kneers: the Fair Housing Act of 1968 and its subsequent additions, that prohibited discrimination in the buying and selling of houses.
As a result, a federal judge struck down the restrictive clauses in the German Gardens bylaws, insisting that the bylaws be rewritten to comply with all fair housing laws, and that the Kneers receive $175,000 in compensation.
But the saga was still not over because — as unlikely as it sounds — German Gardens did not comply with the judgment and, upon inspection, it was found that the discriminatory practices continued. A year later, though, in May 2017, New York State prosecutors announced that they had reached a settlement according to which the League would end any discriminatory housing policies and practices, and change the composition of their board. According to States Attorney General Eric Schneiderman, the agreement "will once and for all put an end to the GASL's discrimination."
That's because they were finally challenged. "The GASL was able to maintain its racist bylaws until the League was sued in 2016 simply because nobody outside the community ever noticed or challenged them," says Dr. Medoff.
It's jarring for us today to read about a "Hitler Street" in Long Island and the spectacle of Nazi devotees marching around in a middle-class suburban neighborhood, even if it was a few decades back. "Every society has a fringe of extremists," says Dr. Medoff, "but perhaps the more troubling phenomenon is how some mainstream segments of American society responded to Nazism. For example, Ivy League universities such as Harvard and Columbia welcomed Nazi representatives to their campuses in the 1930s and cultivated friendly relations with Nazi-controlled universities. Even worse, President Roosevelt sent one of his cabinet members to represent him at a pro-Nazi rally in New York City in 1933. US diplomats attended several of Hitler's infamous annual Nazi Party rallies in Nuremberg, and the Roosevelt administration warmly welcomed Nazi warships to US ports in the 1930s. Sure, it was bad to have neighbors who were sympathetic to the Nazi regime, but it was even worse that the president maintained friendly relations with that regime."
Camp Seigfried returned to the spotlight with the release of period photographs recently digitized and released by the New York City Department of Records. But that doesn't seem to have deflated the property values. A report posted by Bex Realty in July 2022 stated that "German Gardens is a neighborhood of homes in Yaphank, New York, offering an assortment of beautiful styles, varying sizes and affordable prices to choose from. German Gardens homes for sale range in square footage from around 400 square feet to over 1,400 square feet and in price from approximately $143,000 to $320,000."
If you're living in cramped Brooklyn and that sounds like a bargain, think again though. There are no shuls in the area, and the closest Chabad center is 21 miles away. Yaphank was fertile territory for the Ku Klux Klan and Nazi adherents in the 1920s and '30s, and according to the Suffolk Center of the Holocaust, Diversity and Human Understanding, anti-Semitism is still endemic in these parts. But who knows? Like the Kneers proved, anything can change.
Rachel Ginsberg contributed to this report.
(Originally featured in Mishpacha, Issue 936)
Oops! We could not locate your form.
>