| Shul with a View |
Rabbi Levi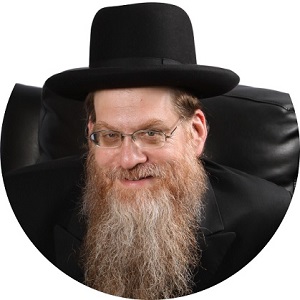 | February 1, 2022
Norms may change, but the dedication and love of a rebbi for his talmid has never waned
Over 30 years have passed since Rabbi Ephraim Levi began teaching Pre-1A at the Yeshiva Ktana of Passaic.
For me, Rabbi Levi's arrival was monumental.
When he arrived, he had a class of 20 boys, the largest class in the entire school of 60 students. My son Nesanel was in his class, and as the year progressed, I noticed something unique and special about this man. The care, love, dedication, and sincerity were obvious, and I knew my son was indeed privileged to be on the receiving end of this special rebbi. Nesanel thrived in Rabbi Levi's class, and I was amazed at the bren Nesanel exhibited for Torah and Yiddishkeit at such a young age.
One Friday, I entered the classroom to pick up Nesanel, and witnessed a sight that can only be described as mei'ein Olam Haba.
Before Rabbi Levi began dismissal, he said, "Now it's time for our Erev Shabbos hug." Together with their beloved rebbi, all the boys joined in a huddle and expressed their deep admiration and love for each other and their rebbi. The love, respect, and appreciation the boys had for their devoted rebbi, and he for them, found a wonderful mode of expression.
Every boy left feeling and knowing that he was special in the heart of their amazing rebbi.
Fast-forward 30 years to 2022.
My grandson Binyamin now occupies a desk in Rabbi Levi's classroom, the same desk his uncle Nesanel sat at 30 years prior. Class hugs are no longer the norm. Yet the love and dedication of a rebbi for his talmidim have not waned in the slightest.
On Friday, January 7, a snowstorm blanketed Passaic. Yeshivah would be closed. Binyamin and his siblings spent the morning with their savta and zeidy while their parents worked.
I asked Binyamin if he had the parshah sheets from Rebbi; perhaps we could review them.
"Rebbi gives them out on Friday, and we don't have yeshivah today," he told me.
Banking on my close relationship with Rabbi Levi, I called him, then put Binyamin on the phone. "Rebbi, I don't have my parshah sheets."
Rabbi Levi and I discussed options. Emailing them to me was a possibility. However, the sheets colored in by my grandson were in the building and were inaccessible.
"At least we'll have the parshah questions," I told the rebbi, and gave him my email address.
A few minutes later, there was a knock on the door.
I opened the door to a cold Rabbi Levi in a coat, gloves, boots, scarf, and the warmest heart in the world. With his signature golden smile, which lights up the world, Rabbi Levi handed me the parshah sheets, complete with the pictures of Moshe and Aharon colored in by the deft hands of my grandson Binyamin. Attached to the sheets was a bag of Shabbos treats to go along with the sweet Torah.
I looked at Rabbi Levi in disbelief.
He smiled and said, "I know how much he wanted his sheets. I ran over to the yeshivah and got them from the classroom so he could have them for Shabbos."
A warm feeling enveloped me on that frigid January day. I grabbed Rabbi Levi, and we embraced in the greatest Erev Shabbos hug in the history of hugs and humankind.
Norms may change, but the dedication and love of a rebbi for his talmid has never waned and will last forever.
Binyamin had his parshah sheets.
And Klal Yisrael has Rabbi Levi, just one of the myriad of rebbis who guarantee the radiant future of our people.
(Originally featured in Mishpacha, Issue 897)
Oops! We could not locate your form.
>