| This Way That Way |
Quinoa
| October 10, 2019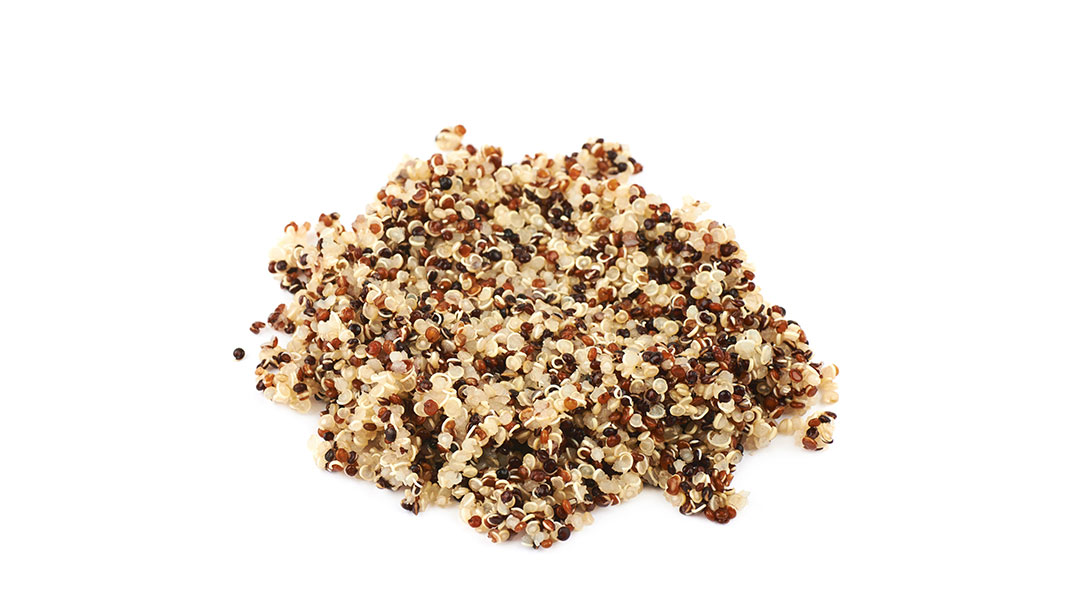 Putting a fresh spin on the no-longer new is always fun. A relatively new kid on the block, quinoa is by now very familiar to most of us. Lauded for its nutrient density, versatility in flavor, and ease in prep, quinoa is a super-food we love to showcase in our cooking.
FUN FACTS 
Boosts Digestion Quinoa is a complete protein: 1 cup has 8 grams!
Rich in Antioxidants Quinoa isn't a grain, it's a seed. It's related to beets and spinach.
It's a Bug Killer! Quinoa contains minerals to help fight colds and build strong bones, as well as four times as much iron as brown rice.
Bright Herbed Quinoa Salad 
Recipe by Rivki Rabinowitz 

I like preparing my food simply, so the natural flavors can shine through. With quinoa, chopping fresh herbs for layered flavors and adding nuts and seeds for depth and texture yields the balanced recipe everyone asks for. 
SERVES 4–6 
1 cup quinoa, prepared accordingto pkg instructions
⅓ cup each chopped fresh mint,parsley, and dill
⅓ cup slivered almonds
¼ cup walnuts, halved
3 Tbsp pumpkin seeds
3 Tbsp sunflower seeds
2 Tbsp sesame seeds
⅓ cup pomegranate arils(optional)
DRESSING
¼ cup olive oil
¼ cup fresh lemon juice (juice ofabout 2 medium lemons)
¼ tsp salt
¼ tsp cinnamon
1 Tbsp honey or stevia
Combine cooked quinoa with the herbs, nuts, seeds, and pomegranate arils. Mix well. In a separate bowl, combine the dressing ingredients and stir into the quinoa.
Cajun Quinoa Burgers 
Recipe by Chanie Apfelbaum 
I'm a big fan of quinoa patties because they develop the most amazing crust when you fry them. These burgers are great on their own as a side dish, or in a sandwich for a meatless dinner. 
YIELDS 6–8 BURGERS 
2 cups cooked quinoa (or seeinstructions below)
1 cup black beans, rinsed anddrained
½ cup finely diced red pepper
2 scallions, chopped
heaping ½ cup flavored breadcrumbs (use cornflake crumbs fora gluten-free option)
heaping ½ tsp cumin
½ tsp smoked paprika
¼ tsp chili powder
salt and pepper, to taste
3 eggs
light olive oil, for frying
To cook the quinoa, rinse ¾ cup quinoa thoroughly in a fine-mesh sieve. Pour into a pot with 1½ cups water and ¼ tsp salt. Bring to a boil, reduce heat, and simmer, covered, for 15–20 minutes. Place all the ingredients, besides the eggs, in a bowl and mix until combined. Taste the mixture and adjust seasoning as desired. Add eggs and mix well. Heat olive oil in a frying pan over medium heat. Using a scoop or measuring cup, divide the quinoa into patties. Fry until golden on both sides. Drain on paper towels.
Note: If you find the mixture too loose, you can pulse it in a food processor to make it stickier.
Vegetable-Quinoa Pilaf 
Recipe by Chaia Frishman 
So many of the foods we serve on Shabbos are brown: cholent, potato kugel, challah, you name it. This dish is a pop of color and taste. Enjoy it room temp for lunch! 
SERVES 6
1½ cups tricolor quinoa
3¼ cups vegetable broth
1 cup diced onions
oil, for sauteing
1 cup diced zucchini
1 cup diced mixed peppers
½ cup shredded carrots
salt and pepper, to taste
Prepare quinoa according to package, but use broth in place of water. Meanwhile, heat oil in a frying pan. Add onions and sautי for 3 minutes. Add peppers and sauteי for 3 more minutes. Add zucchini and cook until soft, about 2–3 minutes. Stir in shredded carrots and cook another 2–3 minutes. Mix veggies with quinoa. Serve warm or at room temperature.
(Originally featured in Family Table, Issue 663)
Oops! We could not locate your form.
>