| Family Activities |
Quarancraft | May 13, 2020
Prepared for print by Miriam Milstein
Exploding Fun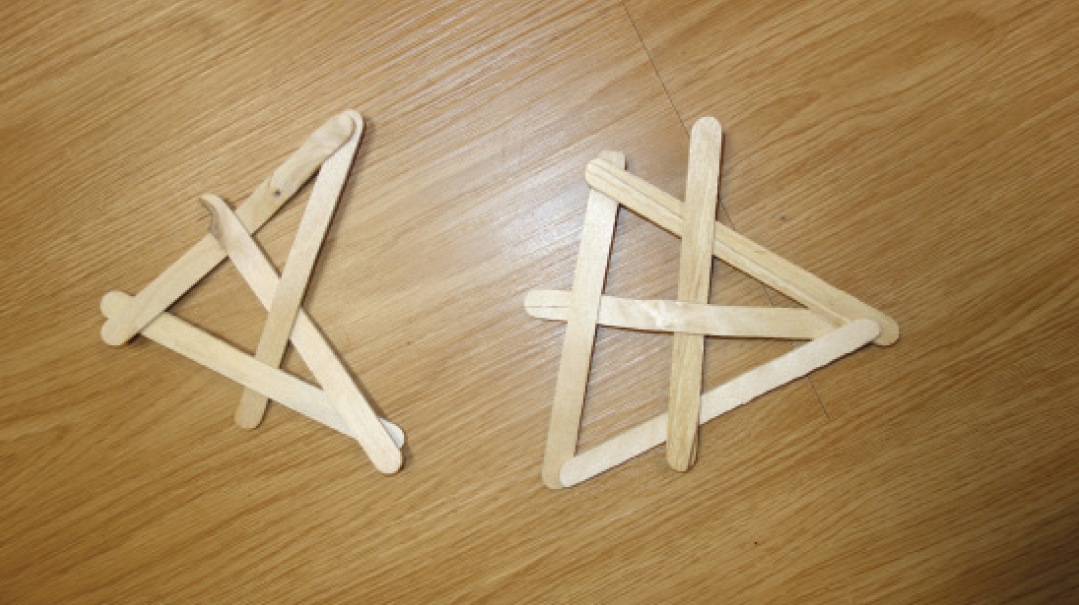 Popsicle stick bombs are held together by nothing more than the force of the interlocking sticks under pressure. When they hit something, they burst apart in a satisfying but safe little explosion. While they can be challenging for small hands to construct, everyone loves throwing them, and older kids feel great about mastering the skill of building them.
We also made homemade ice cream. Put some whole milk and/or cream into a small Zziplock bag with a little sugar and some flavoring (we used vanilla one time, and mint extract, green food coloring, and chocolate chips the second). Then put that Zziplock into a larger bag that has a bunch of ice and salt, seal that, and play catch with it for ten to fifteen10-15 minutes. Pro tip: double or triple bag the components.
Elisheva Appel

It's a Zoo Out There!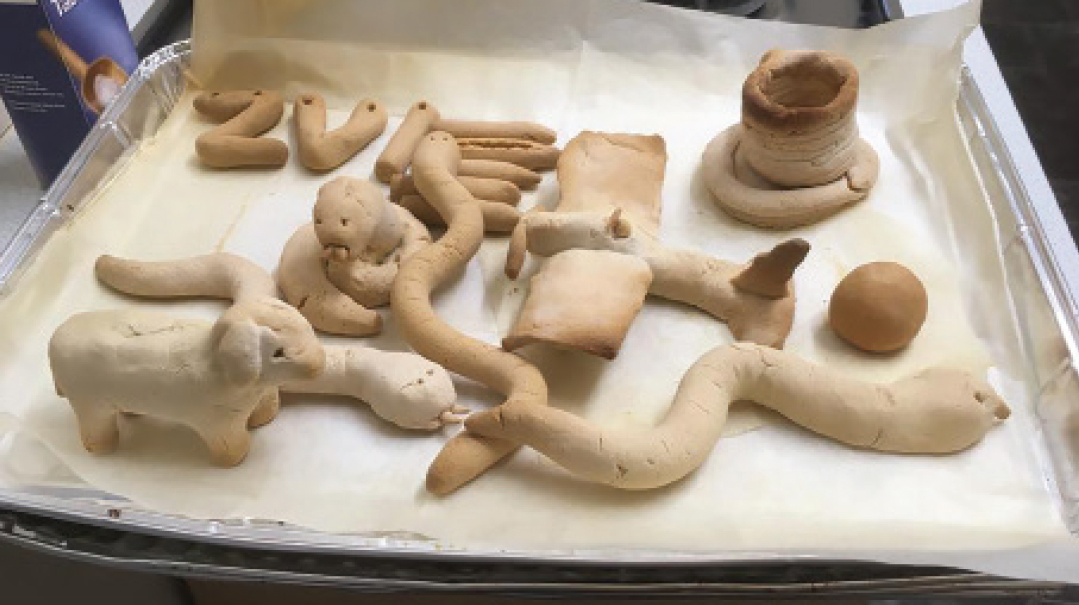 We made a salt dough using 2 cups of flour, 1 cup salt, 3/4 cup water, and 1 tablespoonT of oil. (You may need to play around a bit with those proportions or add a bit of water.)
The kids molded animals out of the dough, using silver foil to hold things together and wetting pieces to join them, then we baked their sculptures (at 200° F, till hard — this may take a while).

Once they'd cooled, we were able to paint them — another activity!
Miller Family



Silky, Smushy, Sensory Fun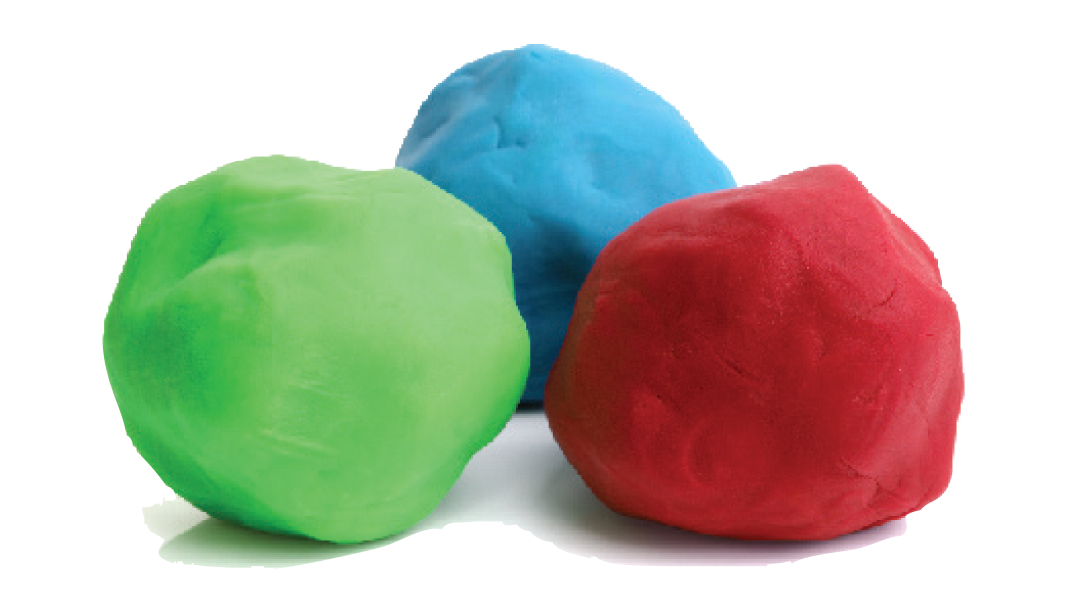 If you have any leftover potato starch, stick it in a Ziplock bag and add some hair conditioner. (One part conditioner to two parts corn or potato starch. Food coloring optional.) Smush it together until it becomes a deliciously soft ball. It's smoother and silkier than play dough, easier to clean up, and it smells good!
We bought some diamond art kits, and we've been having a lot of success with those. They're highly addictive, very calming and soothing, and they make a nice finished product. (We got little kits for the younger ones and adult kits for my 10 and 13-year-old.) We also bought a huge paint-by-number painting that the whole family is doing together. You'd think, it's a paint-by-number, how hard can it be? The answer is — hard. But they're also super calming. (Next time I'd opt for a small painting, though, not such a massive one.)
Rachael Lavon

In the Shadows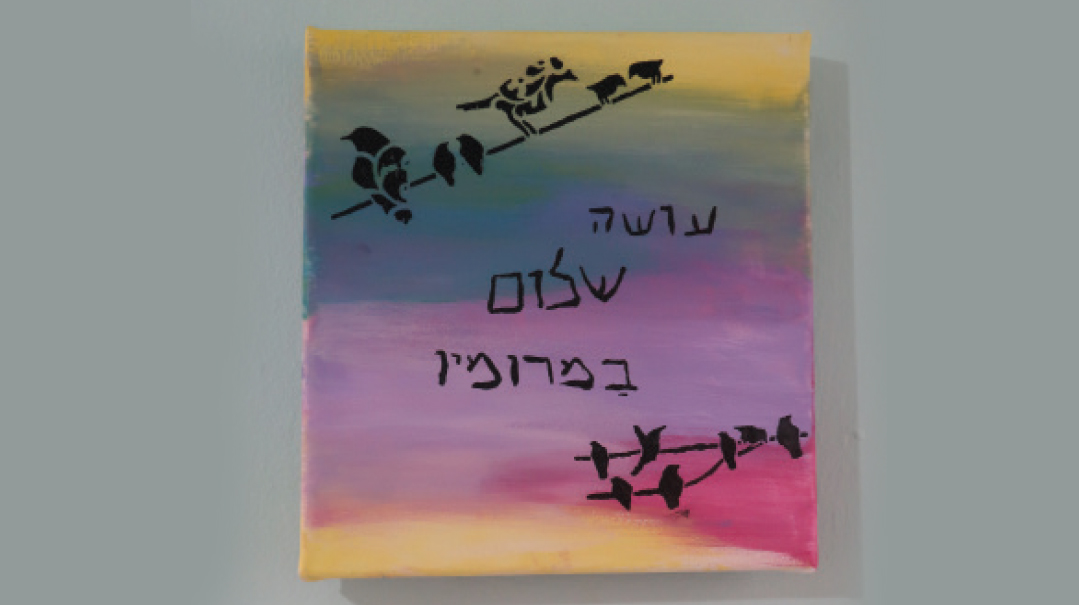 We made negative shadow paintings. Take a small white canvas and wash the background in color, ombre-style, with strips of different shades seeping into each other. Once the pretty background dries, take a stencil (my kids used a row of birds sitting on a branch) and fill it in with black paint. You end up with a stark black drawing on a blended-color background. Because you use a stencil, even the little ones' pictures will come out impressive!
Esther Teichtal

Pasta Pride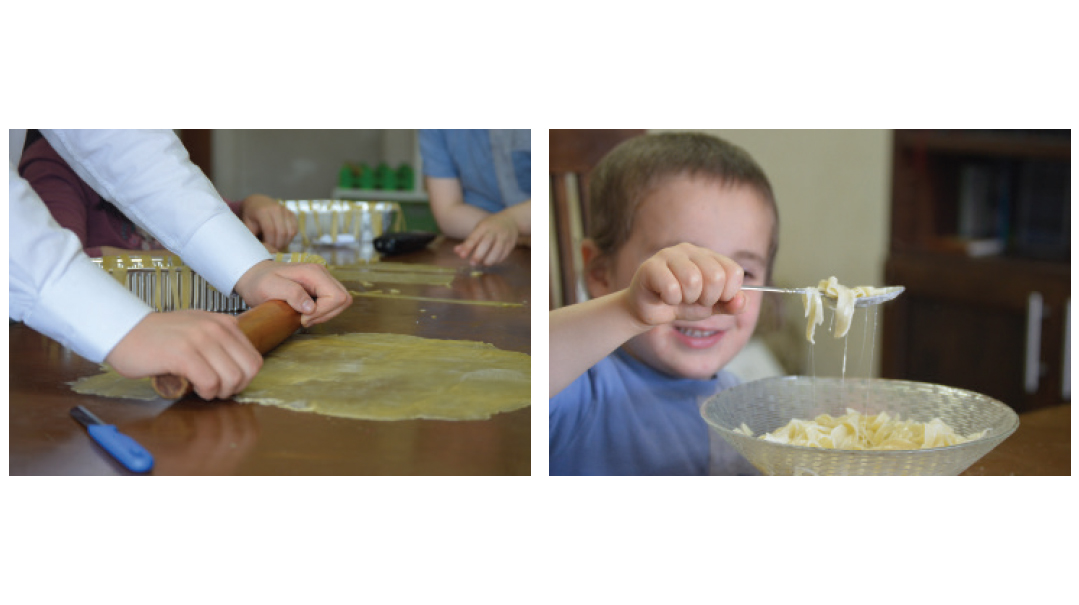 Inspired by Esti Vago's amazing day camp ideas (email recipes@mishpacha.com for a full weekly schedule!), we "visited Italy"— i.e. used Google Translate to learn how to say some basic phrases in Italian — and then made homemade pasta.
The recipe we used called for 7/8 cup flour, 1 egg, and 1 tablespoon of oilflour; each kid made their own batch. Make a well with the flour, pour in the egg and oil, and mix by hand., W then wrap the dough in saran wrap and let rest for at least half an hour. Then comes the fun part  — rolling it out! I don't have a pasta machine, because under normal, non-corona circumstances, I would never, ever, ever make pasta, but rolling it out by hand was a fun and energy-burning activity (plus rolling kept the kids busy for over half an hour, which is the equivalent of four years these days).
It was definitely worth buying a couple of extra rolling pins so that each kid could have his own. Once the dough is see-through thin, roll it up cinnamon-bun style, slice into thin-ish strands, and cook in salted, boiling water. How do you say voila in Italian? My kids were so proud.
Miriam Milstein
Grate Stuff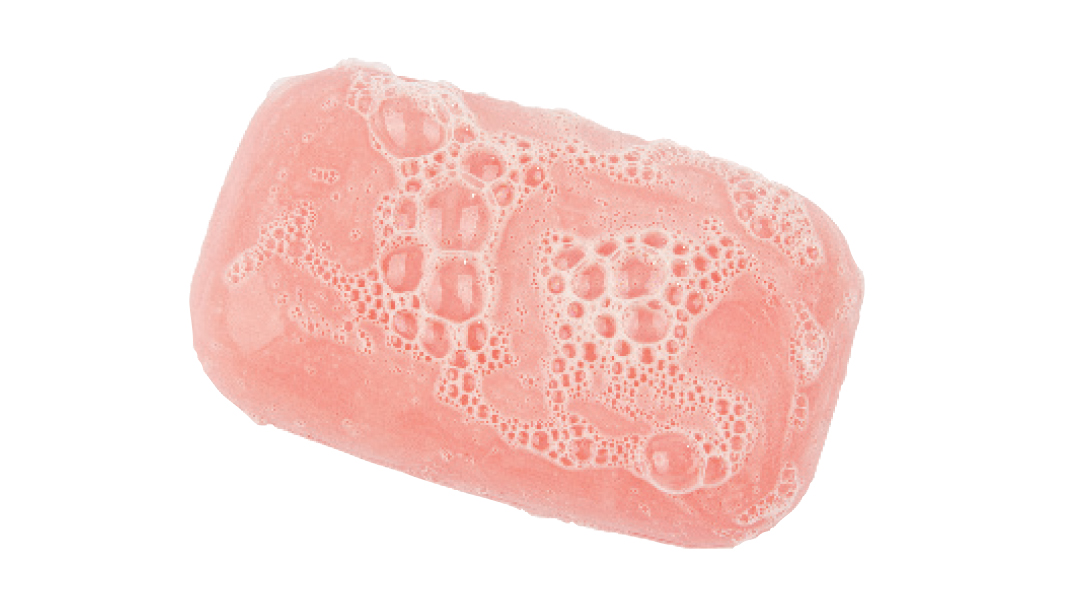 Grate a bar of soap and slowly add hot water, mixing until you get a playdough-like consistency, which you can mold into all sorts of shapes. You can add food coloring too. If you use up all of the soap in your house, hopefully your mother won't make you take a bath later that night.
Chesky Kichel
Making Light of Candles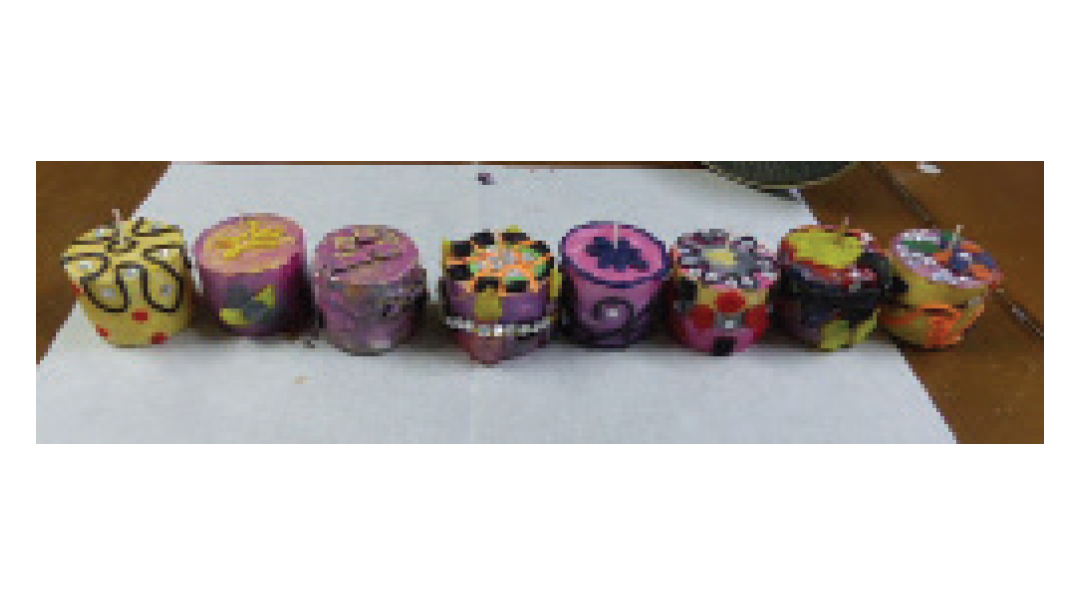 We decorated candles. We used the yahrtzeit candles that come in tins, since they're very accessible and well-priced. Take them out of the tin containers, paint them with acrylic paints (the metallic ones looked especially nice), and decorate with craft wax and gem stickers. This was the rare craft that was popular with all ages — creative enough to keep the older kids happy, but easy enough for the little ones to do independently.
Nechama Kichel

COVID Cakes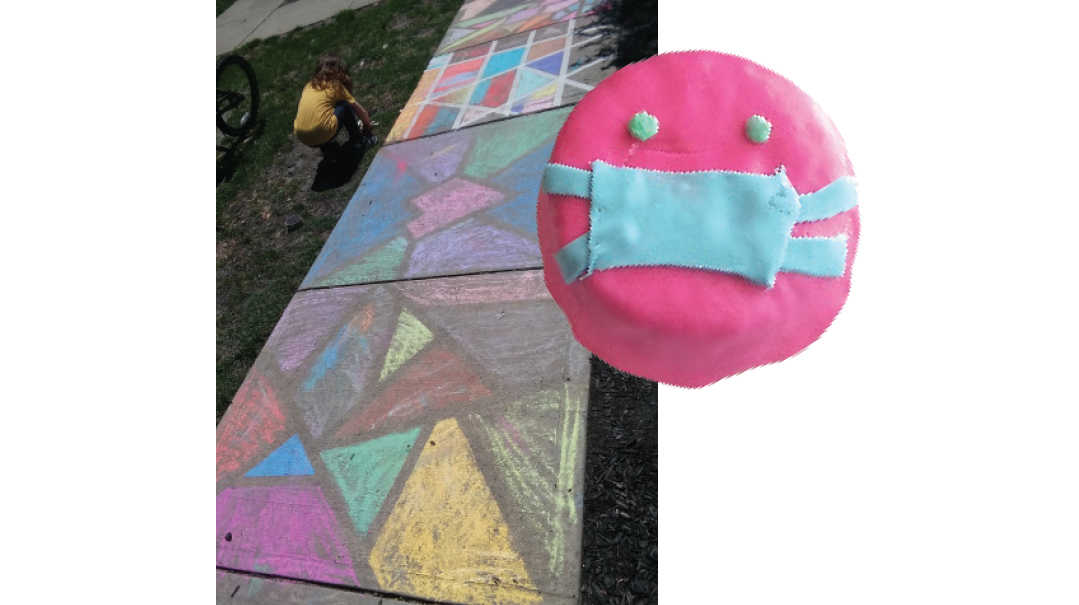 Mosaic sidewalk chalk! Put masking tape down on the sidewalk in geometric shapes (or any shapes, really), color, then peel off the tape. It kept the kids busy for a loooong time.
Another day, we did cake decorating — we baked mini cakes in small round tins, then decorated them with fondant. Obviously, in light of the times, our cakes needed masks.
Zivia Reischer

Room with a Boom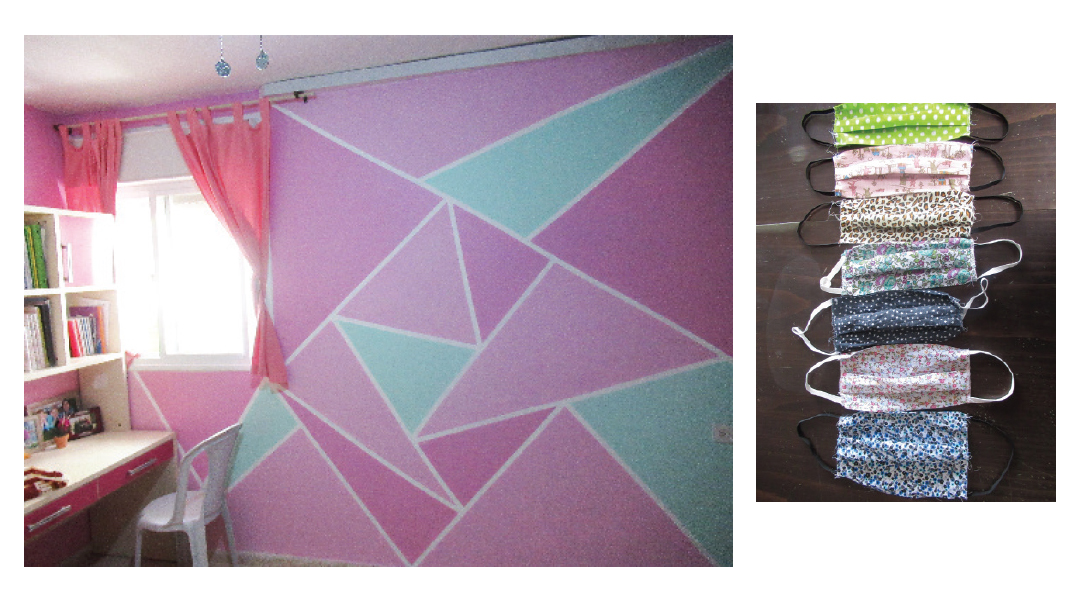 For the teen version of the sidewalk chalk activity, paint a room. Same principle, wow results!
Paint the focal wall white. Then put down masking tape in whatever geometric shapes you desire (triangles are easy) and fill in the shapes with different colors. We found that two similar colors (add a little white to the original color) and one contrasting color is particularly pretty. Paint the rest of the room the lighter color with just a single pop of the darker color.
Another fun and strangely practical activity for teens who sew is personalized masks. My daughter, Tzipora, sewed masks for all of us in just a few hours. We each picked a fabric we liked from the scraps of fabric she's accumulated over the years. She used one of the pleated disposable masks as a pattern, measured our faces so the elastic would be snug but comfortable, and then crafted the masks. If you use cotton, the final product is far more breathable than most masks on the market. And they're washable too.
Bassi Gruen

On a Rock Roll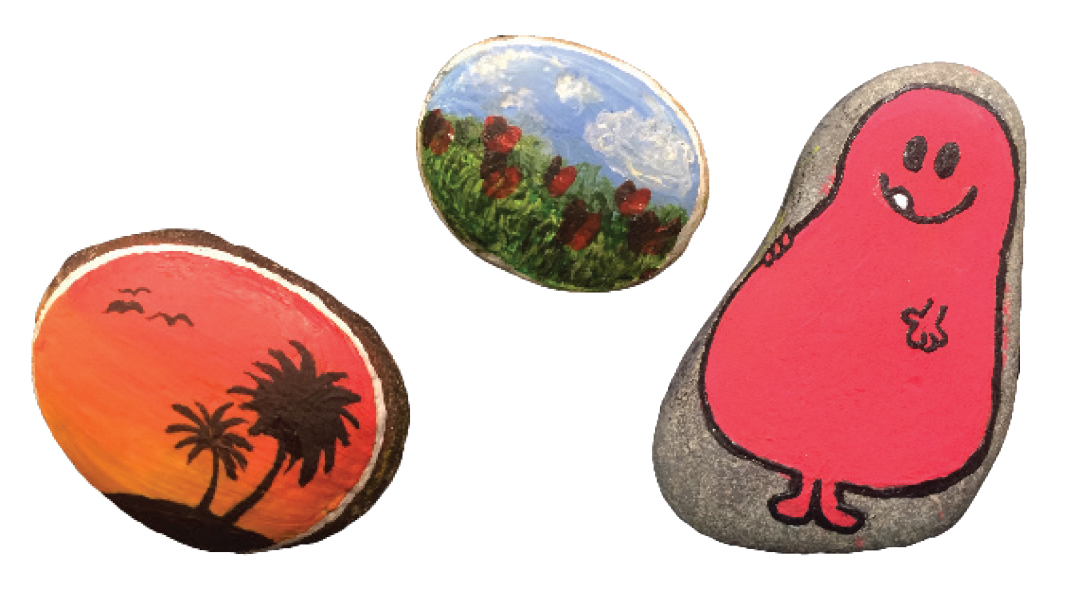 My sisters have been having a blast painting rocks! They randomly bought a kit for this, but now they're on a roll, collecting and painting more and more, and joking about setting up a rock stand at the beach to sell their rocks, once this is over. (Of course, you can make less artistic rocks by using any old rocks you find outside, and just painting them with stripes and patterns, not mini landscapes.)
Rivka Streicher

Woven with Love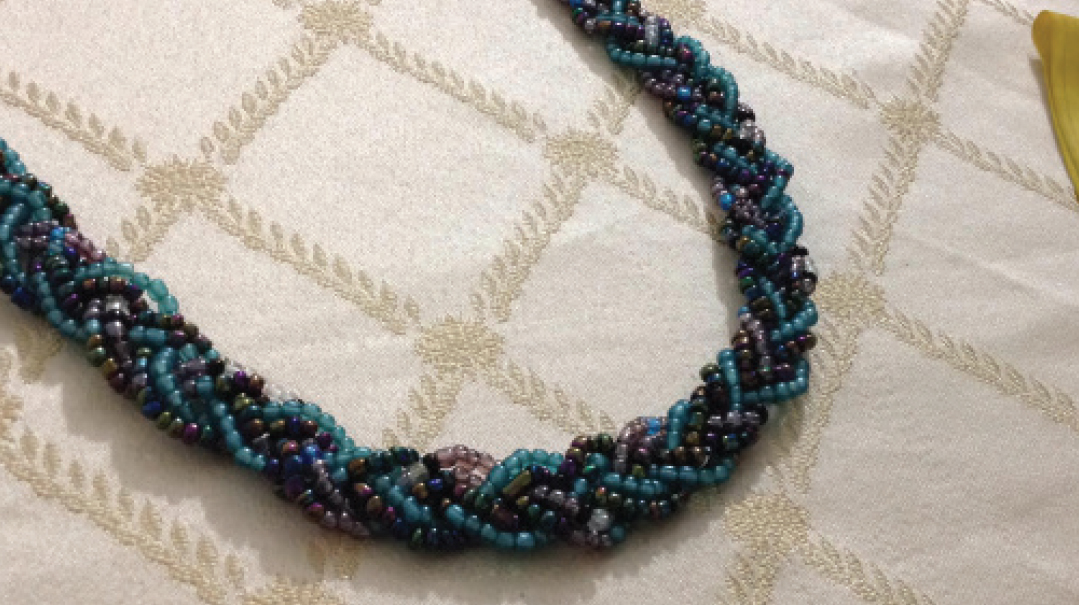 Because of the restrictions against visiting grandparents, we wanted my mother to know we were thinking of her. Each of my kids made a strand of beads, which we braided into one necklace. Each child designed their own pattern, all within one color family we chose together. We presented it to her on Zoom and let her know that even when we are far, she's in our thoughts!
Take sewing thread and measure out double the length you want the necklace. Make sure that each kid's strand is the same length. (If you'll be braiding your strands, keep in mind that they'll get shorter.) Thread the string on a needle, otherwise it's nearly impossible to work with the small beads. Leave at least 2 inches of string at the end (for tying to the clasp), and then knot the thread through a bead a few times to start the strand. Bead the thread and when you've finished, knot it as you did when you began, again leaving room for the clasp. Knot all the strands together, braid, and then knot them all at the end. Tie all the strands to a clasp, then trim the extra thread.
Rivkah Lewis

Grow a Garden
After dreaming of doing this for years, we finally planted veggies! We made a small garden on my balcony, planting cherry tomatoes, beef tomatoes, and red peppers. We bought the plants already grown, so all we had to do was fill the pots with soil, break up the veggie plants, and stick them in.
A cute activity idea that I read: give each kid advertisers or catalogues, scissors, and a box. They can cut out pictures of stuff they like, then sort them into a muktzeh or non-muktzeh box (or they can glue them to two different papers).
Another fun idea: One day we blew up a whole pack of balloons, stuffed them into a small play tent, put on music, and let the kids jump around.
Faigy Schonfeld

Cook-off!
This one only works if you're not like me, and you don't actually mind messes in your kitchen and measuring spoons that somehow became milchig (and are easy to replace during coronavirus). And also if you're not on a diet.
My kids paired themselves up and did a cook-off. They had a great time and I stayed out of the kitchen the whole time, just to, you know, keep my blood pressure down. Luckily, my husband was preparing a coffee just in time to turn off the (electric) burner after one child put a Pyrex dish on it (melting chocolate).
They turned it into color war, so there was lots of cheering in the background, and if my mixer needed a deep cleaning when they were done… hey! It was three hours of kids actually not fighting.
Adina Lover

Activities with Purpose
This was a super cute activity that lasted for two days. Each of my kids made a how-to video to send to my family. They choose something they wanted to teach, and then I videoed them. We used time lapses, slow motions, and other special effects to make it more fun, putting it together in iMovie. They got amazing feedback and it was so fun for them!
I've been trying to come up with purposeful activities, and so one day we wrote stories, which we snail-mailed to my grandparents in Florida. On my mother's birthday, my kids made up a song about her, then dressed up like her to put on skits for her.
Chanie Nayman

Seeing Sand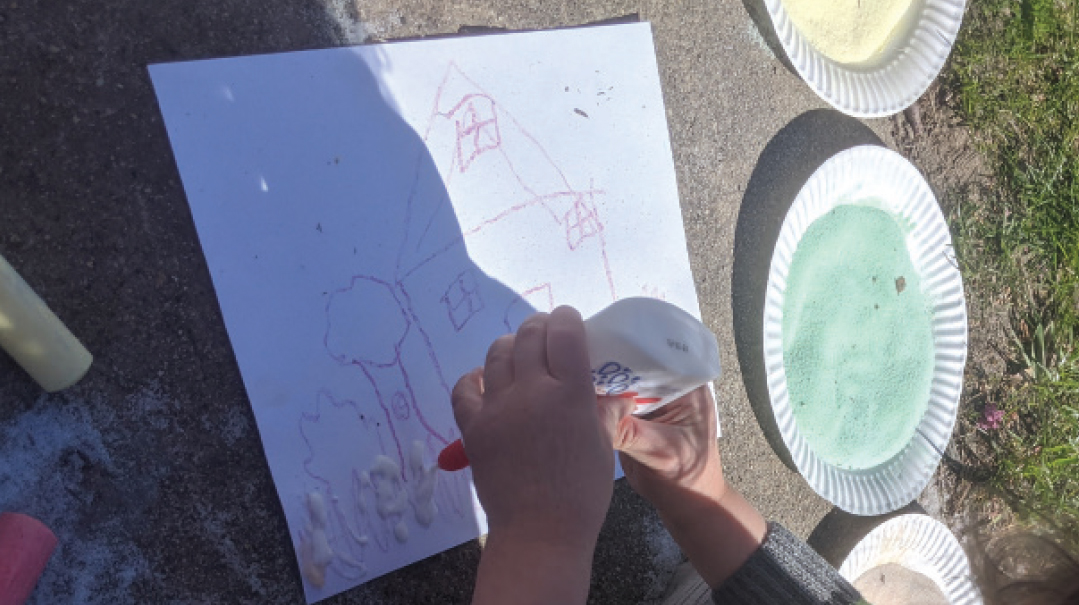 Making colored sand art kept my kids very busy! Color table salt with chalk on plates, using different plates for different colors. You can do layered sand art in a cup or jar, or create a colored sand picture. Draw simple pictures on a paper or cardstock. Thinking about one color at a time, redraw the areas of picture that need that color with Elmer's glue, and sprinkle the right color salt over them. (Don't put on much glue because you don't want it to take a long time to dry in between colors.) Once it's dried a bit, pour the excess salt back onto the right plate and continue with the other colors.
You can also create a Rube Goldberg Machine! That is, make an entire obstacle course to accomplish something simple like turning on a light. Use anything you find around the house and create an overly complicated domino effect that eventually accomplishes the simple task at hand, just for fun!
Esti Vago

Scavenger Hunt Central
There's a reason that scavenger hunts and treasure hunts are a kid classic. Here are a few twists on this perpetual favorite:
My kids loved a scavenger hunt I made them on Chol Hamoed. I made clues (about half are generic, you can find '-em -online, the other half custom for my home) and hid mini chocolate bars at the end.
We also had another scavenger hunt-type activity: I told them to locate things that started with each letter of the alphabet. They got creative: for M they found a Massive something or other, an X-tra special something else, etc.
Elisheva Appel
A friend forwarded me a list of easy-to-find objects (a brush, a pen, a shoe) and illustrated it with Clipart for an activity that even my non-readers could do independently. (Thanks, Shulamith High School!) For the older crowd, we tried a Gordon-Korman-esque scavenger hunt — a list of impossible-to-find items (a camel! a genuine tractor!) and told the kids to get creative in their interpretations.
Bracha Stein
My daughter organized an intricate in-house treasure hunt of sorts. She went in the middle of the night and stuck clusters of coins in hidden places. She also hid clues around the house, which were color-coded (or symbol-coded), so four or five with the same mark /symbol added up to one complete clue that led to a "treasure spot." Before we embarked on the search, she handed out maps of our apartment marked with approximate locations of each clue, so that we didn't spend a year looking for each clue. We split into teams to solve the clues, and had a ton of fun.
Esther Teichtal
(Originally featured in Family First, Issue 692)
Oops! We could not locate your form.
>