| This Way That Way |
Pumpkin
| January 10, 2023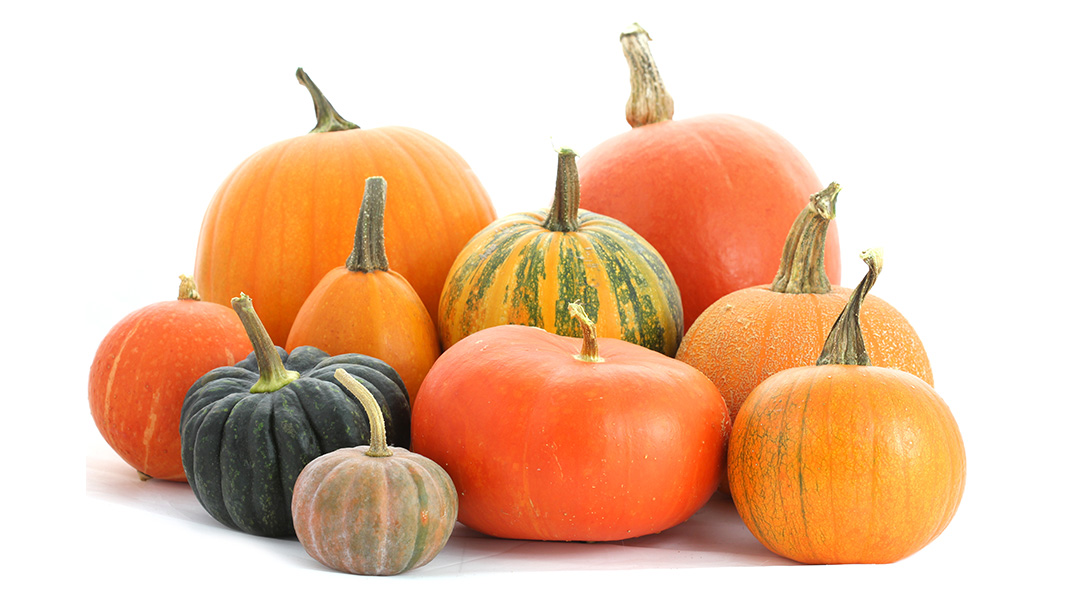 The far reach of pumpkin's popularity is obvious by the myriad of recipes that abound for pumpkin soups, pies, and even lattes. While this amazing squash mimics the consistency and color of sweet potato, it's lower in carbs, fat, and calories. Pumpkin is also rich in beta carotene, an antioxidant that converts to vitamin A when absorbed by the body.
Whether roasting the flesh, toasting the seeds, or creaming the puree with eggs and sugar, pumpkin is an awesome ingredient to keep stocked in your pantry this winter.
Not Just Gourd
Berry Interesting
While pumpkin is a member of the squash family, pumpkins are actually considered fruit! The pumpkin is part of the botanical berry species called pepo.
It's Cold
While originally found in North America (hello, Mayflower), pumpkins now grow on every continent except Antarctica.
It's a Flying Pumpkin!
"Chunking" is the name of the official competition for teams building machinery that can launch a pumpkin the farthest.
Pumpkin Power Cookies
Recipe by Chaia Frishman
My sister-in-law gave me a long-lasting gift when she introduced these pumpkin cookies to my family. Here's to you, Yaffi!
YIELDS 18–24 COOKIES
2½ cups flour
1 tsp baking soda
1 tsp baking powder
½ tsp nutmeg
1 tsp cinnamon
½ tsp salt
1½ cups sugar
½ cup margarine
1 cup pumpkin puree (not pumpkin pie filling)
1 egg
1 tsp vanilla extract
Glaze
2 cups confectioners' sugar
3 Tbsp pareve milk
1 tsp vanilla extract
1 Tbsp oil
Gently mix the first 6 ingredients in bowl. Place remaining ingredients in a mixer and mix thoroughly. Add the contents of the bowl to the mixer and combine until mixed. Refrigerate dough for half an hour.
Preheat oven to 350°F (175°C). Using an ice cream scooper, place scoops of dough 1 inch (21⁄2 cm) apart on a baking sheet. Bake for 15–17 minutes.
For the glaze: Combine ingredients until glaze forms. Drizzle over cooled cookies.
Note: These freeze really well and taste awesome without glaze too.
Moist Pumpkin Muffins
Recipe by Estee Kafra
The perfect cold winter day treat the entire family will enjoy.
YIELDS 16–18 MUFFINS
4 eggs
1½ cups sugar
3 cups white whole wheat flour (see note)
2 tsp baking powder
2 tsp baking soda
1 tsp salt
1 tsp cinnamon
½ tsp nutmeg
½ tsp allspice
½ tsp ground ginger
1 cup oil
½ cup water (or reserved pumpkin juice)
4 cups pumpkin puree
½ cup chopped nuts (optional)
Beat the eggs and sugar in the bowl of an electric mixer on high until light.
Place the dry ingredients into a large bowl and stir to combine.
Add the oil and water to the mixer and mix on low speed. Add the dry ingredients. Add the pumpkin and mix until just combined. Stir in nuts, if using.
Place in well-greased muffin tins and bake for 25 minutes, or until an inserted toothpick comes out clean.
Note: Due to the heaviness of the whole wheat flour, the muffins will not rise much, so fill the muffin tins all the way to the top. You can also use 2 cups regular whole wheat flour mixed with 1 cup all-purpose flour.
Pumpkin Challah
Recipe by Naomi Nachman
Reproduced from Perfect Flavors by Naomi Nachman with permission of the copyright holders, ArtScroll / Mesorah Publications, Ltd.
A warm and seasonal twist to a beloved tradition. Sweet, pillowy, and pumpkin flavored — you will fall in love with this challah recipe.
YIELDS 6 MEDIUM CHALLOS
4 cups warm water
2 cups sugar
2 Tbsp dry yeast
3 eggs
½ cup coconut or canola oil
2 cups canned pumpkin puree
5 lbs (2.26 kg) high-gluten flour, plus up to 1 additional cup
1 Tbsp salt
2 beaten egg whites, for egg wash
In a large mixing bowl, place water, sugar, and yeast. Proof the yeast for a few minutes until foamy.
In a smaller bowl, mix together eggs, oil, and pumpkin.
Add pumpkin mixture to yeast mixture; mix together by hand or in the machine for about 1 minute. While the machine is running, slowly add half the flour from the bag, then the salt, then the remaining bagged flour. The mixture will start to form into a dough ball. If it seems sticky, gradually add up to 1 more cup of flour. When the dough is no longer sticky, let it rise for 2 hours, covered, in the bowl.
Preheat oven to 350°F (175°C). Line 2–3 baking sheets with parchment paper; set aside.
Divide dough into 6 portions and braid into challos. Place on prepared baking sheets. Brush challos with egg wash; add streusel topping, if desired. (To make streusel topping, combine 1 cup flour, 1 cup sugar, 1⁄2 cup coconut or canola oil, and 1 cup mini marshmallows.)
Bake for about 45 minutes, until the challos are golden brown.
(Originally featured in Family Table, Issue 826)
Oops! We could not locate your form.
>