| A Healthier You |
Protein
| February 8, 2022
What protein is, why it's important, and how much you actually need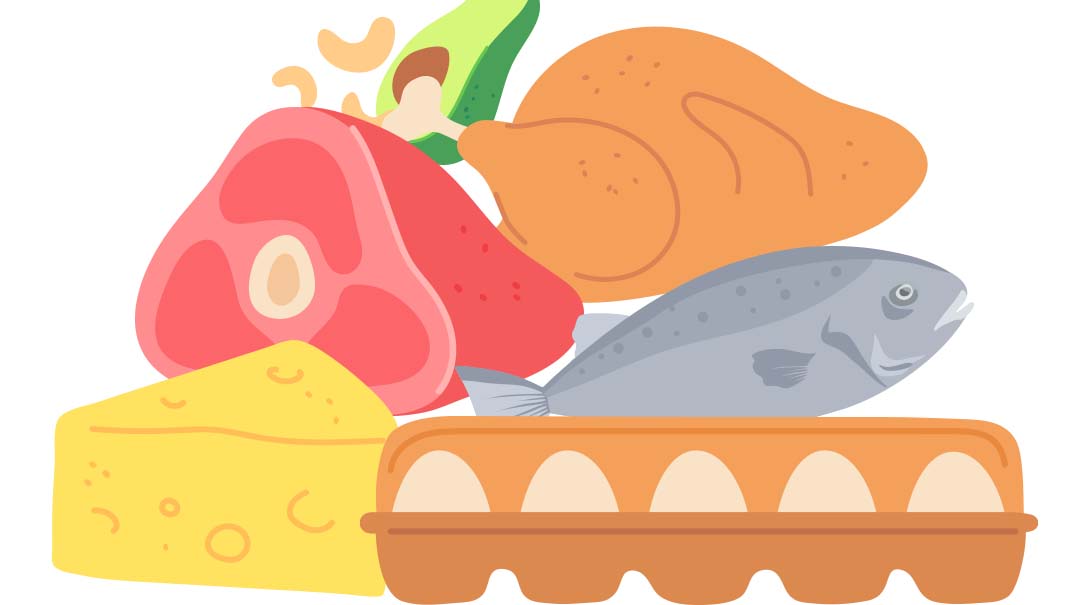 It's the cry of mothers everywhere: "Eat your chicken! Drink your milk! Have some protein! How are you going to grow?"
Whether you're a lip-smacking carnivore, or you're the one to shy away from anything that was once a breathing, living creature, it's a good idea to know what protein is, why it's important, and how much you actually need.
Micro and Macro
Protein is an important macronutrient. Now, doesn't that clear everything up? Or are you not so sure what, exactly, a macronutrient is?
Your body requires lots of things to stay healthy, develop normally, grow and engage in self-repair (think bruises, cuts, broken bones), and maintain a happy, healthy environment for your neshamah. Macronutrients are the nutrients that your body needs in large amounts in order to function well: fat, carbohydrates, and protein. (There are also micronutrients, another group of nutrients that your body needs, including vitamins and minerals; essential, but in smaller amounts.)
Your body can't make protein on its own, which means it depends on you to eat it!
So what does protein do?
Helps build and repair muscles, bones, hair, and nails
Helps your metabolism function, and keeps you satiated for longer periods of time
Helps your immune system stay strong
Helps make important hormones and enzymes
Helps your organs work the way they should
As you can see, protein plays a lot of important roles in your body, even beyond this list. Convinced yet?
How much protein do I need? And how can I make sure I get enough?
Your best friend might need more protein than you do, and your classmate might need less. Protein requirements change based on weight, height, gender, and activity level (couch potato or avid exerciser, for instance). In general, a safe guideline is about 1 gram of protein per kilogram (2.2 pounds) of body weight. So if you weigh, for instance, 110 pounds (50 kg), you would need to consume about 50 grams of protein a day. A little less or a little more than that would be fine, too. But if you're regularly not eating enough protein, that's no good.
So, let's talk food. What should you actually be eating?
Protein-rich foods include:
Meat ◆ Chicken ◆ Turkey ◆ Fish ◆ Beans ◆ Peas ◆ Eggs ◆ Soy products ◆ Nuts ◆ Milk ◆ Greek yogurt ◆ Cottage cheese ◆ Lentils ◆ Quinoa ◆ Chummus and chickpeas ◆ Edamame
Eating enough protein doesn't need to be a chore. Take your pick, mix and match, try out fun new recipes, and enjoy. Look at it as an exciting way to eat a varied, healthy diet with great recipes from various cuisines!
Fun Facts
Studies have shown that teens who eat a high-protein snack in the afternoon, such as high-protein yogurt as opposed to crackers or chocolate, are less hungry during the afternoon, eat healthier foods, and experience improved mood and better cognition. (In other words, eating high-protein yogurt instead of crackers or chocolate makes you feel fuller, eat better, feel better, and think smarter!)
As long as you eat a large variety of healthy foods, your body usually receives enough protein, even if you don't eat classic protein sources such as meat and fish.
It's easy to calculate if you're getting the right amount of protein a day. Some common numbers: Eggs = 6 grams protein per egg; Cottage cheese = 14 grams protein per 1/2 cup; Lentils = 13 grams protein per 1/4 cup. You can get out your calculator, but in general, eating a healthy, varied diet means you're doing just fine!
(Originally featured in Teen Pages, Issue 898)
Oops! We could not locate your form.
>