| In His Own Words |
Pick of the Day
| May 31, 2022
Florist Amerique Ashear of Lakewood is happy to share his tips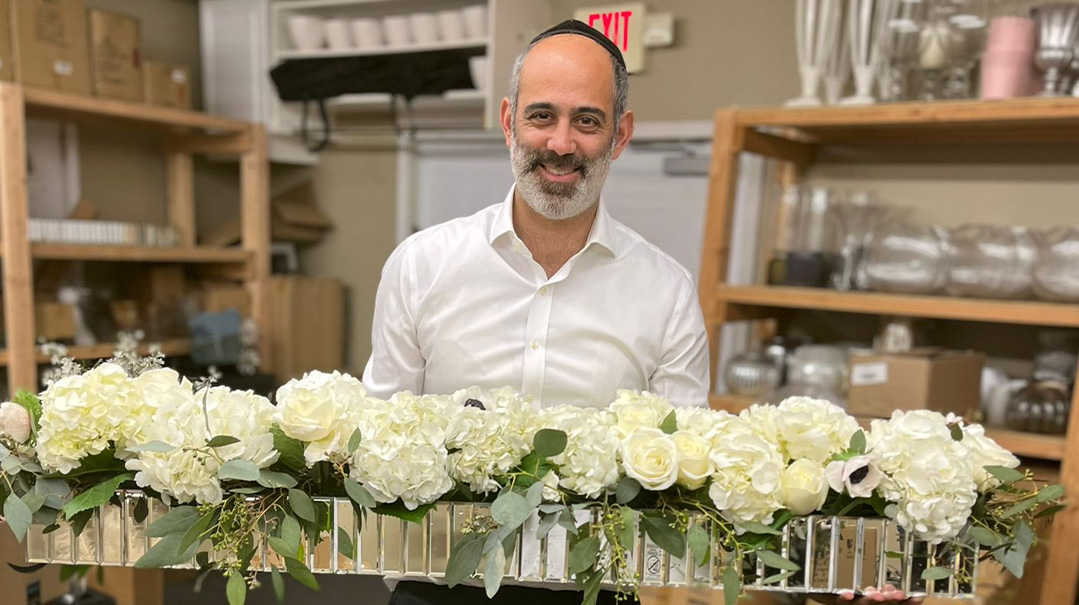 Photos: Langsam photography
How to keep your flowers fresh for a three-day Yom Tov? What are the best buys, and which bouquets last longest? Amerique Ashear of Lakewood is happy to share his tips. He's always had a green thumb, and when he decided to turn his hobby into a side business, his grateful customers could stop and smell the roses too
As a youngster, florist Amerique Ashear would dabble in his Deal, New Jersey, home garden, eventually developing a love for the great outdoors. That passion, coupled with an attentive eye for detail and display, was a boon for his wife, with stunning floral arrangements gracing their Shabbos table weekly. After a decade-and-a-half in kollel, a neighbor in Lakewood, where he lives now, suggested Amerique turn his hobby into a profitable side business. Amerique sensed an opportunity, so he started selling bouquets out of his dining room. That enterprise eventually blossomed into The Floral Bar, with a workshop in Lakewood and a storefront in Deal providing full-service floral arrangements for weddings, bar mitzvahs, and events.
Amerique fills Mishpacha in on secrets of the trade: how to keep flowers fresh over a three-day Yom Tov, what's best suited for a client with allergies, and which bouquet to buy your wife, even if you're ordering it all the way from Kerestir, Hungary.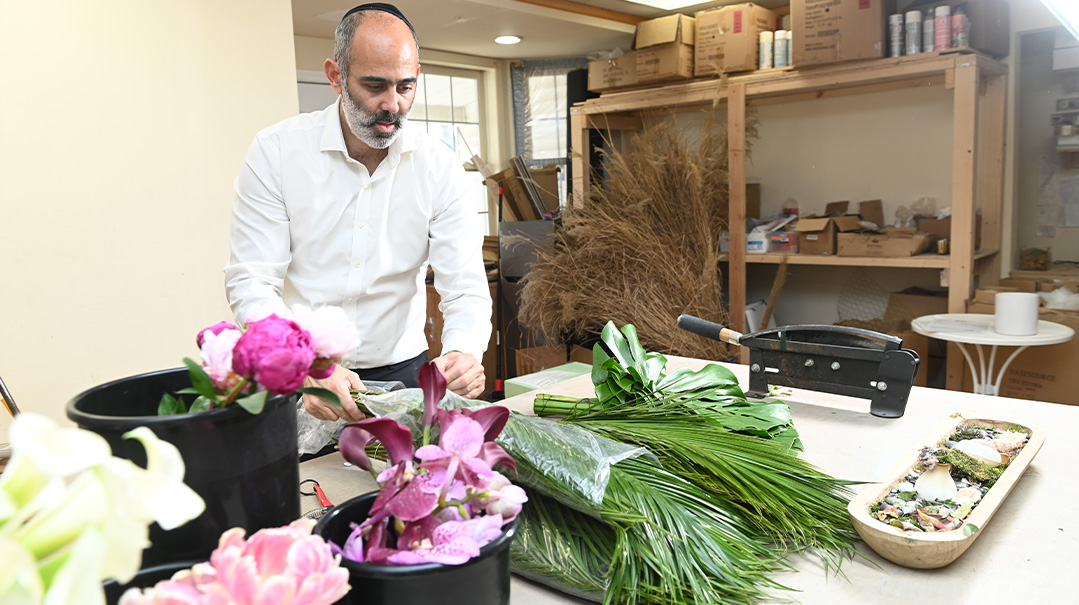 on
starting the business
I grew up in a home that was into gardening and anything outdoorsy, and I've always had a knack for design. I maintain an extensive home garden that includes two oversized palm trees gracing the end of the driveway, obviously a rarity here in Lakewood. When I began ordering flowers wholesale, I stored them in my home —  we made sure to keep our thermostat at a very low temperature to keep the flowers fresh. Over time we expanded, and I took out a storefront in Deal and a workshop in Lakewood, where I base myself to create arrangements.
on
what I need from you when you place an order
Most people call with a price point and color scheme. If they don't say anything more specific than that, I'll ask: Is it for a tablescape or a standalone bouquet? Do you want high or low? What's the occasion? If the customer doesn't request a specific color, I'll go neutral so everyone is happy. If a husband is sending something to his wife, I'll do pink and white, with bold colors only upon request.
on
my busiest season
Definitely Shavuos — the orders start coming in about two weeks before Yom Tov from shuls for their aron kodesh displays, as well as from families that want bouquets for their homes. The other Yamim Tovim and Fridays are also quite busy.

on
the best flowers for a three-day Yom Tov
One good option is cymbidium orchids. They're probably the longest-lasting flowers, and generally we use them as the mainstay in a bouquet. They're extremely versatile, so you can cut them in any way. Florists also favor hydrangeas because they come in a variety of colors, are a great filler, and are relatively inexpensive. When I mention hydrangeas to customers, the response usually is, "They won't last!"  People are wary of them. But if you cut the stem on an angle, hydrangeas will drink and survive beautifully. Hydrangeas also drink from the head of the flower, so I recommend you spray them on head from time to time. If properly cared for, hydrangeas can last up to three weeks without a problem.
on
what different communities favor for Shavuos
The chassidim like big and vivacious displays with a lot of color and creative, artsy twists, the Syrians like neat and clean arrangements, and the Ashkenazim go for whatever the magazine featured the week before.
on
the amount of time it takes to put together a bouquet
Depending on the size, it can take between 10 and 25 minutes. Every arrangement, and this is true for indoor and outdoor, should include three components: a "thriller," a "filler," and a "spiller." The thriller is the tall, dominant flower, the one providing the wow factor, the filler fills the body of the pot or vase, and the spiller is the flowers that cascade out, giving the arrangement that finishing touch. Any outdoor enthusiast will tell you that these three ingredients are the secret to successful gardening, and I try to mimic that formula for my bouquets.
on
which flowers are underrated
The carnation is generally viewed as an inexpensive option, but farms breed some really beautiful boutique-style carnations. They're also extremely long-lasting — some of the carnations coming out of Holland can last up to a month-and-a-half, and they look as good as new. Another is the gerbera daisy, which are sometimes considered a bit unsophisticated and immature, particularly the "Snoopy" variety, which is aptly named because it shares the same black-and-white color scheme as the cartoon dog, but when used in the right orientation, this daisy can be a standout.
on
how to care for your bouquet
The first and most important step is properly cleaning your vase, otherwise, there will inevitably be leftover bacteria from a past arrangement that will infect the flowers. Even the freshest flower will catch a disease from the bacteria and die soon after. I always use Clorox bleach, it's the best cleansing agent. Once you've sprayed the vase, let it air dry before filling it with water. Always make sure all your stems hit the water so they get hydrated properly, especially with more creative bouquets, where the stems are cut at different lengths. If you have to cut the stems, make sure to do so only with sharp shears or a sharp kitchen knife; a dull knife will clamp, not cut, the stems. A good knife and a sharp angle will ensure clean and ample drinking room for the flower. It's also important to place flowers in water immediately after cutting them. If not, the stem will start sucking in air as soon as it's exposed, and that air will kill the flower. Also, with every cut, you give your flower a new supply, so the same flower can last for several weeks if recut carefully every few days.
on
what people with allergies should avoid
Lilies, because of the high amounts of pollen in them.
on
my personal favorite
Peonies. They're fragrant and sumptuous, with big, open heads, and they come in an abundance of colors.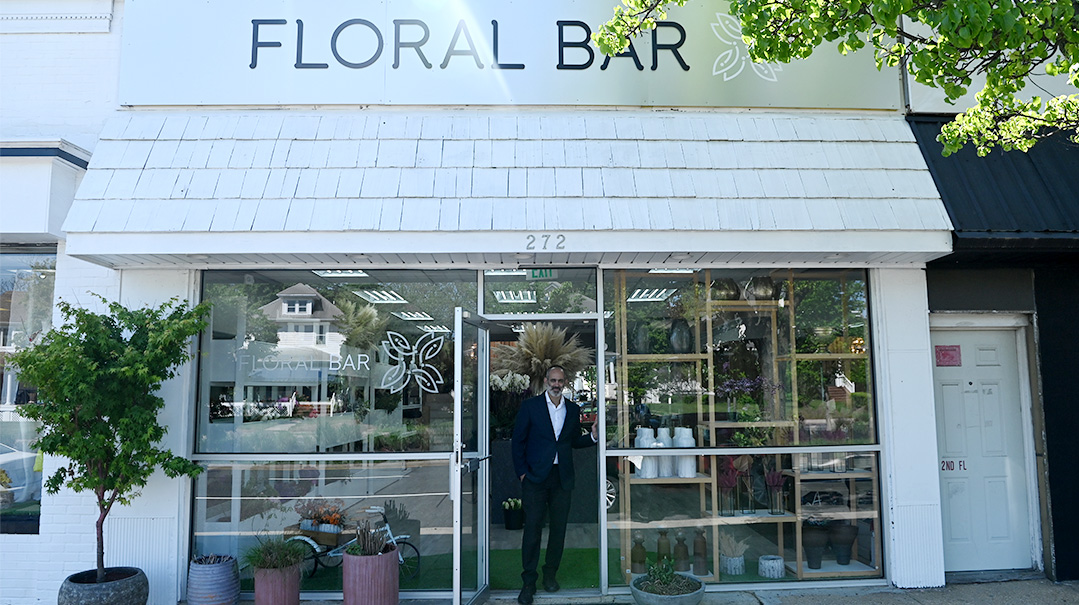 on
my favorite  last-minute order
It was a Friday afternoon when I got a call from someone who was in Kerestir for the yahrtzeit of Reb Shaya ben Reb Moshe. He wanted to order flowers for his wife back home. Once he called, some of the chevreh he was with must have heard about it, because a bunch of calls started pouring in from Kerestir after that. It was nice to see they were thinking about their homes from so far away!
on
my most memorable order
The Arlington Shul called me to create an arrangement for the crown of a sefer Torah the shul was writing. They brought the crown to my home, and my whole family got involved — we felt like we had one of the keilim of the Beis Hamikdash on our dining room table. I ran to Michaels, got some foam to hold everything in place, and we built something very special.
on
the dangers on the job
Those sharp shears can snip the tip of your finger — I learned that the hard the way. Baruch Hashem, it healed over time, but had it gone any deeper, the injury could have been a lot more serious. And of course, the obvious one is to be careful of the thorns when dealing with roses.
on
materials I always use
Chicken wire — I use it as an alternative to foam, and it helps orient the flowers because it has a lot of pockets and can sit well in water. To get the chicken wire to the exact shape and size you want requires a special set of scissors sharp enough to cut through it, so we have that on hand as well.
on
what's in vogue
In general, people like greens, whites, and pastels for Shavuos. This year, bright colors are in, so we're moving away from muted tones. Interestingly, the overall tone of the Yom Tov often reflects the flowers customers choose: For Rosh Hashanah, the flowers are quite toned down, more neutral, but for Shavuos, spring is in the air and people want bolder. In terms of style, now people are into asymmetrical arrangements with a wavy, curvy edge to them.
on
where to splurge and where to save for a simchah
For my son's bar mitzvah, a friend told us not to cut back the ambience, and he was 100 percent right: Creating a nice ambience can really enhance your simchah and give people a positive experience. Budget-conscience baalei simchah often focus more on the ladies' side, and rather than decking out the whole hall, they place something at the entrance to set the tone. Another relatively inexpensive idea is to place flowers in candelabras, which double as both lighting and décor.
on
my most meaningful mishap
I once got a call from a customer who was quite irate that he didn't receive the order by the promised time. It turned out I had accidently sent it to the wrong address, so I called the phone number I found associated with that address, and an elderly woman answered the phone. When I mentioned the flowers, she became ecstatic and emotional. "I'm an almanah and no one sends me gifts," she explained. "It was so meaningful to receive this bouquet!" Obviously the mix-up was min haShamayim, and I ended up sending a new bouquet to the customer. He wanted to share in the joy we brought to an almanah, so we split the cost of the original arrangement between the two of us.
(Originally featured in Mishpacha, Issue 913)
Oops! We could not locate your form.
>