| Recipes |
Pesto Chicken Spring Rolls with Sweet Chili Mayo
| September 16, 2020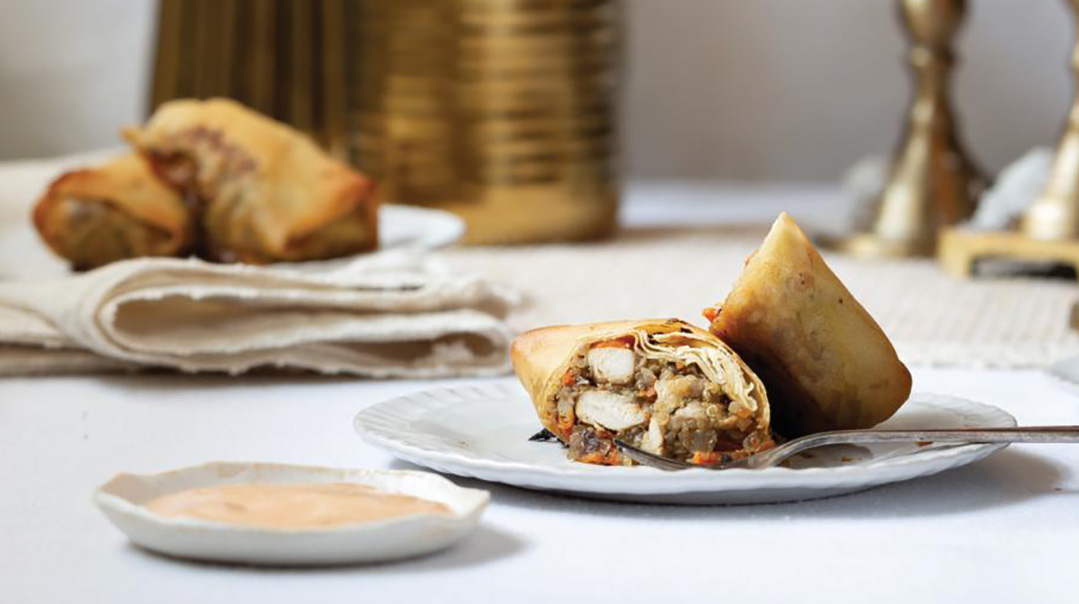 Pesto Chicken Spring Rolls with Sweet Chili Mayo
Prepare yourself for an explosive blend of flavors with these spring rolls! With a subtle taste of pesto and sweet chili and an added pop of color from the shredded carrots, they will definitely be a welcome addition to your Rosh Hashanah table — and all year round. Yehi ratzon sheyirbu zechuyoseinu.
YIELDS 10 SPRING ROLLS
5 Tbsp pesto, divided
1 lb (450 g) chicken cutlets, finely diced
1 medium-large red onion, finely diced
2 cloves garlic, crushed
2 Tbsp sweet chili sauce
2 Tbsp low-sodium soy sauce
1 tsp dried basil
1 carrot, grated
1⁄2 cup cooked quinoa (see tip)
10 spring roll wrappers
SWEET CHILI MAYO
1⁄2 cup mayonnaise
1⁄4 cup sweet chili sauce
1 Tbsp lime juice
pinch of salt
Place 3 Tbsp pesto into a medium-sized bowl. Add diced chicken and toss to coat completely. Set aside to marinate for at least 10 minutes or overnight.
Heat remaining 2 Tbsp pesto in a large frying pan over medium-high heat. Add onions and garlic. Cook, stirring, for 3–5 minutes, until the onions soften. Add diced chicken pieces and cook, stirring occasionally, for 3–5 minutes, until the chicken is cooked through. Stir in the sweet chili sauce, soy sauce, and basil. Bring mixture to a boil. Remove from heat.
Add quinoa and shredded carrots to the chicken mixture. Stir until combined.

Preheat oven to 425°F (220°C).
Spray a baking sheet well with cooking spray and set aside. Lay a spring roll wrapper in a diamond shape on a clean surface. Place a scant ½ cup chicken mixture on the wrapper, one-third of the way up. Take the bottom of the wrapper and fold upwards, covering the filling. Fold the left edge and then the right edge over to the center. Roll upwards to seal the spring roll. Wet edges to seal.
Repeat with remaining wrappers and chicken mixture. Place spring rolls on prepared baking sheet. Spray rolls well with cooking spray.
Bake for 20 minutes. (Alternatively, you can fry them.)
To make the sweet chili mayo, combine mayonnaise, sweet chili sauce, lime juice, and salt. Whisk well. Serve spring rolls warm along with the dipping sauce.
Tip: I cook my quinoa in beef or chicken broth for added flavor.
(Originally featured in Family Table, Issue 710)
Oops! We could not locate your form.
>