| FamilyTable Feature |
Pesach Subs | March 29, 2022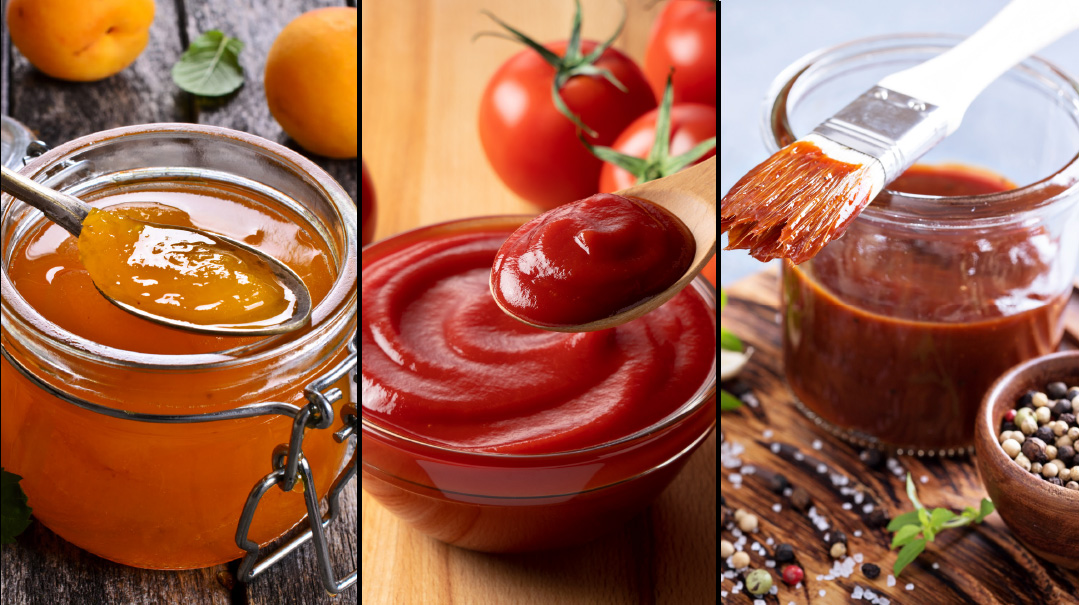 One Jew, two opinions. One Yom Tov, one people, thousands of minhag variations. Nothing gets a conversation to go from 0 to 60 as much as variants on different Pesach minhagim, from gebrochts to no peels to the type of salt someone uses! 
Here, we compiled some handy substitutions, suggested by passionate, real-time readers who have lots of great ideas of subs and ingredients they keep turning to when cooking for Pesach.
Thanks to Chaya Surie Goldberger, Devoiry Brull, and Faigy Grossmann for their contributions to this article.
Subs and Sauces
Grate a DAIKON RADISH into a salad of fresh chopped cucumbers to give it flavor.
ENDIVE is great in salad because it lasts a long time in the fridge. It's tart and offers great flavor.
Use GRATED HORSERADISH in place of mustard.
Use your YEAR-ROUND COFFEE RUB on roast. It has great flavor, and it means you don't have to rely on garlic rub.
Use WINE in roast and chicken, and white wine in salmon. It tastes amazing!
If you don't use garlic, you can use SHALLOTS instead.
CHICKEN BROTH PLUS FAT FROM THE SOUP adds lots of flavor and creaminess to mashed potatoes.
If you don't use vinegar, you can use WHITE COOKING WINE when making pickled turnips with beets and pickles. It works like a charm.
For meats and some side dishes that require liquid with some consommé or soup mix, use CHICKEN BROTH. You can also make gravy for mashed potatoes or on top of a brisket. Take a fatty meat and bake it in a huge pan with loads of veggies like knob celery, carrots, parsnips, and onions. Add water and spices and chicken broth. Remove the meat and blend it all with an immersion blender. It becomes a delicious, thick gravy.
For any salad recipe that calls for vinegar, you can sub LEMON JUICE (think Caesar dressing, coleslaw, etc.).
If you like hot sauce, you can make HOMEMADE SCHUG. Roast a bunch of jalapeños and some other hot peppers. When they're roasted, they peel very easily. Then put them into a food processor with a little olive oil and salt. Voila, hot sauce to use as a dip or to add to any meat, side, or soup!
Add MASHED POTATOES or POTATO STARCH to ground meat, instead of crumbs, like when making meatballs or burgers.
Use POTATO STARCH instead of cornstarch to thicken sauces.
Don't forget about all the different colorful options in the supermarket! Using interesting and unique produce can really make a dish feel different. COLORFUL CARROTS, RADISHES and BEETS, PURPLE SWEET POTATOES, and YELLOW TOMATOES are all great options.
Pesach Ketchup
Recipe by Chanie Nayman
4 plum tomatoes

¼ cup lemon juice

1 tsp salt

1 tsp garlic, crushed, or 1 cube frozen garlic

1 small onion, finely chopped

1 cup water

5 Tbsp brown sugar
Mix all ingredients together in a small saucepan. Allow to simmer over medium-low heat for 2 hours. If your family doesn't use peels, simply remove the peels from the tomatoes after an hour of cooking. They should slide right off. When done, blend using an immersion blender.
Barbecue Sauce
Recipe by Miriam (Pascal) Cohen
2 Tbsp oil

1 onion, finely diced

1½ tsp salt

3 cloves garlic, minced, or 3 cubes frozen garlic

½ jalapeño, very finely diced

1 inch (2½ cm) fresh ginger, minced

6 oz (170 g) Tuscanini Tomato Paste

½ cup red wine vinegar

½ cup honey

¾ cup sweet red wine
Heat oil in a saucepan over medium heat. Add onion, salt, garlic, jalapeño, and ginger; sauté for about 10 minutes, until the onion starts to brown.
Add tomato paste, vinegar, honey, and wine; stir. Raise heat to high and bring mixture to a boil.
Reduce heat and let it simmer for about 20–30 minutes (the longer the better). Set aside to cool.
Once cooled, use an immersion blender, blender, or food processor to blend sauce until completely smooth. Store in fridge until ready to use.
Apricot Jam
Recipe by Brynie Greisman
3⅓ lbs (1½ kg) apricots (after pitting)

2¼ lbs (1 kg) sugar
Wash the apricots well. Halve them, remove the pits, and weigh out the required amount of fruit.
Put the apricots through the food processor with the knife attachment just to coarsely chop them (do not mush them). Pour them into a pot. Add the sugar and bring to a boil. 
When the sugar is melted, turn the heat to low. Continue cooking uncovered for 3–5 hours, stirring occasionally until the apricots are really soft and the mixture looks thick. Cool, and blend with an immersion blender if desired.
Pour into small containers and freeze until use. 
Note: The jam is really ready after 1–2 hours. However, the flavor and color deepens when it cooks longer.
(Originally featured in Family Table, Issue 787)
Oops! We could not locate your form.
>