| Recipes |
Personalized Chocolate Cake | September 6, 2022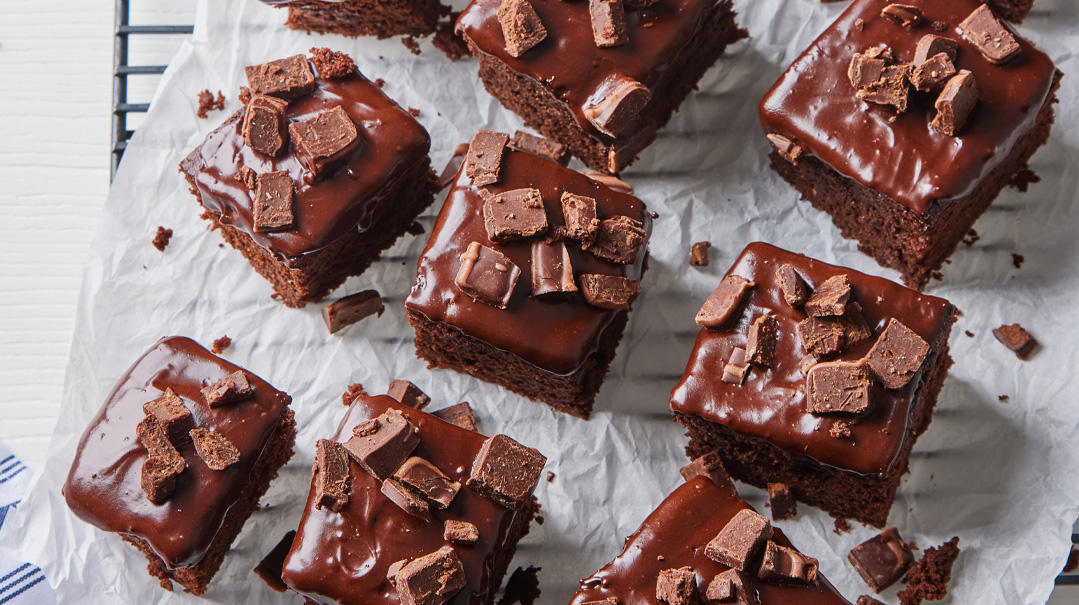 Food and Prop Styling by Goldie Stern
Food Prep and Consultant Chaya Surie Goldberger
Photography by Felicia Perretti
This is a beautiful and delicious addition to any cake platter and can also serve as dessert. Whoever tasted it had at least two pieces! When I was developing this recipe, I had too many oranges in the house (as it was still during shemittah, when you end up with a lot of whatever's available!), and I decided to incorporate the flavor into a chocolate cake and into the glaze as well. Although it's a favorite combo of mine, I realized that everyone has their own preferred flavor undertones to a chocolate cake, so the note below offers many other options. Freezes beautifully, too.
YIELDS 2 DOZEN SQUARES
¾ cup oil
scant ¾ cup sugar
full ½ cup light brown sugar
3 large eggs
1¾ cups whole-wheat pastry or white spelt flour (or regular white flour)
scant ¾ cup good-quality cocoa
1 tsp baking powder
1 tsp baking soda
½ tsp salt
zest of ½ orange
½ cup freshly squeezed orange juice (juice of 1 orange)
3 Tbsp orange liqueur + soy milk to equal 1 cup
Glaze
2 Tbsp oil
3 Tbsp cocoa
1¼ cups confectioners' sugar
3 Tbsp freshly squeezed orange juice
1 tsp orange liqueur
espresso chocolate, chunked, for garnish (optional)
Preheat oven to 350°F (175°C). Line a 9x13-inch (23x33-cm) baking pan with parchment paper and set aside.
In the bowl of a mixer, place oil and sugars and mix together. Add eggs and beat for 2 minutes until thick and creamy.
Add dry ingredients alternating with wet ingredients, and mix on low speed until well combined.
Pour batter into prepared pan and bake for 30–35 minutes or until set. Cool on a cooling rack. Cut into 24 squares. (I like to cut into squares before frosting so you can easily remove a square at a time without messing up the glaze.) Glaze when cooled.
For the glaze: Place all ingredients besides chocolate chunks in a small bowl and stir together with a whisk until shiny and smooth. Adjust liquid and/or confectioners' sugar if necessary. Pour over cake and spread evenly with a spatula. Garnish with espresso chocolate chunks if desired.
Note: When changing up the flavor, omit the orange zest.
For mocha-flavored chocolate cake, replace the juice with 1⁄2 cup water and 1⁄2 tsp coffee, and switch the orange liqueur to coffee liqueur. In the frosting, replace the orange juice and liqueur with a rounded 1⁄4 tsp coffee dissolved in 3 Tbsp water and 1 tsp coffee liqueur.
For pineapple-coconut flavor, use pineapple juice and piña colada liqueur, and skip the garnish.
For a double chocolate experience, replace the liqueur with chocolate liqueur and use soy milk in place of all the juice. Alternately, using crème de cassis or chocolate-mint liqueur in place of the chocolate liqueur gives it a whole different dimension.
You can also add almond flavor by replacing all juice with soy milk and adding a teaspoon of almond extract. Put in some amaretto liqueur for additional flavor. Skip the garnish if desired.
You get the idea — the sky's the limit!
(Originally featured in Family Table, Issue 809)
Oops! We could not locate your form.
>