| This Way That Way |
Pepper Steak
| November 9, 2021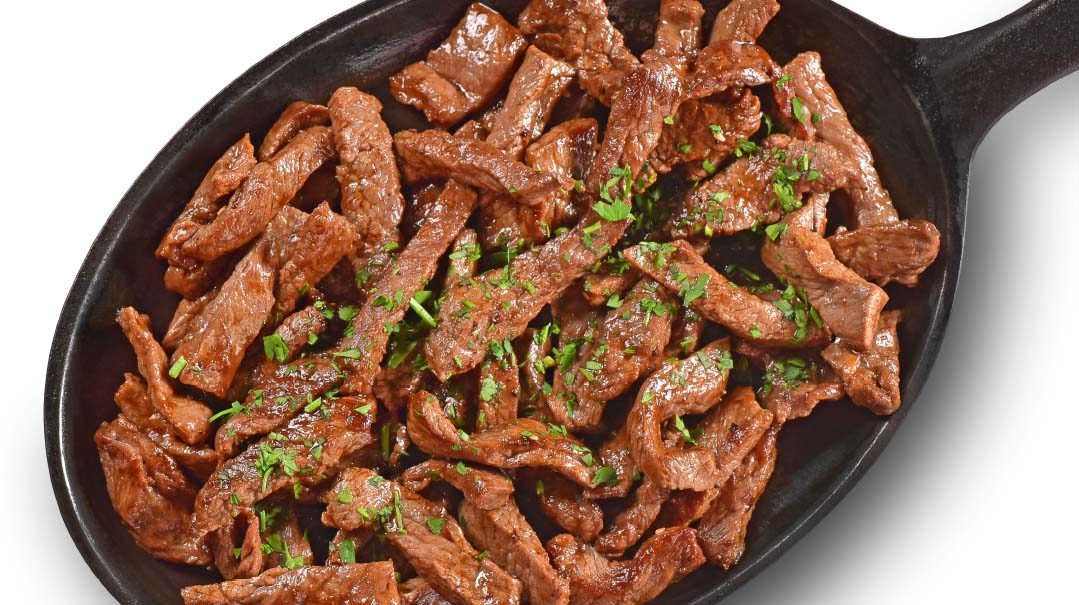 Although pepper steak is widely known as a specific cut of meat, it's actually simply the name of the dish because, well, it's comprised of peppers and steak! Pepper steak usually comes from the chuck or the shoulder. Here are some of the best of the best versions!
Best Bet for Soft Meat
The way to make sure your meat is tender is to coat it in a mixture of baking soda and cornstarch before you cook it.
Quick & Easy Pepper Steak
Recipe by Faigy Grossman
The scallions in this recipe impart a delicate oniony flavor. This is sure to become a popular choice, since it's simple to prepare and offers a satisfying, meaty taste.
SERVES 4–5
1 lb (450 g) pepper steak or shoulder steak, cut into 1/4-inch (½-cm) strips
1 Tbsp paprika
2 Tbsp margarine or oil
2 cloves garlic, minced
11/2 cups chicken soup
1 cup sliced scallions
2 green peppers, cut into strips
2 Tbsp cornstarch
1/4 cup water
1/4 cup soy sauce
Sprinkle meat with paprika. Heat margarine or oil in frying pan. Brown meat, stirring regularly. Add garlic and chicken soup, cover, and simmer for 11/2 hours. Add scallions and green peppers; cook, covered, for another 15 minutes. (For softer meat, cook 15 minutes longer.)
Combine cornstarch, water, and soy sauce in a bowl. Pour into meat mixture, mixing until clear and thickened, about 2 minutes. Serve over rice.
Pepper Steak Entrée
Recipe by Brynie Greisman
A colorful and festive entrée in a fabulous, flavorful sauce, sure to be enjoyed by all.
SERVES 6–8 AS AN APPETIZER
1 pkg pepper steak (approximately 1 lb/450 g), defrosted halfway
2 tsp olive oil
1 onion, sliced (optional)
strips of green, yellow, and/or red pepper, equivalent to 1 whole pepper
1 can baby corn, drained, cut in half
1 small/medium can mushrooms, drained
1 cup boiling water
1 Tbsp soy sauce
2 Tbsp onion soup mix
2 Tbsp honey or brown sugar
Cut pepper steak into strips and brown in olive oil. Add the vegetables and sauté together for 5 minutes. Add the water, soy sauce, onion soup mix, and honey or brown sugar. Bring to a boil, lower heat, and cook covered for approximately half an hour. Raise the heat and leave cover of pot partially open for a few minutes to reduce the liquid. Serve over rice or noodles.
Heavenly Pepper Steak
Recipe by Rivky Kleiman
Many people make the mistake of overcooking their meat, resulting in tough, chewy beef. Follow the directions below and make sure the beef is cooked through, then serve immediately and enjoy a perfect dinner!
SERVES 6
1½ lbs (680 g) thinly sliced pepper steak
¼ cup olive oil
1 medium onion, sliced
1 red pepper, sliced
1 yellow pepper, sliced
2 cloves garlic, crushed, or 2 frozen cubes garlic
1 15-oz (425-g) can tomato sauce
½ tsp salt
¼ tsp pepper
Marinade
2 Tbsp balsamic vinegar
2 cloves garlic, crushed, or 2 frozen cubes garlic
½ tsp salt
¼ tsp black pepper
Place pepper steak in a large ziplock bag. Add the marinade ingredients. Mix well and marinate for 30 minutes.
Heat olive oil in a large frying pan over medium-high heat. Stir-fry the onions and peppers for 5 minutes. Add beef and crushed garlic and stir-fry for 4 minutes. Add tomato sauce, salt, and pepper. Cook an additional 4–5 minutes until beef is cooked through. Serve immediately.
(Originally featured in Family Table, Issue 767)
Oops! We could not locate your form.
>