| Recipes |
Pastrami-Wrapped Corn Dogs | October 2, 2019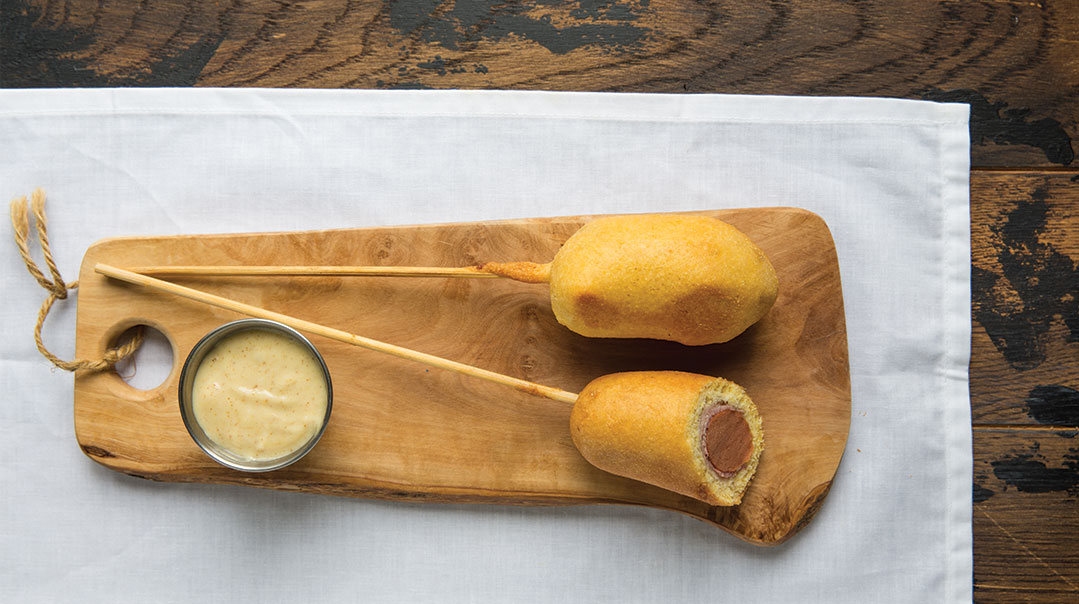 Pastrami-Wrapped Corn Dogs 
It's common knowledge that kids love their food on sticks, but don't think of this as a kid food — these super-fun appetizers with the amped-up flavor from the pastrami are a hit with the grownups as well! If you leave a flame on for Yom Tov, as I do, try frying these fresh for something different and so, so good.
 SERVES 6–8
6–8 hot dogs
12–16 slices pastrami
oil, for frying
3 Tbsp flour
 BATTER
1¼ cups flour
1 cup cornmeal
⅓ cup sugar
½ tsp salt
pinch cayenne pepper
1 Tbsp baking powder
3 eggs
1 cup pareve milk
Cut each hot dog in half widthwise. Take a slice of pastrami and wrap it around half a hot dog. Slide a skewer into the hot dog; set aside. Repeat with remaining hot dogs. To prepare the batter: In a medium bowl, whisk together all dry ingredients. Add eggs and pareve milk. Whisk until smooth; do not overmix. Transfer to a tall glass for easiest dipping. Heat a few inches of oil in a pot over medium heat.
Gently roll each pastrami-wrapped hot dog in flour, then dip into batter. Let some of the excess batter slide off, then immediately place into hot oil. Fry for 2–3 minutes, until golden brown. Note that the hot dog will float up and flip to one side, so you may need to hold it down to ensure that it gets evenly cooked. I find it easiest to fry two to three at a time. Serve with ketchup, mustard, or honeymustard dip (see note).

Note: To make a honey-mustard dipping sauce, combine ½ cup of mayonnaise with 2 tablespoons each of honey and mustard. Add salt and pepper to taste.
(Originally featured in FamilyTable, Issue 662)
>