| Recipes |
Panini Maker Sabich-Inspired Pitas
| August 16, 2022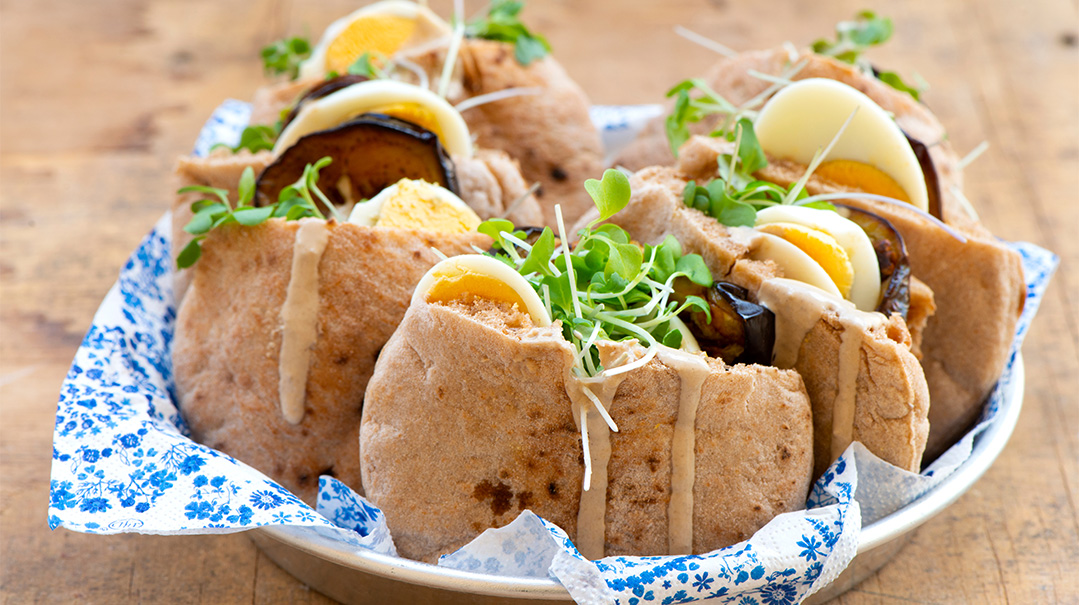 Recipes courtesy of Kosher.com
A sabich is a popular Israeli sandwich consisting of pita stuffed with fried eggplant and hard-boiled eggs. In this version, the panini press is used to grill the eggplant and fry the eggs. Bring along your panini maker on vacation to prepare nutritious meals even when away from home.
YIELDS 4 SANDWICHES
1 small eggplant, sliced into ⅓-inch (1¼-cm) rounds
4 eggs
2 small tomatoes, diced
2 Persian cucumbers, sliced
salt and pepper, to taste
1 lemon, for squeezing
4 pitas
7 oz (200 g) Sabra Classic Hummus
1 can Israeli pickles, drained and sliced
tahini or amba sauce (optional)
Preheat panini press on high setting. Spray with cooking spray.
Place eggplant slices on press (you may have to do this in batches, depending on the size of the machine). Close top and grill for about 2–3 minutes or until eggplant is tender and has grill marks. Transfer slices off press; repeat as needed.
Respray cooking spray on the panini press. Crack one egg into a glass, being careful not to break the yolk. Carefully pour egg onto center of hot press (if cooked too close to the edge of the press, the whites will run off before setting). Allow egg to set and cook until yolk is halfway cooked but still a bit runny, about 3–4 minutes. Repeat with remaining eggs (a large press can accommodate more than one egg at a time). Alternatively, make hard-boiled eggs.
While eggs cook, combine tomatoes and cucumbers. Season with salt and pepper and a squeeze of fresh lemon juice.
To assemble, make a slit in the top of the pita, hollowing out a pocket inside the opening. Slather a spoonful of chummus inside pita, then stuff with 2–3 slices of eggplant. Add a few slices of pickles, a big spoonful of tomatoes and cucumbers, and then carefully slide a fried egg into pita. Drizzle with tahini or amba sauce if desired. Enjoy…but have napkins on hand!
(Originally featured in Family Table, Issue 806)
Oops! We could not locate your form.
>