| Lifestyle |
Overnight Adventures | June 20, 2018
Four complete itineraries for overnight trips that may be short, but pack a whole lot of fun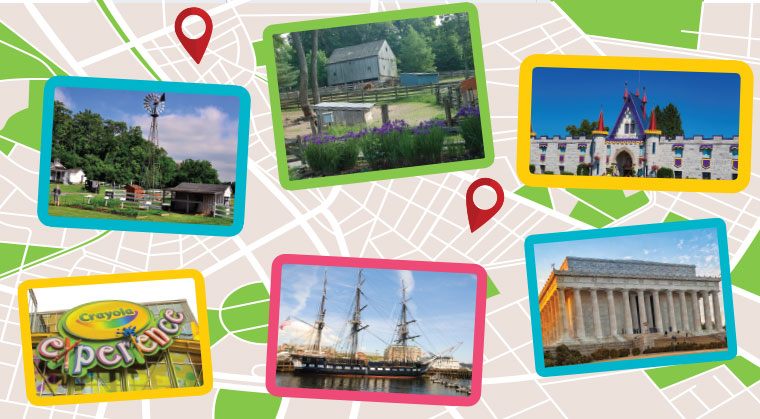 Trip One: Lancaster, Pennsylvania
Lancaster, Pennsylvania, is a popular vacation destination for frum families with young kids — and for good reason. There are lots of fantastic, kid-friendly attractions, and the atmosphere is generally refined and respectful. It's cool to watch the Amish riding horses and buggies around the main roads. (My family had such a good time, we did the trip two years in a row!)

Itinerary
Day 1:
If you're making the trip from the Tristate area and the drive all the way down to Lancaster sounds daunting, you can stop off midway at the Crayola Experience in Easton, Pennsylvania. They have lots of fun activities for kids, including interactive art, a crayon dancing exhibit, a playground, and more. Your kids will love the hands-on activities, and they'll be so proud of the personalized crayons they can mold themselves. (Those might come in handy as a pre-bedtime activity in your hotel room later on). (Cost: $18.99 per person online, $20.99 at the door. Kids under 3 are free.)
TIP: Bring a picnic lunch and eat it on the picnic benches conveniently located right outside the museum.
Next, make a stop at Dutch Wonderland. This amusement park is a dream come true for the younger crew, with all rides and activities geared to kids 11 and under. Older kids (and adults!) will enjoy the cable car ride, with a scenic view overlooking the beautiful countryside. The park and the bathrooms are kept clean, and since the area is shady, adults won't get too cranky walking around the park. (Cost: $39.99 per person; kids 2 and under are free.)
TIP: To buy some extra time, take advantage of Dutch Wonderland's "Preview" offer. If you come to the park less than three hours before closing, Dutch Wonderland will stamp your ticket and allow you to return the next day for free.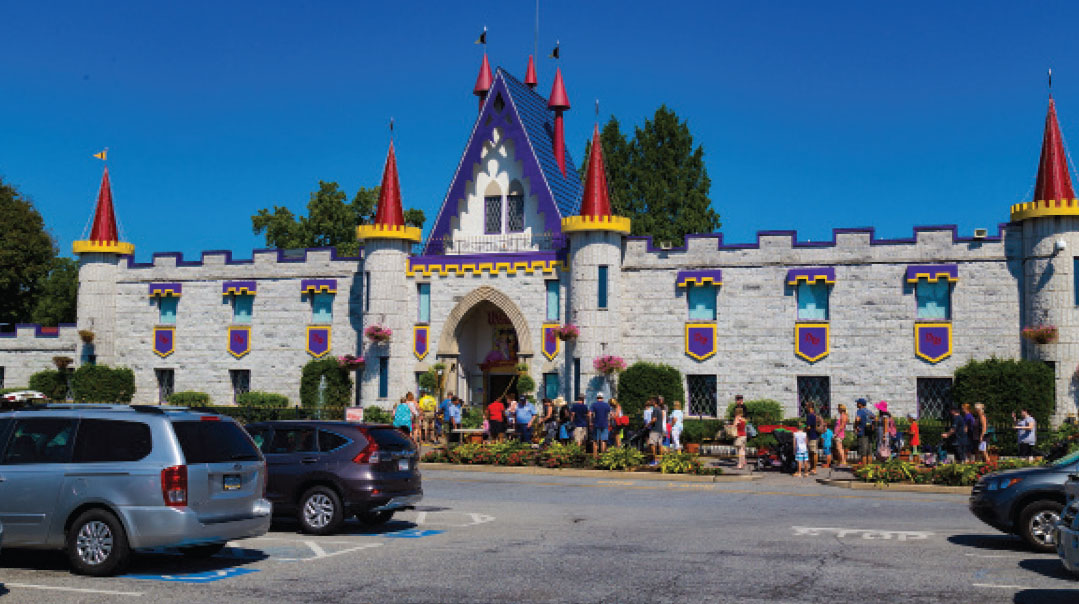 Day 2:
Start your day at the Amish Village, where you can explore an authentic Amish property, including a one-room schoolhouse, barn with farm animals, blacksmith shop, and smokehouse market. There's also a playground, a small petting zoo, and buggy rides (for an additional fee) on premises. (Cost: adults $10, kids $6.50, children 4 and under free.)
TIP: Let the little ones skip the buggy ride — the horses can be wild, and they may be scared. But if you have a crew of energetic boys, this will be just up their alley.
After a couple hours of fun at the Amish Village, you can head to Cherry Crest Farms, a farm-themed outdoor play park that both kids and adults will enjoy. You can churn your own butter, jump on giant pillows, race down hay chutes, jump on trampolines, ride a tractor train, and try to find your way out of a corn maze. Your kids will also enjoy building a little cabin they can actually walk into, using the park's life-sized Lincoln logs. (Pricing ranges from $17 to 30 a person, depending on which attractions are included in the admission; kids 2 and under are free. Free parking.)

There's a large gazebo with lots of picnic tables. The oversized handmade wooden games, such as chess, checkers, and shuffleboard, can keep the kids happy while the adults eat at leisure. And again, this is such a popular frum destination that when we went, the woman collecting payment let us know what time our "prayer meeting time" would be for Minchah at the farm!
TIP: The bathrooms are nice and clean, and they have a separate nursing station cabin stocked with diapers and wipes. You can also buy fountain sodas from a stand on the farm.
If you think you'll have time — and energy! — left, you can swing by Herr's Snack Factory, about 45 minutes south of Lancaster. Book your slot in advance to see the factory's hourlong tour, where you can watch the workers making chips in real time. The best part? Those fresh hot potato chips are free at the end of the tour, of course. (Cost: adults $4, kids 4 to 17 $3, children 3 and under free.)
Since the tour is based on live manufacturing, try to go on Monday, Tuesday, or Wednesday; there's a higher probability of a video-only tour on Thursday and Friday.
Accommodations
Eden Resort
DoubleTree Resort
Both hotels have lots to do on the premises, including indoor and outdoor pools, water playgrounds, and more. They also both have family-friendly rooms and suites. Book early because they fill up quickly in the summer.
Right across from Dutch Wonderland and cheaper than the above.
Minyanim
Degel Israel (717 397 0183)
During peak season, there are usually multiple minyanim in the popular hotels and resorts. (You don't need to stay in the hotel to take advantage of the minyanim.)
Kosher Food
During peak tourist season, Kosher Mart has a concession stand in Dutch Wonderland, where they sell pizza or hot dogs, burgers, and chicken nuggets. Kosher Mart will also deliver to hotels, and they sell discounted park tickets. Check out their website for details.
Weis Supermarket on Fruitville Road carries packaged deli and cheese, and you can buy chalav Yisrael milk at the Darrenkamp's Supermarket, across the street from the DoubleTree. (Look for the Kreider's Farm bottles with a Hebrew date in the bottom right-hand corner of the bottle.)
If you're willing to drive a bit further, there's a Giant food store on Linglestown Road in Harrisburg that offers a selection of kosher cheeses, meat, and chicken, as well as frozen foods like pizza and Klein's ice cream. Note: The deli counter says "kosher," but it's not under hashgachah.
The Kosher Cafe at The Jewish Home is also on Linglestown Road. They sell meat and pareve soup, deli, grill, and salad bar.
Trip Two: Boston, Massachusetts
Who said history has to be boring? There's no shortage of things to do in Boston, Massachusetts, one of America's oldest cities. History buffs and fun-seekers alike will appreciate the vast array of Boston's tours, parks, and attractions.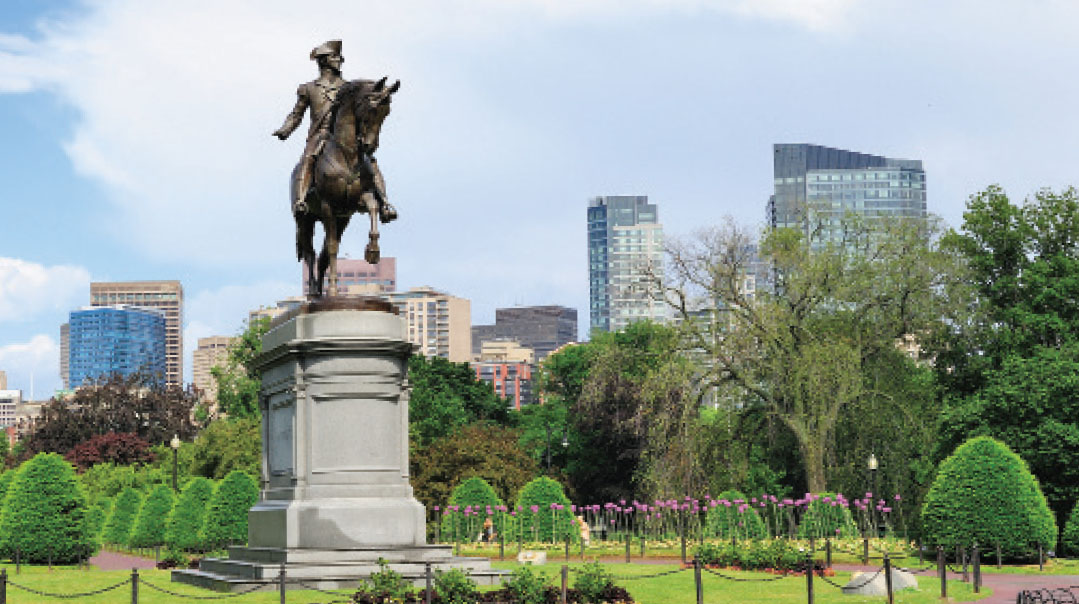 Itinerary
Day 1
Try to get an early start in the morning, as you have 3.5 to 4.5 hours of driving ahead of you if you live in New York or New Jersey. When you finally arrive, start in downtown at the beautiful Boston Common, which is a scenic park where you can stretch your legs after the long drive. If you brought along lunch, you can sit on benches and eat at the park. You can also visit Tadpole Playground and Frog Pond, which feature a large, kid-friendly playground as well as a spray plume and wading pool (in the summer; there's ice skating in the winter).
When you've finished lunch, you can head to the Swan Boats, which are located right there in the park. The driver takes your family and others on a leisurely, 12-minute pedal-powered boat ride — an inexpensive, relaxing start to your trip that will bring you up close to some of the city's waterfowl.
The lines for the Swan Boats may look long, but don't worry, they move very quickly.
Now you're ready to experience what Boston is all about on the Freedom Trail. Don't skip this major highlight, which starts right at Boston Common. It leads you to all the major historic sites of early America (and there's a Holocaust memorial located on the trail, too).
You can walk the 2.5-mile trail yourself for free, but the Freedom Trail Foundation offers 90-minute walking tours led by guides in 18th-century costumes. (Call the Freedom Trail Foundation in advance to book a tour, and remember to print out and bring your tickets. (Cost: adults $12, kids 6 to 12 $6.50, kids 5 and under free.)
The Foundation tours only cover part of the Freedom Trail and do not include admission to the Freedom Trail sites. The Old State House, Old South Meeting House, and Paul Revere House each charge an entrance fee.
This walking tour is also baby-friendly. Bring on the strollers — literally!
Have any energy left? Head to the USS Constitution Museum, where you can enjoy a free tour of the oldest floating warship in the world. You can also check out an adjacent warship in dry dock. If you have the opportunity to go back out in the evening, you can stroll around Faneuil Hall, which has awesome street performers and acts that you can enjoy as you browse the shops.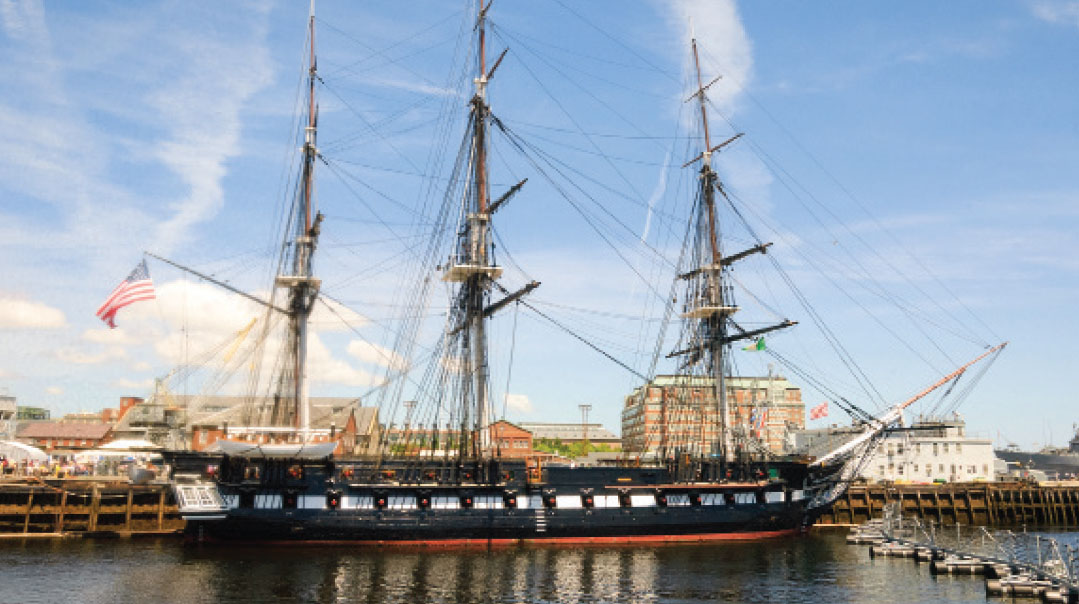 Day 2
The Duck Tours aren't cheap, but there's a reason that they're Boston's number one attraction. The Duck Tours are an amphibious bus that takes you around Boston's streets — and then becomes a boat that takes you around Boston's waterways, showing you the whole city in less than 90 minutes. If your kids automatically tune out when they hear the word "history," don't worry: The Duck Tour drivers are out-of-work actors and comedians who sprinkle their tour with plenty of humor. You can take the entire tour, or use the boat as transportation, hopping on and off at the three different departure locations. (Cost: adults $42, children ages 3 to 11 $28, children under 3 $10.50)
You can save money by getting a two-day duck tour pass, or, if you want a very cheap boat tour, check out the MBTA boats. You can travel for a short ferry ride or all the way from Boston to Hingham, which takes about 1.5 hours — a real bargain. (Cost: Fare starts at $3.50 one way and increases for longer ferry rides; 2 kids under 12 per adult can ride free.)
If you end the 80-minute Duck Tour at Prudential Center at Boston's historic Back Bay, take a 13-minute walk or 5-minute trolley ride to the Boston Tea Party Museum. And tell your kids to stop rolling their eyes — this tour's fun! Grade-school aged kids and up will enjoy watching costumed actors reenacting the Boston Tea Party, bringing history to life.
Your younger kids will love the Children's Museum. You can easily spend two to three hours there, and it's just a two-minute walk from the Boston Tea Party Museum. The Children's Museum has various areas addressing art, science, play, etc. The construction truck/demolition area and the water tables are always favorites! (Cost: $17 per person. Infants under 12 months are free.)
You can get your parking fee discounted (from $12 to $9) by parking at 280 Congress Street and getting it validated when you get to the museum.
Or maybe you want to round out the day with an adult activity: the Sam Adams Brewery Tour. It's a 25-minute drive (or 30-minute trolley ride), but it's a unique experience and it's free. (Suggested donation: $2.)
This adult outing works for kids too, and it's even stroller-friendly. There's free beer sampling, and if you get lucky, they may even be offering free mugs, too.
If you can fit in a mitzvah opportunity before you head home, consider making a bikur cholim stop at the Children's Hospital, and infusing your fun with meaning. There are, unfortunately, always Jewish patients who come from all over the world for treatment at the one-of-a-kind hospital. The hospital is right nearby, just outside of Brookline.
Accommodations
W Hotel
Holiday Inn in Brookline
Sharon Woods Inn, Bertram Inn, Samuel Sewall Inn
The W Hotel downtown is a beautiful and friendly hotel. Its location makes it convenient to use the subway and walkable to many attractions. It's also a Starwood Hotel, which may make it an attractive option if you have points to redeem.
The Holiday Inn in Brookline is a lower-cost option. It has some key-only rooms for Shabbos.
Alternatively, you can try one of several charming kosher bed-and-breakfasts run by the Yarmush family: Sharon Woods Inn, Bertram Inn, and Samuel Sewall Inn, all located a bit further from the attractions, but within walking distance of shuls and kosher food.
Minyanim
Young Israel of Brookline
Chai Adam
Congregation Beth Pinchas (Bostoner Rebbe)
Transportation: Trolleys
You can use Boston's trolley system to get around downtown. Purchase a hop-on-hop-off trolley pass and a harbor cruise ticket. Well worth it — your kids may find the trolley rides the most exciting part of their trip. (Cost: $40 for a one-day pass, $60 for two days. The harbor cruise costs an additional $10. Note that the passes also include free admission and discounts to other Boston attractions.)
Kosher Food
Most of the kosher restaurants are in Brookline, which is a 15- to 20-minute drive from most of the attractions listed. If you are staying at a hotel, the nearby groceries generally carry kosher products, so you might want to buy breakfast and prepare lunch to take along. If you are staying at a kosher B&B, then your breakfast is covered, of course, and you can pick up some bagels for lunch from Kupel's Bakery.
Drive/trolley eight minutes to Jerusalem Pita and pick up falafel or shawarma for lunch — or if you're in the mood for a dairy restaurant, try Caf? Eilat. There's also Rami's (falafel) and Kupel's Bakery (bagels). Or you can pick up some food at the kosher grocery, the Butcherie.
Trip Three: 

Stamford, Connecticut
Stamford may not be a famous tourist destination, but with its plethora of kid-friendly activities and as home to Stamford Yeshiva, it makes a great trip for frum families. You'll enjoy Stamford both outdoors and in, from its beautiful nature-themed attractions to its kiddie-oriented activity centers.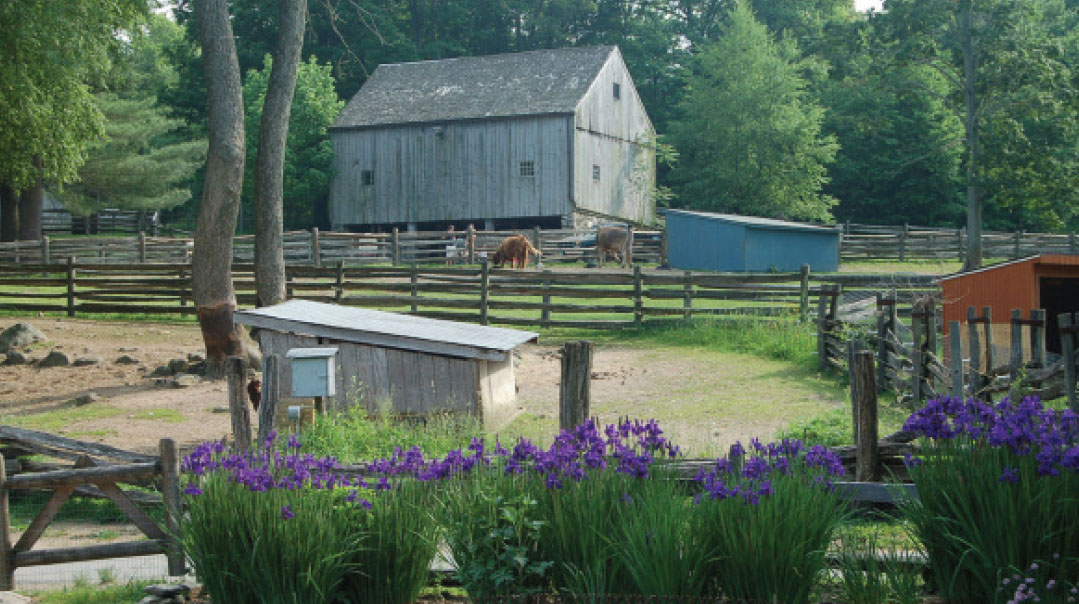 Itinerary
Day 1
If you're coming from the New York–New Jersey area, then driving to Stamford, Connecticut, should be a breeze. Well, okay, a trafficky breeze, perhaps, but still a very manageable drive.
Enjoy the beautiful outdoors at Stamford Museum and Nature Center, which features a hands-on zoo, an indoor planetarium with rotating exhibits, an excellent wooden playground with slides of various size, and peaceful hiking trails (which are easy enough for kids, too). Some of the trails are wheelchair- and stroller-accessible. You can get close up to the animals , and if you ask nicely enough, the caretakers will let you pet the iguanas and ferrets. (Cost: adults $10, kids $5, kids 3 and under free.)
Next, head over to the Stepping Stones Museum for Children. It's a smallish museum packed with interactive fun for kids up to around age 10. If the weather didn't allow you to eat at the Nature Center, there are plenty of places to eat at the museum, and they let you bring your own food. (Cost: $15 per person, infants under 12 months free. They have free parking.)
The museum tends to get a bit noisy and crowded on weekends, so it's best to go at off peak times.
If that wasn't enough for you, and you want one last adrenalin rush before you call it a day, get ready for a crazy night activity at RPM Raceway. Try their electric karting at high speeds for an exhilarating thrill you won't forget. They also have bowling, billiards, and arcades to keep the scaredy-cats and younger kids entertained.
If you're worried about the hygiene of the helmets, you can bring along shower caps for all your drivers to wear under their helmets. Hey, stop laughing!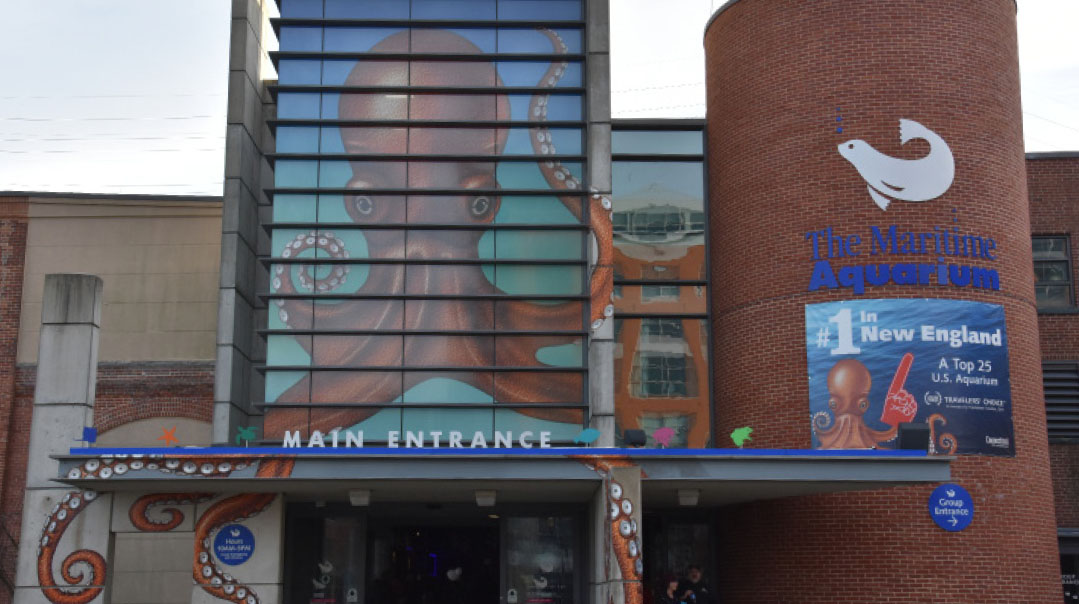 Day 2
Pick up fresh rolls and pastries on your way home from Shacharis. (Be sure to buy enough to make sandwiches for lunch, too.) You're now ready for a short drive to one of Connecticut's most popular attractions: the Maritime Aquarium at Norwalk. The admission price (adults $24.95, kids 3 to 12 $17.95, children under 3 free) is on the higher side, but it does include Imax shows. It's located in the beautiful waterfront neighborhood known as SoNo (South Norwalk). The kids will love the tidal pools where you can touch baby sharks, jellyfish, and rays. Cascade Caf? at the aquarium is not kosher, but they do sell fresh fruit and drinks. The aquarium does not allow outside food or drinks, so eat your pre-packed lunch in advance.
If you're going in the summer, wear bright-colored clothing, because there's a butterfly area where the butterflies land all over the brightest-colored people.
After the aquarium, if your kids (or you!) have lots of energy to burn, and less patience for driving, you can't go wrong with a seven-minute drive south to the Sky Zone Trampoline Park. It's a very clean facility, and they have excellent climbing and jumping areas for various ages.
Alternatively, if you're okay with a drive, you can drive just under an hour east, to the Sports Center of Connecticut. They offer lots of activities, including laser tag (fun 20-minute sessions), ice skating (nice long skate sessions), excellent mini golf, a great driving range, mini bowling, arcades, and more. You can also come here in the evening for some night mini golfing. The activities are not cheap, but if you're on a budget, you can choose to do just one. (Prices seem to fluctuate, and they vary for the different activities. They start at $5.50 per person for mini bowling, to about $15 per person for mini golf.)
Accommodations
Stamford Crowne Plaza
Stamford Suites
We recommend the Stamford Crowne Plaza (used to be the Sheraton). If you want a spacious room, request a corner room. If you're traveling with kids, you can book a suite, or adjoining double rooms.
The hotel is owned by frum people, and is conveniently located right near the Stamford Yeshiva, so you can access minyanim easily. And the best part? It's a 10-minute walk from Six Thirteen Restaurant. After Minchah-Maariv, and a yummy dinner, you can try for a night swim at the hotel's well-maintained indoor pool.
You can also try Stamford Suites. The hotel has not been renovated or updated in a while, but it does have very roomy suites with a full kitchen, and a separate pull-out sofa bed.
Minyanim
Agudath Sholom Synagogue
Young Israel of Stamford
Chabad of Stamford
You can also daven with the Yeshiva of Stamford.
Kosher Food
You can visit Beldotti Bakeries, where everything is delicious. Note that they only accept cash (but there's an ATM on site). Or if you're in the mood for sushi, Soosh Stamford is a great lunch spot. Six Thirteen Restaurant is an excellent meat restaurant that offers free parking.
Trip Four: 

Washington, D.C.
Its streets are lined with history — and lots of parks, educational museums, and free tourist attractions. It's no wonder that Washington is a perennial favorite for family vacations, especially for families with school-age kids. With frum communities sprinkled throughout and nearby the area, Washington is a classic and convenient destination.

Itinerary
Day 1
Start your trip at the Lincoln memorial, an outdoor memorial commemorating America's assassinated 16th president who preserved the Union during the Civil War and ended slavery. But don't worry about forgetting your history — rangers are on duty to answer questions, and there are also restrooms and a gift shop. Challenge your children to walk from one side of the monument to the other, while observing Lincoln's eyes. (They seem to have a Mona Lisa effect and follow you as you move.)
There are endless steps to get to the top, so if you have a stroller or wheelchair with you, ask a park ranger to guide you to the elevator. For the rest of the kids, running up the steps is part of the Lincoln Memorial experience!
Next, check out the Jefferson Memorial. You can walk over — it'll take you about 25 minutes, but if you're still tired from climbing all those steps, try an Uber (9-minute drive) or the Metro (23 minutes). The Jefferson Memorial is a majestic, striking building with an unmatched view of the Washington skyline and a serene tidal basin in front of it. The bronze statue inside is nothing special, but the simple stone renditions of famous Jefferson quotes give this place a majesty and significance. There is an underground area with bathrooms and a gift shop. Take the time now to enjoy a picnic lunch in the sun as you sit on the steps. And of course you'll need to take those classic (clich?d?) pictures, cupping your hands in the air with the Washington monuments in the distant background, creating the photographic illusion that you are holding up the monument.
Now that you covered two classic monuments, you can enjoy one of the excellent (and free!) Smithsonian Museums. We love the Air and Space Museum, which is a 25-minute walk from the Jefferson memorial (9-minute Uber, 23-minute Metro). The museum has extensive coverage of all aspects of flight — from the early years of flight to the two world wars to space exploration. The Einstein Planetarium and IMAX are extraordinary. There are lots of life-sized displays — if your kids are fascinated by astronauts, outer space, or airplanes, this is your place! You can spend about three hours here.
If you still have time after the Air and Space Museum, you can visit another Smithsonian Museum, since they're all in the same area. The Museum of Natural History is a great option with lots to see and touch for all ages. The displays are creative and engaging and include mummies, dinosaurs, the Hope Diamond, and lots more. They have several gift shops inside. (The museum is next to the Washington Monument, which is closed until 2019, so make a mental note to return next year.)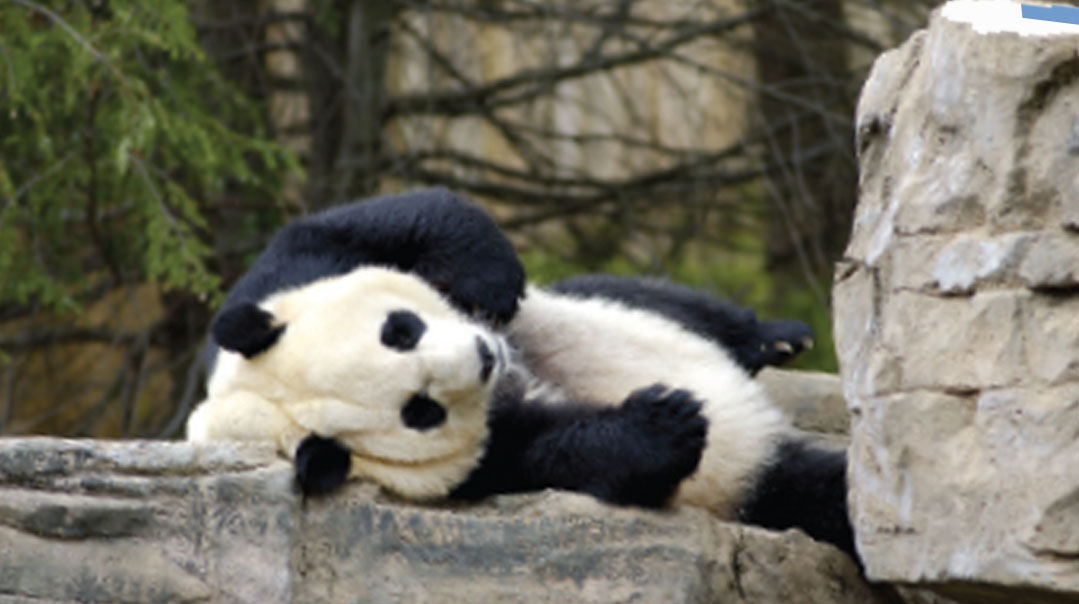 Day 2
Start out with a visit to the White House. We recommend booking a (free) White House tour, which needs to be reserved in advance through your senator or congressman. (If you plan on doing this trip, try to reserve a slot as early as possible.) You get to tour the lower floors of the White House and your kids will be proud to brag about it when they get back to school. (Don't hold your breath, but the president does make rare surprise visits to the White House tour groups.) The White House tour takes up to 45 minutes and is self-guided (although there are plenty of Secret Service agents everywhere, so don't get any ideas about sneaking into the president's confidential stuff). There are personnel in every room to answer questions you may have.
Seeing the impressive White House dining room might make you hungry. You can take a break to enjoy a picnic lunch, or buy food from a local restaurant (see sidebar). Then head to the National Zoo (11-minute Uber, 10-minute Metro + a 10-minute walk). It's a huge, free zoo with many close-up opportunities. Be prepared to walk — the zoo is big, and there are some hills, but it's packed with interesting sights. It offers a nice mix of indoor and outdoor exhibits to give you a break from the heat. It has one of the world's best panda exhibits — you can literally stand within a few feet of them!
The zoo may be free, but parking is pricey ($25). Depending on the size of your family, though, it may be cheaper to pay for parking than the Metro. (See sidebar.)
Even if you're normally frugal, splurge for a map of the zoo (they charge a donation fee). The place is too big to navigate on your own.
If you're not into zoos, you can also check out Ford's Theatre (free) or the Spy Museum (adult $23, youth 7 to 11 $15, kids under 7 free) — both are great for boys! At Ford's Theatre you can take a free ranger-led tour of the historical building where President Lincoln was assassinated, and watch a short live presentation about what happened. When you leave the theater itself, take the time to cross the road to the next exhibit, which follows the events that took place after the shooting.
The Spy Museum is an interesting museum that will help you better understand how spying is essential to a country's defense, and that all countries always spy on each other — and always have. It's best for ages 9 and up. The place does get crowded during vacation seasons, so if you are claustrophobic, you may want to postpone your visit to this museum until 2019, when they will be moving to a new, more spacious location.
Make sure to pick up the kids' spy game at the front desk when you purchase your tickets. You follow clues in a fun hunt throughout the museum. Great entertainment for children.
Alternatively, if you absolutely loved the Air and Space Museum on Day 1, then you can drive to the other half of it, called Udvar-Hazy, in nearby Virginia (which has plenty of free parking, in case you didn't take our advice about public transportation).
Accommodations
The Churchill Hotel is conveniently located right near the Lubavitch shul. Alternatively, you can stay in the Georgetown Suites. If you plan to stay over Shabbos, the hotel is very accommodating by offering rooms on the lower floors and helping Torah-observant guests get into the stairways and the rooms on Shabbos.
Minyanim
Kesher Israel Georgetown Synagogue
Transportation
Parking in Washington is always challenging. Many streets are completely closed to parking. Your best bet is to park on the perimeter and use a combination of the efficient Metro subway system and/or Uber or local taxis, which are abundant. The Metro can be a fun part of the experience, and it's clean and easy to navigate, even for the spatially challenged among us. Note that fares vary based on time of day and destination, but two children under age five may travel for free with each fare-paying adult.
Kosher Food
Char Bar is a fabulous kosher restaurant located at 2142 L St NW, Washington, D.C. They make a delicious brisket and are reasonably priced. If you prefer, you can order online — they'll deliver straight to your hotel.
For a lighter meal, you can pick up some salads or sandwiches from Soupergirl. They're a great little vegetarian restaurant, but they have no seating. (They make excellent soups too, for when you're not on the go.) They have two locations in Washington: 1829 M Street NW and 314 Carroll Street NW.
You can also drive to nearby Silver Spring to visit Max's (casual fleishig + Middle Eastern options such as falafel and shawarma) or Ben Yehuda (pizza).
Adina Markowitz created Trippo Hippo to help frum families enjoy time together without the stress of planning. You can search through the trip directory by lcoation, ages, or cost, and view nearby minyanim and kosher restaurants.
Mishpacha does not endorse the kashrus of any of the eateries listed in this article. Please verify hashgachos and consult a rav when making your travel plans.
(Originally featured in Family First, Issue 597)
>