B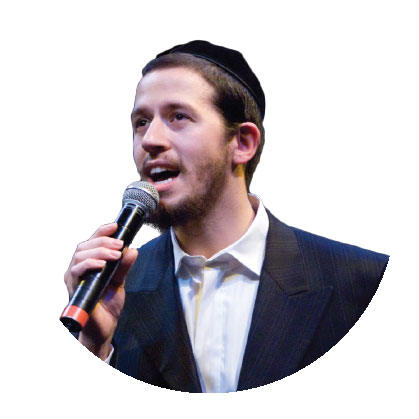 eginning with its catchy first track, taken from the familiar Rosh Hashanah pasuk following tekias shofar, "Ashrei ha'am yodei seruah," Shloime Gertner's latest album, Yehaleli, became a soundtrack of this past Yom Tov season. Gertner's trademark warm, versatile voice entertains and inspires as he sings his way through a great playlist of new songs.
This is album number eight for the British singer who gained popularity back in 2007 with his debut album, Nissim, and the song "Kodesh" ("Shabbos Hamalkah") dedicated to his special-needs daughter. This time around, he worked with top producer Yochi Briskman.
"I'd always dreamed of doing an album with Yochi one day, and when I felt ready to work on this album, my usual producer, Yossi Tyberg, was in the middle of some other projects and suggested that maybe Yochi would take this one on. I'm thrilled with the result," Gertner says.
The album's title track, "Yehaleli," by Belgian composer Hershy Rottenberg, has that kind of energy that invites listeners to sing, tap, and clap along. "Choosing the right name for an album involves huge siyatta d'Shmaya, but once you've named it, you can't imagine it being called anything else. And the name "Yehaleli" is also a reflection of my own life. We've had a few simchahs recently — a wedding and a bar mitzvah — and it's time to sing praises to Hashem."
There are songs by veteran composers such as Pinky Weber, Yerachmiel Begun, and Yitzy Waldner, alongside newer names such as Hershy Weinberger and Hershy Rottenberg. One of Pinky's contributions is a Yiddish ode to Yerushalayim entitled "Im Eshkocheich."

"It's one of my personal favorites," says Gertner. "The song is full of feeling, without being slow and draggy. It's got a compelling rhythm, and Pinky's Yiddish lyrics are filled with yearning but still upbeat."
"Yodai," with its techno beat and staccato lyrics, is the work of Sruly Green. Gertner explains that this number is the album's "feature"—his shot at getting onto the trendy and ever-evolving second-dance-playlist. "Sruly is a geshmak and a talented new composer, a nephew of Lipa Schmeltzer. He sent us this song, and Yochi fine-tuned it a little. I'm already getting requests to sing it at weddings." But where do the words actually come from? "The words are Aramaic and they are said before washing Mayim Acharonim on Shabbos."
While "Yodai" will appeal to younger listeners, Heshy Weinberger's "Rachamim," and Shlomo Yehuda Rechnitz's beautiful "Adir Bamarom" offer a more mellow sound. "Adir Bamarom" is fast becoming a kumzitz favorite. "The song lends itself to many layers of harmonies," says Gertner, "and of course the meaning — a plea for the blessing of peace among the Jewish nation — carries it forward."
(Originally featured in Mishpacha, Issue 783)