| Magazine Feature |
Our Nation's Duty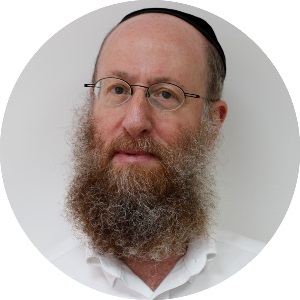 | October 6, 2022
Wolfgang Sobotka, president of Austria's parliament, steers his country from its Nazi past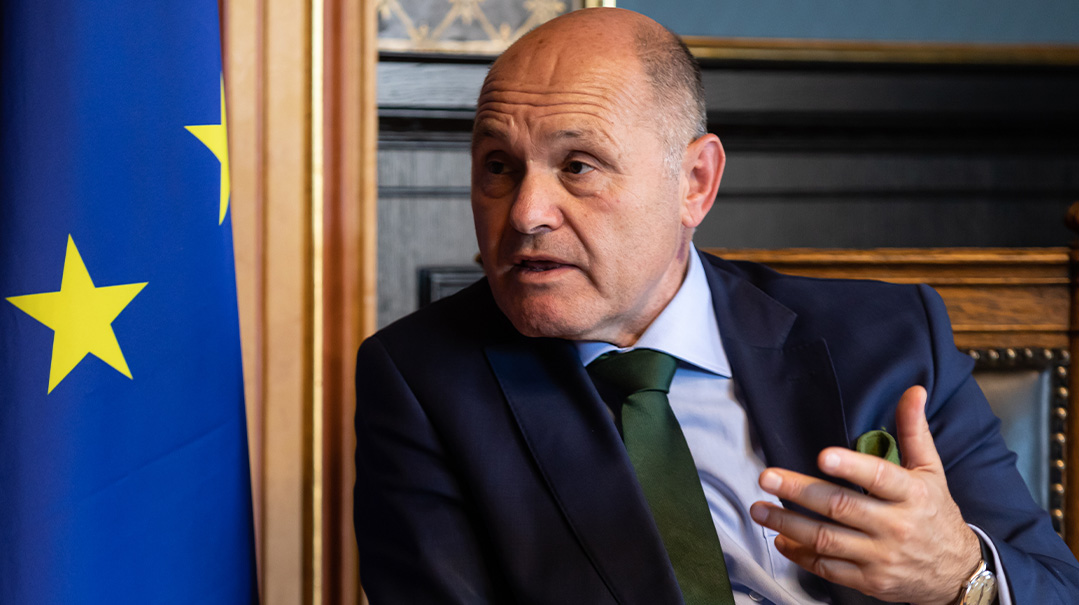 Binyamin Rose, Vienna, Austria
Photos: Ouriel Morgensztern
Wolfgang Sobotka was 14 years old when his peers started taunting him, calling him "Nazi Bua," street slang in Austria for "Nazi Boy."
At first, the youthful Sobotka didn't know what to make of it. This was in 1970, and World War II had been over for more than 25 years. Austria was an independent sovereign state that had long since cut the cord of its wartime ties with Nazi Germany. Austria's Social Democratic Party was leading a stable parliamentary democracy, and its party chairman, Bruno Kreisky, had just become the country's first Jewish chancellor.
What did Sobotka's peers know that he didn't?
"I had no idea what it meant, so I began to research my family," Sobotka said.
Until that point, Sobotka knew little about his family's background. His father was wounded on the frontlines during World War II, but even though he fought in the armies of the Rome-Berlin Axis, his heart and soul weren't in it.
"My father was very democratic, but he never talked to me about his past until almost the end of his life," Sobotka said.
And when he did, he shared two important pieces of information with his son.
The first is that his grandfather was imprisoned during the days of the First Republic, which was carved out at the end of World War I from the breakup of the more than 600-year rule of the Hapsburg Monarchy. It was a period marked by political and economic turmoil in all of Europe, but especially in Austria. Unemployment peaked at 50 percent. Food was scarce. The social distress and poverty led to heightened political instability and served as a breeding ground for political extremism.
Until his death in 1943, Sobotka's grandfather was a hard-core, ideological National Socialist (Nazi) who bought into the totalitarian mindset, as did many in those days, hoping that an all-powerful central government could solve Austria's problems.
The second piece of information that Sobotka learned about his grandfather was the existence of a handwritten letter with a shocking piece of advice to his heirs.
"I was told that he broke with the party, but on his deathbed, he wrote a short letter to his three children, which said: 'Don't trust the party, all of them are corrupt, but you have to trust Adolf Hitler.' It was unreal for me to see that," Sobotka said.
Unable to obtain any more information from his father, the young Sobotka set off for the archives of the Documentation Centre of Austrian Resistance to try to uncover more chapters of his family history.
Whatever he found, he keeps confidential, and he shared nothing further during our recent 30-minute interview at Vienna's elegant Palais Epstein. Built as a mansion for a prominent Jewish businessman in 19th-century Vienna, today the rooms of Palais Epstein are used as offices and venues for meetings and events, as well as reception rooms for the president of the parliament.
Sobotka's official title is President of the Austrian National Council, the most powerful branch of the Austrian parliament. While the National Council is elected directly, by popular vote, it is the members of the council who vote for council president. After the 2017 general election, the Council elected Sobotka as president, along with a second and third president who share parliamentary responsibilities. Sobotka is the highest ranking among the three, and in Austria, the council presidents are considered the second-highest ranking political positions in the country. Sobotka's status can be compared to that of Speaker of the House in the US Congress, but the job entails more than that, as it also calls for the additional responsibilities of preparing the national budget and setting the legislative agenda.
Sobotka is a member of the Austrian People's Party (OVP), a center-right party that is currently the senior partner in the ruling coalition with the Green Party.
Many of our readers gained familiarity with the OVP when Sebastian Kurz was its leader.
Kurz was forced to resign a year ago due to a financial scandal that touched him, but the close ties he formed with Israel and former prime minister Netanyahu were a highlight of his short rule.
Wolfgang Sobotka is also a man of many other talents. He studied history at the University of Vienna, and music at Vienna's University of Music and Performing Arts. He has conducted orchestras at the Bruckner Conservatory, in Linz. He held several teaching jobs early in his career, and served as city archivist in his hometown of Waidhofen an der Ybbs, which contains documents dating back to 1355. His first elective office was as a member of the Waidhofen town council.
Sobotka may choose to keep his family history private, but he was completely candid in his assessments of anti-Semitism in modern-day Austria and throughout Europe, and made no effort to whitewash the phenomenon. He displayed a clear understanding of the long history, the context, and all of the current manifestations of the oldest form of hatred known to the human race. And in that context, he understands well that it's a battle that may not be won, but must be fought.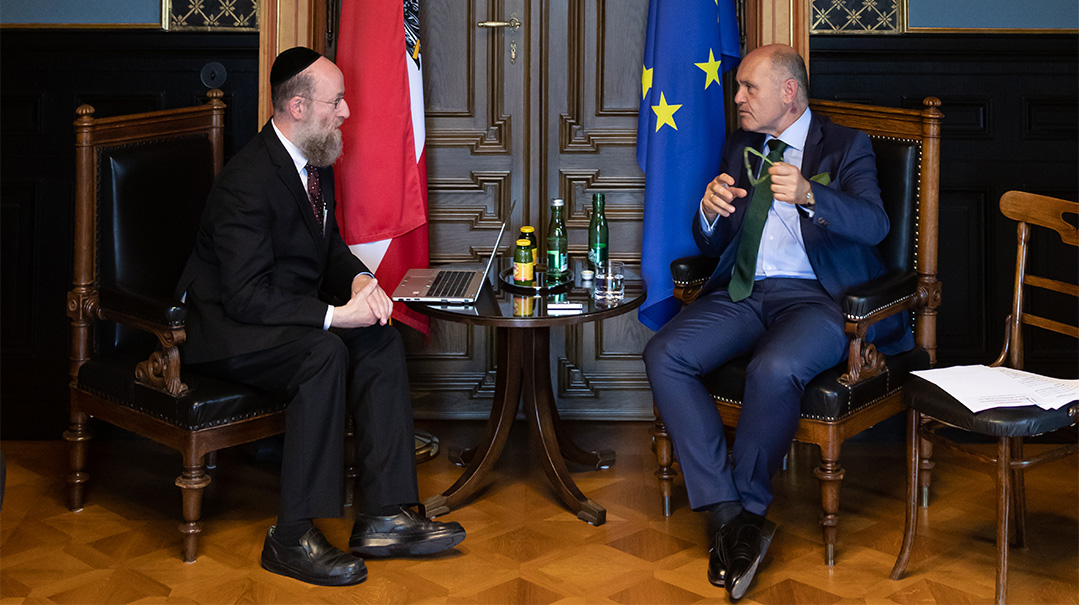 IN THE HALLS OF POWER The president of Austria's parliament speaking with Mishpacha's Binyamin Rose. Aside from the reappraisal of his own family's history, Wolfgang Sobotka says fighting anti-Semitism is also a national imperative for Austria
Safety in the Streets
Anti-Semitism doesn't feel palpable in modern-day Vienna, but it exists. This was my third visit to Vienna on assignment in the past decade, but this trip was the longest of my three stays.
Having traveled to European capitals on multiple occasions over the years, I've learned to scout out the turf before my arrival, as moods can change rapidly. When I asked a colleague if I should wear a beret or another kind of cap on the streets, I was told that would be totally unnecessary. Vienna prides itself on the fact that a Jew can walk in the streets looking like a Jew, and as a general rule, will not be accosted.
I found this to be 100 percent true. Part of that might be due to Vienna's broad boulevards, with multiple lanes for cars, public transportation, bicycles, and pedestrians. There is enough space for everyone, so even on the occasions when I received some curious looks from passersby, I always felt I had plenty of safe personal space.
I didn't rent a car, but one thing I would have trouble getting accustomed to is the roadway layout that assigns the same traffic lanes to both cars and the city's light-rail. More than once, while crossing streets, I found myself hurrying to dodge a tram bearing down on me from what I thought to be an unusual angle.
My visit coincided with the International Atomic Energy Agency (IAEA) meeting at its Vienna headquarters to discuss Iranian noncompliance with the Nuclear Nonproliferation Treaty. From a professional vantage point, it afforded me the opportunity to cover a very newsworthy event, which I reported on three weeks ago in The Current ("The IAEA Deliberates on Iran," Issue 928). Just the idea that an issue so critical to the security of Israel was under discussion in a city with such a bloodstained past was somewhat disconcerting.
I began to feel more at home when I arrived at the IAEA headquarters to take a picture for my press credentials to cover the Board of Governors' meeting. The woman taking the picture greeted me with a "Mah shlomcha?" in an Israeli accent I could only be envious of. As it turns out, she is originally from Rishon L'Tzion, and now works for the UN in Vienna.
Back in Vienna's 2nd District, which is home to most of its Orthodox Jews, young chassidic men walked confidently in the street in their customary garb, some with towels draped over their shoulders, on their way back from the mikveh, or with large tallis bags. Vienna is a popular tourist destination for Jews on their way to the kever of the Chasam Sofer in Bratislava, which is about an hour's drive from Vienna. It's even more popular for Israelis; the flight time from Tel Aviv to Vienna is only slightly longer than from New York to Miami.
In the early morning, the kosher bakeries and supermarkets are full of Jewish and non-Jewish shoppers. Several kosher restaurants are scattered around the 2nd District, all with prominent signage, and there is no visible security present, or needed.
While some Jewish community institutions and schools are under heavy guard, with iron gates and other hardened construction, such security is not universal. Some suffice with a small guard booth near the entrance, manned by one person. Local Jews told me that it's better this way, as a facility is less likely to be targeted if it's relatively inconspicuous.
The most highly publicized attack against a Jew in Austria occurred two years ago in Graz, some 120 miles southwest of Vienna, when an assailant attacked Elie Rosen, the president of the Jewish community, with a club at the local synagogue. Rosen was unhurt, managing to escape by getting into his own car. Austrian authorities from the prime minister on down roundly condemned the attack.
Perhaps because Rosen was so prominent, the attack garnered a lot of publicity, but it was far from anomalous. The Austrian Federal Chancellery issued a report in 2021 called the National Strategy against Anti-Semitism. There was a foreword by then-chancellor Sebastian Kurz citing 2020 statistics from the Austrian Jewish Community (IKG) that showed more than one anti-Semitic incident had occurred every day, on average, throughout the country.
That number may be rising. In the same report, Oskar Deutsch, president of the Jewish Religious Community of Austria (IRG), wrote: "In the last five years alone, the number of anti-Semitic incidents registered has doubled; in the first half of 2020, there were 43 per month."
That number is similar to current figures from New York, and should be more worrisome, considering that Vienna's population of around two million is one-fourth of New York City's population, yet it doesn't feel dangerous on the street.
"I am not running around that worried about anti-Semitism," says Rabbi Arie Folger, former chief rabbi of Vienna and founding member of the city's beis din. "It's something we should all be very wary of, and be careful that we are not being threatened."
As to his relationship with Wolfgang Sobotka, Rabbi Folger says he has met him on a few occasions. "We've had some conversations and I've heard speeches of his. I have positive impressions of his commitments to Jewish causes," Rabbi Folger said.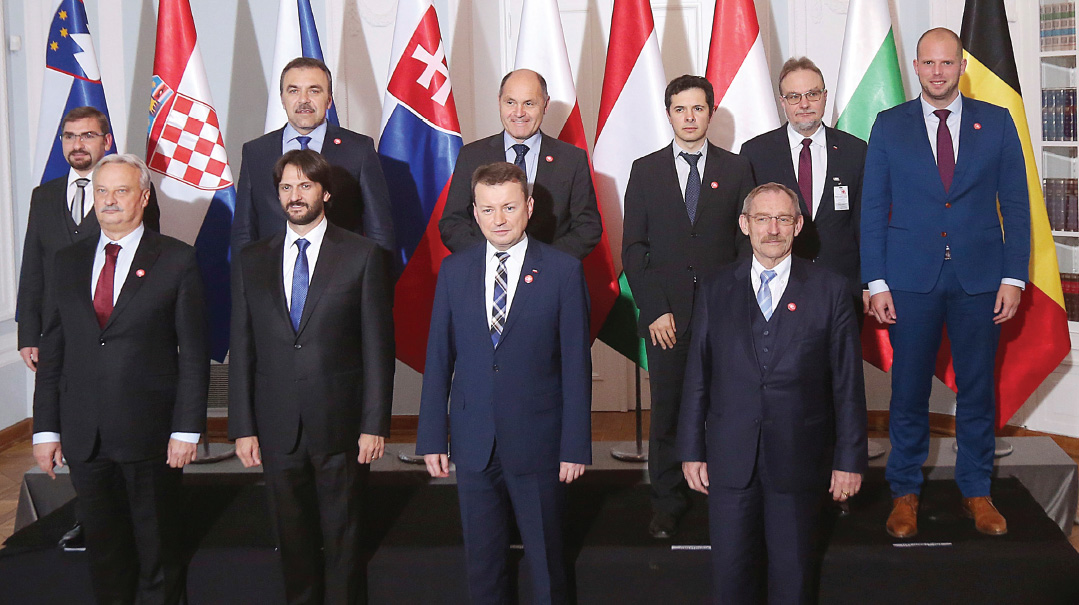 Sobotka (top row, third from left) at a meeting of the Visegrad nations in Warsaw. When Bibi Netanyahu was in power, he placed a premium on Israeli relations with politically conservative Eastern European nations
Getting to the Root Cause
It's a commitment Sobotka takes seriously. Some 50 years after his youthful discovery, he views the battle as both a personal and national duty, as we discussed in the first part of our interview.
"I believe that it is my personal responsibility to offer support to people who suffered under the Nazi regime," Sobotka said. "To the best of my abilities, I want to give them a normal life and their self-respect back. This includes commemorating the victims, learning from the past, and fighting all forms of hate and anti-Semitism."
Since assuming his post as National Council president in 2017, the Austrian parliament has instituted workshops against anti-Semitism for pupils and apprentices, to encourage awareness of prejudice.
A little more than two years ago, the council, under Sobotka's leadership, spearheaded a resolution of all parties in the parliament condemning Israel-related anti-Semitism and the BDS movement.
Aside from the reappraisal of his own family's history, Sobotka says fighting anti-Semitism is also a national imperative for Austria. He expressed his admiration for the work and research of Deborah Lipstadt, the Jewish-American historian who serves the Biden administration as Special Envoy to Monitor and Combat Antisemitism. In particular, Sobotka noted her research that anti-Semitic attitudes are also anti-democratic at their core.
"If you are willing to fight for democracy and to develop it in all fields of society, you have to combat all the ideas that threaten democratic values," Sobotka said. "That includes anti-Semitism, as well as authoritarianism or racism."
Many experts take exception to the idea that anti-Semitism can be equated with other forms of racism, and Sobotka concurs.
"Anti-Semitism is a unique phenomenon," Sobotka said. "It has a long tradition, and has been a negative cultural phenomenon since the 2nd century."
Sobotka also follows German researcher Monika Schwarz-Friesel, a German cognitive scientist and professor at the Technical University of Berlin who is a global expert on anti-Semitism and author of the book Inside the Anti-Semitic Mind.
She has compared ancient texts from the Greek and Roman empires that classified Jews as "aliens" with the works of Martin Luther, the 16th-century German monk who launched the Protestant Reformation and demonized the Jews, and the speeches and writings of contemporary extreme left-wing and extreme right-wing political parties.
"The similarities are incredible," Sobotka said. "This proves that anti-Semitism is an epigenetic phenomenon and explains why it is so hard to combat it. It is so deep in people's mindset that we have to find special tools to come to the root of it."
Anti-Semitism in Austria is certainly deeply rooted. Pogroms against Jews in Austria were recorded as early as the 14th and 15th centuries, with hostilities against Jews increasing as reformist Christian movements gained strength. Beginning in 1551, Jews were forced to wear a yellow spot on their clothing to enter market towns or cities.
There were ups and downs over the centuries, but after World War I, there were an estimated 300,000 Jews in Austria, with 200,000 of them in Vienna. The 1919 Treaty of St. Germain guaranteed minority rights to the Jewish population, and a prominent Zionist, Robert Stricker, soon won election to the Austrian parliament.
However, Stricker was one of an estimated 45,000 to 65,000 Viennese Jews deported to concentration camps during the World War II era, and he was murdered in Auschwitz. By then, Nazi Germany had forcibly annexed Austria in what's known as the Anschluss. Germany's most notorious war criminal, Adolf Eichmann, set up shop in Vienna, using it as his laboratory to set up his Central Office for Jewish Emigration — "emigration" being a euphemism for the expulsion and deportation of Vienna's Jewish community, and a model for other deportations throughout Europe.
Jews merely trickled back into to Austria after World War II. The biggest population influx came from Soviet Jews who were fortunate enough to emigrate, and many settled in Germany and Austria. The 1956 Hungarian rebellion against the Soviet-supported regime also brought an influx of Jews to Vienna. In the past year, an estimated 1,000 Jews have settled in Vienna after fleeing Ukraine.
A Friend of the Jews Aside from government support to these new immigrants, Austria's federal government has initiated programs to both combat anti-Semitism and make its Jewish citizens feel more welcome.
In 2018, when Sebastian Kurz held the rotating presidency of the Council of the European Union, the council endorsed its first declaration in the fight against anti-Semitism and the protection of Jewish life in Europe, calling on civil society groups, government authorities, and security agencies to work hand-in-hand with Jewish communities.
As noted earlier, the Austrian Federal Chancellery, along with five cabinet ministries, inaugurated a National Strategy against Anti-Semitism, which includes education, training, and research; promotion of security measures to better protect Jewish communities and institutions; and the establishment of a platform for ongoing society-wide coordination.
Deeds are more important than words and declarations, and Orthodox Jewish leaders in Vienna view Sobotka as a friend indeed of the Jewish community.
He was the keynote speaker at this year's convention of the Conference of European Rabbis in Munich. Sobotka acknowledged that Austria was not just a victim of World War II, but also a perpetrator when they were allied with Nazi Germany.
"Only years later do we now have a very clear view of our own history, and we have our own national responsibility," he said.
Austria has accepted more than 70,000 refugees from Ukraine, including 1,000 Jews, and has provided some financial support to help the refugees get acclimated. In March, Sobotka met with a contingent of students from Yeshiva University who arrived in Vienna on a humanitarian mission to assist the Ukrainian Jews.
Back in September 2016, when Sobotka was minister of the interior, he visited a Vienna synagogue following reports of attacks on Jewish children in the city's 2nd District, which is home to its vast majority of Orthodox Jews, synagogues, and kosher shops and restaurants.
On the spot, Sobotka recorded and released a short video expressing his support for the Jewish community. "The security of the Jewish people in Austria is essential," Sobotka said. "Jewish men, women, and children must be able to live and move freely anywhere in Austria."
Rabbiner Yaacov Frenkel, a Jerusalem-born Belzer chassid who moved to Vienna 20 years ago, and now holds top leadership positions in both the local chareidi Jewish community and the wider Austrian Jewish community, also praised Sobotka for his prompt reaction and support for the security of the Jewish community. Rabbi Frenkel accompanied me to my interview with Sobotka, and it was clear that the two men have a great deal of mutual respect.
"The president also works very hard to support all of the Orthodox schools that we have here, and in that way, he is one of a kind in Europe," Rabbiner Frenkel said.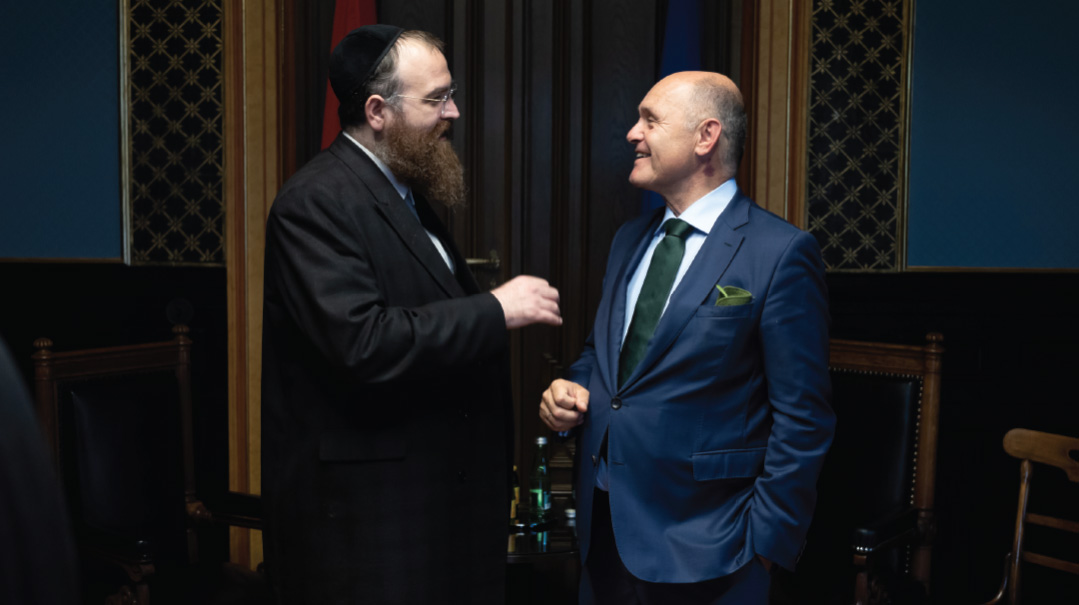 Yaacov Frenkel (left), leader of the Kehille bloc of chareidim in the organized Austrian Jewish community, has prioritized close relations with President Sobotka
A Big Picture View
While still serving as interior minister, and before he became National Council president, Sobotka fought hard for his party's stance on immigration.
At the time, nearly two million undocumented immigrants had entered Europe, mainly from war-torn Middle Eastern countries during what was curiously named the "Arab Spring."
The migrant crisis created a backlash among native Europeans, and strengthened the standing of Europe's extreme right-wing parties, largely dormant since World War II.
That's when Austria's more moderate center-right party took power. In 2016, when I covered the convention of the Conference of European Rabbis held in Vienna, I obtained a short interview with Sebastian Kurz, who then served as Austria's foreign minister. Kurz had equated Europe's migrant crisis with "human trafficking" in an interview earlier that year with the British Guardian newspaper, and he clarified that with me, explaining that the flow of refugees is "enormous for a small country like Austria."
"We have to get control of our own borders again, fight the smugglers, and we have to increase humanitarian aid in the countries of origin, because that is far more sustainable than bringing all the refugees and migrants to Europe," Kurz said.
Back then, Sobotka was interior minister, and population control and borders were among his responsibilities.
He took a tough stance during an October 2016 interview with Germany's Die Welt newspaper, when he called upon the EU to increase measures to prevent displaced people from reaching the European continent and to speed up the deportations of people whose asylum applications had been rejected
Some six months later, when Turkish politicians began appearing in Austria to campaign for absentee ballots among the estimated 116,000 Turkish citizens living in the country, Sobotka recommended new legislation that would permit the government to ban foreign officials from making speeches in Austria if such speeches were deemed to threaten human rights or the public order. Sobotka told ORF radio, the Austrian public broadcaster, that he would not allow foreign politicians to bring their domestic battles to Austrian soil and that he was sending draft legislation to legal experts before presenting it to the cabinet.
As part of his parliamentary leadership responsibilities, Sobotka can assume a statesmanlike role, as he does when he takes a much broader view of international issues that relate to the European Union (EU) and to Austria. In June 2020, the Austrian National Council, under Sobotka's leadership, asked the EU to reassess its dealings with Hezbollah, whom Austrian parliamentary members consider to be a terrorist organization.
After Russia's invasion of Ukraine, Sobotka met with his counterpart from Kyiv — the speaker of the Ukrainian parliament — where they discussed support for Ukraine's push for EU statehood and the role Austria might play in postwar reconstruction.
Vienna played host to the Fifth World Conference of Speakers of Parliament last September, where Sobotka promoted his policy of expanding the EU into the six western Balkan nations of southeastern Europe, most of which were carved out from the former Yugoslavia, a move he said would prevent "other actors from exploiting the vacuum."
At the same conference, he highlighted Vienna's historical role as a center of international diplomacy and noted that the COVID-19 pandemic posed a severe test to public trust in government.
"Many countries experienced severe protests during the pandemic, which were often also aimed directly against our parliaments," Sobotka told the gathering. "Our goal must be to find concrete paths toward the democratic renewal, resilience, and audibility of our parliaments, including the importance of human contact in building mutual trust and understanding."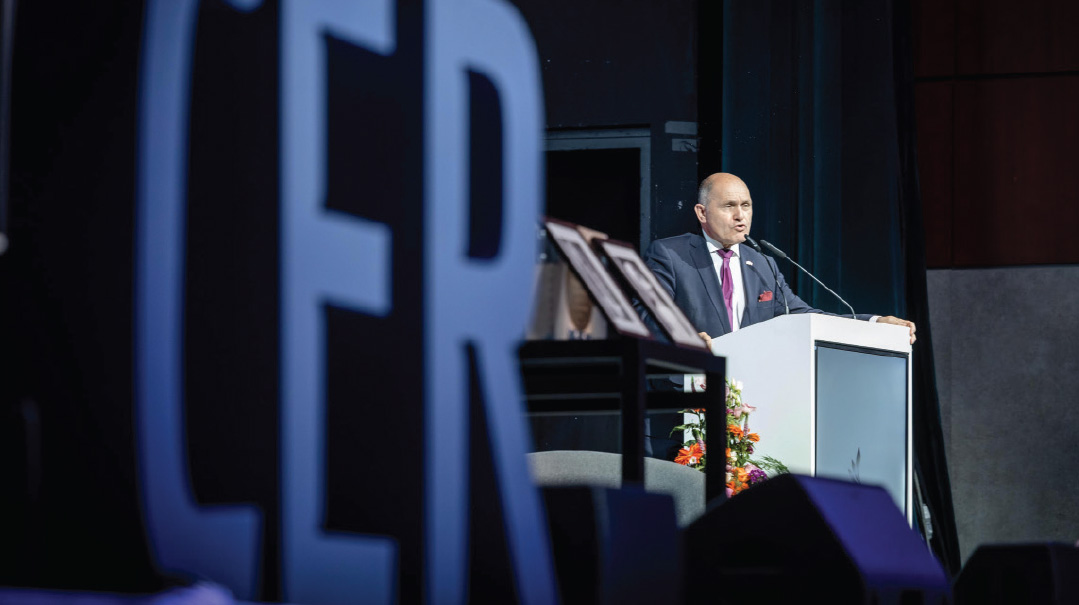 Sobotka delivered the keynote address at the May 2022 Conference of European Rabbis, where he told participants Austria has a national responsibility to right the wrongs of World War II
What follows is the rest of my interview with Sobotka, which expands on many of the points we touched on, raises new topics of discussion, and has been edited for accuracy and clarity.
The government is now funding systematic research on anti-Semitism at the Austrian Academy of Sciences [the country's largest non-university research institution]. Are you receiving regular updates, and what do you hope will result from this?
"First of all, I would like to mention that the Academy of Sciences started this specific project to research anti-Semitism in a wider form than what had been done at the university level. The Academy has a special focus, as does the Technical University of Berlin, where researcher Monika Schwarz-Friesel specializes in researching anti-Semitic attitudes on the Internet.
"Moreover, as one of the first countries in the EU, Austria established a National Strategy Against Anti-Semitism. As part of this strategy, we support the research of the Academy of Sciences and are in close contact with it. We also cooperate with the political leaders of other European countries. In addition, the Austrian Parliament conducts its own research on anti-Semitic tendencies and mindsets in Austria every other year. The study for 2022 is currently in progress."
Just from your own experience of living in Austria over the last six decades, what changes in attitude have you seen toward the Jewish citizens here, both from the man-on-the-street perspective and also politically speaking?
"According to the Parliament's study on anti-Semitic tendencies, which I just mentioned, anti-Semitic attitudes have been decreasing in the general population in the last three or four years. Personally, I agree with the study's findings.
"But when we observed the demonstrations against COVID-19, one could sense a really bad picture of the anti-Semitic mindsets in our society. Protestors were wearing the yellow star with the words 'not vaccinated' to mimic the Magen David the Nazis forced Jews to wear during the war. Other people brought signs saying 'Impfen [vaccination] Macht Frei,' a cynical take-off on the 'Arbeit Macht Frei' sign on the gate of Auschwitz. It was a terrible experience for us to see.
"On the other hand, we have very strict anti-Nazism laws and whoever does not comply with these laws is prosecuted. Since these laws are not enough to fight anti-Semitism, the Austrian parliament has launched several projects for its prevention — for example, workshops for students."
What is Austria doing to combat anti-Semitism on the Internet — an issue you have been quite vocal about?
"You do see anti-Semitism on the Internet, especially on social media. This is one of the main reasons I advocate an editorial principle for platforms. Traditional news companies are prohibited from publishing illegal content. In my opinion, the same standards must apply to social media platforms. The Internet should not give carte blanche to hate speech.
"The importance of this editorial principle is emphasized by the latest research on anti-Semitism by the Austrian Parliament. It shows that the anti-Semitic mindset still comes from the center of society. For prolonged periods, we only focused on the extreme fringes of the extreme right.
"But when we look a bit deeper, we will see that anti-Semitism still comes from the center of society, as the research of Monika Schwarz-Friesel proves. It just becomes more visible on the fringes. There is the extreme right, the extreme left (which are both anti-Semitic and anti-Zionist), and then there are the fringes of new immigrant communities, who often come from countries where anti-Semitic tendencies can be more pronounced.
"Therefore, we have three forms of anti-Semitism in the country, and combating it becomes more complex. For this reason, we established the Simon Wiesenthal Prize of the Austrian Parliament last year, to recognize individuals and initiatives from the civil society who have shown special engagement in combating anti-Semitism and/or promoting Holocaust education."
What do you hope to accomplish with that?
"The objective of the Simon Wiesenthal Prize is to raise awareness, share best practices globally, and educate people on anti-Semitism. We have seen from experience and reports that well-educated young people are less anti-Semitic than less-educated people. Within the Austrian Parliament, we established a special department called 'Demokratie-Werkstatt' [Democracy Factory], which offers workshops and other tools on the topics of combating anti-Semitism, its origins, its dangers to democratic values, what happened during World War II, and the current forms of anti-Semitism.
"Since the best education or the strongest laws are not enough by themselves when it comes to reaching a wide group of people in the general civil society, we established the Simon Wiesenthal Prize. For people who take the initiative in the fight against anti-Semitism, we want to give them a stage and a platform from which they can continue their important work and be an example to others. In the context of fighting anti-Semitism, it is important to have conversations with people.
"I would like to share information about one of the initiatives that applied for last year's Simon Wiesenthal Prize, called 'Zikaron BaSalon.' As part of this initiative, people meet in the privacy of their homes, where they can be open-minded, talk to each other and reflect on their opinions. They are hidden from the public eye, where they might be concerned about their public image or what they have said in the past. It is definitely a best-practice example."
In the past, you've mentioned that you thought that Austria made a mistake in not being proactive about inviting Jews to resettle here after the Holocaust. With the Jewish community growing again, especially with the recent influx of refugees from Ukraine, what can Austria do now to make up for that mistake, especially since it's very difficult to obtain Austrian citizenship? Hasn't this been a big issue in the country for many years now?
"This is a little complex. We do not have the same laws as Germany, where it is quite easy for Ukrainian Jews to obtain German citizenship. In Austria, it has been difficult to find a legal and constitutional solution. We are still working on it. In 2019 we passed a law that allows us to give citizenship to the descendants of the victims of the Nazi regime. Our recognition of this need came too late. Nevertheless, it has been a very successful project that is still ongoing. Whenever I visit a foreign country, I meet a few families of Holocaust survivors at our embassy to return their Austrian citizenship to them.
"Sadly, this law does not apply to Ukrainian refugees, since their families mostly had no connections to Austria during the Nazi era. However, we support the enlargement of the Jewish community. The IKG [Austrian Jewish Community] has about 8,000 members, but in total, there are approximately 20,000 Jews living in Austria today.
"It is mandatory to make Jewish life visible in our country, since it might help Jewish people, especially in the countryside, to declare their religion and join the community. To support this process, the Austrian government provides an additional €4 million every year for Jewish institutions."
Austria has a presidential election on October 9. President Alexander Van der Bellen [from the Green Party, which is coalition partners with Sobotka's OVP] is a heavy favorite to win a second term. But according to a poll I saw in Politico, the candidate of the far-right Freedom Party, Walter Rosenkranz, might win as much as 16 percent, or one in every six votes. Why do Austrian voters support his party, and does that worry you?
"Many voters of the right Freedom Party are simply dissatisfied with the government. Their vote is a clear position against immigration and other issues they worry about. Of course, a lot of the supporters of Walter Rosenkranz have a right-wing mindset, but we should not make the mistake of believing that all of them are anti-Semitic. There have even been some Jewish members in his party. However, I am sure there is a small nucleus among them that will probably always favor more radical positions."
You've visited Israel in the past, including just a few months ago. You met Knesset members, and you discussed immigration, border control, and security, among other topics. What were you able to share from your experience that could help Israel, and what did you learn from Israel that can help you here?
"Austria can learn a lot from Israel. Especially the technological development is amazing, in fields like cyber security, artificial intelligence, and the digital revolution. Another example is the field of security, which includes protecting people and buildings, as well as developing an entire structure against potential threats.
"On a more personal note, my third daughter is in a wheelchair. She came back from Israel last night and she was so deeply impressed to see what Israel has done for the free movement of handicapped people. She was there for six days with a delegation of the Chamber of Commerce. She had a wonderful experience and was very touched.
"But I also want to look back to when the State of Israel was founded, based on the experience of the Second World War. A place where all Jews in the world could come to and be welcomed was established. This was the ideological idea and the foundation of the state. Today we can see how Zionism has contributed to society in total, and we can learn a lot from that for our own as well. Austria has a special connection to Israel and is aware of its responsibility. We made a commitment as true friends. Israel can be sure that Austria stands at its side." —
(Originally featured in Mishpacha, Issue 931)
Oops! We could not locate your form.
>