| Family Room |
Organize: Entryway
| January 8, 2020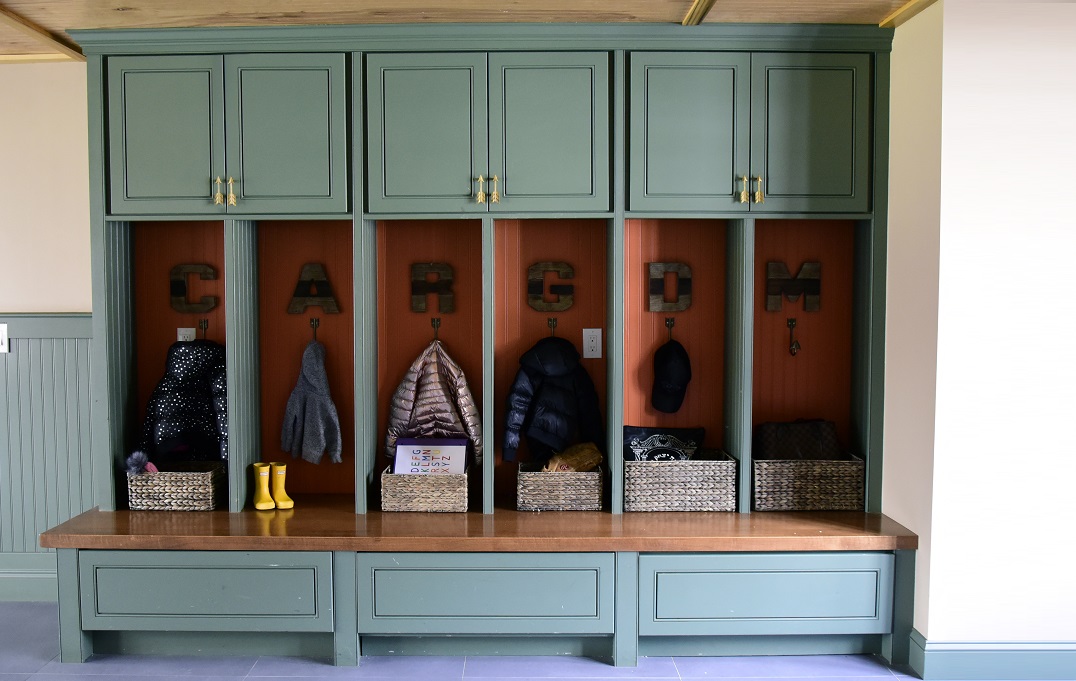 W
hen people hear that I'm a professional organizer, they assume that in my home, every item is always in its place. Truthfully, having an organized home is not the same as having a home that is never messy. Take my entryway: On a calm day, I can put everything in its designated spot, but on the hectic days, the clutter starts to get to me and I need to look the other way. As soon as it's quiet and I have the energy, I choose a pile to tackle. The reason I'm so passionate about setting up a proper system is because the organizational structure that I've already put into place is what enables me to get through that mess mindlessly and efficiently. Organizing an entryway isn't as daunting of a project as organizing a kitchen or a playroom, and it's used daily, unlike an attic. Creating a proper system for this room is a grea tway to kick off the organizational journey, and it sets the tone for the rest of your home.
Start with a Vision
Close your eyes and envision your ideal entryway. Picture yourself getting ready to leave the house and easily finding everything you need. Then imagine returning home after along day and having a proper place to deposit everything. If you can see the "after" picture in your mind, you can open your eyes, snap an actual "before" picture, and get started.
Necessities Only
Think of the entry as a place to hold your daily items. If your closet is small, keep only one jacket, pair of shoes, or bag per family member. The rest can be stored elsewhere until the season changes. If you have a lot of room, you can include more, but keep the off-season gear less accessible. When the seasons change, the contents of the room should change too.
Blank Slate
When I organize any area, from a junk drawer to a playroom, I always recommend removing everything from the area. Once you've removed everything, sweep out the area, wipe down the surfaces, and take a moment to enjoy the clean slate. If you want to hold on tothat feeling, you'll have to be very selective about what you allow back in. Divide and Conquer
Everything removed can go into four categories:
> The first pile is for trash. Any gloves that are missing their mate, old forms from your child's school, expired coupons, or broken umbrellas go straight into a garbage bag.
> The second pile is for items that should be relocated to other rooms, for example, coats that you're holding onto for the next child but currently do not fit anyone.
> The third pile, giveaway, is for items that were once useful but are no longer needed.
> Whatever remains in your fourth pile should then be categorized by item.
Day-to-Day Structure
Once you've narrowed it down, it can be helpful to make a list of the items that go in and out of your house on a daily basis. Then you can go through your list and assign a proper home to each item. Here are some of the top categories:
Keys Most people are pretty good at remembering where their toothbrush is because it's always in the same place. Things that need to be moved tend to get lost more easily. The simple solution? Create a designated spot by installing hooks or placing a tray exclusively for your keys. The important part is having one distinct home and sticking to it.
Coats Young children usually do best with a designated hook to hang a coat. The golden rule is one to two hooks per child to accommodate one coat and a knapsack. If you're hanging coats in a closet, don't underestimate the difference uniform hangers will make. Hang all the coats in the same direction and sort them by size and season.
Accessories If you have the space, bins are a great way to keep small things organized. You can have one bin per child, or you can have one bin for hats and one for gloves, or even one for boys' accessories and one for girls' accessories. Make sure to label the bins so they don't become a catch-all. When the seasons change, you can switch the hats and-gloves storage to bubbles, chalk, and other springtime items.
Miscellaneous If you generally drop your mail when you enter the house, you'll need to take that into account when planning your entryway. I sift through my mail immediately and dump all the flyers and envelopes. If you enter important dates straight onto your phone's calendar, you can dispose of more papers immediately. What's left can be placed in a to-do folder or a to-fi le folder.
Outgoing Items If you have the space, you can create a zone for outgoing items that includes returns to people, store returns, and library books. Having them by the door will help you remember to grab them on your way out. I bring these things to my car right away so they can actually make it to their final destination in a timely manner.
Don't forget a stand or bin for umbrellas and other rain gear.
Maintenance
Make a habit of going through your purse daily and removing what isn't necessary. Put extra shoes, sweaters, and bags back in the bedrooms where they belong. Return other people's belongings promptly. Empty out the bottom of the stroller each day.
Decorative Touches
Add something beautiful that makes you smile and that motivates you to keep it clutter-free. You get to decide what you allow into your home, and the entry is a wonderful place to start.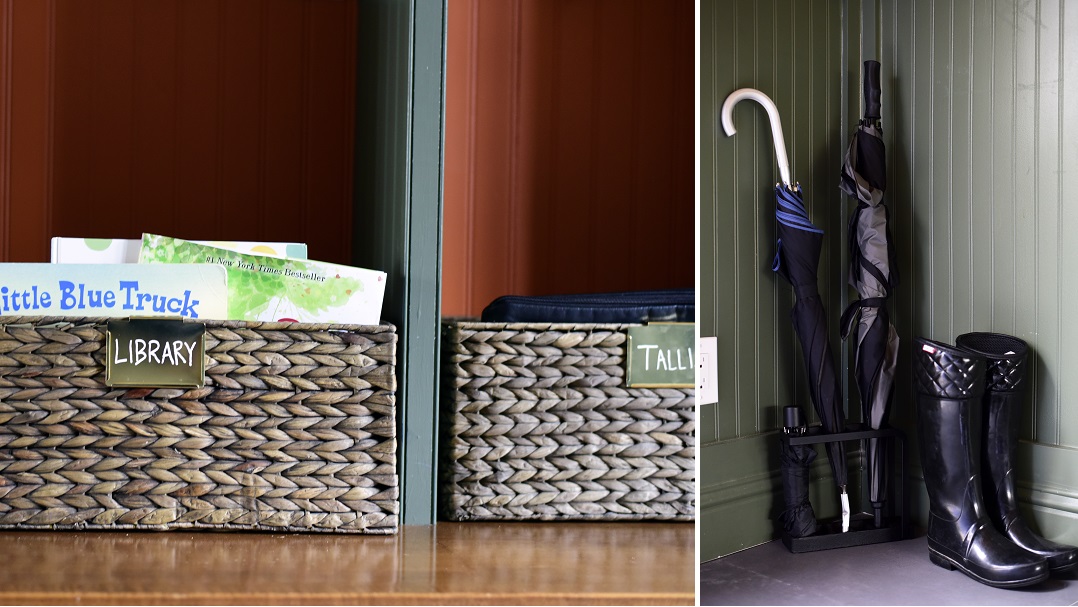 Beyond the Four Walls
If you don't have much space, don't forget how much potential lies on the back of the closet door or the walls. You can install an Elfa system from the Container Store with hooks and bins, or file holders from Amazon that are easy to install, affordable, and store a good amount. You can even buy an over-the-door hook specially made to hold a stroller. You can create your own mudroom by turning an IKEA bookshelf on its side ,placing a cushion on top, and adding some hooks and a floating shelf for bins. Get creative, and prioritize th eessentials.
Aliza Scheller is passionate about creating organizational solutions forher clients that are both practical and beautiful. Aliza inspires her clients to shift theirmindsets and become more mindful about what they bring into their homes so their oncecluttered and heavy storage spaces become airy and light living spaces.
(Originally featured in Family Room, Issue 001)
Oops! We could not locate your form.
>