| True Account |
Open House
| January 29, 2020
Lost, drenched, and despairing, I had nowhere to spend Shabbos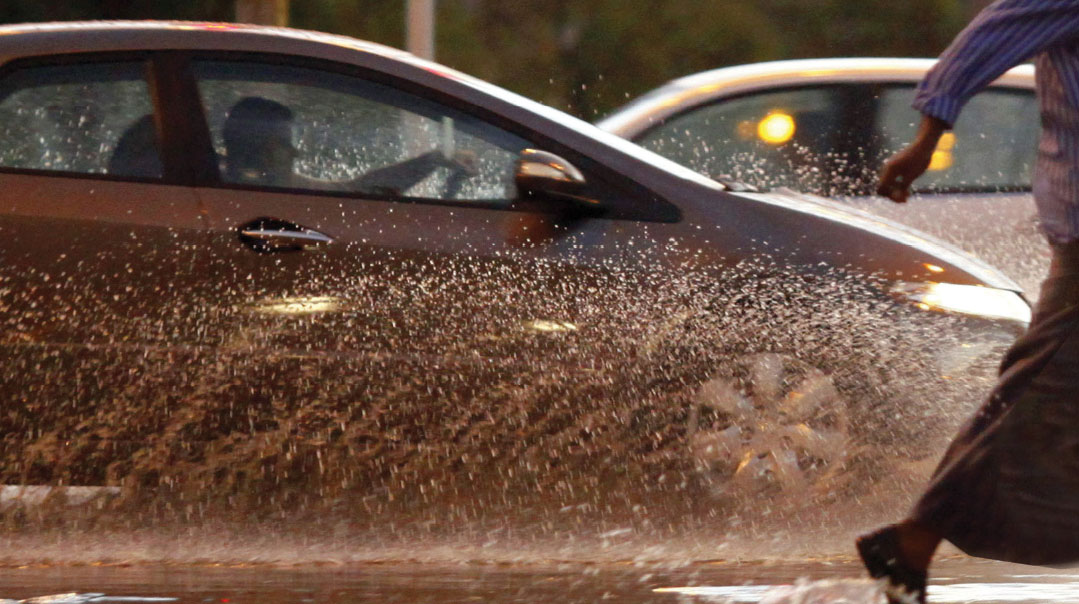 My daughter Gittel had been at the hospital in active labor for three days when she called me on Friday morning at 6 a.m.
"You might want to hurry," she told me. "The doctor says it won't be long."
Gittel's two sons were staying with us. I woke up my daughter Leah and updated her. My husband was overseas, so the plan was that Leah and my son Meir would prepare for Shabbos and watch the little ones while I was out.
"I'll probably be back before they even get home from school," I said as I left.
I arrived at the hospital in Ashdod at 7:30 a.m. It was a beautiful, sunny day. I found Gittel and her husband, Yossi, in the labor and delivery ward, but it soon became clear that things weren't moving that quickly after all. My friend Allison is a midwife at the hospital and was monitoring Gittel remotely from her home. At 2 p.m. I called her.
"Do you think it's possible I might not make it home before Shabbos?" I asked.

"Judging by how things stand now, there's a good chance that could happen," she answered. "But you shouldn't leave. Gittel needs you."
A few minutes later she texted me a contact number. The name read "Sonia."
This is my friend Sonia's number, she wrote. She lives near the hospital and she said she would be happy to host you for Shabbos if necessary.
That's when I realized this was for real.
I called Leah. "Hypothetically speaking, just in case the baby isn't born soon… how would you feel about being the 'Shabbos Ima' and Meir will be the 'Shabbos Abba' for the kids?"
Leah assured me that it would be fine. "Do you want me to drive over and bring you some clothes and things for Shabbos?"
"Nah," I said. "I'll probably make it home in the end. Don't bother."
Shabbos was at five. At 4 p.m. Leah texted me: I'm coming. She brought me a change of clothing and a tray of hot chicken for the three of us, and ran out.
I called Sonia. She was warm and friendly, genuinely glad to host me. She sent me a voice note with directions to her home. I listened to it as I ran to the car to put away all my muktzeh items before candlelighting. Then I ran back to Gittel's room, put my phone and car keys in a safe place, and went to light candles.
Then I realized I didn't know Sonia's last name.
At 8:53 p.m., a beautiful new baby boy came into the world. No words can express the intense feelings of gratitude and wonder you feel when your child has her own child. No words can express how close you feel to Hashem on witnessing the miracle of new life.
When I prepared to leave the hospital, my son-in-law was concerned because I didn't really know how to get to Sonia's house.
"No worries," I assured him. "I know her name is Sonia and she's Anglo. I know she lives at Rechov HaAri Hakadosh 4. Or 14. Or 40. How hard can it be? I'll ask when I get there."
Yossi handed me a map a nurse had given him earlier. "Take this," he said. "I don't see Rechov HaAri, but it must be nearby."
A note on the paper read: If you need a place to eat or sleep or rest at any time, you're welcome to come to our home. It was signed, Family Feldstein, Rechov Adoneinu Baruch 22. The map was marked with arrows leading to their address. Sweet, I thought.
As I left the hospital, I mentally reviewed the directions Sonia had given me. A right and another right, big intersection, another right. Or was it left? A frum family was passing by and I asked them how to get to Rechov HaAri. Right or left? Straight, they assured me.  A little further down the road, three young yeshivah boys were hanging out and eating pitzuchim. I asked them if I was going the right way. "No," said one of the boys. He walked with me to a corner and gave me detailed directions. Phew. Now I was headed the right way.
It started to drizzle; I quickened my pace. Then it started to rain. I walked faster. The rain exploded into a torrential downpour. I looked up: Ahead was a shul, all lit up. I ran up the stairs and tried the door. Locked. At least there was a covered porch.
Now what?
After a few minutes, I noticed a man entering the shul through a side door. I followed him inside. There were a few young men sitting around a table set with refreshments. I excused myself for interrupting and sat down in a side room and began saying Tehillim. When the rabbi walked in, the boys kissed his hand respectfully. Together, they sang zemiros. Ki eshmerah Shabbat, Keil yishmereini… As I guard Shabbos, Hashem guards me….
When the downpour faded to a light shower, I asked for directions again (can't hurt) and set off.
Ki eshmerah Shabbos… I picked my way carefully around the puddles, singing the song softly to myself. The sky was black and the streets were dark. They were also deserted. I walked for what seemed like a very long time. When I did find a streetlamp, I pulled out the map my son-in-law had given me. It was soaking wet. I tried to locate the street that I was walking down, but it wasn't shown.
I think I'm lost.
My shoes were not made for this weather, and my feet were wet and cold. I stared down the street: It seemed endless, with no intersections in sight. My glasses were dripping and foggy, and in the darkness I couldn't even read the address of the nearest house.
Feeling despair, I looked up at the dark sky and said, "Ribbono shel Olam, I can't cry because it's Shabbos. I can't make any bakashos because it's Shabbos. But really, Abba, I'm not happy about this. What do You want me to do?"
In the distance, I spotted a couple emerge from a house and head to their car. "Selichah! Selichah!" I waved to get their attention, anxious to catch them before they got into the car, so I wouldn't cause them any additional chillul Shabbos. The man stopped walking and I ran over.
"Can you tell me where Rechov HaAri Hakadosh is?"
"I don't know, but I can check," he said. He pulled out his phone.
"No! Um, I mean, it's okay, I'll figure it out. Thanks, anyway."
"Oh, I get it — Shabbat. But look at you," he said, clearly feeling sorry for me. "You're so cold that you're shaking!"
I laughed. "No, I'm fine. It's just my Parkinson's."
Now he really felt sorry. "Look, all I know is that all the 'Rabbi' streets are in that direction." He pointed across the street. "I wish I could help you more."
I thanked him and crossed the street, looking for a street sign. When I found one, it seemed familiar. I dug the sodden map out of my pocket and looked down at it, then up again at the sign: Rechov Adoneinu Baruch.
As I guard Shabbos…
After a few wrong turns, I finally stood before the house indicated on the map. I walked up to the front door and knocked; no answer. I knocked again and waited. No answer. I put my ear to the door, hoping to hear some sounds of life. Silence.
By then I was desperate. My watch said 11:00. Most of the houses surrounding me were dark. I walked back to the street and looked around. The house next door still had a light on. I walked to the front door and knocked lightly.
"Come in!" shouted voices from within. I opened the door. Light and warmth washed over me and spilled out into the street. Inside, Lego and Magna-Tiles were strewn all over the floor. The Shabbos table was not yet cleared, and a middle-aged gentleman and several young couples were lounging on couches in the living room.
"Good Shabbos," I stammered. "I'm so sorry to bother you at this late hour—"
"Come in, come in!" Someone closed the door behind me.
"I'm just looking for—"
"…the Feldsteins," one of the men supplied. "They live next door."
"Well, actually, I just knocked and there's no answer."
"Do you need a place to stay? Please, stay with us!"
I stood at the door, a puddle of water pooling around me. I couldn't — I couldn't just barge into a stranger's home like this.
"It's okay," I protested. "I just need you to tell me how to get to Rechov HaAri Hakadosh."
"It's at least a ten-minute walk from here," said a teenage girl with a sweet smile. "You can't go out again in the rain. You must be so cold. Look, you're shaking!"
This time I just smiled and accepted a cup of sweet, hot tea. As I sank into a chair, I realized how exhausted I was. I had been on my feet for most of the day, and the adrenaline was starting to fade. At that point it didn't take much for them to convince me that they had plenty of extra bedrooms and that it wasn't a bother at all. I allowed myself to be led by one of the girls to a bedroom upstairs. Another daughter followed and placed a tray of fruit and cake and a bottle of juice on a nearby table. Ah, the blessing of a warm and dry bed. And warmhearted Jews. Bo emtza tamid nofesh l'nafshi, I hummed, as I drifted off. There I will always find rest….
I was up at 6 a.m. I tiptoed quietly downstairs, hoping not to wake anyone. As I crossed the living room, I heard the sound of steady breathing. I stopped short and turned around. There, on the couches, slept two figures huddled under blankets.
I stepped outside into the graying morning. Birth is a miracle; every step I take is a miracle. G-d will place people and signs wherever we need them, directing us to where He knows we need to be. Ki eshmerah Shabbos… As I guard Shabbos, G-d guards me.
(Originally Featured in Mishpacha, Issue 796)
Oops! We could not locate your form.
>