| tastes like shabbos |
One Potato, Two Potatoes – Rebbetzin Vichna Kaplan
| September 16, 2020
In my grandmother's home, they ate a lot of potatoes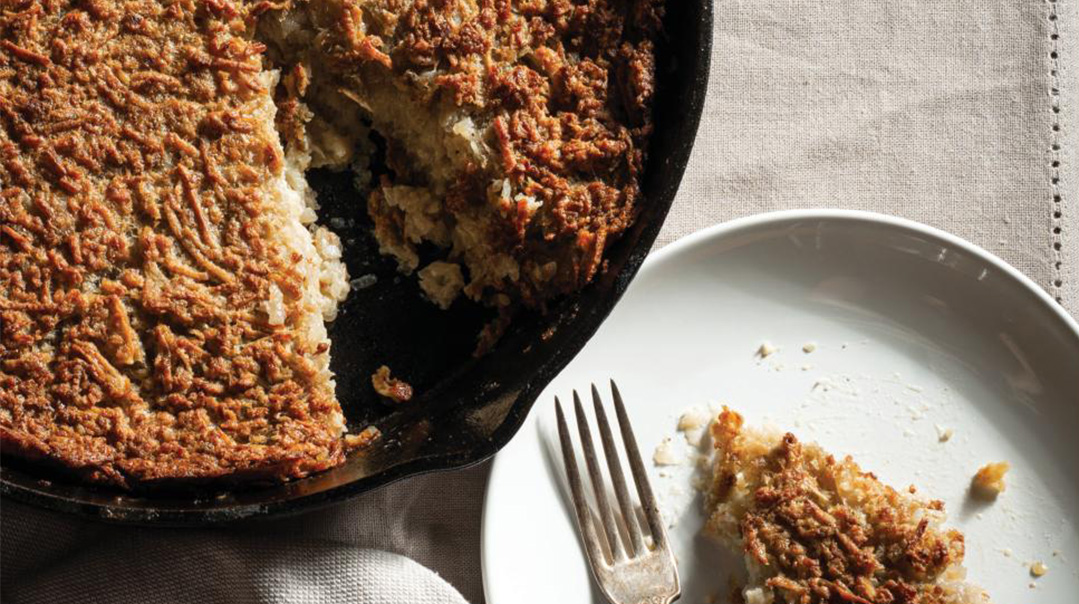 My grandmother, Rebbetzin Vichna Kaplan, was known for her tremendous work in bringing Bais Yaakov to America. She was at the Bais Yaakov day and night, and came home pretty late on Erev Shabbos, to the point where I think my family is among the very few that enjoy warm gefilte fish, primarily thanks to the fact that it was cooked so close to Shabbos! Still, Bubby undoubtedly imbued her children with a deep love and kavod for Shabbos, and those values were passed down to me also.
In my grandmother's home, they ate a lot of potatoes. My grandparents came from Eastern Europe, where they had few extras, and potatoes were something they were familiar with. To that end, after my grandmother benched licht, each of the children got two bags of potato chips (possibly one for shamor and one for zachor). It was an immediate message: Shabbos is something we look forward to, and they anticipated the minute it came in. Maybe that's why my family has a strong mesorah to put potato chips in our chicken soup, as our version of croutons!
The Shabbos menu in our home was exactly the same every week. Gefilte fish, salad, chicken soup, chicken, and potato kugel. On Shabbos day, there was cholent and maybe some ices for dessert. Yom Tov was the same, with the addition of a roast, top-of-the-rib or similar, with sliced onion and water, tightly wrapped with foil and cooked low and slow overnight in the oven.
TODAY I have a lot more variety on my table than my grandmother did, but I've internalized the message of making Shabbos special in my home. My kids get sooo excited when they see me set the table for Shabbos and Yom Tov (I use the prettiest paper goods, and add Yom Tovrelevant tchotchkes to the table when I can). They hear me say "l'kavod Shabbos" constantly when I'm preparing for Shabbos.
Like my grandmother did, we make crown-shaped challahs for Rosh Hashanah, and we serve beggar's purses with meat or chicken (crown-shaped wontons) inside as well.
Bubby Kaplan's Potato Kugel
heaping 1⁄2 cup oil
1 large onion or 2 medium onions
4 eggs
1 5-lb (21⁄4-kg) bag Idaho potatoes
1 Tbsp salt
generous sprinkle of black pepper
1 cup water
Preheat oven to 400°F (200°C). Place a pan of oil inside to heat at the same time. In the bowl of a food processor, shred the onions. Add eggs, and then shred the potatoes into it. (I use the Braun shredder blade.) Add water and mix together.
Remove the pan with oil from the oven and carefully pour the batter inside. Place the kugel in the oven and bake for 20 minutes. Lower oven heat to 375 or 350°F (190° or 175°C) for a good two hours, or until golden brown.
NOT Overnight Kugel:
Here's a great hack I got from my sister on how to make a faux overnight kugel, for those of us who either hate leaving an oven on overnight or who want a great shortcut: Bake the kugel at 500°F (260°C) for 20 minutes. When the top is deeply browned, pour a cup of water on top of it, cover tightly, then lower the oven heat to 350°F (175°C) and bake for two hours.
(Originally featured in Family Table, Issue 710)
Oops! We could not locate your form.
>