| LifeTakes |
Oil, Eternal Oil
| December 25, 2019
Everyone here is a living, breathing proof of the eternal miracle of Chanukah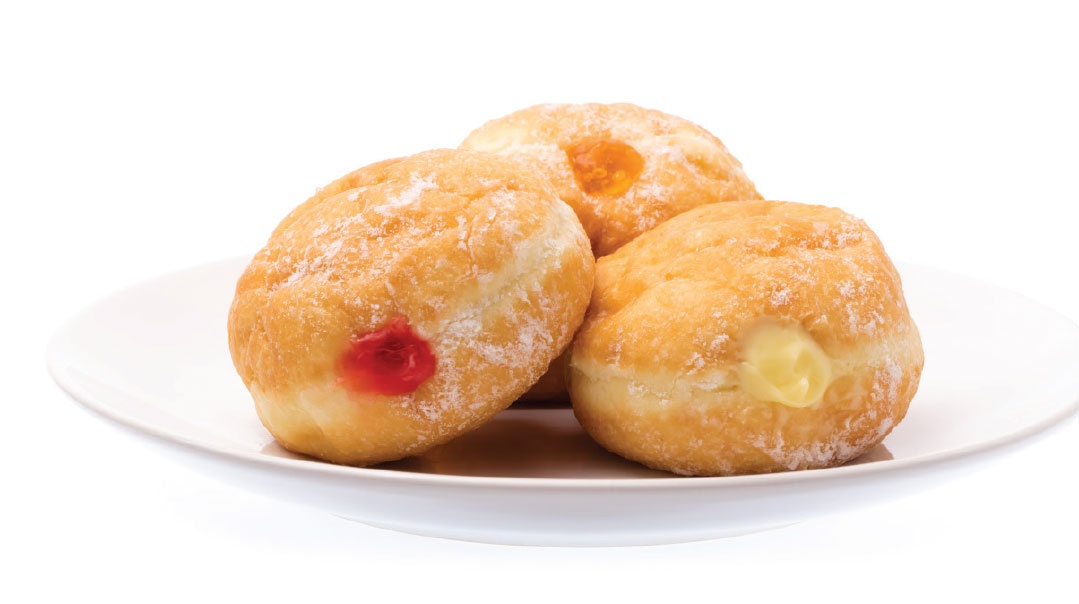 T
he one thing I remember most about my grandmother's house on Chanukah is the smell of frying oil.
That must be the number one most clichéd frying-oil-sentence of all time, and simultaneously the truest statement that every person with a grandmother will tell you.
And Chanukah is the most apropos time of year to be reminiscing about oil without any of the judgment that usually goes with soaking our food in it. Walking into my grandmother's kitchen this time of year, you're guaranteed to face a pile of fresh doughnuts, always crispy and hot no matter how much time has elapsed since the last time you were there.
It's either that, or latkes, freshly fried chicken cutlets, or anything else that can possibly be made in the huge old frying pan that has seen its fair share of Chanukahs.
As kids, we unreservedly indulged in the oily delights, and at the end of the night when our hands, faces, and clothes were sticky with strawberry jelly filling, and dusted in powdered sugar, we looked forward to the few remaining glorious days of celebration.

But those of us who have grown up and have reached adulthood feel a little guilty sneaking back to the kitchen and sheepishly bumping into other grown cousins, all reaching for the same platter and making random excuses as to why we're there instead of in the dining room, eating boring adult food while eyeing the little ones with envy.
"My son wants another one," one cousin mumbles, snatching a piping hot doughnut off the plate, a drop of oil landing on the countertop.
She tries to exit gracefully, but all of us notice as she sneaks a bite on the way out.
Two 12-year-old cousins stand over a plate of latkes, alternating between eating them and feeding a younger sibling who comes wandering in wanting a bite of the amazing smelling food.
"Ma, this is unfair. You keep making them, and I keep eating them. I'm blaming this all on you," my aunt protests to my grandmother as she sits at the edge of a kitchen chair, half a doughnut in her hand, red center glistening. Her sister, another aunt and mother of eight, pinches a piece off the corner, to a cry of protest and the demand that she take her own.
My grandmother just laughs and turns over another puffy pastry in the frying pan, the sound of sizzling oil crackling across the room.
Teenage cousins, supposedly all on diets, assure themselves and each other that just one doughnut or latke won't hurt.
The male members of the family have no such qualms. Dispatching several children, or even on occasion heaving themselves off the comfort of their chairs to come themselves, they polish off plate after plate, groaning when their wives or mothers warn them about the perils of cholesterol or high blood pressure.
After some good-natured back and forth, they reach yet again for the platter, beards sprinkled with white, fingers shiny with oil. Several men hold a debate about who's eaten the most latkes as the women listen in amusement, wishing the plate of salad before them was a doughnut or latke as well.
All too soon, there's only one doughnut left in the center of the table, and the bargaining begins as to who holds rightful claim to it.
Two uncles and a cousin are locked in a heated argument, each protesting that he's had fewer than the other two, when my grandmother comes bearing some more, swiftly putting an end to it all.
I think this imparts the message of Chanukah pretty clearly. As any preschool age child can tell you, a small bottle of oil lasted all eight nights. So, too, there's always enough fried food to go around. If you don't notice the little oil cups with their flickering flames on my grandfather's regal menorah, you'll certainly notice it on the fingers and faces of the multitude of grandchildren running around, some still holding their precious commodity.
Everyone has eaten their fill. Everyone here is a living, breathing proof of the eternal miracle of Chanukah.
They cannot and will not erase us. Not then, and not now. And just like the flames of the so long-ago menorah kept shining, so too, the doughnuts keep coming, the smell of hot oil permeating every Chanukah party.
Every year as you take that first, crispy bite, remind yourself that a little bit of oil goes a very long way, in both menorahs and frying pans.
(Originally featured in Family First, Issue 673)
Oops! We could not locate your form.
>