| Washington Wrap |
Off to the Races
| October 18, 2022
What are the key races that will determine the outcome of the election?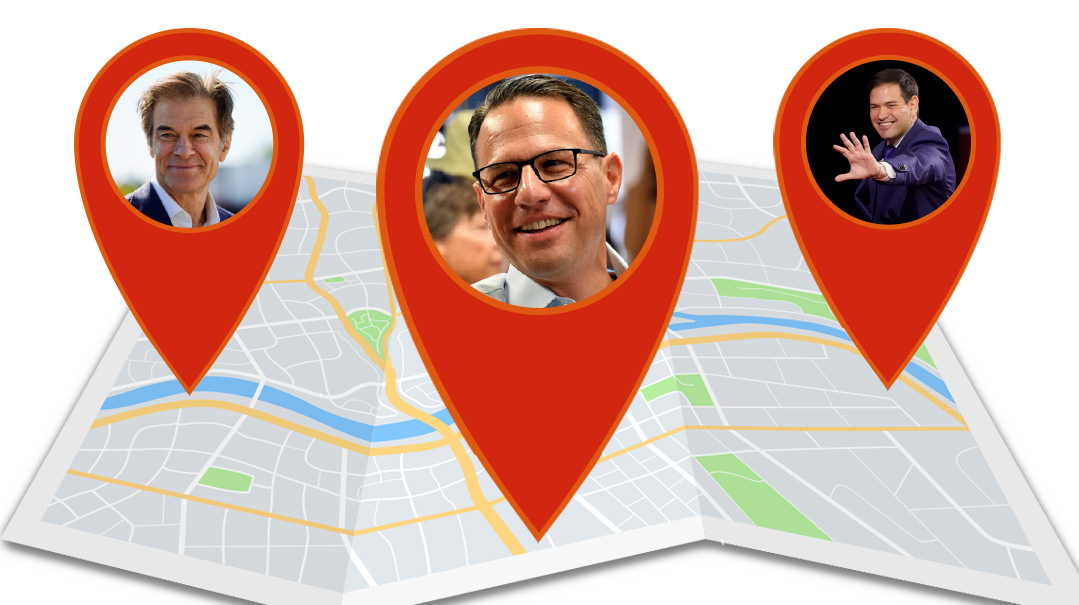 T
he midterm elections, which will decide what President Joe Biden's next two years will look like, are right around the corner. Will he be a lame duck who can't pass any significant legislation with an oppositional Congress, or will he ride the wave and continue pushing reforms until the end of his term?
Historically, the incumbent president's party almost always loses ground in midterm elections. Voter disillusionment that results from comparing campaign promises with results almost always swings support to the other party. This happened in the 2018 midterm election during Trump's term, when Democrats retook control of the House of Representatives, and the same thing happened in 2010 during Obama's first term —Democrats lost a whopping 63 House seats .
For Biden and the Democrats, the past year was a roller coaster. A year ago today, Democrats were coasting. Biden had just passed an impressive big infrastructure package, the stock market hit record highs, and the pandemic was on the wane.
But between November 2021 and March 2022 everything turned around at dizzying speed. The stock market bubble burst. Inflation soared. The war in Ukraine sent energy prices skyrocketing. Gas was more expensive; food was more expensive; interest rates soared. Everything was a mess.
Recent months brought stabilization, relatively speaking. Energy prices in the US leveled off. Inflation plateaued; the job market remained stable. And at the same time, the Supreme Court's abortion ruling persuaded many swing voters to lean toward Biden and the Democrats. This is especially true for suburban woman who oppose the court's ruling. Historically, turnout in this demographic tends to be high, and they could well decide election outcomes.
Still, in recent weeks the pendulum has swung back again. Now it seems that Trump-endorsed candidates who initially weren't given a chance in the general election are within striking distance of victory. Biden's approval ratings are plummeting once more, and the excitement over the fall in gas prices definitely won't last till November. Polls now show Democrats having a good chance of retaining control of the Senate, but Republicans are much better positioned to retake the House of Representatives.
So what are the key races that will determine the outcome of the election?
GUBERNATORIAL RACES
Pennsylvania: Josh Shapiro (D) vs. Doug Mastriano (R)
In 2020, when Trump tried to claim that Pennsylvania's electoral votes had been "stolen" from him, it was state attorney general Josh Shapiro who led the legal effort in state courts to rebut his claims and get the election results confirmed. His national media profile made him the natural Democratic candidate for governor in 2022.
Mastriano, by contrast, cast doubt on the 2020 election results, and even introduced a resolution to allow the state legislature to appoint Pennsylvania's Electoral College slate, on the grounds that state election procedures had been "irredeemably corrupted." In a May rally he said that if elected, he would be so conservative that he would make Ron DeSantis look like "an amateur."
For now, polls show Shapiro with an average lead of 10%. According to a Franklin and Marshall poll from late September, 83% of Democrats said they would vote for Shapiro, but only 69% of Republicans said the same for Mastriano.
How Did Redistricting Affect New York Races?
Congressional redistricting occurs every ten years, in line with US Census results. In general, the party in power in each state drafts its redistricting plan, but some states delegate the job to a nonpartisan commission, as New York does. Efforts to carve out majority districts for one party have led to gerrymandering.
Redistricting in New York this time has been especially chaotic, resulting in several leading Democrats being thrown into the same districts. For example, Jerry Nadler, 75, one of the longest-serving legislators in Congress, had to square off against Caroline Maloney, 76, in the same district.
Because New York lost one congressional seat, one district disappeared entirely. Mondaire Jones had to run in a new district in southern Manhattan instead of Rockland, where he was first elected.
New York: Lee Zeldin (R) vs. incumbent Kathy Hochul (D)
Lee Zeldin, one of only two Jewish Republican congressmen, made a very tough call in deciding to run for governor of New York, which is seen as a Democratic bastion. Zeldin is focusing on the issues of crime, the economy, and the rise in anti-Semitism.
In an interview with Mishpacha last year, Zeldin said: "This is the first time in my lifetime that we are going into a midterm election with one-party Democrat rule in D.C., Albany, and New York City, at the same time. That's never happened as long as I've been alive. The pendulum is not just swinging, it's actually already swung. We're seeing a massive movement of the political earth underneath us, and they're really upset with one-party rule at every level and all of the multiple crises that are now piling up."
For now, polls predict victory for incumbent Kathy Hochul by a comfortable 10% margin.
Georgia: Stacy Abrams (D) vs. Brian Kemp (R)
Stacy Abrams is considered a rising Democratic star and one of the architects of the upset victories by Democrats Raphael Warnock and Jon Ossoff in twin Senate runoffs in January 2021. She was seen as the brains behind the Democratic Party's strategy and turnout efforts, to the extent that a state once considered bright red is now seen as purple or even blue.
For this reason, Democrats have invested a lot of hope in her, especially in light of the fact that incumbent governor Brian Kemp lost Trump's support after he refused to back the former president's claim that the election in the state had been stolen. Still, Abrams has yet to prove herself, as Kemp maintains a steady lead of 6% in the polls. Democrats may be headed for disappointment in a race they were counting on.
Texas: Beto O'Rourke (D) vs. Greg Abbott (R)
In his short political career, Beto O'Rourke has tried his hand at just about everything. The former El Paso mayor ran for Senate against Ted Cruz in 2018 and almost made a fight of it, but still lost. His 2020 presidential run had to be suspended after consistently scoring single-digits in the polls.
He's considered "cool," "trendy" and the "youth candidate." He's a master of social media and livestreams his campaign visits to all 254 Texas counties, even ones where he doesn't have a chance of winning.
Now he's running for governor against incumbent Greg Abbot. But Abbot has consistently led O'Rourke comfortably. For all his passion, O'Rourke is struggling to fulfill Democrats' dream of turning Texas blue.
SENATE RACES
Pennsylvania: Mehmet Oz (R) vs. John Fetterman (D)
This is one of Trump's biggest gambles in the current cycle, and it's unclear whether it will pay off. Mehmet Oz, a surgeon who rose to prominence thanks to a popular medically themed TV show, received Trump's endorsement in his bid for the open US Senate seat in Pennsylvania. His campaign got off to a rough start: He faced criticism for only having moved to Pennsylvania in 2020, as well as attacks for still holding Turkish citizenship and for being too moderate.
In the meantime, though, his Democratic rival, Lieutenant Governor John Fetterman, suffered a stroke, and was off the campaign trail for weeks. This gave Oz time to reset his campaign, fine-tune his message, and get back into the race. Now, the pressure is on Fetterman as Oz closes the gap — a scenario that seemed impossible half a year ago.
Florida: Val Demings (D) vs. Marco Rubio (R)
Marco Rubio is one of the best-known and most popular senators in the country, widely seen as a possible future president before the 2016 cycle. But now his reelection bid is receiving an unexpectedly tough challenge from Florida congresswoman Val Demings, who's gaining ground in the polls and now seems to be within striking distance of him.
Demings is a former cop and Orlando police chief who served in the police for 27 years, and campaigns on a "tough on crime" Message. Her husband, Jerry Demings, is the mayor and former sheriff of Orange County. And with crime becoming a key issues in the current election, Demings may have potential to shift voters across the aisle. She'll have to overcome Rubio's lead in polls, averaging 4%.
Ohio: J.D. Vance (R) vs. Tim Ryan (D)
This race is the closest in the country, with the two candidates separated by less than 1%. J.D. Vance, the intriguing entrepreneur candidate, was seen as a Trump critic before becoming a close ally of the former president and a rising star in the Republican Party. He's young, very conservative, and perceived as a winner. His opponent is Tim Ryan, a congressman who made a forgettable 2020 presidential run.
In the past, Ohio was considered the ultimate swing state, a bellwether of national results because it flipped between parties. But since 2016, when Trump carried the state by a wide margin, it has shifted heavily to the right, as evidenced by the fact that Trump won handily there even in 2020. These elections will determine whether Democrats can regain their hold on the state or slip even further.
Connecticut: Leora Levy (R) vs. Richard Blumenthal (D)
The Senate race in Connecticut pits two Jewish candidates against each other: incumbent Democrat Richard Blumenthal and Republican challenger Leora Levy. Levy, born in Cuba in 1957 after her family fled Lithuania in 1940, is a successful businesswoman in the commodity market, a heavily male-dominated field in which she is seen as something of a female pioneer. Levy has said that she's staunchly opposed to the Iran nuclear deal, supports Israel, and wants to expand on the Abraham Accords. She was among the Republican Party's representatives at the opening of the US embassy in Jerusalem. Blumenthal has a commanding lead.
What About the Squad?
Ilhan Omar barely survived against her moderate primary challenger, winning by just 2,000 votes. But fellow Squad members Rashida Tlaib and Alexandra Ocasio Cortez coasted to reelection. Pro-Israeli groups avoided intervening in these races for the most part, focusing instead on such races as Haley Stevens's defeat of progressive Jewish congressman Andy Levin. The Squad, it seems, is here to stay for another Congress.
HOUSE RACES
Pennsylvania 7th District: Lisa Sheller (R) vs. Susan Wild (D)
For the Republican Jewish Coalition (RJC) this is a key race: Two Jewish candidates are facing off, incumbent Democrat Susan Wild and her Republican challenger Lisa Scheller. The GOP has only two Jewish members of Congress: Lee Zeldin and David Kustoff. With Zeldin retiring from the House to run for New York governor, the Republicans don't want to be left with only a single Jewish congressman. The RJC has poured $750,000 into the race, the highest sum for a single race yet. Sheller is a businesswoman who donated to the Woodman-Scheller Israel Studies International Program at Ben-Gurion University and has visited Israel often. Polling has been scant in this race.
(Originally featured in Mishpacha, Issue 932)
Oops! We could not locate your form.
>