| Family Diary |
Off the Rack: Chapter 11 
| November 30, 2021
I didn't want D-RAMA to just be a room of racks; I wanted it to be an oasis of positivity and encouragement
I leaned against the trunk of my car, willing it to close.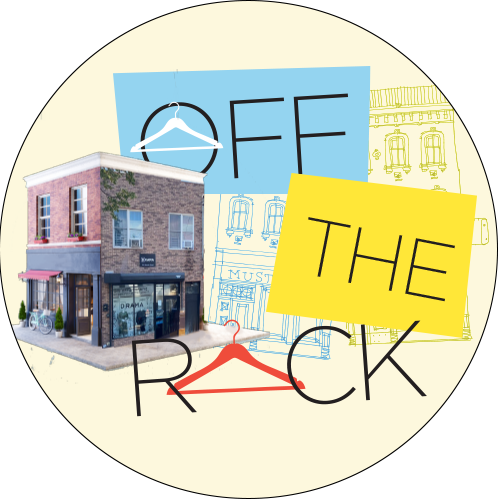 It was jam-packed with the last round of items from my parents' basement. Over the last few days, the construction guys had built an office, and installed fitting rooms and a front desk at my new place. Now the space was ready for D-RAMA to move in.
I drove the few blocks from my parents' house to Quentin Road, and when I saw the front window of D-RAMA, my breath caught. My custom-made background was hanging in the front window. I'd commissioned an artist to create a white backdrop with bold black words like "fierce," "strong" and "powerful."
I thought about my first photoshoot, back when D-RAMA only boasted a few items. Before the shoot, I'd explained my vision to my mother. "I want everyone at the shoot to have a good time and feel amazing about themselves."
In the middle of our conversation with my mother, I had a brainstorm. I ran to the craft store to grab some white posters and thick black markers.
The next day, each woman we photographed held a sign saying "I am beautiful" or "I am confident." Because they are — and sometimes a little reminder doesn't hurt. Standing outside my new store on opening day, I scrolled back to those photos and smiled. I scrolled past another picture, one of a model at a different shoot eating pizza, and laughed.
When I posted the pizza picture, people came at me with daggers.
"Why are you encouraging women to eat pizza?" or "You're leading a body positivity movement. How can you let people eat something so unhealthy?"
I wondered if they heard the irony of their own words.
The conversation was ridiculous. First of all, why are you so worried about something as trivial as what someone else eats? And is there a specific weight when it suddenly is okay to eat pizza? Only if you're under 150 pounds? Or is the cut-off at 140? How are you deciding? And who are you to decide?
Despite the pushback, those photoshoots had been some of my most fulfilling days. I got to capture my creations, see my dresses worn by strong, real women. We always had good music, good food, and good times. My models walked away happy and confident. And now my store was a brick-and-mortar manifestation of that same vision.
On opening night, I hosted a party and invited my friends and family to come see the store. My friend Cookie flew in. Even my mother's friends had come to celebrate with us.
I was excited to show the place off. The look and feel of it was so important to me. I didn't want D-RAMA to just be a room of racks; I wanted it to be an oasis of positivity and encouragement. The inside walls were a Tetris of encouraging posters — mostly purchased, but there were some that my friends and I had made by hand.
When my friend Cookie opened the door to one of the fitting rooms, she laughed. "You even put motivational signs in the fitting rooms!"
"Of course," I explained. "When I was a little kid shopping, that's where I needed the motivation most."
My mother and her friends admired the dresses on the racks. My friends stood around taking selfies in the beautiful big mirrors. My sisters and sisters-in-law kept giving me hugs and saying how proud they were.
Even my friends who couldn't be there in person had sent their support in the form of flower deliveries, customized D-RAMA cookies, and love-filled packages. They had all come out for one reason — to support me — and when I walked around to greet each one, I felt their love filling the room.
I was on the brink of tears the entire night.
Running a business is hard. It takes money, and tenacity, and tears, but anything is possible when you have the passion — and you're surrounded by the right people.
to be continued...
(Originally featured in Family First, Issue 770)
Oops! We could not locate your form.
>