| Recipes |
Not-Your-Typical Tomato Soup | October 30, 2019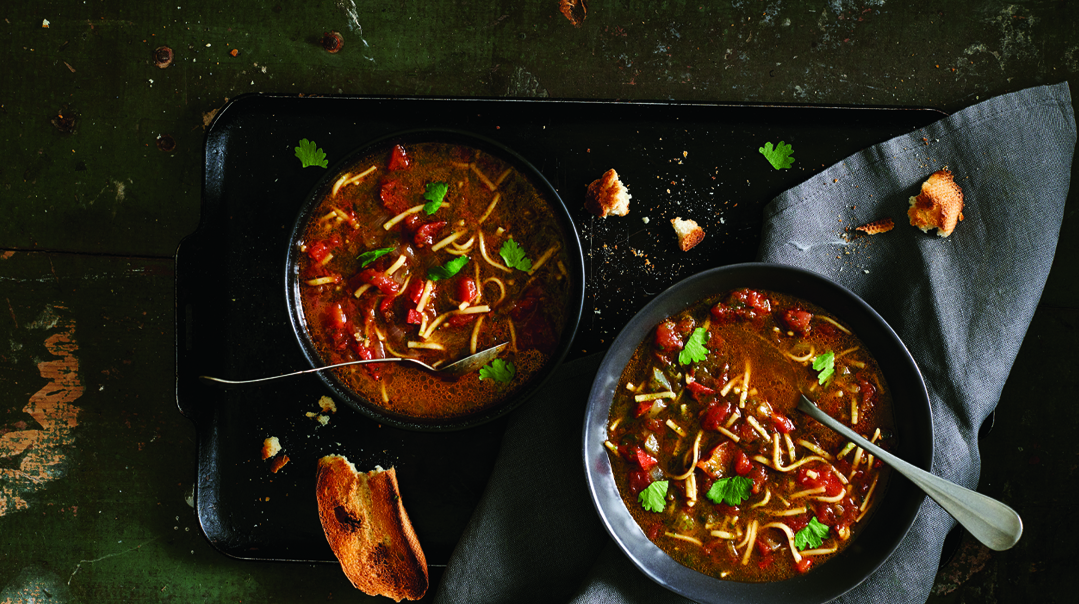 Not-Your-Typical Tomato Soup 
This is a very satisfying soup, chock-full of delicious ingredients. It's one of those soups that comes together 1-2-3, and it freezes well too. 
SERVES 6 
1 Tbsp olive oil
1 medium onion, chopped
1 small/medium red pepper, chopped
1 clove garlic, minced
2 14.5-oz (410-g) cans diced tomatoes
2 cups water, divided
4–5 basil leaves, minced
1 tsp pareve chicken soup mix
salt and pepper, to taste
1 tsp sugar or sweetener equivalent
3⁄4 cup uncooked thin noodles
5 oz (140 g) frozen spinach, defrosted in microwave and drained to equal .cup
11⁄2 Tbsp chopped fresh parsley
11⁄2 Tbsp chopped fresh cilantro(optional but recommended)
Heat oil in a 4–5-quart pot. Saute onion and red pepper over medium heat for 10 minutes, stirring occasionally. Add garlic and saute 1 minute more. Add tomatoes, 1. cups water, basil, and seasoning. Bring to a boil.
Stir in noodles; reduce heat and simmer for 10 minutes. Add spinach, remaining . cup water, and herbs. Cook for 10 minutes. Taste and adjust seasoning if necessary. Serve hot; tastes delicious room temperature too.
Note: For a more prominent herb flavor, add the parsley and cilantro after removing the soup from the heat.
(Originally featured in FamilyTable, Issue 665)

Oops! We could not locate your form.
>