| Jr. Feature |
Not Your Garden Variety | June 7, 2022
What makes a garden "typical"? Flowers? Vegetables? Trees? These gardens are definitely not typical!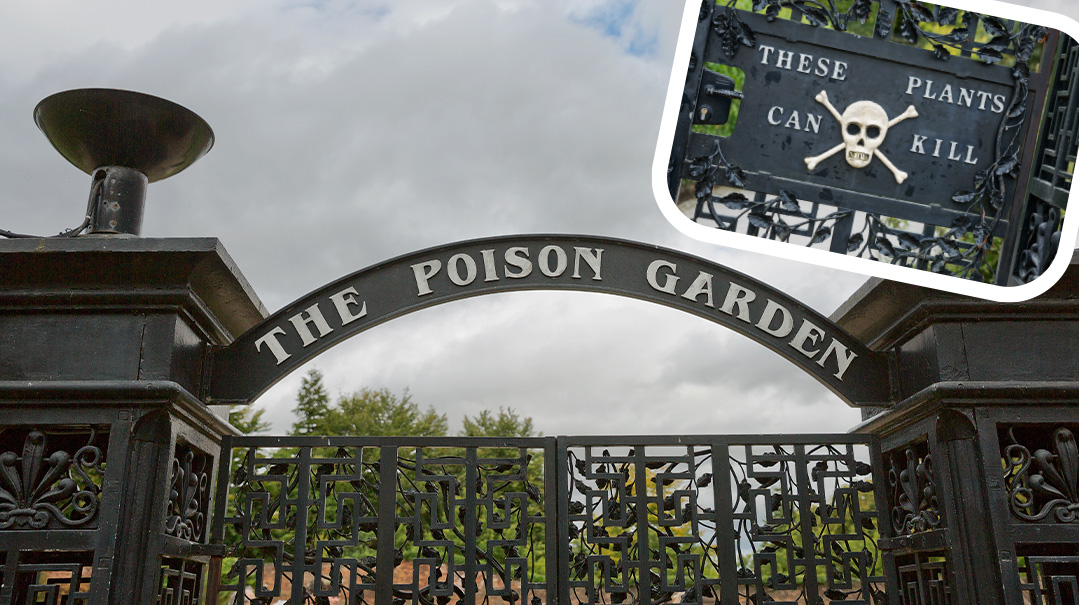 Alnwick, England
Alnwick Poison Garden
Alnwick Castle, in England's Northumberland district, dates back almost 1,000 years and has quite a history as a fancy family home (of the earls and dukes of Northumberland, no less), a military base, a teaching college, a refuge for evacuees, and more. But over the castle's quite illustrious history, its famous gardens fell into disrepair. They were only restored about 25 years ago, quickly becoming one of the most popular tourist sites in northeast England.
Attractions include a "Lawn of Blue" (thanks to the blue flowers that carpet it) and several water features. But the most unusual — and famous — part is undoubtedly the Poison Garden. This was the duchess's idea. Isobel Jane Miller Percy (the duchess) wanted the garden to have something very different from all other gardens. Poison seemed to check that box quite nicely. (The Poison Garden is also used for educational purposes.)
The Poison Garden contains one of the biggest collections of toxic plants in the world. There are over 100 species of poisonous plants growing there that can cause harm to people. The poisonous species include strychnine trees, foxgloves, hemlock, deadly nightshade, and more. The Poison Garden is now the most popular attraction in the Alnwick Gardens.
Because the poisonous plants growing there are so deadly, the Poison Garden is kept locked and is only accessible on guided tours. But use caution… although visitors are prohibited from touching, tasting, or smelling any of the plants in the garden, some people have passed out just from breathing the air!

Eureka, California
Wicked Plants Garden
This garden isn't anything on the scale of Alnwick's Poison Garden, but it's basically the same idea: a garden full of poisonous plants. Unlike Alnwick, it's not open to the public. But it has gone on a tour of sorts to famous and larger botanical gardens in the United States, such as the Brooklyn Botanical Garden.
The 35 or so toxic species grow in the yard of Mrs. Amy Stewart, who wrote a book on toxic plants, called Wicked Plants: The Weed That Killed Lincoln's Mother. The plants in her garden all have stories behind them. There's the weed that killed Abraham Lincoln's mother (white snakeroot), the hemlock that killed the famous Greek philosopher Socrates, the hellebore that the ancient Greeks used to poison the water of their enemies, and more.
"I find… a plant that was used to commit a crime or started a war… a plant with a dark history," Stewart says, and that's what she grows. She also mentions the story of Frederick Law Olmstead, a famous landscape architect, who at the age of 14 was nearly blinded by exposure to poison sumac. He missed a year of school because of it, but overcame his challenges and later went on to design Central Park.
Stewart's garden is really only for her personal interest, but she also seeks to educate people about the dangers of many plants growing all around them. (The National Capital Poison Center in Washington, D.C. says there are around 63,000 reported cases of exposure to poisonous plants each year.) Gates at the front and back keep curious onlookers and kids out.
The other thing Stewart likes to focus on is how so many of the "dangerous" plants are only toxic if consumed in large enough quantities, or if certain parts of the plant are eaten. For instance, castor beans can be made into castor oil, which is harmless, or ricin, which is one of the deadliest poisons. Another, foxglove, can kill… or it can be used to produce digitalis, a heart medication.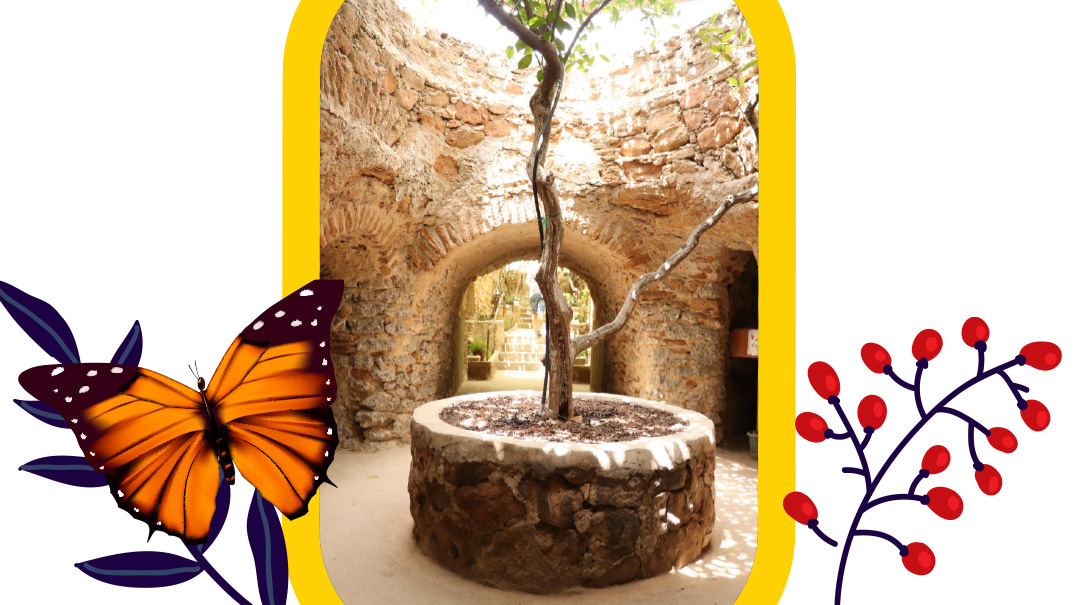 Fresno, California
Forestiere Underground Gardens
Baldassare Forestiere was an artist from Italy who came to California in 1901 intending to become a citrus farmer. Instead, he ended up creating a huge underground garden over ten acres long (half the size of Alcatraz or Buckingham Palace). In addition to plenty of citrus trees, the garden contains a massive network of underground rooms and courtyards as well as tunnels to offer an escape from the blistering summer heat.
Forestiere didn't plan his work in advance, he just worked according to his ideas and inspiration, starting with a simple cellar to escape the heat, and from which the idea began. Without access to any heavy equipment or machinery, he used a mining pick, shovel, and wheelbarrow to carve away at the soil — as well as two mules to help with the hauling.
The trees he planted include orange, lemon, grapefruit, loquat, kumquat, jujube, quince, and more. Some of them grow more than 20 feet below ground; Forestiere's secret was building skylights into the ceiling above them to make sure the trees got plenty of sunlight. He also built basins to collect and store rainwater. He planned it so different trees would bloom at different times, and so that some of them would provide additional shade and insulation. Forestiere worked on his project for 40 years, from 1906 to 1946, eventually moving underground himself. Today the garden is recognized as a national historic landmark. Some of the trees and plants are over 100 years old.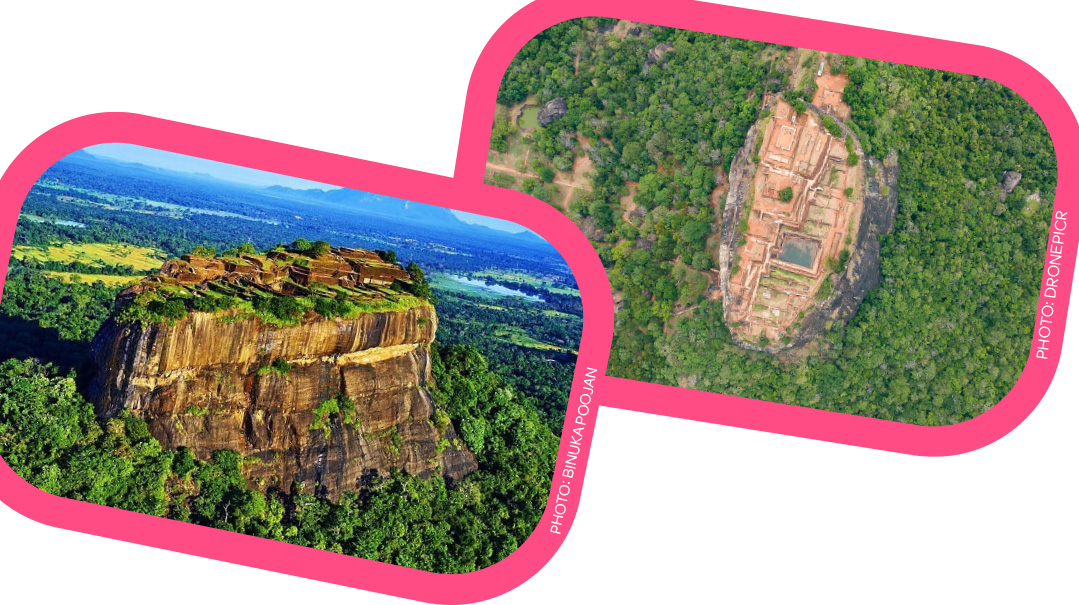 Sri Lanka
Ancient Sigiriya
Sigiriya is an ancient city in Sri Lanka that dates back to around 480 C.E. Its three gardens are renowned for their uniqueness, and include the water garden, a vast system of terraced gardens (gardens on different levels, like steps), and its rock garden.
The water gardens are symmetrical and include various pools, moats, a manmade lake, and more. There are also two manmade islands. Everything is connected by an underground water network. The terraced gardens rise up from the rock garden, connected by steps built into the mountain. They form a series of concentric circles (one circle inside another inside another, and so on).
When you think of a rock garden, you may picture a bunch of stones that can be easily moved around. Not so with Sigiriya's rock garden, which is literally a boulder garden. The rocks are so big that a 15-foot-tall throne was carved into one of them (that's four-fifths the height of a giraffe!). And, of course, the boulders were carved without the help of any modern tools or machines. The boulders are connected by a series of paths.
Sigiriya's gardens are among the oldest landscaped gardens in the world, and they represent one of the oldest examples of city planning.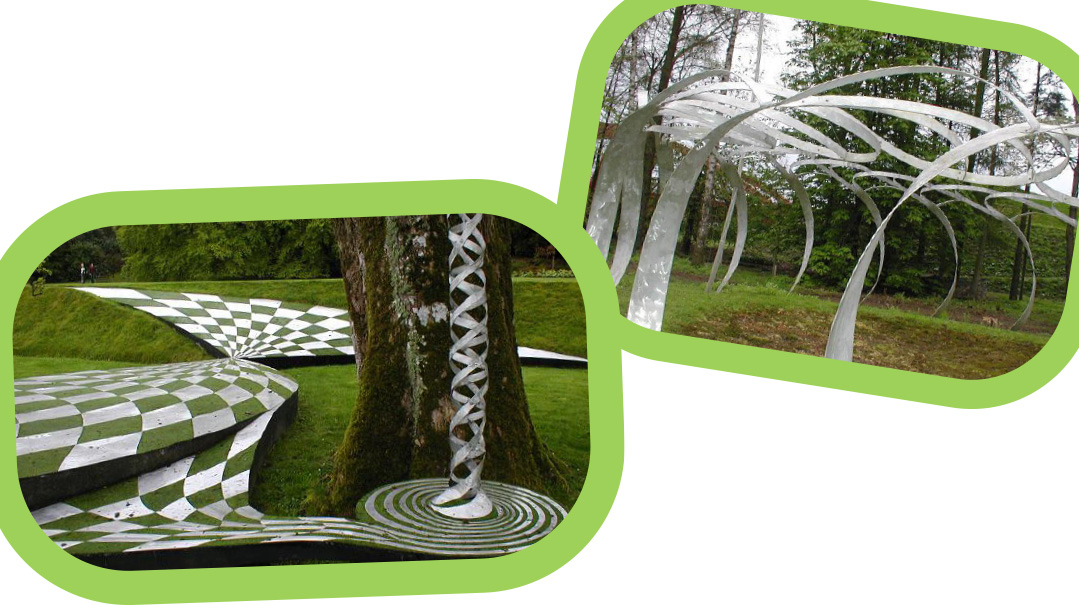 Dumfries, Scotland
Garden of Cosmic Speculation
The Garden of Cosmic Speculation is just as artsy as it sounds. But it's also based on science and math. Designed and created by architect Charles Jencks and his late wife, who was an expert landscape designer, the garden spans some 30 acres (a little larger than Ellis Island). It contains 40 sections of landscape sculptures, trees and plants, and terraformed hills. (Terraforming is a fancy way of saying that the landscape has been transformed into other structures and shapes.)
The idea of the Garden of Cosmic Speculation is that it's meant to get visitors to explore the mysteries of the natural world using their five senses (and their sense of humor). The shapes in the landscape include spirals, double helixes (that's the shape of DNA), pyramids, fractals (shapes based on complicated geometry), and concepts from physics. There are complicated flowerbeds laid out, reflecting ponds, and mounds of earth meant to evoke the idea of black holes.
Situated on Jencks's private estate, the garden is only open to the public once each year, for five hours only… so get in line. (The tickets are sold to raise money for charity.) The garden took nearly 20 years to create, and if you ever want to see it, it might take you 20 years to get a ticket!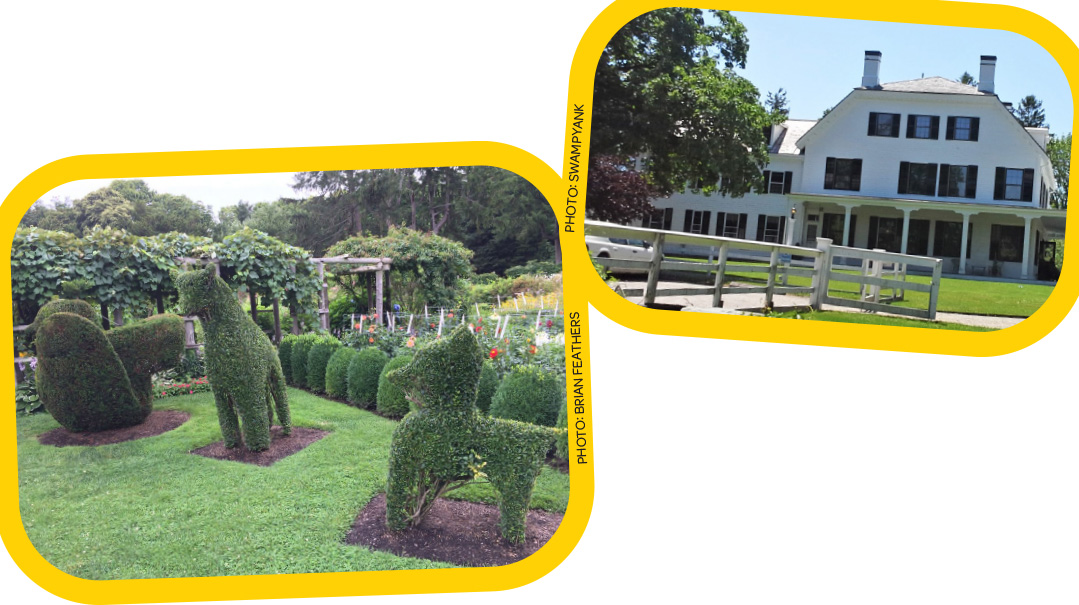 Portsmouth, Rhode Island
Green Animals Topiary Garden
You know those hedges that are cut into nice, even shapes? The plants that are used to form borders around yards and along sidewalks? Sometimes they're also cut into interesting and unusual shapes, called topiary (toe-pi-air-ee). Green Animals Topiary Gardens is America's oldest example of this, dating back nearly 200 years.
Spread over a seven-acre estate on the edge of Rhode Island's Narragansett Bay, the original garden was created by a renowned Portuguese gardener named Joseph Carreiro, beginning in the 1870s. Carreiro basically created living sculptures with the plants he grew there, and his descendants continued working on his behalf in the 1940s. The topiary statues include unicorns, camels, elephants, giraffes, people, and elaborate shapes. Of course, the gardens are also dotted with flowers, ponds, and winding paths that make it a pleasure to visit.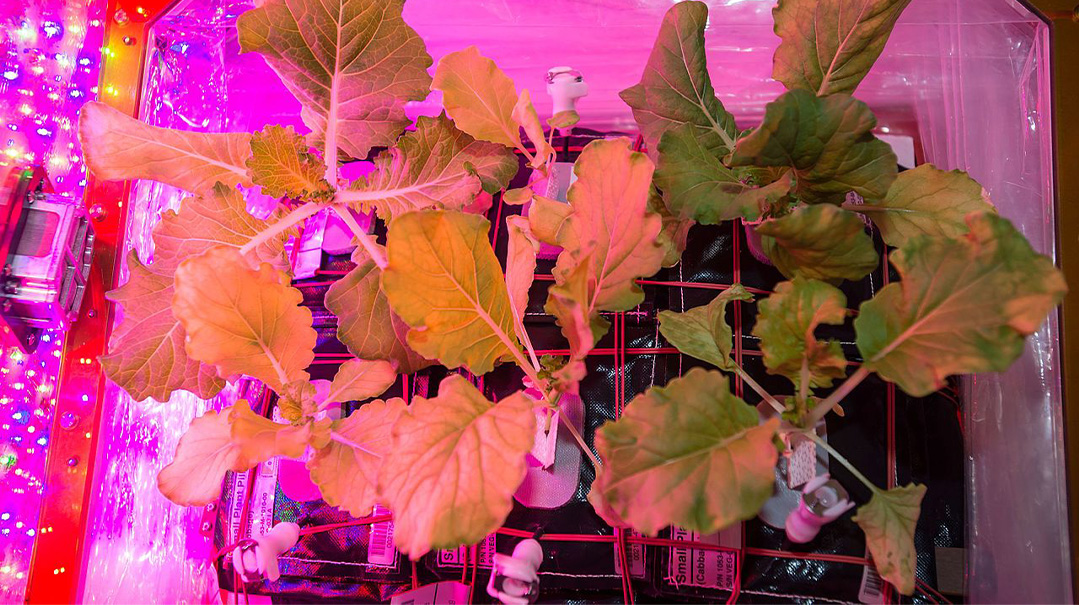 Greenhouses have been used since Roman times. The first known greenhouse was used in 30 CE, in Rome. The emperor Tiberius wanted to eat one cucumber a day, so Roman scientists created greenhouses to grow them.
International Space Station
Growth Chamber (aka "Veggie")
IS it still called a garden if it grows in space? And how do plants grow without gravity?
Food takes up a lot of room in space shuttles — and it's also complicated to prepare and pack. If astronauts could at least grow their own veggies in space, that would be pretty useful. That's why NASA is working on a space garden in the International Space Station and has been trying to grow plants in space for many years.
The small plant-growth chamber on the ISS has a "microgravity environment" inside (meaning, there's gravity in there), which allows plants to grow. NASA has grown basil, lettuce, and a variety of other greens in space. The first vegetable grown and eaten on the ISS was "Outredgeous" red romaine lettuce, in 2015. While that kind of lettuce takes 64 days to mature on Earth, it took only 33 in space.
The "Veggie" growth chamber is about the size of a carry-on suitcase. It can hold about six plants, which are grown under red, green, and blue LED lights. The Kennedy Space Center in Florida and the German Aerospace Center continue to do extensive testing on space agriculture. Hopefully, their efforts will blast off sometime soon!
Tokyo, Japan
Seiruka Garden at St. Luke's International Hospital
A rooftop garden isn't so unusual. But a rooftop garden built especially for patients on top of a hospital is something special. This garden is meant for therapeutic and healing purposes. Six floors above the ground, it has a pretty basic design. But what might not be immediately obvious is that the continuous looping pattern of the garden was designed with Alzheimer's patients in mind, and that the gentle inclines and smoothly paved pathways were created to be easily accessible by those in wheelchairs. The garden serves as a peaceful getaway for patients, staff, and visitors.
More and more medical facilities are following this example, creating therapeutic gardens wherever space allows. They're not like playgrounds or other botanical gardens. They're created as healing spaces, where patients can decompress, destress, meditate, pray, and relax. And they're often developed with the help of horticulture therapists, therapists who help people do gardening activities with the goal of healing. Other hospitals with healing gardens include St. Louis Children's Hospital, which includes plants  young visitors can smell, touch, and feel, and Children's National Health System in Washington, D.C., which features a rooftop garden for patients and staff.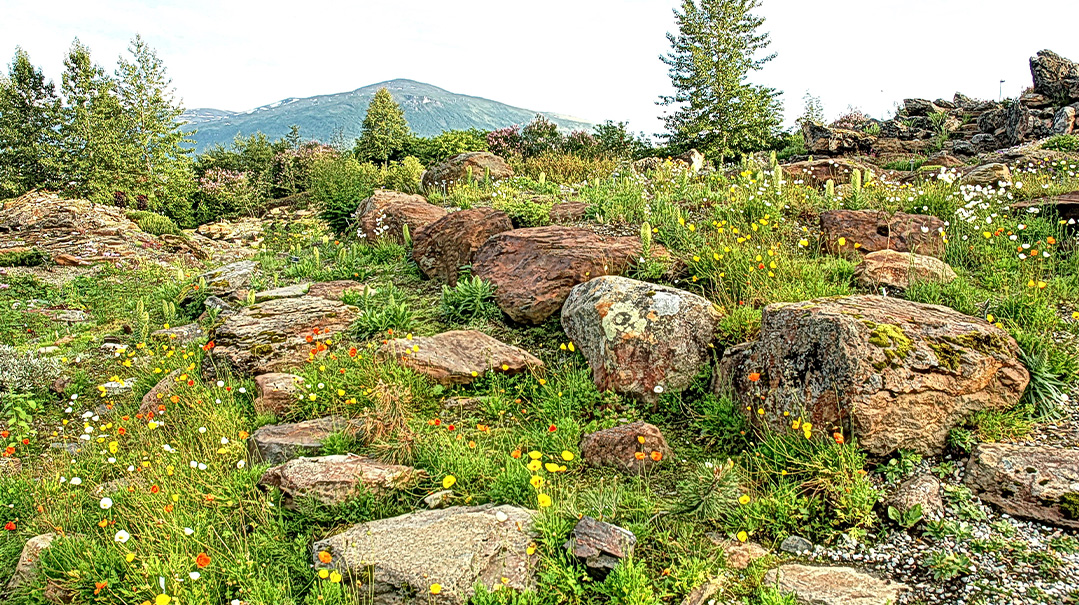 Tromsø, Norway
Arctic-Alpine Botanic Garden
The Arctic-Alpine Botanic Garden is the botanical garden located the farthest north in the world. Because of the extreme environment in which it's located, it contains some of the most unique plants on Earth, all uniquely suited to harsh environments.
The plants in the garden come from all over the world, including the Arctic, Antarctic, Himalayan, and Alpine regions. There are a surprising number of flowering plants there. And though the flowers typically begin blossoming in May, there's still snow on the ground then. There are 25 different collections in the garden, and the garden is free for all visitors… a great day trip next time you're up in Norway.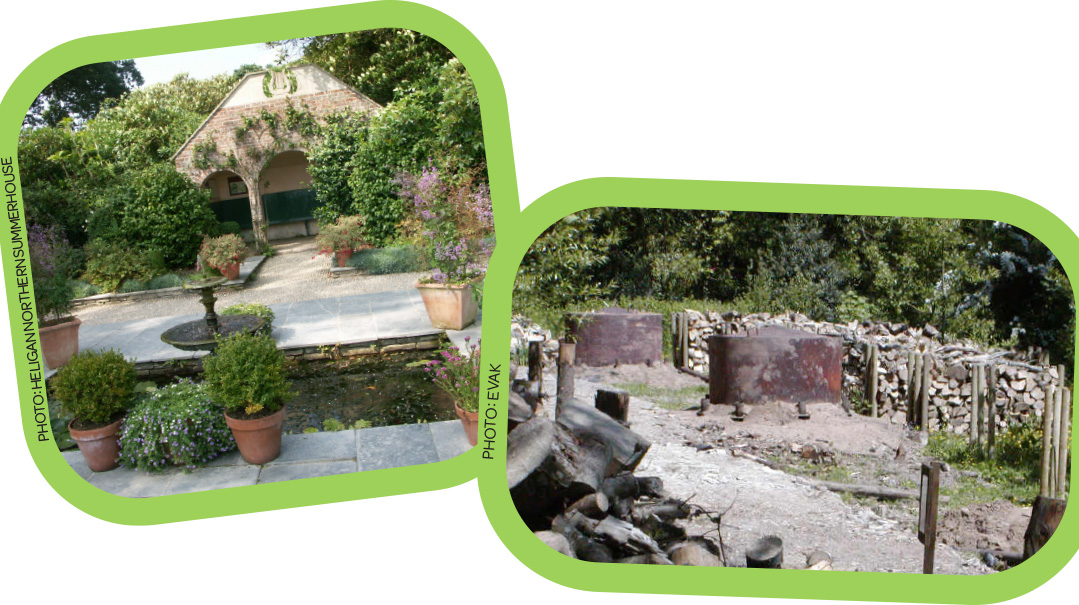 Cornwall, England
The Lost Gardens of Heligan
When World War I arrived in England, the beautiful estate of Heligan, in Cornwall, England, fell into neglect and disrepair. It was only natural that priorities shifted during wartime. Another problem was that of the 22 gardeners working there, 16 perished in the war. Nature took over the grounds, growing over walkways and swallowing up the well-kept gardens. They were eventually lost to sight, meaning that people couldn't see the gardens at all anymore.
In the 1990s, two descendants of the Tremayne family, which has owned Heligan since 1200, found part of a small garden and decided to repair and rejuvenate it. The project expanded and soon much of the site was revamped. Two of the most famous features are the Mud Maid and the Giant's Head, both of which are "living sculptures," part stone, part plant. Heligan is also home to a jungle garden, an alpine ravine, and an Italian garden. The gardens are among the most popular in the United Kingdom.
(Originally featured in Mishpacha Jr., Issue 914)
Oops! We could not locate your form.
>