| EndNote |
No Words
| March 10, 2020
A series that aims to keep the old, classic niggunim of the chassidus alive for perpetuity
T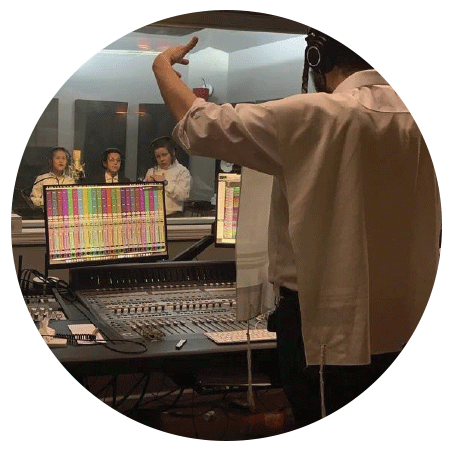 he new Chabad IV album is part of a series that aims to keep the old, classic niggunim of the chassidus alive for perpetuity. This volume offers a fresh presentation of the vintage Lubavitch songs composed by rebbes and chassidim, through an intriguing collaboration with Moshe Laufer, Yossi Green, and the Yiddish Nachas choir from Kiryas Joel.
Choir director Moshy Kraus says that he was familiar with many of these tunes because as a child growing up in Tosh, he used to listen to music on the local Chabad line. But for the Yiddish Nachas choristers, most of these niggunim were completely new. "It was a bit challenging for the boys to learn these songs, which are very different, musically, from our usual material," says Kraus. "Getting the Chabad pronunciation right on the words was fairly easy, but when it came to the wordless niggunim, things became trickier. Generally, wordless vocals have to be taught carefully, because all the singers have to sing exactly the same "oy" or "aiy" syllables.  But in this case, some of the faster songs with unfamiliar syllables and kneitches were so new that I ended up writing them out for them as I do new lyrics."
With producer Levik Touboul (Levik T.) living in France, communication was entirely long-distance.  The choir vocals and Yossi Green's own vocals were recorded in Moshy's MK studios in Monroe, and he says that the final product exceeded all his expectations. "Levik sent me a guide, and we sang the songs exactly as prescribed, but hearing the final mix was something else entirely. I was especially moved by the last track, the Shpole Zeide's haunting song "Kol Bayaar" ["A voice in the forest, a father looks for his children…"]. I remember loving it as a child and, with the innocent voices of the children, it came out absolutely gorgeous."
WATCH THE SOLOIST LEARN THE CHABAD PRONUNCIATION!
(Originally featured in Mishpacha, Issue 802)
Oops! We could not locate your form.
>