| Profiles |
No Laughing Matter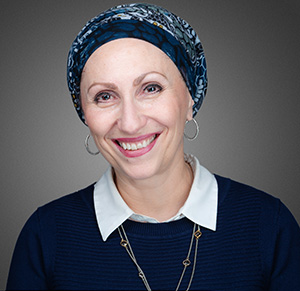 | January 31, 2018
Underneath the shtick, Rabbi Gavriel Friedman (Rav Gav) delivers serious Torah, navigating the modern minefield of political correctness while captivating the unaffiliated with no-frills learning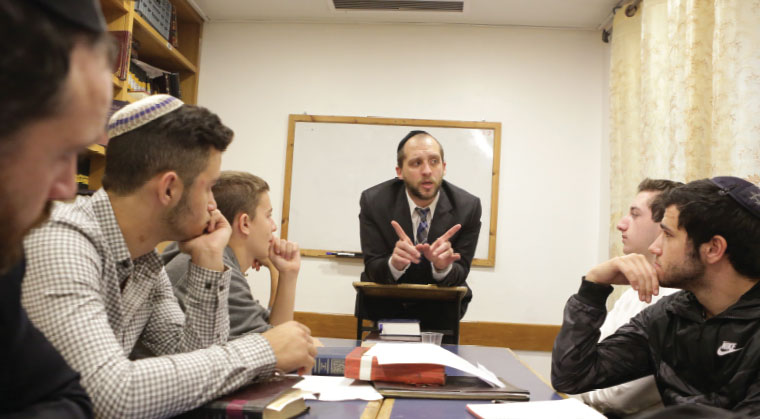 R
abbi Gavriel Friedman — "Rav Gav" to his delighted audiences — doesn't stop moving when he speaks. He gestures, he acts things out in funny voices, he paces. His persona changes like a high-speed chameleon, as he switches seamlessly from English (American) to English (British) to street slang, Spanish, and taxi-driver Hebrew. He'll recite pesukim in Talmudic singsong or break into a few bars of an old television theme song, sometimes in the same sentence.
All this, of course, is designed to keep his audiences of potential baalei teshuvah engaged and entertained — and eager to come back for more. But Rav Gav's goal isn't to be a stand-up comedian with a gift for imitation and quick one-liners. His patter is laced with profound content, slipped so adroitly into the entertaining delivery that listeners barely notice they're getting a strong dose of medicine in that spoonful of sugar.
One of the most in-demand speakers on the kiruv circuit, Rabbi Friedman spends much of the year on the road. His perpetual-motion schedule brings him to Aish conferences, Project Inspire, JWRP (Jewish Women's Renaissance Project) shabbatons, Pesach hotels, and scores of other venues. That's all in addition to his day job as a rebbi at Aish HaTorah in Jerusalem, where he passes on his love of learning to motivated newcomers to Judaism.
As with his high-speed talks, his entertaining style also pays benefits with his students, according to Rabbi Yossie Friedman, COO of Aish. "A student might ask if G-d exists, and Gav will give him five examples that are hysterical, practical, and real," Rabbi Friedman says. "He's the best teacher I've ever heard — even more than he is a speaker. After one of his Essentials classes, he'll be out in the lobby for an hour and a half, and the guys there aren't looking to be entertained. They're looking for answers. He reaches them, because he doesn't preach. He shares like a friend and contemporary."
Rav Gav says he developed his signature speaking style over time, through trial and error. One key is that he refuses to teach "canned goods" — or other people's material. "I talk about what I feel passionate about," he says. "Every class I give reflects something I went through myself, be it anger management or judging others favorably."

His wife Tamara says he's constantly working on new classes and lectures, writing ideas down on stray scraps of paper. "He'll tell me, 'Don't throw out that napkin in the cupholder in the car! It has an idea on it for a class!' "
Rabbi Shimon Kaufman, CEO of Aish Israel and Rav Gav's chavrusa, says that in "real life," Rabbi Friedman the funnyman is a "mevakeish" who is focused and deep. "He doesn't want to be just a funny rabbi," Rabbi Kaufman says. "He wants to be a rabbi who uses his talents to give over life-changing information. He's like the doctor who wants to get medicine into a stubborn child, so he tells him jokes until he laughs so hard his mouth opens and he manages to pour it in."
All Roads to Jerusalem
We meet Rabbi Friedman as he stops in at the spacious home of family friends in Lawrence in between an Aish shabbaton in Stamford and his flight back to Israel. He's visibly tired after a long weekend of lecturing and nonstop interacting with people, but he rallies, fortifying himself with the nosh our hostess has served.
His energy is all the more remarkable given that just a few months ago, an infection that inexplicably turned septic landed him in a hospital ICU for eight days.  Thanks to a lot of tefillah and loving care, he pulled through and got back on his feet, to the infinite relief of his family, friends, and students around the world.
Rabbi Friedman grew up in a Modern Orthodox home in Woodmere, Long Island. He attended the Hebrew Academy of Long Beach (HALB), where, according to his wife Tamara, "He was the kid the rebbis didn't know what to do with." ("I'm still that guy!" Rabbi Friedman quips.) He had boundless energy, a penchant for music (he plays guitar, piano, and drums), and didn't fit into any identifiable boxes.
"I marched to the beat of my own drum," Rav Gav admits. "I had no problem learning Gemara, but I didn't like forced structure or authoritarian teachers. I couldn't be in a box for eight hours, even though the koach to learn was there."
Yet despite his rocky relationship with school, even as a young boy he loved speaking at family gatherings and to groups of bochurim, needing no coaxing to deliver divrei Torah and expositions on halachah.
Unsurprisingly, Rabbi Friedman was accepted to mesivta on probation, both academic and behavioral. Not terribly interested in the school curriculum, he would often skip yeshivah and go learn in Yeshiva Sh'or Yoshuv, where he could learn with no pressure, undisturbed. He'd tell his parents he'd gone to school, and tell the school he was sick.
Fortunately, during his time in mesivta, he encountered menahel Rav Yisroel Kaminetsky, who was able to see his potential and speak his language. Rav Kaminetsky suggested that he leave for Eretz Yisrael in 11th grade, and together they decided on "OJ" — Ohr Yerushalayim — on the bucolic moshav Beit Meir. Following the advice of his old rebbi, Rabbi Gershon Kramer of HALB, Rabbi Friedman didn't leave the yeshivah grounds for the first few months of his stay, a decision that allowed him to acclimate quickly and jump right into the learning. He ended up spending two good years there.
He returned to the US for a short stint, where he learned under Rabbi Yehuda Shmulewitz. After a six-month stay, he decided it was time to go back to Eretz Yisrael. Rabbi Shmulewitz advised him to learn at Yeshivas Toras Moshe in Jerusalem, headed by Rav Moshe Meiselman. Rabbi Friedman liked it so much he stayed on, continuing after he married, taking his learning to the next level.
Having immersed himself in a more yeshivish environment, Rabbi Friedman's goal was to go back to the US and teach in Modern Orthodox yeshivos. He dreamed of teaching tenth grade, the age when a bochur's mind starts to think more deeply — "and if you miss the moment, they can fall into bad habits." But after a few pilot trips to the US, he and his wife changed their minds; they'd become too attached to life in Jerusalem.
A young family needs a parnassah, so they sought work in the Holy Land. Rabbi Friedman managed to piece together a living by teaching at three different Anglo post–high school yeshivos.  In the meantime, Mrs. Esther Katz, a cousin of Tamara's, suggested he meet Rabbi Jamie Cowland of Aish HaTorah, who placed Aish students in jobs after rabbinical training. "That was 13 years ago. I had no idea who he was, or what Aish was," Rav Gav says. "At the time, I had never heard of an Aish conference, and there was no Project Inspire yet."
Rabbi Cowland thought Rav Gav would be a good candidate for kiruv work at Manchester University in England. He told him, "Go for one week to check it out. We'll pay."
The Friedmans packed up and journeyed to Manchester. When they got there, they realized the university wasn't exactly in the city. "Thirty minutes south of Manchester," Rav Gav specifies. "We were in a suburb of Manchester, a little town called Fallowfield. Fallowfield is perfectly named. That's what it is —completely fallow. There's absolutely nothing there in terms of Jewish life! We were half an hour's drive from the Jewish community."
Aish tried to convince them to stay. "They'd say kiruv," Rav Gav relates. "I'd counter 'minyan.' I asked if they had anything for me in Jerusalem, but they told me no chance — you had to be in the field at least ten years before you touch Aish Jerusalem."
So Rabbi Friedman continued teaching in several American yeshivos, but it wasn't really sustainable in the long term.
After a year, Tamara suggested he try Aish again. Rav Gav said no — not happening. Finally, to preserve shalom bayis, he approached Aish and met with Rabbis Shmuel Schwartz and Nechemia Coopersmith. It was just before the summer of 2006, and Aish was gearing up for its busy summer season. As hashgachah pratis would have it, the yeshivah was missing a rebbi for an afternoon slot. They decided to give Rav Gav a try.
Rabbi Schwartz's instructions offered lots of freedom and little direction: "Learn with them," he said.
"The program was different then — there was less structure," Rabbi Friedman says. "There were a lot of floaters, people who'd show up for a week, or a month."
He opted for a program of learning Pirkei Avos with Rabbeinu Yonah from 2:00 to 3:00, Mishnah Berurah from 3:00 to 4:00, and Kiddushin with Rishonim from 4:00 to 5:00. His students, about 20 of them, could come for the whole afternoon or just for the parts that interested them.
His lack of kiruv training turned out to be an advantage. "People think you can't start beginners off with complicated stuff, with too much Tosafos or Aramaic or Hebrew," he says. "I didn't know any better, so I thought it was normal to include all that."
But learning that way turned out to be the right approach; even today, Rabbi Friedman feels that traditional Torah learning is the best way to captivate the unaffiliated. In fact, given a choice between existential discussions about the existence of G-d and sitting down with a sefer, Rabbi Friedman believes the sefer — along with involvement in a Torah lifestyle — is the most compelling argument for Torah Judaism.
"I deal with the big questions as they come up, but I find that through living a Torah life, people's questions often fade away," he says. His original chaburah is a case in point: Today they're all married guys, some still in kollel, living frum lives.
The summer session flowed into autumn, and Rabbi Friedman continued at Aish. Now he was teaching Chumash. His students didn't know so much, but then again, he jokes, "Neither do some yeshivah guys."
Teaching baalei teshuvah was life-altering for him. Rabbi Friedman suddenly found himself in a room with 30 guys who might range in age from 18 to 45. Some had no background whatsoever. Others had a small smattering of Judaism, and then there were a few who'd turned 180 degrees away from a frum upbringing and were trying to find a reason to come back. They had a wildly different range of experience from that of yeshivah bochurim in the same age range, and many were very bright.
"They asked questions I never thought about," Rabbi Friedman says. "Basics. I'd quote a Rashi, and they'd say, 'Who's Rashi? Why should I accept what he says? Maybe I disagree.' "
Rabbi Friedman's first reaction was to sputter, "But it's… it's Rashi!" Then he had to train himself to see things through the students' eyes (an essential trait, he says, in order to connect not only with baalei teshuvah but with anyone) and acquire the intellectual ammunition to handle their questions. In the process, he reinforced his own learning. Now he cites the Tanna Rabi Chanina: "I learned from my rabbis, and from my colleagues, but I've learned the most from my students."
Dealing with baalei teshuvah requires a certain interpersonal sensitivity, and both sides have to learn to look beyond appearances. Rav Gav has learned to look past the jeans, tattoos, and earrings to the Jew inside, and has helped his students see him as a unique person inside the white shirt/black pants chareidi uniform. When Rav Gav does JWRP shabbatons, he wears his black hat on Friday nights. "It creates a little more distance initially, but it's more real. And once I start teaching, they learn to see beyond the hat." But he also acknowledges that his more open upbringing has enabled him to relate to all types of Jews. He's "trilingual," he quips, capable of speaking the language of secular Jews, Modern Orthodox Jews, and yeshivish Jews alike.
People Person
It's one thing to be able to interest students in learning, or present convincing arguments for the truth of Torah. But Torah isn't just information, it's mesorah, passed down from teacher to student in the context of a rebbi-talmid relationship. That relationship is key, especially in the context of people who aren't already committed to Torah.
Rabbi Friedman — who despite his standup comic personality, is a Torah teacher through and through — refers to Hillel's quote in Pirkei Avos (1:12) enjoining us to emulate Aharon HaKohein: "Be among the disciples of Aharon, loving peace and pursuing peace, loving people and bringing them close to Torah."
"Bringing people close to Torah is the last thing on Hillel's list," Rabbi Friedman points out. "First you have to pursue shalom and love people." The Torah part will follow; a student who loves his teacher will naturally want to emulate him.
Fortunately, his wife says, her husband is a people person — on steroids. "He talks to everyone," she says. "He dances with people on the street, plays peek-a-boo with people riding by on buses, clowns around. We'll go to a hotel we haven't been to in two years and the manager remembers him, even one of the Arab workers at the US consulate remembers him when he walks in there. But his charisma is more than a question of having a funny personality or gift of gab; underlying the humor is a sincerity and ahavas Yisrael that people instantly warm to."
He also reaches people through music. "He has an incredible musical ear," says Rabbi Menachem Wiederman, an old friend.
At conferences and shabbatons, Rav Gav barely gets a minute's rest, accosted constantly by participants with eager questions. At Aish as well, classes often segue into one long DMC (deep meaningful conversation, for those who don't have teenagers).
Rabbi Friedman always wanted to help Am Yisrael; he just didn't realize the scope of assimilation until he began working with Aish. "Rav Noach Weinberg used to say that if you see someone lying on the ground, call an ambulance. But if it happens a second time, and then a third, maybe you'd better learn CPR. In the same way you'd pull someone back from walking in front of a bus, we have to pull people away from spiritual death."
Rabbi Friedman sees himself not as a kiruv professional but as a teacher, a facilitator who gives people the tools they need to make changes. "I get people at Stage 2 or 3 of kiruv," he says. "I'm not the person out there in the field approaching random Jews to come to a lecture or Shabbos meal like the campus kiruv people. I get them when they're already interested enough to come to a conference or yeshivah."
Finding Real Connections After 11 years on the kiruv frontlines, Rabbi Friedman says things have changed enormously. For one, secular attitudes have become increasingly liberal. Axioms that everyone could once agree to are no longer taken for granted, and he has to avoid politically charged topics like alternative relationships. "I try to speak with political correctness," Rabbi Friedman says. "You have to be careful and judge your crowd, especially today, when there's always someone in the audience recording you."
He dangles his cell phone to and fro to indicate the next significant change. "These have destroyed everything," he declares. "It's not just that students have shorter attention spans. They're just… somewhere else. It turns off their brains. Before, if you had nothing to do, you'd sit and think, or talk to a friend, or read. The ones who needed escape found drugs and alcohol. Today they have those escapes plus technology."
Rabbi Kaufman, his chavrusa and CEO, agrees that kiruv professionals can no longer rely on 30-year-old models. "People aren't looking for eternal truths anymore. They want to feel a sense of belonging, feel healthy and empowered," he says. "The questions are more basic: How do I find self-worth and connection? How do I heal from family dysfunction or abuse? The pervasiveness of technology means people have many more superficial connections, but very few real ones."
With a jet-setting speaking schedule, lots of media clips, and a constant rotation of new students, people recognize Rabbi Friedman everywhere. He was once approached in Philadelphia by a man who asked, "Were you on a plane to Paris, nine years ago?"
Rabbi Friedman wasn't sure — nine years is a long time, and he meets so many people — but the man was certain. Eventually they remembered they'd sat next to each other on a flight. "You owe me a wife," the man said.
Come again? "I was traveling with my girlfriend, and you asked if I was Jewish, and if she was Jewish," the man continued. "Then you said, 'What's a good Jewish boy doing with a non-Jewish girl?' I ended up telling her I needed to marry a Jewish girl, and we split up. But I'm still looking for a Jewish girl."
Then there was the student who needed some time away and flew off to Thailand. "He was sitting on the beach with his laptop — this was 2006 or 2007, so no one had smartphones. He'd videoed some of my classes and started watching them. Suddenly a guy walked by, with dreadlocks and no shoes, and noticed the clip. He exclaimed, 'Hey! Rav Gav!' Turns out this guy had sat in on one of my classes while traveling through Israel."
Rabbi Friedman casts his words like bread upon the waters, never knowing if or when they'll come back to him. After one speech on vatranus in South Africa, two brothers who hadn't spoken to one another for quite some time — both of whom happened to be in attendance — approached one another and made shalom. Rav Gav related the story in Great Neck, and lo and behold, the same thing happened there after his lecture. "Now I'm waiting for the next reconciliation," he says.
It can't be easy being on the road so much, or handling so many obligations. But while Rabbi Friedman's phone never stops ringing, Tamara says despite the demands, he's very present for their children, ages 13 to a baby. Sometimes he takes them along to his classes.
"Our kids know a lot of sophisticated concepts, just from our conversations with each other and other people," she says.
So how might the rest of us imitate Rav Gav's gift for kiruv? His first advice to people who want to teach is simple: Learn. Learn seriously. When students want to know how he has all the answers to their questions, he tells them, "I learn Torah."
His second advice is to live what you teach: Your actions will speak even louder and more persuasively than your words. He cites the Vilna Gaon's counsel on chinuch: "Fill yourself up [with Torah] until you're overflowing. Then people around you will naturally become filled by the overflow."
Tamara says he walks the walk. "Gav is constantly learning," she says. "He truly believes and lives everything that comes out of his mouth."
(Originally featured in Mishpacha, Issue 696)
Oops! We could not locate your form.
>