| Profiles |
Next Stop, London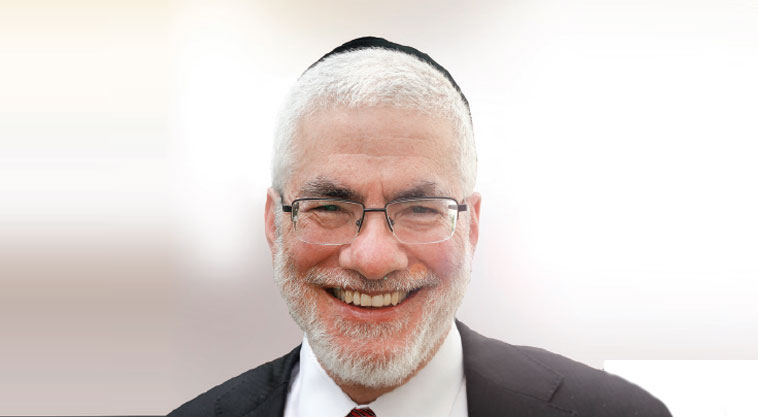 | July 10, 2019
Gateshead's Rav Shraga Feivel Zimmerman takes the helm of England's Federation of Synagogues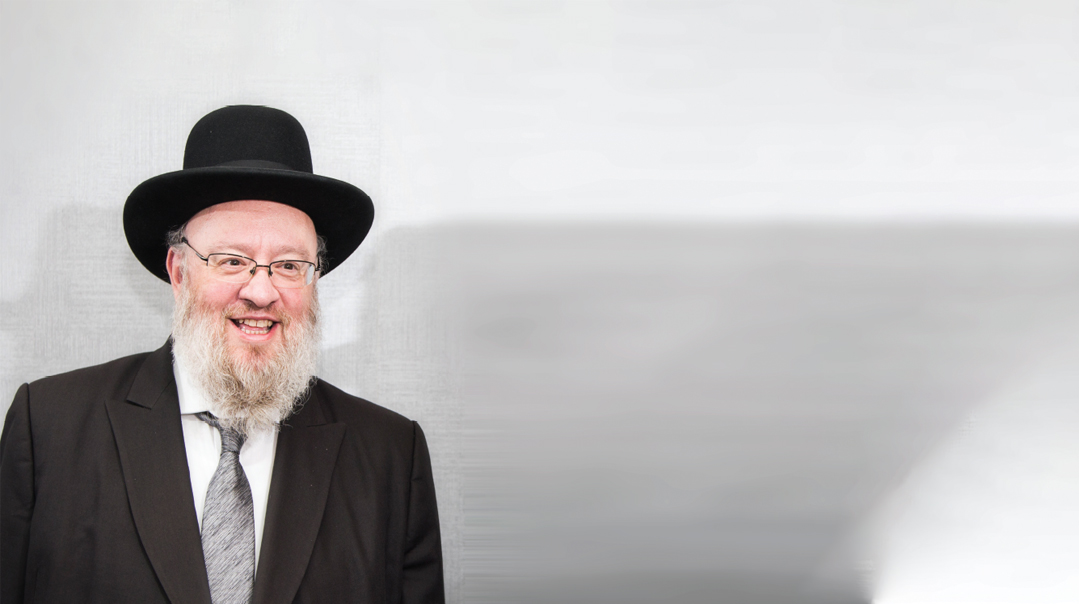 Photos:  Shuli Smus Photography
A
s Shabbos parshas Shelach approached, word began to spread throughout British Torah Jewry that the Gateshead Rav, Rav Shraga Feivel Zimmerman, would be leaving his position for London, where he'd assume the title of rav and av beis din of England's Federation of Synagogues. "Normally, it takes me ten minutes to walk down Golders Green Road to shul on Shabbos morning," Andrew Cohen, president of the Federation, told me. "Last week, it took me an hour, as every person I passed offered his congratulations upon the Federation securing the leadership of Rav Zimmerman."
In Gateshead, Rav Zimmerman's Shabbos afternoon shiur in Pirkei Avos drew an audience of 300 instead of the usual 150, including some of the roshei yeshivah and leading rabbanim of the community. They came to listen to Rav Zimmerman reflect on his 11-year tenure as rav of Gateshead.
I spoke at length to Rav Zimmerman to hear his thoughts on leaving behind the premier public mission of his life and entering a new stage of public involvement. It's clear that the move brings mixed feelings — anticipation of the challenges and opportunities ahead, along with bittersweet goodbyes to a cherished community.
But back when Rav Zimmerman was offered the rabbanus of Gateshead in 2008, it wasn't clear that the Monsey-based rav would make the move at all. "Before accepting the rabbanus in Gateshead, I consulted with a long list of great talmidei chachamim," he said, "and only two told me definitively to take the position."
Those two outliers were Rav Eliyashiv, who said simply, "If you can do it, you must do it," and Rav Yitzchok Sheiner, rosh yeshivah of Kaminetz, who told Rav Zimmerman, "Gateshead is the spiritual engine that powers Europe in the same way Lakewood powers America. But the engine has fallen off the tracks and needs to be put back on. You can do that."
Once Rav Zimmerman accepted the position, he received a blessing from Rav Dovid Soloveitchik, his rosh yeshivah for six years, that he should be a European rav of old, i.e. a manhig. And Rav Chaim Kanievsky gave him a piece of advice that served him in good stead.
"I asked him," Rav Zimmerman recounts, "how one can be a rav in a town of rabbanim. He replied, 'It's a town of roshei yeshivah, not rabbanim. If you don't try to show that you can be a rosh yeshivah, they won't try to show that they can be the rav.'"
In keeping with that advice, Rav Zimmerman never gave a Gemara shiur during his years in Gateshead, focusing instead on halachah and hashkafah. And much as Rav Chaim predicted, Rav Zimmerman gained the respect and affection of the community. As he prepares to leave for London, he mirrors the same qualities back in return.
"Gateshead is a unique community in many respects," he says. "It remains very much a single community. People know and care about one another. They are nosei b'ol chaveiro. I will miss sharing simchahs with all the close friends we have made.
"It is also a makom Torah that has few, if any, rivals in the world. Every hour of the day or night, one can find yeshivah bochurim engrossed in learning in the batei medrash or talking in learning as they walk down the street. It boasts numerous superb kollelim. And it is home to great roshei yeshivah and many world-class talmidei chachamim."
The rabbanus of Gateshead is also unique. On my first visit to Gateshead over 20 years ago, my host told me that no one in the community would buy a new car or even replace the linoleum on his kitchen floor without asking the Rav, Rav Betzalel Rakov ztz"l, whether he was indulging in luxuries. Where else in the world is the rav routinely consulted to such a degree?
And in terms of his communal authority, the Rav of Gateshead is a throwback to the days of Rav Yitzchok Elchanan Spektor of Kovno. "Won't you miss that authority?" I ask Rav Zimmerman.
"You are right that the rabbanus of Gateshead is unique, and that is a large part of what attracted me to Gateshead in the first place," he admits. Rav Zimmerman descends from a long line of European communal rabbanim. His maternal grandfather, Rav Yosef Yonah Zvi Horowitz, was the last rav of the Austrittsgemeinde shul of Frankfurt, and another ancestor was the Beer Shmuel, Rav Shmuel Rosenberg of Unsdorf. Still, even for an experienced rav with a rich pedigree, Gateshead offered something special: "It's one of the few places left in the world where a communal rav can issue takanos and make them stick," Rav Zimmerman said.
A major reason for that unquestioned authority is the fact that membership in the community is essential to living in Gateshead. Without membership, one's children will not be accepted in any local schools, and one cannot be buried in the Jewish cemetery.
In the past, there was only one criterion for membership in the Gateshead community: that one be a shomer Shabbos. Because of the mesirus nefesh involved in keeping Shabbos when the community was established, that was a sufficient indicator of adherence to a unified religious standard. But during Rav Zimmerman's tenure, the community nearly doubled from 300 families to close to 600, and it became necessary to issue much more detailed requirements for communal membership to preserve the cohesion of the community.
The new criteria for membership dealt with such issues as use of technology, with guidelines that were at once restrictive and cognizant of the needs of modern commerce.
Still, the guidelines are far from liberal.
"There were times I advised families that Gateshead was not the place for them," Rav Zimmerman said, "and that they would be better off in a less strict environment in which they would be viewed as pillars of the community. Most of these families accepted my advice and were grateful for it.
"One specific area of new takanos dealt with Purim behavior, which had literally become a matter of pikuach nefesh. We banned yeshivah bochurim from drinking anything but wine, and even wine is only permitted during the day. Balabatim are prohibited from serving any bochur who is already inebriated. The takanos changed the character of Purim in Gateshead, and allowed the introduction of new learning sedorim on Purim in almost every local institution."
"Given the special qualities of Gateshead and the unique authority of the rav," I press the Rav, "how are you able to tear yourself away?"
"Leaving Gateshead will be bittersweet," he says. "But the short answer is that I've achieved, or, more accurately, overseen the achievement of most of what I came to Gateshead to do. I recently returned to Rav Sheiner, who first pushed me to accept the position in Gateshead, and he confirmed that I have completed my mission."
In his shiur last Shabbos, Rav Zimmerman outlined those accomplishments: "We established a beis din, under Dayan Chaim Krauss, to handle financial disputes. The presence of a beis din to which all members of the community must have recourse, if they cannot settle the matter between themselves, serves as a deterrent to financial impropriety.
"We completely revamped the kashrus. In the area of shechitah, we added a second shochet and a bodek, all under the direction of Rabbi Avrohom Arran. And we upgraded the kashrus supervision, under Rabbi Elozor Lieberman, so that the system of supervision can be constantly monitored, audited, and tracked.
"From a small operation producing 580 pounds of non-shemurah machine matzah a year, we are now producing 4,000 pounds of shemurah/chaburah machine matzos and 2,000 pounds of hand matzos, with numerous hiddurim.
"The Bais Yaakov high school was thoroughly revamped. And Rabbi and Mrs. Avrohom Sugarman founded a school for children with special needs.
"The amount of tzedakah collected has grown many times. Eleven years ago, the annual kimcha d'Pischa campaign raised about 7,000 pounds. Today, it brings in over 100,000 pounds."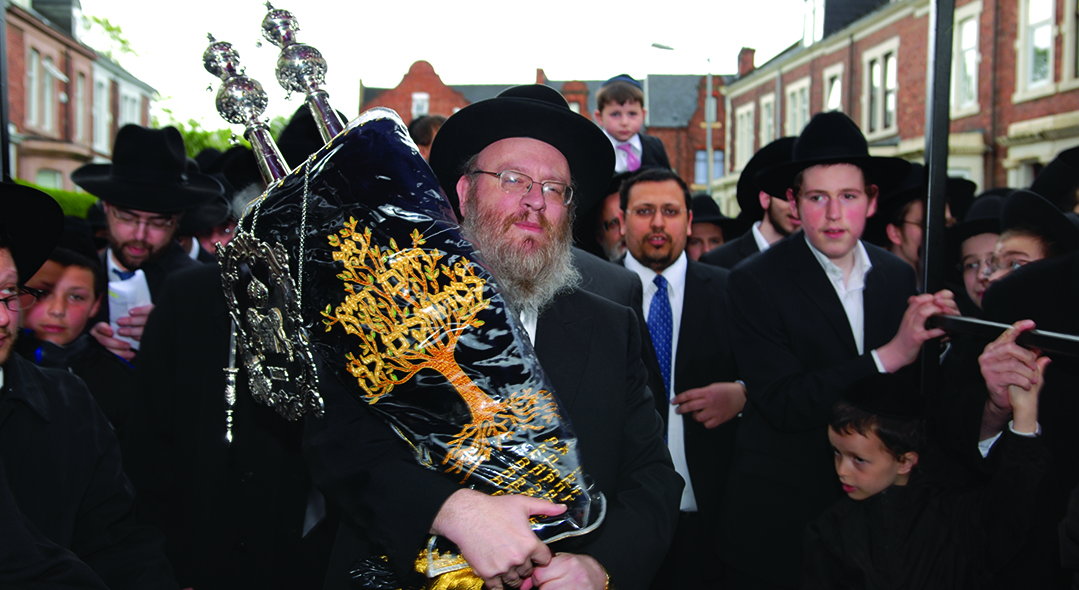 As he reviews those accomplishments, Rav Zimmerman points out that apart from the beis din and the kashrus supervision, the actual work that brought these initiatives to a successful conclusion, particularly in the education sphere, was done by others. "My role was to highlight the problems that existed and to push the community for solutions," he explains. "But community members did the actual heavy-lifting."
One subject Rav Zimmerman did not mention in his Pirkei Avos shiur was the youth dropout problem that plagued Gateshead 20 years ago, long before his arrival in the community. Given that the problem is found in Torah communities around the world, I was eager to hear from Rav Zimmerman what was done in Gateshead.
"About 15 years ago, long before I arrived, the community had already begun to actively address this problem," he says. "And together with those already involved in the area, we were able to keep the momentum going. We brought in leading contemporary education experts to guide the rebbeim and teachers in how to make their classrooms warmer and more accepting. The creation of a new boys' school introduced a greater level of flexibility and choice for both talmidim and their parents in picking the school best suited for them. And much effort was put into identifying children who might be at-risk and intervening at an early stage.
"We also emphasized child protection and brought in world experts on the subject to address parents. And we made clear to predators that they would find no refuge in Gateshead and would be fully prosecuted.
"While the combination of these steps succeeded in dramatically reducing the problem to near zero at one point," he says, "this is one area where it is impossible to rest on one's laurels and claim permanent victory. There are always new threats."
Another accomplishment only briefly mentioned in Rav Zimmerman's Shabbos afternoon derashah was the recent successful completion of a 5.5 million pound campaign to build an elegant new mikveh. But it is clearly something from which he has great satisfaction
"I traveled back and forth to London on a regular basis over the last year of the three-year campaign, to fundraise. The final £2 million came in through a 36-hour drive, to which I personally committed to raise nearly a quarter of a million pounds. At any given moment, there were at least 150 community members of all ages manning the phones to reach our goal.
"At one level, I feel the completion of the mikveh campaign was my farewell gift to the Gateshead community. The mikveh built 48 years ago was simply no longer adequate for the community — not in size and not in its external appeal. The new mikveh will be four times the size."
With so many successful projects behind him, isn't the Rav confident that he could have continued to find new challenges in Gateshead? Why is that long list a reason to move on?
"Well, besides the feeling of having largely completed my task of putting the great train that is Gateshead back on the track," he says, "my wife and I realized that the job of rav of Gateshead has simply grown beyond our physical capacities. The near doubling of the community has made the pastoral side of the job overwhelming. Even my wife — who is uniquely gifted in this area, and who will, I suspect, be even more missed than I by many in the community — found there were just not enough hours in the day for the number of people she befriended and who came to her on a regular basis. We just could not do it anymore."
T
he task awaiting Rav Zimmerman with the Federation is very different from the mission he undertook upon his arrival in Gateshead. He arrived in Gateshead with a checklist of concrete goals and developed other items as he became familiar with the community. He does not bring the same type of list of "action items" to his new position. Rather, he will be the facilitator of an ongoing process.
In Gateshead, he wielded ultimate authority on all matters pertaining to the community. However grand his new title, he is still joining a long-standing institution, with a president, a board of trustees, three other dayanim, and a large executive staff.
He was something of a white knight upon his arrival in Gateshead, which had been without a rav for five years, after the previous 65 years under the combined leadership of Rav Naftoli Shakovitsky and his son-in-law Rav Betzalel Rakov. There was no similar urgency to his appointment as rav and av beis din of the Federation.
True, Chief Dayan Yisroel Yaakov Lichtenstein's announcement that he was retiring and moving to Eretz Yisrael caught the Federation by surprise. But Dayan Lichtenstein made clear that he would remain as long as needed to effect as smooth transition. Though he plans to be actively involved in the beis din and to sit on dinei Torah, Rav Zimmerman pointed out that even without Dayan Lichtenstein, the Federation beis din is blessed with three other distinguished dayanim: Dayan Moshe Elzas, Dayan Yehonoson Hool, and Dayan Yehoshua Posen.
His new position, however, will free Rav Zimmerman to focus on the areas of the rabbanus that have always been his chief joy — leadership, mentoring younger colleagues, psak halachah, and teaching Torah — without the pressures of pastoral responsibility for a large and growing community.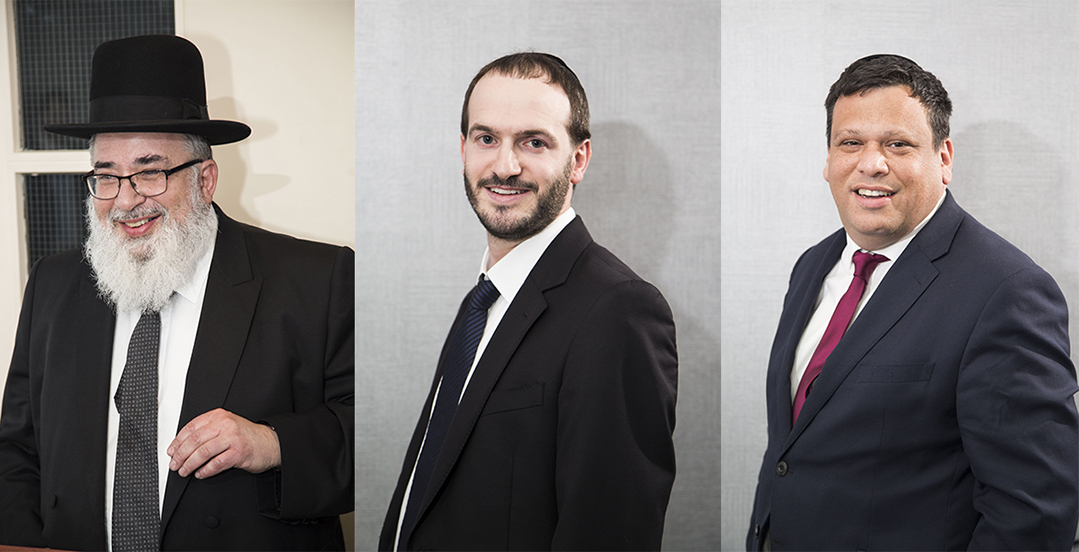 U
nquestionably the happiest person in London upon the announcement of Rav Zimmerman's appointment was Andrew Cohen, president of the Federation. His chief joy was the contemplation of the new vistas that the appointment opens up for the Federation.
But there was also an element of personal satisfaction in having proven wrong those naysayers who doubted the ability of the Federation to pull off such a coup. Less than two months ago, I sat with a prominent member of the London community in a Golders Green café, and he dismissed out of hand rumors that Rav Zimmerman would be joining the Federation.
Cohen's courtship of Rav Zimmerman began four or five years ago, when he asked the latter whether he would be interested in being the rav harashi of the Federation. Rav Zimmerman told him that having uprooted his family once in recent years, he could not think about doing so again. When Rav Zimmerman sent an effusive communication on the appointment of Dayan Yehonoson Hool to the Federation Beis Din, Cohen knew, at least, that he was keeping abreast of what was happening with the Federation. And with the surprise retirement of Chief Dayan Lichtenstein a few months ago, Andrew renewed his pursuit of Rav Zimmerman in earnest — this time with success.
It was Rav Zimmerman's leadership qualities that most attracted Cohen. "He combines a reputation as one of the foremost poskim in the country and beyond with broad shoulders and thick skin. He cannot be intimidated," is how Cohen sums up those leadership qualities.
"He is known as a rav's rav," Cohen adds. "He never confined himself to the Gateshead community." Following up on that point, Rabbi Dovid Tugendhaft of Hendon's Beis Hamedrash Nishmas Yisroel noted that he and many other young rabbanim all over England have been in regular email contact with Rav Zimmerman for years. "It is very rare for a world-renowned posek to make himself so available to discuss complicated sh'eilos with younger rabbis," Rabbi Tugendhaft says.
Rav Zimmerman estimates that he has answered 200,000 sh'eilos from all over the United Kingdom while in Gateshead — in person, over the phone, and by email and text. That experience makes him eminently suited to supervise the Federation's rapidly expanding Shailatext project of answering queries from those who have not yet found a rabbi.
In our conversation, Rav Zimmerman mentions with great fondness a number of rabbis whom he guided when he directed the semichah program at Ohr Somayach, Monsey. That evident enjoyment in mentoring younger rabbis and desire to build on existing relationships is particularly crucial at the present moment, says Cohen. Northwest London, encompassing Golders Green, Hendon, and Edgware, the area with the largest concentration of Federation-affiliated shuls, is currently experiencing something of a vacuum of senior rabbinic leadership. Within a few years of one another, most of the area's senior rabbis have either passed away or retired, leaving behind a plethora of young rabbis in their early forties.
Not only will Rav Zimmerman serve as a mentor to many of these younger rabbis, but his wife, Rebbetzin Chaya Reena Zimmerman, is expected to be a valuable resource for the rebbetzins of the 28 Federation-affiliated shuls, says Cohen. In Gateshead, notes Cohen, she was a "koach" in her own right. She will be able to guide younger rebbetzins how to determine between those cases where a friend and listening post is sufficient and those requiring professional intervention.
Over his 11 years in Gateshead, Rav Zimmerman gave approximately 4,000 shiurim in halachah, hashkafah, mussar, and Tanach, and spoke at 1,500 public occasions. His move to Northwest London means that he will be speaking regularly at the Federation-affiliated shuls in the area. That, Cohen is confident, will not only bring added luster to the existing shuls, but serve as an incentive to other shuls to affiliate.
In recent years, the Federation's kashrus division, under the leadership of Dayan Elzas, has been on an upward trajectory, Andrew Cohen told me proudly. The Federation has been for the first time licensing the production of Shabbos-compliant appliances around the world, under the supervision of Rabbi Yisroel Guttentag.
The agreement of Rav Zimmerman, with his vast experience in kashrus supervision, to join the Federation provides a prestigious endorsement to Federation kashrus and signals to the larger community that further upgrades are in the works.
But beyond all the improvements in existing Federation services, Cohen is confident that Rav Zimmerman will over time initiate new projects and expand the Federation's range of communal services. His years in Gateshead established his identity as an innovator, with eyes constantly open to new communal needs and for areas where it is possible to make a valuable impact. That penchant for innovation, powered by the Federation's resources, promises expansive new projects to be explored and developed.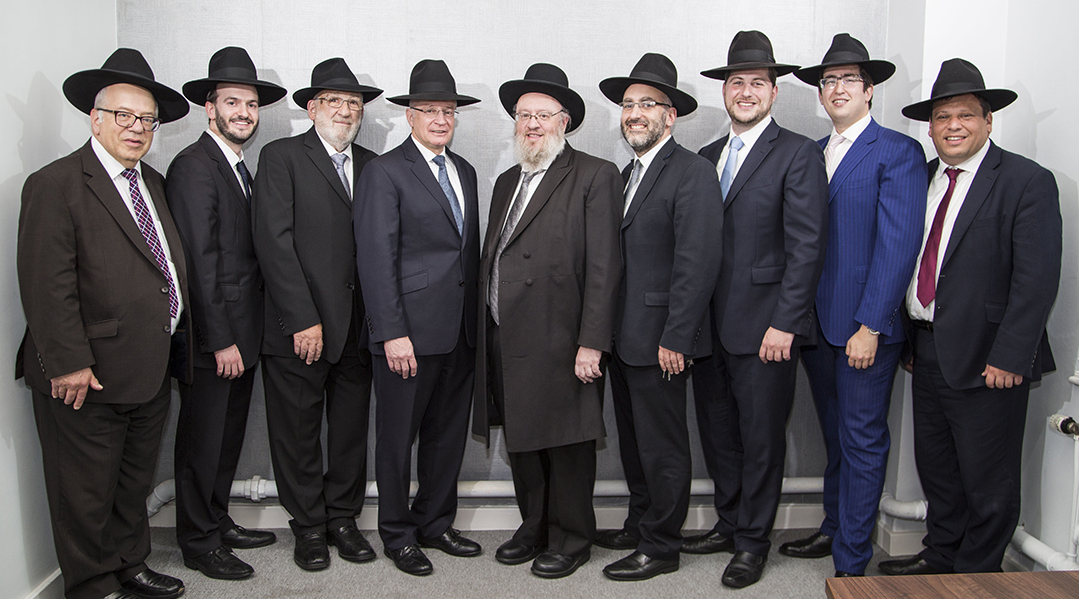 T
he first time I met Rav Zimmerman in person — on a sidewalk in Bournemouth, England, not long after his appointment in Gateshead — we ended up speaking for well over an hour. And I was similarly disinclined to let go of him this time. In particular, I wanted to hear his perspective on the threats facing British Torah Jewry.
The first of those is a possibility of a government headed by Labour leader Jeremy Corbyn, who has been accused of anti-Semitism by numerous MPs in his own party.
With respect to Corbyn, Rav Zimmerman thinks the danger to British Jews per se is exaggerated. "Unquestionably, a Corbyn-led government would be extremely hostile to Israel," he says. "He is outspokenly pro-Palestinian and pro-Iranian. And in the long-run, hostility to Israel morphs into hostility to Jews on campuses and elsewhere.
"And he is a far-left ideologue, who might wreak havoc with the British economy. But," Rav Zimmerman clarifies, "Corbyn is not obsessed with Jews like Hitler was. He is not about to start rounding us up."
A more direct and immediate threat to Torah Jewry in the UK comes from the efforts of the Ofsted school inspectors to force Torah schools to adopt a curriculum in many respects antithetical to Torah. Rav Zimmerman has been active on the rabbinic board of eight members of Chinuch–UK since the inception of the ad hoc group to address the Ofsted crisis. (Andrew Cohen, president of the Federation, is similarly one of the eight lay leaders on the Chinuch–UK board.) His take on the crisis is nuanced.
"You have to remember," Rav Zimmerman tells me, "that the Ofsted inspectors are ultimately subject to the Department of Education, and there is a leeway in the regulations they are interpreting. Many in the Department of Education are not happy with the ways that some Ofsted inspectors are interpreting their mandate. And we have been effective in establishing contacts in the government and making our case.
"The problem, from the point of view of calming the Torah community, is that the more that we discuss those governmental contacts the less effective they are likely to be.
"And the second problem is that a global, permanent solution to the problem — such as one anchored in statute or even clear Department of Education regulations — is not on the horizon. The absence of such a solution is understandably unnerving to the Torah public. But that is the current situation."
L
ast Shabbos, Rav Zimmerman finished his address to the Gateshead community with a quip from Rav Meir Shapiro, the founder of Chachmei Lublin and instigator of the Daf Hayomi. The Lubliner Rav was once asked why he held so many rabbinic positions in his brief life. He replied, "A rav is like a nail hammered into wood. As long as there is a head, it can be removed and placed elsewhere."
"Baruch Hashem," Rav Zimmerman concluded, "I still have my head, and I'm still able to move. Above all, I recognize that Hashem has given each of us different strengths, and I'm grateful that I possess those talents required for my new task."
The Amerikaner from across the pond seems destined to continue making waves in the British Torah community for some time to come.
(Originally featured in Mishpacha, Issue 768)
Oops! We could not locate your form.
>