| Man With a Pan |
New Territory Conquered
| June 17, 2020
How I invaded the kitchen and produced a feast worthy of an all-new cookbook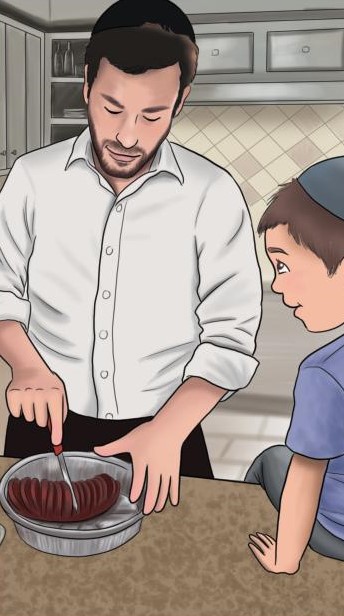 The Man
Abe Karmel
Age 27
2 children
Full-time kollel
Houston, Texas
The Plan
Friday Night: Onion Dip, Eggplant Dip (The Bais Yaakov Cookbook 2), Sushi, Chicken Soup, Poppers, Hasselback Salami, String Beans. Overnight Potato Kugel, Fresh & Easy Chocolate Soufflé (What's Cooking)
Shabbos Lunch:
Salmon over Linguine, Spicy Cholent, Grilled Baby Chicken, Potato Kugel
For the longest time I've had this idea cooking in my head (no pun intended) of writing a man's cookbook. Think about it. For all the male foodies of the world, it would be a spectacular opportunity for hidden talent to debut. Dried meats, herring, homemade beer, cholent, liver, dips, and so on. A great idea, definitely. Practical, not really.
But then opportunity struck. While the world was busy hoarding masks and posting memes, I took the road less traveled and used this grand opportunity to hone my cooking skills. Since cookbooks also need photo accompaniments, my photography skills had to be beefed up too. I practiced shooting my passions, and the results were quite pleasing.
As I was deeply engrossed in Photoshop one evening, my wife walked in holding the Mishpacha and announced, "I signed you up for Man with the Pan." Easy for her to say!
Menu Planning and Dessert Prep
Okay, so where will I start? Ideas start swarming through my head. Chicken-pastrami roll-ups, yapchik, meat boards, herring from my Bubby? Finally I settle on sushi, chicken soup, poppers, hasselback salami, string beans, overnight potato kugel, and chocolate soufflé for Friday night; salmon over linguine, spicy cholent, grilled baby chicken, kugel in the cholent for Shabbos day, as well as homemade onion dip and eggplant dip. Disclaimer: There's no liver, since Houston, Texas, despite being the most awesome place to live, has one downside, which is that there's no fresh liver available.
Starting out early in the week, on Tuesday afternoon, I go through all the cookbooks in my house looking for a chocolate soufflé recipe. I settle on the one from my Aunt Chayna Matyas's cookbook What's Cooking?
My son pulls over a chair and the fun begins. An hour later I take them out of the oven, with 25 minutes to spare before I need to go learn with my chavrusa on Zoom. I decide to give it a photo shoot. It's pouring rain with low lighting, so it takes a little work to get the results I want. After 20 minutes of balancing shelves to block the light and frenzied setting changes on my camera, all while trying not to trip over the kids, I finally get the perfect shot, with two minutes remaining.
The outcome is outstanding. I leave my wife and kids to devour the cold soufflé with Trader Joe's soy vanilla ice cream, and I make a dash for the serenity of my allotted learning time.
Grocery Order?
Wednesday morning my wife asks nonchalantly, "Do you by any chance need to make a grocery order for your cooking?"
"No," I reply. "I think we have everything."
"Are you sure about that?" she asks. "Do you need potatoes for kugel, chicken, or vegetables for the soup?"
Well, well, what a smart woman she is. So I write up a shopping list and place the order. Close call there.
Wednesday evening I tackle the dips, making my legendary onion dip and eggplant dip that I find in The Bais Yaakov Cookbook 2.
On Thursday afternoon I put up the chicken soup. I don't even know where to start. My common sense guides me to put in one carrot, two small squashes, one onion, one sweet potato, and some spices. Oops, forgot to defrost the chicken. That's where my wife comes in the clutch — she took it out in the morning. Saved.
On with the cooking. Poppers on deck. My wife asks if I can watch the kids while she goes for a bike ride. I say, "Sure." I mean, why not?
It doesn't take long to see why not. Next up, salmon. Hmm, did Racheli also defrost that? Nope, who's in charge over here? The salami's in the freezer too. So I take them both out and remember the baby chicken and pastrami while I'm at it.
Baby's crying. Poppers are done. Linguine into the pot. Baby's still crying. Food still not defrosted. Well, of course I'm a responsible dad, I stop what I'm doing to feed the baby. Now he's screaming louder. I run to mix the linguine. Still crying. I pick up the baby again and put up fresh string beans in a pot.
The door opens. Racheli walks in with fresh pizza. Saved.
By now the pastrami is defrosted and I can make my string beans wrapped in pastrami.
The salami is up next, sliced at three-quarter incisions for cool effect. I try to follow a recipe, but I don't have all the ingredients so I improvise a bit. Next I marinate the salmon in teriyaki sauce.
Now it's time for the overnight potato kugel. I recall that the best recipe I've ever tasted is from Fresh & Easy, and my recollection proves to be true. I'm responsible for the mess, so now everything has to be cleaned. A quick photo shoot can't hurt, and I choose the salami, which is quite photogenic.
L'Kavod Shabbos Kodesh
On Friday afternoon I put up the cholent while schmoozing with my mother on the phone. "Make sure to say l'kavod Shabbos kodesh," she reminds me, "that's the secret ingredient that makes everything taste good."
Truthfully, cholent is my zone, since I make it every week. I've been making it really spicy the past few weeks and must tone down the cayenne pepper. Time for sushi, which I haven't made since we lived in Israel. Put up the sushi in a rice maker and add two tablespoons of rice vinegar, flatten out rice on a sheet of nori, flip over, place salmon, kani, and avocado in the middle, and roll up with a bamboo mat.
Afterwards I fire up the grill and grill the chicken. It's two o'clock, and we're almost finished, with just the sauces for the poppers and the green beans remaining. We head outside for a bit for some fresh air to relax our cabinfevered heads. Back inside I finish up last touches and pull all the food out of the fridge for the last photo shoot.
Final Impressions
Once the dust settles and the Shabbos Angel's are peeking through my windows, I ponder my experience. I actually enjoyed the challenge, but that doesn't detract from my appreciation for my wife's (and also my mother's) cooking. I do understand that cooking each week can get very repetitive and making things exciting every week can be tough. In addition, lively children, despite being the very real blessing that they are, don't allow for much peaceful time in the kitchen.
All that said, I feel that I've emerged triumphant. Conquering the kitchen has been a tremendous victory on behalf of all my fellow foodie brethren. To the prospective kitchen invaders of the generation, I say: Roll up those starched sleeves and enter uncharted waters. You'll find adventures awaiting. Bon appetit!
The Wife's Take
I'm the youngest girl in my family and never cooked a thing before I got married. So when we moved to Israel two weeks after our wedding, it was time to learn! The fi rst Shabbos I turned to my husband and said, "Help! How do I make challah, cholent, chicken…?" That's when I learned that my husband could cook! As the weeks went on, I fi gured the kitchen out and began preparing most of the food for Shabbos, but Abe used to do the cholent, liver, and salami to keep the endless boys we had over happy. When we moved back to Lakewood, his cooking slowed down, since we no longer had so many guests. But once we moved to Houston, his cooking talents started to come alive again…
Then came corona, and we were making Pesach for the fi rst time like so many others. I told my husband, "You gotta come back into business!" and he did. Abe's food this past Shabbos was delicious! Every item was perfect (I'm the type to estimate ingredients, whereas he measures everything exactly — which, let's all admit, is always better). I usually just add salt to my soup, whereas he added a teaspoon of garlic and a half teaspoon of black pepper, which took it to the next level. The best part was that he made so much food that I had leftovers for Sunday and Monday!
I hope he's asked to challenge himself again to make the whole Shabbos! I'll take the break and yummy food any week.
Spicy Cholent
SERVES 2–4
1⁄2 lb (450 g) flanken
5 small Yukon gold potatoes
1 onion
1⁄2 cup barley
31⁄2 cups water
2 Tbsp honey
2 Tbsp brown sugar
1 Tbsp salt
1 tsp black pepper
1⁄2 tsp cayenne pepper
1⁄2 tsp chili powder
1 Tbsp garlic powder
I put up the cholent on Friday afternoon and leave it on high until Shabbos, then turn it down to low. Every Crock-Pot cooks di­fferently. I use a 4-quart Crock-Pot. The cholent comes out spicy and really dark. Use half the amount of cayenne pepper and chili powder for a milder e­ffect. I don't put in beans, but feel free to add them yourself.
Onion Dip
4 large onions, diced
1 Tbsp oil
1 Tbsp mayonnaise
1⁄4 tsp salt
1⁄4 tsp black pepper
1⁄4 tsp garlic powder
Sauté onions in oil in a large frying pan over low heat for 1 hour (2 hours if you have patience). Raise the heat to medium, stirring occasionally until brown. Turn heat to high and stir constantly for 10 minutes. Tastes really good if the edges are slightly well done. Place in bowl and add remaining ingredients. Blend with an immersion blender.
(Originally featured in Family Table, Issue 697)
Oops! We could not locate your form.
>