| Point of View |
Never Say Never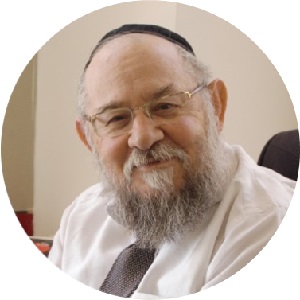 | April 3, 2019
Sure, we loved our rosh yeshivah, the Ponevezher Rav, but admittedly we thought his imagination had really overstretched this time. Who could believe that the people of Ein Charod would seek their roots a generation later?
A
n invitation appeared in my inbox about a week ago, which brought back a flood of memories. "L'sheim matzos mitzvah!" said the heading. The Ayelet HaShachar organization, which brings Torah and mitzvos to Israel's far-flung secular yishuvim, were inviting me to the festive grand opening of a matzah bakery in Kibbutz Ein Charod.
The people of the kibbutz would be there "b'rov am," said the invitation, along with kashrus supervisors from Badatz She'eris Yisrael. Israel's chief rabbi, Rav David Lau, would address the gathering, and the public was invited to take part in drawing the mayim shelanu from the springs of Ein Charod at sunset.
The first thought that filled my mind? Yemos haMashiach.
Readers who are familiar with the map of Israel may know that Ein Charod is one of the many kibbutzim in the Jezreel Valley, somewhere in the northern region of the country. But to the older generation, the name Ein Charod brings up a host of unpleasant associations. To us, Kibbutz Ein Charod is a symbol. It is the archetype of institutionalized secularism, of militant heresy that sought to erase every trace of adherence to Torah and mitzvos in the early days of the state. The founding members of Ein Charod envisioned an entirely new form of Jewish society in Eretz Yisrael, based on the ideals of communist socialism, and they confidently expected Torah observance to disappear within a generation. On Kibbutz Ein Charod — and every other kibbutz that followed its lead — Shabbos was an ordinary day like every other; even the concept of "Shabbat" as a specific day designated by Hashem's commandment as a day of rest was uprooted from their lexicon. Each kibbutz member was granted the right to choose a weekly day of rest, and that day was called his shabbat, although it may have been Tuesday or Thursday. Even Yom Kippur was an ordinary work day. And Pesach? Baking bread was a regular chore, and Pesach was no exception.
The secularism that reigned in Ein Charod was extreme and aggressive, and it was no wonder that to us, the small minority at the time in Eretz Yisrael who held fast to Torah observance, Ein Charod was synonymous with total rebellion again Malchus Shamayim. It was the epitome of evil and our bitter enemy, and we had written these kibbutzniks off as a tragic loss to the Jewish People.
But perplexingly enough, our rosh yeshivah, Yeshivas Ponevezh founder Rav Yosef Shlomo Kahaneman ztz"l, persisted in shining a spot of light over there, like a laser pointer that kept popping up on our dark field of vision. With dramatically flashing eyes, he would constantly proclaim, "Prepare tefillin for the people of Kibbutz Ein Charod!" He was absolutely convinced that this hopelessly lost population of heretics would one day, in the not-too-distant future, be eager for the privilege of laying tefillin.
We boys admired "the Rav," as we called him, and we wanted to believe him. We certainly believed that he believed what he said. But it was difficult for us to see past the cruel reality that surrounded us. Heresy was spreading aggressively. Pride in secular Zionism, especially the Socialist brand, was setting the tone in all areas of life. The chareidi sector, especially the shrunken yeshivah world, was an object of scorn and ridicule for the secular and even the religious-Zionist population, who felt a sense of superiority and victory over us. There wasn't the faintest sign on the horizon that the Rav's vision would come true.
One summer, the Rav opened the first of the famous Yarchei Kallah learning retreats for working men. Today, we consider these programs as a normal part of life in Bnei Brak, but 60 years ago the idea was absolutely revolutionary. With its regular talmidim out on their bein hazmanim break, the doors of Yeshivas Ponevezh were opened to men from all walks of life who desired to sit and learn some Torah.
It was indeed an uplifting sight for us bochurim who came to watch hundreds of men take over the hilltop where our yeshivah stood, ready to leave their business or labor behind and immerse themselves for two weeks in the purifying waters of Torah. There was something fascinating about seeing our benches in the beis medrash occupied by storekeepers, clerks, bookkeepers, and teachers, their faces alight with kedushah and excitement as they indulged in the rejuvenating bliss of Gemara learning.
One day we noticed a man who stood out among the others. His clothing and mannerisms were different. He looked like a secular kibbutznik, and of course we young boys were irrepressibly curious to know what he was doing there. A few of us sidled over to him and engaged him in conversation.
He said he was from Ein Charod.
We were stunned.
A kibbutznik, from Ein Charod of all places, sitting in Yeshivas Ponevezh in front of a Gemara! Could it be that we were seeing a bit of our Rav's vision unfolding before our eyes? We surely heard the footsteps of Mashiach pounding in our brains.
The first one of us to recover said, "He's got to go in to see the Rav."
With all the pomp and ceremony we could muster, we led him to Rav Kahaneman's apartment. I don't remember all the details of what was said at that encounter, but I'll never forget the Rav's palpable emotion. Here it was: Ein Charod had come to Ponevezh.
This man, we soon learned, was the father of Meir Har-Zion, who was one of a bold group of fighters in the special unit started by Arik Sharon to fight the fedayeen terrorists who were infiltrating the fledgling state, and whose battle strategies are studied in military schools around the world. Meir Har-Zion was an object of admiration for Israeli youth in those days, even in chareidi circles.
The State of Israel has gone through much development in its short history and, so it seems, has Kibbutz Ein Charod. Under the guiding Hand of Hashem and with the encouragement of Ayelet HaShachar, the kibbutz now has a daily k'vasikin minyan. And today, as I write these lines, last-minute preparations are taking place for the gala opening of the kibbutz's matzah bakery, under mehadrin kashrus supervision. Even the kibbutz's head of education asked Ayelet HaShachar director Rav Shlomo Raanan to allow 800 students from the regional school to come and see the baking. "Not even their grandfathers knew what matzah is," she said.
It looks as though Rav Kahaneman's vision wasn't so unrealistic after all.
(Originally featured in Mishpacha, Issue 755)
Oops! We could not locate your form.
>