| Teen Feature |
My Hero
| November 16, 2016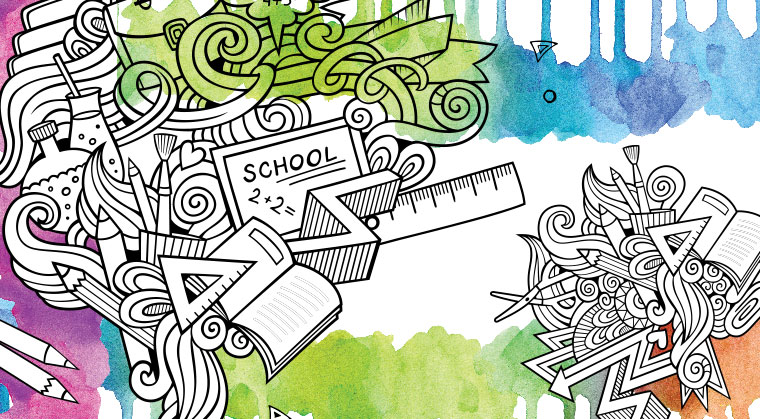 Photo: Shutterstock
I
hurried out of the school building, struggling to keep myself from crying. As the only girl from my eighth-grade class attending Bais Bracha High School, I was having a rough time finding my place.
I can be really lively and friendly, but only with people I'm already comfortable with. Making new friends has always been a challenge for me, but until now it hadn't really been necessary. I had been in the same class, with the same great girls, all through elementary school. I'd gone to day camp with the same friends until sixth grade. When I had got too old for that, I certainly wasn't going to sleepaway camp. I was lucky to get a job as assistant counselor with my best friend in her mother's backyard day camp. I can't say I loved changing over-excited two- and three-year-old boys into bathing suits, but I kept the job for two years. It was worth it to me because I felt comfortable there; I wish I could say the same about high school!
Bais Bracha is the smallest high school in town and it's very selective, partly because it's highly academic. I knew a lot of my elementary classmates wouldn't get accepted; several didn't even apply. But I had been sure I wouldn't be the only one to get in!
The day my acceptance letter arrived, I was torn. I wanted to call all my friends to share my good news and find out who else had been accepted, but I held myself back so I wouldn't hurt people's feelings if they hadn't gotten in. I figured the others would call me when they got their letters, but the phone never rang. The next day in school no one said a word about being accepted — so neither did I. A week later Ateres Miriam and Bnos Bina sent out their acceptance letters, and my phone didn't stop ringing as my friends called to share their news. That was all anyone talked about all week! I finally asked, very quietly, if anyone was going to Bais Bracha. And that's when I found out that I was alone.
"Please, please can I go to one of the other schools?" I begged my parents.
"Penina, we chose Bais Bracha for a reason. It's an excellent school with amazing teachers and a phenomenal curriculum — perfect for a top student like you. How can you give up such a special opportunity?" my mother asked.
"I know all that," I admitted. "But I can't go there alone, no matter how great a school it is!"
"Alone?" my father asked. "Last I heard they were expecting 46 freshmen, and that's in addition to the other three grades."
"Yeah, but I don't know any of them!" I wailed. "I'll just sit silently in a corner for four years! If I get really lucky someone might ask me to borrow a pencil before I graduate!"
"Aren't you being a little dramatic?" my mother asked. "I'm sure you'll make some wonderful friends if you give yourself the chance. It will be good for you to get to know new people."
And that was the end of that. I pleaded, ranted, and cried, but it didn't help. My parents insisted that I'd meet lots of great girls in Bais Bracha. All I had to do was be a little friendly and let them "catch a glimpse of my sparkling personality."
I expected them to say that, but when Mindy, my best friend and co-counselor, said the same thing, I was shocked.
"Lots of people would be scared to go to a new school without knowing anyone, but you'll be fine," she said reassuringly. "You just have to let the girls get to know you a little and they'll love you! I won't be able to reach you on the phone because your new friends will be calling you all night!" See why she's my best friend?
After two months of hearing, "You can do it!" I was starting to believe it — sort of. I was still mega-nervous, but I was determined to try.
Then I started school, and I discovered that all my new classmates were already good friends with each other. No one was in the market for another friend, certainly not one named Penina Freund! It took me forever to get up the nerve to talk to someone, and all I'd get was a brush-off. Which brings me back to what happened today.
As I neared my house I slowed down, debating what I wanted to do. Should I cry to my mother, releasing all my frustration as I indulged in some good old-fashioned kvetching? Maybe I wasn't ready yet to share my humiliation. The decision was taken out of my hands when I realized it was Wednesday, my chesed day. Instead of going home, I went around the corner to the Hochbergs, where I took care of five-year-old Tehilla so her mother could concentrate on her other kids.
"Hi, Penina," her mother said with relief as she answered the door. She was holding the screaming baby while trying to keep two-year-old Esty from climbing on top of Tehilla, who was sitting in her wheelchair. "Boy, am I happy to see you!" Mrs. Hochberg exclaimed. "And so, of course, is Tehilla!" she added, gesturing to the little girl's huge grin.
"The feeling is mutual!" I responded, taking hold of the wheelchair. "Where to, Your Majesty, the playroom for some gymnastics or the backyard for your swinging pleasure?" Tehilla looked pointedly toward the front door.  "Okay," I said, navigating the chair out of the door and down the ramp, "the swing it is." I strapped her into her supportive swing and started pushing her.
"Eye, eye!" she squealed, indicating that I should push her higher.
"You're not afraid of anything, are you?" I asked the giggling little girl, giving her a harder push. "I wish I was fearless like you!"
Tehilla had cerebral palsy, which made it hard for her to control her muscles. She couldn't walk or talk, though she seemed to understand everything. And nothing stopped her from being a pint-sized daredevil, always looking for adventure. She managed to communicate pretty well too, even without speech, becoming fast friends with everyone who crossed her path. And she was the happiest person I'd ever met!
"I think I'm jealous of you, sweetheart. How do you do it?" I asked her. This girl had been through more challenges than I could ever imagine and was still the most joyful person I knew. I suddenly wanted nothing more than to share my troubles with her.
"Let me tell you what happened," I said, as I pushed her in the early fall breeze. Even though I knew she couldn't answer, I told her all about my loneliness in class and my pathetic attempts at making friends. "Today Miri Sternberg complained that she was totally lost in Navi and was really dreading studying for the test. It wasn't easy, but I forced myself to walk over to her and offer to study together. 'Oh, I always study with Rina and Faigy,' she said, like I should have known that; like it was a chutzpah for me to have even offered! Why did I even try?" I wailed. "What's the use? I just get hurt!"
Tehilla looked at me quizzically and gave a soft kvetch. Maybe she was trying to understand the social world of teenagers, but it was getting chilly and Tehilla was losing interest in the swing.
"Are you ready to go inside?" I asked, unbuckling the straps. Tehilla rewarded me with another dazzling smile and we headed for the house.
I knocked softly and let us in, as I'd been told to do. Mrs. Hochberg was doing homework at the dining-room table with eight-year-old Dovid.
"How's it going?" she asked, looking up from the table.
"Great," I answered as I hurried past, hoping she wouldn't notice my tearstained cheeks. "Now we're off to the playroom."
"Have fun!" she called, already looking back at Dovid's mishnayos sheets.
I unstrapped Tehilla and lifted her from her wheelchair. "Wheee!" I trilled, giving her an airplane ride to her padded area on the playroom floor. After a few false starts she managed to slowly and painfully pull herself up on her knees. She threw her arms out as she wavered back and forth, trying to keep her balance. Whoops — she tumbled down but, with a soft cry of protest, heaved herself back up before I could even try to comfort her.
"Wow!" I cried as I watched Tehilla rise into a high kneel. "I didn't know you could do that!" She tumbled down once more. I caught her, and she wriggled out of my arms to try yet again. I thought back to how many times I'd watched her struggle; how many times she had fallen and gotten right back up to try again.
"How do you do it?" I asked her again. "You're absolutely amazing!"
She rewarded me with yet another dazzling smile and then I knew her secret. The only thing to do, the only thing I could do, was to keep trying — just like Tehilla.
"You're my hero," I whispered to her. "When I grow up I want to be just like you!"
She laughed, thinking that I'd said something silly, but I hadn't. I meant every word.
"And until then," I added, "I'll just keep trying."
(Originally featured in Junior, Issue 635)
Oops! We could not locate your form.
>