| Recipes |
Mushroom-Chicken Cups | March 29, 2022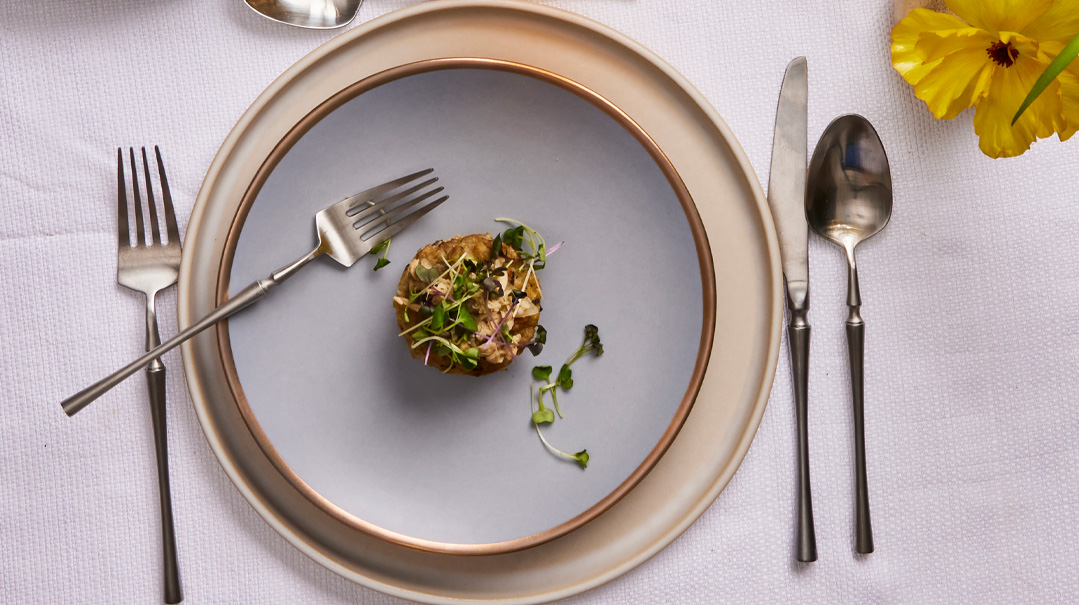 Food and Prop Styling: Goldie Stern
Photography: Felicia Perretti
Food Prep and Consultant: Chaya Surie Goldberger
Although I originally planned this recipe as an appetizer, once I made them, I realized that they were a great choice for a Chol Hamoed dinner, too. It's also a terrific way to use up your Seder chicken! Something between potato kugel and mushroom chicken, these flavorful cups are truly addictive.
YIELDS 20 CUPS
4 cooked chicken bottoms from chicken soup, deboned 

2 onions, diced

oil, for sautéing

1 box baby bella mushrooms, cleaned and chopped

4 eggs

4 medium/large potatoes, peeled and grated

2 Tbsp oil

2 Tbsp Gefen Ground Almonds

salt and pepper, to taste
Shred or chop chicken and place into a large mixing bowl.
Sauté onions in oil until golden. Add mushrooms to the pan and sauté, stirring until soft and cooked, another 3–5 minutes.  
Add onion and mushroom mixture to the chicken. Set aside approximately 1 cup for garnish when serving. Then, add eggs, potatoes, oil, and ground hazelnuts to the remaining chicken mixture. Stir to combine. Season with salt and pepper. 
Preheat oven to 400°F (200°C). 
Grease disposable muffin tins generously with oil and spoon the mushroom-chicken mixture into the cups, filling all the way. Bake for approximately 35–45 minutes or until the tops brown and form a crust. Remove from oven and allow to rest for 10 minutes before removing from tins. Garnish with reserved chicken mixture and fresh herbs or greens, if desired.
Tip: This mixture works great as latkes too!
(Originally featured in Family Table, Issue 787)
Oops! We could not locate your form.
>