| Hit the Trail |
Mountain Dew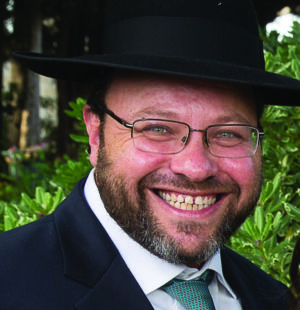 | March 6, 2019
Iused to live in Seattle, where we would wake up to a view of Mount Rainier. At 14,000 feet, it's awesome. But it's not ours.
The Hermon is ours, and just like home-cooked cholent is always better, our homegrown biblical mountains will always evoke a sense of pride and love that no other place can.
As our tour bus ascended through the Golan Heights and approached the towering snow-capped Mount Hermon in the distance, everyone on board was singing a song. Okay, I'll admit I got them started singing it. I'm sure you know it. It's from Tehillim (133:1).
"Hinei mah tov u'mah na'im shevet achim gam yachad — How good and pleasant is it when brothers sit together."
I pointed out to them that the continuation of that pasuk actually mentions the mountain we were looking at. In fact, the three volcanic mountains next to it — Har Avital, Bental, and Ohrtal — all get their names from this kapitel (133:2–3): "Like the good oil on the head running down the beard, the beard of Aharon, that comes down the collar of his garments. Like the dew [tal] of Mount Hermon that runs down the mountains of Tzion, for there Hashem commanded the blessing, life forever."

What do these three things have to do with one another — brothers together, Aharon's oily beard, and dew on the glorious mountain right outside our window?
The Midrash tells us an amazing idea. It says that when Moshe anointed his brother, Aharon, with the oil, the oil ran down Aharon's beard. Moshe was so overcome with happiness for his brother that he took the oil and rubbed it into his own beard. That it is why it says first "running down the beard" and then "the beard of Aharon." The first reference is to Moshe's beard. The Midrash goes on to relate that Moshe was concerned that since the oil was sanctified, he had misappropriated a holy item for his own pleasure. Hashem reassured him that the oil he took was like the dew of the Hermon — the mountain dew of brachah.
Our tour bus deposited us at the top of Mount Hermon and we disembarked on the peaceful summit. I stood there with my group and looked over the border into our neighbor Syria, to the east of us. A few months ago, this was not a place where brothers sat together. The Syrian town of Kuneitra was pretty much in ruins. The IDF soldiers standing guard told us how each night they heard booms and machine gun fire, and how on many nights the sky was lit up with rockets and missiles. Jabhat al-Nusra, a spin-off from al-Qaeda, was fighting against Syrian dictator Bashir al-Assad, with some other rebel groups mixed in for good measure, over who would get control of Syria and then have the privilege of wiping Israel, and eventually the entire civilized West, off the face of the earth.
Nice. I wished them all luck in their battles between each other.
Suddenly, our tour was cut short. An IDF officer hurried us away from the outpost. There was an operation in process: The army was meeting the UN at the border crossing to allow in injured refugees for treatment in Israeli hospitals. From what the officer told us, this was a regular, if not daily, occurrence.
Isn't that heartwarming? Israel, condemned around the world as an "apartheid state," bringing in Syrian refugees, perhaps even former al-Qaeda members, to care for them and get them back into shape. All on the Israeli taxpayer's shekel. (Meanwhile, Israelis often wait three months to get an appointment in their own hospitals.)
The truth is, it's not just refugees. Israel is a world leader in giving foreign aid and putting sandals on the ground in any country undergoing a crisis. In the past 70 years, Israel, which itself has had to fight more than a couple of major wars, has sent aid to over 140 countries. From Albania to Zimbabwe. From China, Japan, Russia and the US to Kazakhstan, Malawi, Mauritania, and Swaziland, even Togo and Tonga have been the beneficiaries of our chesed.
Israel is not doing this for PR or even for goodwill. After about 70 years or so, we have learned we will not be getting credit or earning any brownie points from the world media for any of our efforts. Certainly not from the countries that we are helping.
Rather, Israel does this out of a sense of responsibility that Jews feel to the world. We help because we can, because Hashem gave us our gifts to shine out to the world. This is a value that I believe makes every Jew proud. There's nothing like seeing the Israeli flag or the Magen David Adom symbols at the center of a world crisis, showing that Jews are doing what they are meant to be doing — helping and caring for the world. We were meant to be a light unto the nations, and when we live up to that mandate, it is truly inspiring.
Yet… at the same time, it does strike me that there is so much poverty and need in our own country. Why don't we find that same amount of concern, generosity and magnanimity for our own fellow Jewish citizens, our own brothers and sisters?
I'm sure the answer is that it is much easier to do kindness and care for others than for our own family. For some reason, when it comes to our own flesh and blood, we expect more. We look at their weakness, their failings, their lack of success as something they should have been able to avoid and overcome. If we made it, they certainly could've. We forget that everything we ourselves have is only because Hashem gave it to us. We have a hard time connecting the dots that Hashem perhaps gave us what we have to help those who are closest to us, not just those who are distant from us.
Perhaps we are fearful that our fellow Jews' frailties and apparent inability to make it on their own will reveal that we ourselves are weak and possess what we have only by the grace of Hashem. We may be viewed and judged by our connection to them. We may be considered to be no better than them. And most terrifying of all, that judgment, we know, is probably correct.
Strangely enough, out of all the mountains in Israel, Mount Hermon is the one where you don't really see much dew. It's usually covered in snow. Perhaps that is precisely what Hashem is telling Moshe. You have so bonded with your brother. His joy is so much your joy. The oil is like the dew of Hermon. It is not even visible. It is one with the snow. The holiness and closeness with your brother, your sheves achim gam yachad has made you one. It is when that closeness can flow down from the mountains of Hermon to the rest of Tzion, to the rest of our Jewish brothers, then Hashem will bless with the eternal life.
We enter the second month of Adar now. It is a time when we are meant to increase our happiness as we prepare for the holiday of Purim. The pinnacle, of course, will come when we celebrate that special day. Yet the way to achieve that highest simchah is not necessarily by getting drunk, making a lot of jokes, and wearing funny costumes. Although that is all admirable, it won't give us the true joy of the holiday.
Purim is meant to be celebrated by giving presents to the needy — and not just the ones we don't know. Rather, send gifts to friends, to those who are closest to us. The ones that we may forget about, take for granted, or perhaps feel that our association with that relative or friend might not play out well. That's how a Jew gets the joy. That's how we become one.
Helping Syrian refugees and tsunami victims are very important causes for Jews to participate in, and even lead the world in. Yet can we have that same compassion for our brother as well? For the needy Yerushalmi who may bother us by the Kosel when we are trying to daven. For the person knocking on our door at night, again and again asking for a handout so he can support his family. For our children's teachers who haven't seen a raise in years. For our estranged sisters and brothers who have never really connected to Yiddishkeit, and to whom we can extend an invitation for a Shabbos meal or a Purim seudah, despite how embarrassing it may seem to have them standing next to us.
The answer is, of course we can. We all can "dew" it. It's Adar. Let's get happy. Let brothers sit together. The dew of Hermon will flow down and we will receive that blessing of eternity.
I can taste it already. Can't you?
Originally featured in Mishpacha, Issue 751. Rabbi Schwartz, a former outreach professional, rosh kollel, and rav in New York, Iowa, Virginia, and Seattle, moved to Eretz Yisrael in 2010 where he is the rav of the Young Israel of Karmiel and a professional tour guide. His column will appear once a month.
>