| Hostable |
Hostable: Michal Grodko
| February 8, 2022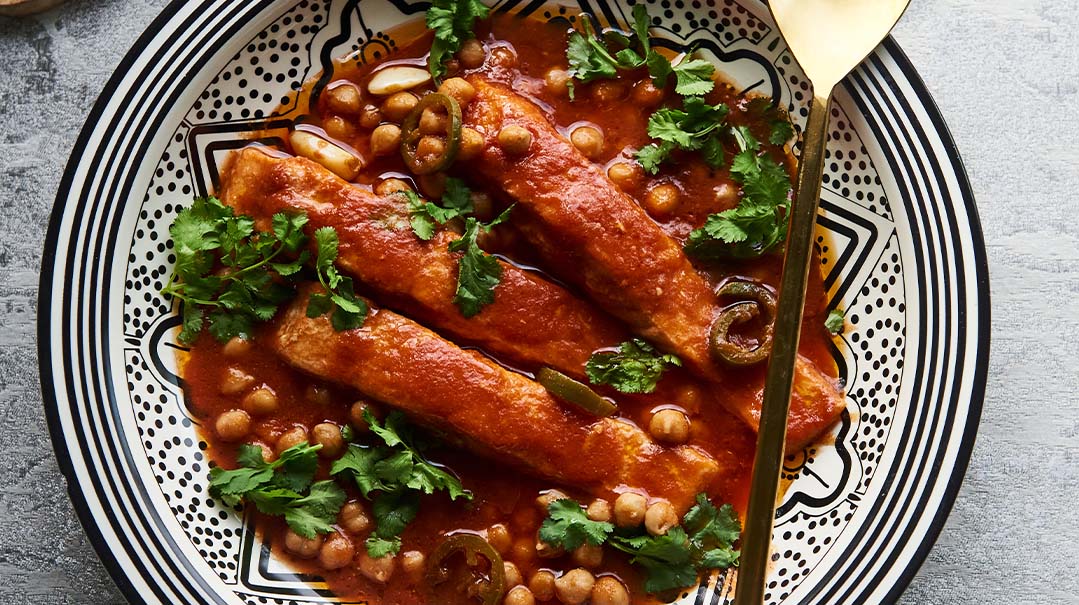 Photography by Sina Mizrahi
Michal Grodko
Henderson, NV
"Just Us" Shabbos Menu
For the first few years after I got married, I was making these elaborate Shabbos menus (to impress my husband?), and he was so nice and ate everything I served. Eventually, he admitted that he was so full after the soup that it wasn't enjoyable to eat another course. I was so relieved because I'd always hated that super-stuffed Friday-night feeling, and I also wanted to spend less time in the kitchen. Now I keep it basic when it's just us for Shabbos.
Almost everything is homemade… growing up in a chef house made me very discerning about good food (my mother is the owner and chef of Primavera in Monsey). We go with a less-is-more approach… warm challah, dips, Moroccan salmon, soup, and a satisfying dessert like warm chocolate chip cookies and ice cream. For lunch it's challah, fewer dips, fresh salads, a small cholent with add-ins like homemade kishke and hard-boiled eggs, and dessert. Aside from the eggplant, I make the dips once every few weeks and they keep great in the fridge.
How Do You Challah?
Most weeks I make a six-cup recipe that has us covered for one shabbos, plus some rolls for the kids' lunches during the week. Once in a while I'll do a full five-pound recipe, when we're having a lot of company or if I'm asked to take challah as a zechus for someone.
Things I Love to Serve to Guests
We usually save the hosting for Shabbos lunch, and there's a big kiddush every week in shul, so I like to serve lots and lots of light, refreshing salads and keep the main course as light as Jewishly possible with something different like pareve quiche and a fruity drink. Then I do a big dessert spread. I find that dessert becomes the longest course, as guests we didn't know beforehand have warmed up (living in Vegas, we get a lot of tourists and friends of friends of friends…). We're getting to the good parts of conversation, and no one is struggling to get the kids to the table anymore, so it's more relaxing.
Some of My Dips:
Onion dip — cube some onions, toss with oil and salt, and roast on a parchment-lined metal baking sheet until they're deep brown, stirring every now and then. Blend with an immersion blender and add salt, pepper, and mayo. (I add the mayonnaise just before serving.)
Sundried tomato dip — 1 8.5-oz jar of sundried tomatoes in olive oil. (I use Trader Joe's.) Blend in immersion blender with 3/4 cup olive oil, 1–2 cubes frozen garlic, salt, and pepper.
Roasted eggplant — I roast the eggplant halved and serve one half drizzled with silan, techinah, pomegranate seeds, and fresh parsley, and turn the other half into classic babaganoush.
MY COOKING STYLE
I use fresh quality ingredients and spices and simple cooking methods. I prefer to use healthier cooking oils and salts (and never margarine!), but I don't stress about sugar substitutions. I just make fewer sweets and more wholesome and healthy dishes.
PSA
I love having company, but don't love the time-consuming prep or cleanup afterwards. Once I started my fashion line, Adina Las Vegas (which has me busier than I ever could have imagined), I realized that in order to host without resentment, I had to simplify things a lot. That means more fresh salads that can be made on Shabbos and fewer complicated cooked dishes.
Set My Table
I had one of my fabric vendors cut me some leather-look fabric that I use as an easy wipe-down tablecloth. I love my dishes, so I usually use those over disposables. I also have an obsession with pretty napkins, which always dress up the table. Some weeks I add chargers, and they give the table a much more sophisticated look.
Instead of transferring everything to serving platters, I often use these serving holders for the saucier dishes, like my salmon.
Moroccan Salmon
1 28-oz (794-g) can crushed tomatoes
¼ cup tomato paste
10–12 fresh cloves garlic
3 cubes crushed garlic
1½ tsp garlic powder
1½ tsp onion powder
1 Tbsp paprika
1–2 tsp sugar
1 tsp fine sea salt or Himalayan salt
pepper, to taste
⅓ cup olive oil
½ cup water
6 8-oz (225-g) salmon fillets (no skin)
1 can chickpeas, rinsed and drained (optional)
chopped fresh cilantro
Preheat oven to 400°F (200°C).
Empty the crushed tomatoes into a 9x13-inch (23x33-cm) baking pan or Pyrex. Add the tomato paste, garlic, seasonings, olive oil, and water. Bake covered for about 40 minutes, or until the garlic is soft.
Meanwhile, set out your salmon to reach room temperature. Season the salmon with salt, pepper, onion powder, and garlic powder.
Remove the pan from the oven and raise the oven heat to 425°F (220°C). Taste the sauce to make sure the seasonings are right. Adjust if necessary. Add the salmon to the sauce and push it down so just the top is showing. If desired, add the chickpeas to the sauce around the salmon and spoon some sauce over them to cover. Add some fresh chopped cilantro over the entire dish.
Cover and bake for 25–30 minutes. (I like to do the sauce in advance and add the salmon shortly before Shabbos so it's fresh and still warm without having to reheat it.) You can also add sliced jalapeño or other peppers to the sauce when you're first baking it.
(Originally featured in Family Table, Issue 780)
Oops! We could not locate your form.
>