| EndNote |
Mood Mix with Yossi Farkas 
| July 5, 2022
"Unfortunately, it's become normal for non-Jewish intros to be used at frum weddings, but some of them make me cringe"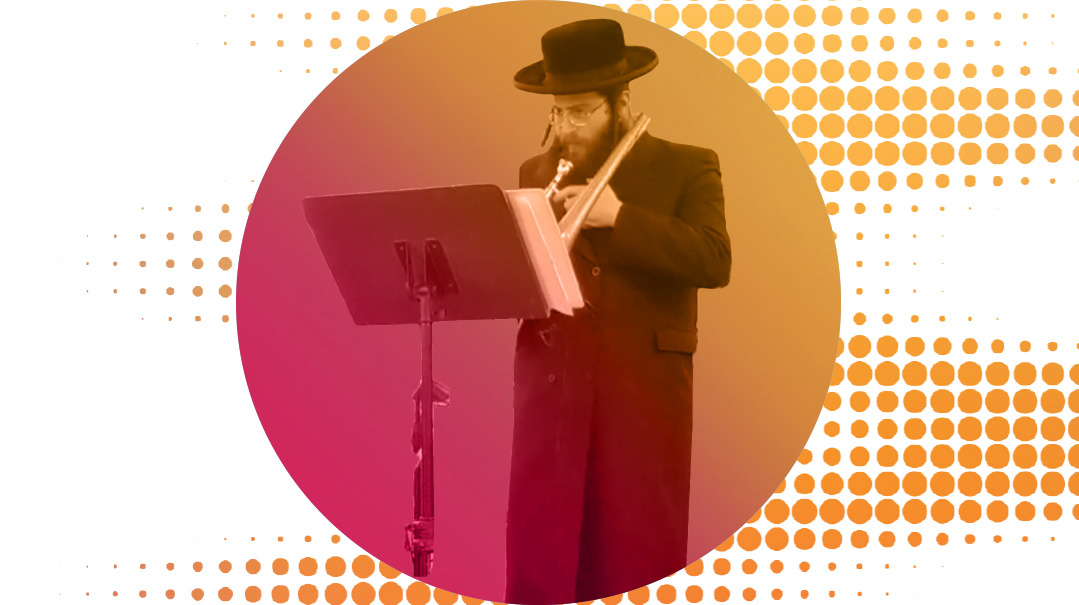 That chassidish trombone player with the hard-to-miss rekel and flat biber hat is YOSSI FARKAS, a familiar face at weddings — the one who always adds that distinctive low-brass tone to the ensemble. He's also a sought-after music teacher in Kiryas Joel.
HOW I FOUND MY INSTRUMENT
I was in yeshivah ketanah in Kiryas Joel  with Mendy Hershkowitz, who was trying to put some kind of band together among the bochurim.  The Feldman brothers, who played the music on Lipa's first album, were his uncles and his inspiration. I had only seen a multi-piece band a few times in my life, and I had never seen a trombone. Most weddings had a one-man-band, and the few times that there was a five-piece band, there was never a trombone, because it usually only joins as the sixth or seventh instrument. A friend and I wanted to join the band, but they already had a drummer, guitarist, sax player, and Mendy on the keys. Mendy said we should decide between ourselves on the trumpet and trombone, and my friend opted for the trumpet, thinking the trombone was too big and too hard to learn, so I took the trombone. I saw one for the first time in my life when it arrived.
HOW I LEARNED TO PLAY
Once I had the trombone, I tried to figure out how to get tunes out, but I couldn't, so I looked for a teacher. Yoeli Sandel a"h, who was in the yeshivah gedolah at the time and had a group called "The Berdichever Band," had a teacher come to his house to teach him trumpet, and he arranged for me to have trombone lessons with the same guy, Jordan Hirsch. Six months later, I had learned enough musical notation to play at a sheva brachos. At that point I could only play songs I had learned in advance, but I'd also already figured out how and when to use the trombone to play riffs to keep the music moving.
MY FIRST PERFORMANCE
We played a bar mitzvah for a boy in Monsey with special needs. I played the first song I had learned, "Siman Tov Umazel Tov Umazel Tov Ve siman Tov."
MY MUSICAL MENTOR
Yoeli Sandel, who was tragically niftar from Covid-19, gave me so many good tips. He started me off with a crash course not just on playing music, but on how a 14-year-old can become a musician. He gave me the heads-up that, for example, if I'd start to speak about music constantly, I would lose my old friends, and become exclusively part of the band chevreh. That's actually what happened, but because of Yoeli, I was conscious of what was happening. There was one good friend I didn't want to lose, and I made sure not to speak to him about music.
A REQUEST I FIND CHALLENGING
Unfortunately, it's become normal for non-Jewish intros to be used at frum weddings, but some of them make me cringe. People are asking for intros from sources so far from our world, secular artists and movies. Mostly, they don't realize where the material comes from, and what the original words of the songs are.
ANOTHER INSTRUMENT I'D LIKE TO PLAY
I actually play and teach many other instruments — trumpet, clarinet, flute and violin, as well as guitar, keyboard, piano and drums — but I like my trombone, and don't feel like I want to switch.
WHY I LOVE MY INSTRUMENT
When I started, I was willing to take any instrument in order to join that band, but I grew to love the trombone because it does so many things. It can play rhythm, or solo, or harmony to the trumpet, or even bass, as we sometimes do at a badeken. It's also similar in pitch to many adult-male voices.
HOW I MADE MY OWN WAY
My parents weren't so happy with what I was doing, which went against the norm for a chassidish bochur at the time. They didn't want me to have music lessons because they were afraid it would draw me to modern venues and gigs. So I had to pay for my own lessons. At first, I borrowed from friends, worked some shifts in my brother-in-law's print shop, and occasionally got a little money for playing, so I could take a lesson every week or two. After two years, I was making enough money from playing music to pay for my lessons comfortably. And eventually, my parents took pride in it, too.
TWO SONGS WE'RE PLAYING EVERY NIGHT THIS WEDDING SEASON
The old-time Vizhnitz niggun that Motti Steinmetz re-recorded on his recent Atik Yomin album ["Ai ti di di da dum…"] is very popular lately. Then there is a slow "Veyihei Zari," composed by Yanky Daskal, that people really enjoy. It's not so easy to play though, especially for the keyboardist, because you have to change rhythm in the middle. The song goes from four beats to three beats, then back to four. If it's played right, people don't even notice the change, but if it doesn't go well, you can lose the beat.
A SONG THAT TAKES ME BACK TO MY CHEDER DAYS
We used to sing some of the Skulener songs, like "Higaleh Nah," and the old tunes from Reb Chaim Banet, like "Avinu Av Harachaman." Actually, I'm still singing them today.
MY FAVORITE DAVENING NIGGUN
When I lead the davening, I sing Reb Ben Zion Shenker's "Mizmor LeDovid" niggun for Lecha Dodi. It's nice, fits the words perfectly and doesn't take too long. I have had a few stories with that niggun. My wife's grandmother loved when we sang it at Shalosh Seudos, and I was asked to sing it at her levayah. Another time, we were at the bais olam for my aunt's yahrtzeit and an older woman asked us to come over to her husband's grave for a stone setting. She had two sons with her, but unfortunately, they were so assimilated that they couldn't read the Hebrew. My father said Keil Malei Rachamim for her, after which she asked us to say Psalm 23. I sang Reb Ben Zion's niggun, and the family was very moved.
A SONG I NEVER GET BORED OF
"Od Yishama" and "Leshanah Haba." The joy at the beginning of a wedding and at the finale are two great feelings.
MY TAKE ON MUSIC LESSONS
Parents constantly ask me what I think about music lessons. I don't persuade them either way, but I can say that from over 200 boys and bochurim who have come to me to learn instruments, maybe one or two of them are playing weddings or on stage. Most of them are sitting and learning. Because when you give the boy what he's craving, the appetite for it is sated. They see that they can read music, and play their guitar or clarinet or violin, and most aren't interested in taking it to the next level. It doesn't ruin them or their Yiddishkeit, and often it helps boys connect to their own feelings and improve concentration.
(Originally featured in Mishpacha, Issue 918)
Oops! We could not locate your form.
>