Yaakov has somehow managed to stay completely out of the limelight — and prefers it that way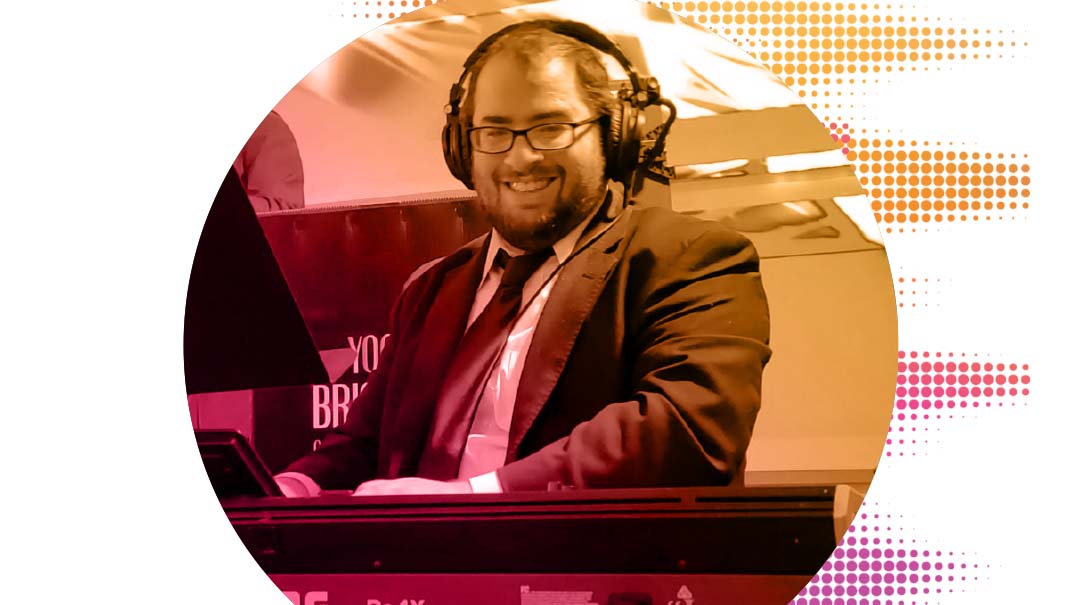 If you've attended a musical event at some point over the last 15 years, there's a pretty good chance that keyboardist YAAKOV ZEINES was there doing his thing. From destination weddings to Pesach getaways, Yaakov has traveled the world and has played at nearly every venue in which Jewish music has been performed. But while going from a backyard kumzitz to a Purim mesibah for BMG to playing at the Siyum HaShas, Yaakov has somehow managed to stay completely out of the limelight — and prefers it that way.
MY CURRENT FAVORITE KUMZITZ STARTER SONG
Reb Cheskie Weisz's "Far Dir, Far Dir" is a great opener. It gets people to connect and really brings out the emotions.
THE ONE ALBUM I'D TAKE ALONG ON A ROAD TRIP 
It has to be Off the Record, by Baruch Levine. I love the nostalgia, and Baruch and his guest singers give those oldies a nice new twist. I can't wait for volume two!
MY FAVORITE MOTZAEI SHABBOS SONG
There are so many nice ones, including, of course Yossele's vintage "Hamavdil, Hamavdil." But if I have to choose, I'd say "A Gutte Voch," written by Yom Tov Ehrlich, using a much older tune. It was sung with additional lyrics by Avraham Fried on his 1984 Melaveh Malkah album. The song ushers in the new week in a beautiful, holy way, asking for good tidings, and it feels so warm and traditional.
A FRAGMENT OF ENGLISH SONG LYRICS THAT STICKS IN MY MIND  
8TH DAY has a song "The Rabbi's Son," with the phrase, "How can I know where I'm going if I don't know where I'm coming from?" Very meaningful.
SOME PERFORMANCES I'LL NEVER FORGET 
Siyum HaShas at the Barclays Center, Purim at BMG, the Great Lag B'omer Parade with Uncle Moishy in Crown Heights, the Priority One Event with Shlomo Simcha, Abie Rotenberg and Baruch Levine, with a playlist of their beautiful niggunim. It's a little daunting when you see the sea of waiting faces, but then you just play and let the music carry you.
A SONG I CONSIDER UNDERRATED 
There are so many, but I'll tell you about one type of song that doesn't become that popular. Examples would be songs like Dedi's "Yehi Ratzon," composed by Yossi Green, or Shloime Daskal's "Baasi," composed by Shlomo Yehuda Rechnitz — both very powerful songs that hit you hard, but never went too far, because they are very specific to Yamim Noraim davening, so they can't be sung on too many other occasions. Most people won't play "Machnisei Rachamim" or "Chamol" at weddings. Another good example is "Al Hanissim" sung by Levy Falkowitz — it's a very good song, but you can't sing it if it's not right near Chanukah or Purim.
MY FAVORITE CITY TO PLAY IN
I've been around the US and around the world, but for me there is something special about Chicago. I've had great memorable times there, as I'm often there for Purim to accompany Shloime Daskal and the Zemiros Choir, and I am there on Succos with Simcha Leiner and Baruch Levine. I did a show there produced by Yochi Briskman, with Baruch Levine and Yerachmiel Begun playing piano back-to-back, playing off each other using their classic songs. Great times, and always great ruach there.
A SONG THAT ALWAYS WORKS TO GET EVERYONE UP AND SINGING 
Dance songs in general don't stay around too long. "Yah Bah Bai (Shochein Ad)" is very hot right now. I also like Shlomo Yehuda Rechnitz's "Eitz Chaim Hi," which has shown some staying power. "Davenen" is a song that has incredible sentiment. I find that everyone can relate to that feeling of wanting to pray, preparing to pray.
THE PERSON I'M PLAYING WITH AT TONIGHT'S GIG 
Joey Newcomb. Every job we do together is, as he would say, an avoidah. He has a way of getting everyone involved and making each person feel special. Even his "mili d'shtusa" contain real elements of kedushah. Joey has brought out a side of me that I didn't know I had. With him, it's more than just a job, it's about connecting on a deeper level.
SOME INTERESTING CHUPPAH STORIES 
It happens sometimes, in the yeshivish crowd, that they don't tell me in advance who is singing at the chuppah and what he will sing. But one time, nobody showed up at all. The chassan began to walk down the aisle, and I called over the manager to tell him there was no one to sing. He ran over to the bochurim, and everyone said "Not me," until he finally found a guy who ran up to me and said, "What should I sing?"
I hummed a popular "Mi Adir."  He said, "Oh, come on." I said, "Just sing it because you know it, and it will come out great." So he did. Then came the kallah, so I quickly suggested he sing the "Pnei Le'elbon" tune. It worked. In this business, you need to know how to make the best out of any situation.
TWO JEWISH MUSIC ARTISTS I'D LOVE TO HEAR PERFORMING A DUET TOGETHER
Ishay Ribo and Chanan Ben Ari. I've never worked with either, because they bring their own crew of musicians with them when they travel. I've heard them sing Chanan's "Ima Im Hayiti" together, but aside from that, I don't think they sing together much. Their styles are connected and I'd love to hear more of that combination.
AN INSTRUMENT I WISH I PLAYED
Saxophone is great, but the sound most special to me is the flute. Played by the right flautist, at a chuppah or kumzitz, there is something that the flute does that you can't get out of any other instrument. Like the violin, it is a vehicle for emotion, but because it's a wind instrument, you can feel the musician's neshamah through it. The flute is soft, and you can feel the soul in each note.
THE SONG I WALKED DOWN TO AT MY WEDDING 
"Bilvavi." Same song my father walked down to. I know people go for the latest and greatest but personally I have traditional taste.
(Originally featured in Mishpacha, Issue 879)