| EndNote |
Mood Mix with Rabbi Binyamin (Benny) Wielgus
| August 16, 2022
Abie Rotenberg's "Joe Dimaggio's Card" has been used in every single camp for the alma mater. It's always goo

d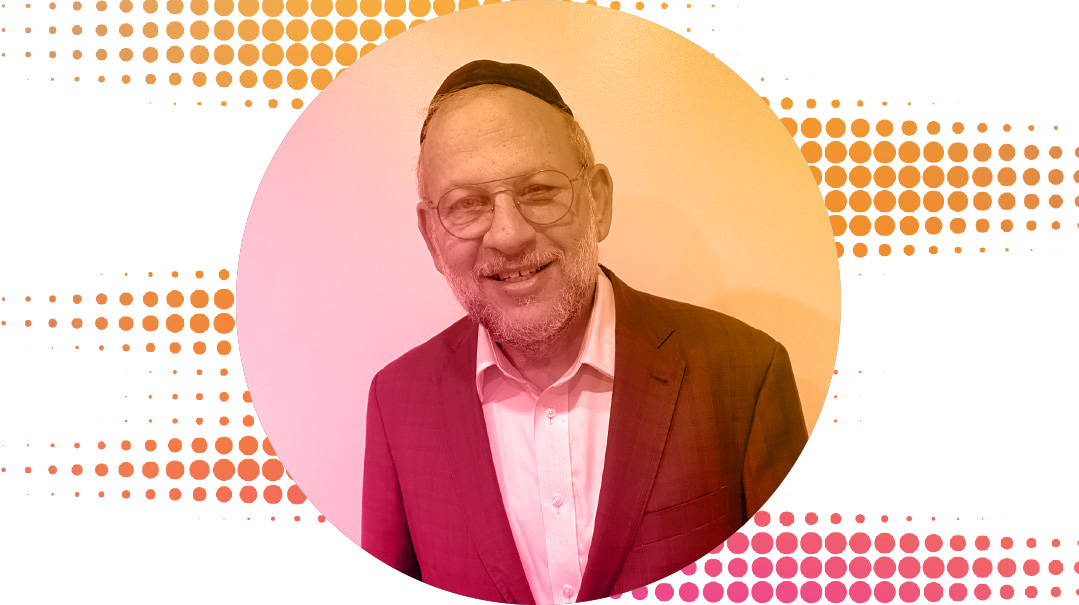 A well-loved mechanech at Yeshiva Darchei Torah and a master storyteller with several popular story albums, RABBI BINYAMIN (BENNY) WIELGUS is also a veteran camp personality, a head counselor's Head Counselor, with over forty years' experience on the camp circuit. He's directed both staff and children of many camps, such as Camp Agudah NY, Camp Na'arim, and currently Camp Agudah Midwest, with dedication, care and his signature humor.
A SONG THAT WORKS TO GET EVERYONE UP AND SINGING
What works best are songs that start slow and then get faster, songs like Carlebach's "Simchah Le'artzecha" or the old camp favorite, "Ivdu es Hashem Besimchah." It starts with someone calling "Ivdu," someone else responding slowly, and then it gathers steam. By the time the song gets quicker, the kids are jumping out of the building.
OUR CAMP'S FAVORITE SHABBOS ZEMIROS
"Yom Shabbason," with the camp minhag to go very slow at certain parts, elongating the words. And "Tzur Mishelo," of course. It gets to the high part and the kids are jumping on those benches, seeming like they'll break them. But in all my years, they've never managed even one.
OUR CAMP'S BEST KUMZITZ SONG 
"Bircas Habanim," the one sung by Ohad. Beautiful song. And speaking of kumzitzes, I'll share an eitzah that I've given to many camps: Shalosh Seudos is a great time for a kumzitz. I've been in this for years, and I know how Shabbos is a long day in camp, without much for the kids to do. By the time you get to Shalosh Seudos, you need to think carefully about your programming, or there'll be Fruit Loops flying through the air. A great kumzitz calms everyone down.
THE HIT DANCE SONG WHEN I GOT MARRIED
That was 40 years ago. Avraham Fried had just come out with his first tape, produced by Sheya Mendlowitz. Sheya and I were roommates and co-head counselors in Camp Sdei Chemed, and he was trying to sell the new tape. I loved all the songs, but the biggest hit on the album was "Keil Hahodaos," which somehow has made a comeback.
MY CURRENT FAVORITE ALBUM 
I really like Yaakov Shwekey's album of Sephardic songs, Libi Bamizrach.
A SONG I CONSIDER UNDERRATED
Well, I just recently started listening to Miracles III, songs composed by Chayale Neuhaus, which I'm finding amazing. The songs are outstanding. I guess I myself had underrated them as I'd never bothered listening to the Miracles albums until now.
MY FAVORITE YIDDISH SONG
That would be anything written and sung by Motti Ilowitz. The fun songs, like "Yiddishe Taivos," are great, but the more serious ones, with the tochein and depth, are fantastic — though I have to say that his Yiddish is sometimes challenging. I've asked Motti if he can put out the material with English lyrics too.
A SONG THAT TAKES ME BACK TO YESHIVAH DAYS
There was a song called "Aromimcha Hashem," sung by Ohr Chodosh many years ago, that our rosh yeshivah in St. Louis, Rav Yitchok Kleiman, loved. We'd play it for 45 minutes straight at the mesibahs. Also, almost anything from Shlomo Carlebach takes me back there. I was in yeshivah in St. Louis, and we once went to hear Carlebach sing at a local venue. Some boys thought of asking him to come back with us, and when he heard that we were yeshivah bochurim, he said, "Yeshivah bochurim? I'm coming!" So he came back and sang with us for over two hours. I'm not sure how happy the yeshivah was...
MY GO-TO SONG ABOUT YERUSHALAYIM AND THE CHURBAN
"Im Eshkacheich" by Shwekey. On the Shabbos before Tishah B'Av, that's always the last song at Shalosh Seudos, and we also sing it on the last Shabbos in camp, right before "Someday We Will All Be Together." That song never gets old.
TWO LINES OF ENGLISH LYRICS THAT HAVE STUCK IN MY MIND
"We danced round and round in circles, as if the world had done no wrong/From evening until morning, filling up the shul with song" — from "The Man from Vilna" on Journeys IV. Despite all the horror they had been through, and the world that had come crashing down, our people were somehow able to continue learning — and dancing.
A SONG THAT CAN CALM PEOPLE DOWN
When we sing Shabbos zemiros, we gradually take the kids into more leibedige niggunim, so soon they're jumping up and down. Then we need to return to decorum, so we have to sing a slow song, calm enough that as we sing it, the campers will slow down and settle themselves back into their seats for a speaker. It's not an easy task, but "Tov Lehodos" always works.
THE BEST TUNE TO BORROW FOR CAMP SONGS OR COLOR WAR
Abie Rotenberg's "Joe Dimaggio's Card" has been used in every single camp for the alma mater. It's always good.
A SONG THAT'S TOO COMPLICATED FOR ME TO SING PERSONALLY, BUT THAT I LOVE HEARING
I don't really sing much. Maybe "Tanya"? It's complicated but gorgeous. Although if I'd sing it, people would leave the dining room.
A SONG I DON'T WANT TO HEAR AGAIN IN CAMP
"Racheim." Please.
THIS YEAR'S HOTTEST SONG
The slow song of the year here in camp is definitely "Yerei Shamayim," by Shmueli Ungar, which the kids are really into, seconded by Eitan Katz's beautiful "Ki Karov." Number one on the hit list over here is still "Thank You Hashem," and Shlomo Yehuda Rechnitz's "Eitz Chaim Hi" is also hugely popular.
A SONG THAT TAKES ME BACK TO MY OWN YEARS AS A CAMPER
"Im Amarti Matah Ragli..." was a very big song back then — not the classic tune composed by Rav Meir Shapiro, but a fast dance tune. I remember in Camp Agudah of 1969 and 1970, we danced around the dining room to that song.
CAMP'S ALL-TIME FAVORITE SONG
I've been here in Agudah Midwest for 12 years and I would say that for the last few years, "Thank You, Hashem" has been the big favorite, and Shwekey's "Et Rekod" has probably been the hit of the decade.
WORDS THAT GET ME EMOTIONAL EVERY TIME, NO MATTER THE TUNE 
Actually, any words connected to Torah — "Lulay sorascha, sha'ashuai," for example. Apparently Rav Aharon Kotler used to sing those words.
(Originally featured in Mishpacha, Issue 924)
Oops! We could not locate your form.
>