| EndNote |
Mood Mix with Pesach Woznica
| March 15, 2022
"Introducing new niggunim can actually take away from that feeling of passing on the mesorah of Yetzias Mitzrayim to the next generation"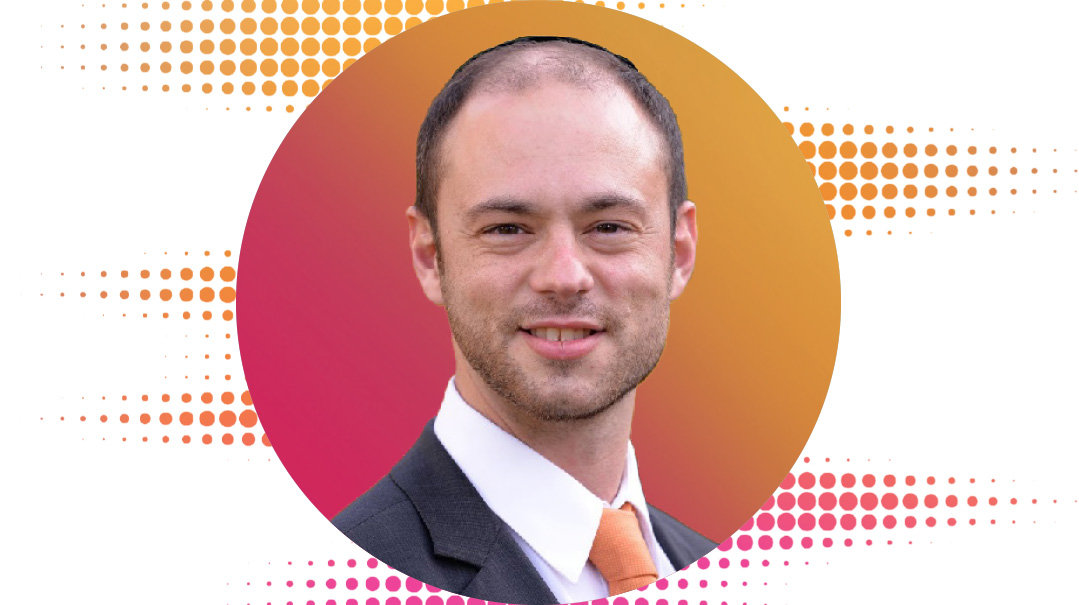 Long before he opened a successful expat tax business based in Beit Shemesh, Toronto native PESACH WOZNICA was a composer and musician. Having studied at the Royal Conservatory, he plays piano professionally, and is a keen amateur guitarist and drummer too. Pesach is the composer of Yehuda!'s "Veha'er Eineinu" and "Lechu Neranenah," and was the keyboardist for Zemer Orchestra of Toronto before he made aliyah. Once in Eretz Yisrael, he joined Simcha Sussman from Shalsheles to create a wedding orchestra, while also playing keyboard for Ari Goldwag, David Lowy, and Chezky Leibowitz. Today though, his accounting firm, family, and Torah learning demand his full-time focus.
MY FIRST STUDIO EXPERIENCE
I was 17, and my brother Eli just 13, when we decided to record a few of our own compositions together. Eli played the drums, I played piano, and we both sang our own compositions together with Chaim Dovid's "Yamamai." My brother still had a great child voice and was the star soloist, while I was the semi on/off-key harmony guy. We were pretty impressed with how we sounded at the time, although actually, it sounded terrible. Still, it was a great experience and a lot of fun. Today Eli is a sought-after professional, recording in his own place, Lemata Studios in Toronto. The last Marvelous Midos Machine was recorded there.
A SONG I NEVER GET BORED OF
Actually, I get bored of just about any song if I listen to it over and over too many times. If it's really authentically musical and a good enough song, though, I will be able to come back to it at a later point in time — and listen to it over and over again until I get sick of it again.
A SONG THAT SOUNDS BEST WITH VERY SIMPLE ACCOMPANIMENT
"Baruch Hagever," that old beloved classic. It has a very simple chord structure for both the low and high parts that is really easy to work with.
AN EARLY MUSICAL MEMORY
I'll always remember the first wedding I played, back in Toronto with the Zemer Orchestra. It was a small wedding with a four-piece orchestra where I played the keyboard and bass. There were a few special songs requested for the chuppah, which I practiced for hours, hoping I'd impress Chayim Rubin, the band leader. Reading the music notes live during the dance sets was a real challenge at first, but I found it so invigorating at the same time. Locking into great grooves with very talented and experienced musicians definitely upped my level of play, and I have a lot of hakaras hatov to Chayim Rubin for giving me that opportunity.
MUSIC THAT HELPS ME UNWIND 
It really depends on my mood, as music has tremendous power to change, enhance, or bring out one's mood. If I'm feeling energized and happy and am at home with the kids, I like to sit by the piano and blast a great energizing dance song while the kids dance like crazy. If I'm feeling more mellow, then I might prefer great relaxing violin or piano music without words. If I'm feeling down, then I'll actually listen to a "sad" song to help bring out the emotion that's stuck inside me. This helps me clear my mind so that I can pick myself up afterward.
A SONG THAT HAS AMAZING VOCAL ARRANGEMENTS
Abie Rotenberg's "Yedid Nefesh" from the Aish 1 album has some unique chord structures that have been arranged with some great harmonies over the years. We love harmonizing to it at Shalosh Seudos.
AN INSTRUMENT I WISH I PLAYED
I love both saxophone and violin. They are both great lead instruments, and someone who plays well can channel deep emotion into the music.
WHAT MY FAMILY LISTENS TO WHILE PESACH CLEANING
We like to listen to the newest great Jewish music that is out at the time. It has to be good though… not just new. And it's very likely to be Mordechai Shapiro's music — we're all big fans.
IT WOULDN'T BE THE SEDER WITHOUT
The traditional Vehi She'amdah. I have fond and vivid memories of singing this song at the Seder with my grandparents. I feel that on this night, we should use the tunes our parents passed down from their parents. Introducing new niggunim can actually take away from that feeling of passing on the mesorah of Yetzias Mitzrayim to the next generation.
A SONG THAT GIVES ME CHIZUK IN DIFFICULT SITUATIONS
I have a strong memory of a very cold, dark, and rainy day in Toronto, when I was driving to college after second seder learning. I was feeling very down that I was there and not in Eretz Yisrael, learning Torah full-time. "Min Hameitzar" from the Dveykus 6 album started playing in the car, and I just sat there really connecting to the tune and words. It helped give me chizuk to keep on going.
A NIGGUN I HUM ALONG TO WHILE I WORK
Actually, I listen and feel music much too intensely to be able to concentrate on learning or work while listening to anything.
A SONG THAT TAKES ME BACK TO YESHIVAH DAYS
Shloime Dach's "Yerav Nah." I used to love it during our high school years. It was a standard favorite during that time (some of you will remember this, about 25 years ago), and got everyone really pumping during the dance sets.
MY FAVORITE SHABBOS ZEMIROS
The classic "Yonah Matza," and the "dirge-style" "Baruch Keil Elyon," which our family happens to call "the jumping song" because I used to throw the kids up during the faster parts. And Ari Goldwag's "Kah Ribon."
MY DREAM DUET
That would be my brother, Eli. We're still waiting to put out a CD with the best Pacey and Eli oldies.
A SONG THAT'S A GREAT CONNECTOR FOR ALL KINDS OF JEWS
"Deaf Man in the Shteeble" by Country Yossi and "Watch Over Me" by Lev Tahor are songs that strike a deep emotional chord any time I listen to them. "Watch Over Me" is about the 9/11 Twin Towers attack, and its focus is on the fact that Hashem is watching over each individual, no matter what happens to him. Both those songs are written in a way that any Jew from any background can feel and relate to.
A KINDNESS ALONG MY MUSICAL JOURNEY
Chayim Rubin, my first band leader at Toronto's Zemer Orchestra, took me in to the orchestra and gave me the confidence that I could play at an extremely high level, even though I wasn't quite there at that time. I had the raw talent but not the experience or skill level. Without making me feel bad about where I was holding, he pushed me to constantly stretch myself to higher levels. By the time we moved to Israel and I stopped playing for Zemer, I was a top-of-the-line professional keyboard player, able to play with any high-end Jewish wedding orchestra.
(Originally featured in Mishpacha, Issue 903)
Oops! We could not locate your form.
>