Osniel Rozen is a wedding singer, entertainer, and music aficionado who currently runs OR Media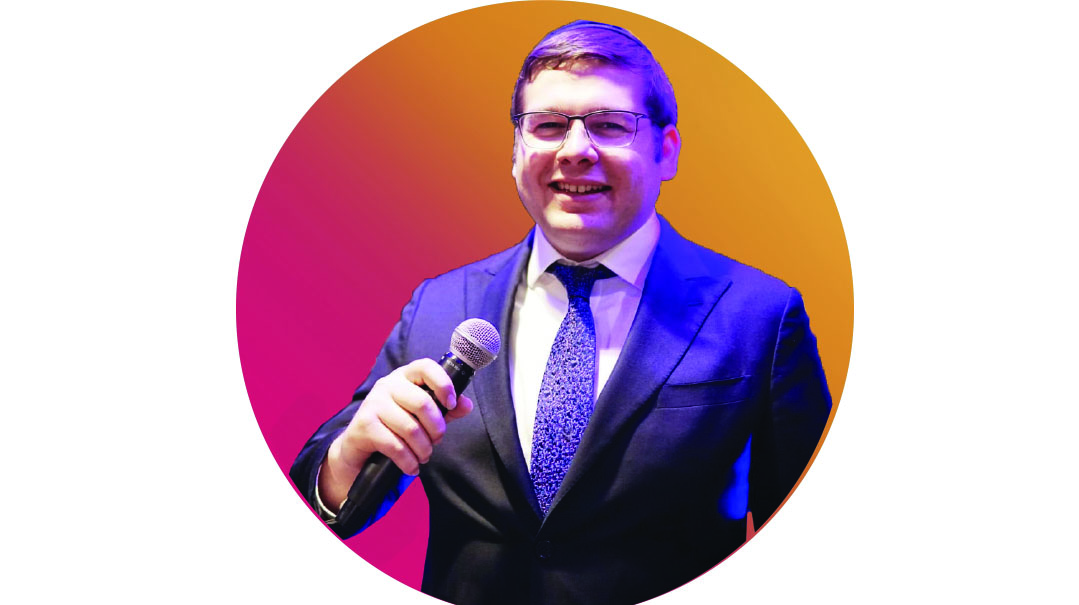 Having spent his formative years in Los Angeles and now based out of Lakewood, NJ, OSNIEL ROZEN is a wedding singer, entertainer, and music aficionado who currently runs OR Media, a multifaceted platform where his comments and critiques are received by his large following of frum music fans.
MY ALL-TIME FAVORITE ALBUM
Avraham Fried's Chazak album from 1997. It has what I think are some of the greatest hits of all time that still echo until today, such as the title track "Chazak," "Dido Bei," "Hoshata," "Koach," and "Levinyomin," to name some.
A SONG I CONSIDER UNDERRATED
There really are a lot of these, because of the sheer volume of songs our talented singers and composers release each year. I'm giving my top five: "Heart and Soul," by Ken Burgess and MBD; "Kol Hanechalim," by Naftali Kempeh; "Riboin," by Shloime Gertner (composed by Lipa); "Da," by Levy Falkowitz (composed by Anshi Friedman); and Lipa's "Yigdal."
A SONG I LIKE TO SING AROUND A CAMPFIRE
Songs that really get to the soul, but that obviously depends on the crowd. Vintage Carlebach songs like "Hatov," "Shifchi Kamayim," and "L-rd Get Me High" are great. Then there are MBD songs such as "Torah Hakedoshah," "Muvdalim," "Lulei" and Avraham Fried songs like "Aleh Katan," "Lo Ovo," and "Retzei"  (also sung by Shragee Gestetner a"h on Yossi Green's Varmkeit album), to name a few. Beri Weber's "Riboin" is very big. For some crowds, Chaim Yisrael and Ishay Ribo songs work best.
MY EARLIEST MUSIC MEMORIES
I guess like most kids, we listened to Rebbe Alter's Chanukah and Pesach tapes, and of course, Uncle Moishy, who's still the greatest!
A SONG I'M SINGING EVERY NIGHT DURING THE SECOND DANCE
"Mi K'amcha Yisrael" by Joey Newcomb, featuring Benny Friedman ["Di di la lai lai, di la lai hey, di lai lai mi ke'amcha Yisrael..."]. It has fire and a real Yiddishe passion, which always gets the crowd involved.
THE SHABBOS ZEMIROS I NEVER SKIP
The first is Menuchah V'simchah, the fast one composed by Carlebach. It was clearly tailor-made for Shabbos Kodesh. The second is Reb Moshe Goldman's Baruch Keil Elyon. That's a universal Shabbos song that is just so much a part of Yiddishkeit. I can imagine it being sung when Mashiach comes, on the Yom Shekulo Shabbos.
THE HIT DANCE SONG WHEN I GOT MARRIED
"Lo Yemalet," by Baruch Sholom Blesofsky, Shwekey's "Inshallah" and "Et Rekod," and "Kadsheim" by Shloime Cohen, to name a few.
WORDS THAT GET ME EVERY TIME, NO MATTER THE TUNE
"Haben yakir Li Efraim, im yeled shaashuim [Is Ephraim a dear son to me, or just a playful child, for every time I speak of him, My Inner Being longs for him. I will surely have mercy on him, says Hashem]." What incredible words. There have been a lot of tunes to these words composed over the years. My three favorites are: Abie Rotenberg's, from D'veykus 3; the chazzanus piece from Chazzan Shmuel Milevsky, which has been performed beautifully by Levy Falkowitz and the Shira Choir, as well as by Motty Steinmetz; and Reb Pinky Weber's tune, sung by Mendy Weiss.
A JEWISH MUSIC STAR WITH WHOM I'D JUMP AT A DUET 
I'll give you five: MBD with his golden voice, Avraham Fried with his chein and power, Lipa the entertainer, Yeedle with his great talent, and Shea Berko, one of the hottest stars in the wedding industry today. All have added their own unique style to the music scene, and singing with any of them would be an honor.
A SONG THAT ALWAYS MAKES THAT KUMZITZ-LIKE MATZAV IN THE MIDDLE OF THE SECOND DANCE
The now-iconic "Nafshi," composed by Shmuel Yefet and sung in duet by Ishay Ribo and Motty Steimentz. I feel that it's not really a song, it's more of a tefillah of yearning to be close to Hashem.
THE BEST TUNE TO BORROW FOR CAMP SONGS OR COLOR WAR
There are so many! But the best thing is to try something slow and powerful, like the gorgeous "Lema'ancha" by Eitan Katz, Yonatan Razel's "Vehi Sheamda," or Baruch Levine's "Vehu Keili."
THE SONG THAT TAKES ME BACK TO MY YEARS AS A CAMPER
"Elokim Tzevakos Shuv Na," "Shiru Lamelech," and "Racheim." I remember listening to these songs as a kid in Camp Machaneh Yehudah in L.A. Memories of singing these songs around the campfire or on the bus on the way to trips will forever be etched in my mind.
A SONG THAT TAKES ME BACK TO YESHIVAH DAY

S
"Ve'afilu Behastara" was the greatest hit back then. It was sung by everyone, everywhere. I was learning in the Mir in Yerushalayim, and it was right after the 2014 Gaza War, Operation Protective Edge. Every bus driver, at every kumzitz, at the Kosel, at every wedding — all of Klal Yisrael was singing "Even in the darkest moments when we feel Hashem is concealed from us, He's there, right with us..." It's also the first song I learned how to play on guitar.
MY FAVORITE ENGLISH SONG
"Unity," by MBD/Sheya Mendlowitz. It gets me every time I sing it. Also, I love "Neshomele" by Abie Rotenberg.
A SONG THAT REMINDS ME OF SUMMER
"Legabay," written by Yitzy Bald and sung by Dovid Gabay. We listened to it nonstop when I spent a summer in Camp Ruach Maaravi in L.A., run by Rabbi Shmuel Boruch Manne and Rabbi Yom Tov Rubnitz. We drove all around California listening to that album.
(Originally featured in Mishpacha, Issue 864)