| EndNote |
Mood Mix with Dudi Knopfler
| November 20, 2019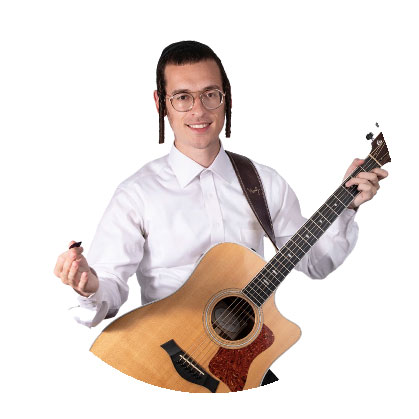 "There are so many beautiful songs, and each one has its moment"
Today's vocalists and composers face the tough challenges of a crowded and fickle industry and demanding audiences who are quick to replace favorite singers and songs. Popular wedding and kumzitz singer Dudi Knopfler isn't worried though — with his album Mein Chulem (Hachalom Sheli) he's more than happy to connect with whoever wants to listen.

A SONG BOTH THE OLDER GENERATION AND THE YOUNG BOCHURIM STILL RELATE TO
A lot of the newer chassidish material is slow and heartwarming, which almost everyone appreciates. "Vehi Noam" and "Nafshi," from Motti Steinmetz, are great examples of this timeless style.

A FORGOTTEN SONG I WISH WOULD MAKE A COMEBACK
I don't have to wish — the old songs are coming back in. At a chasunah, even in the second dance, we're alternating between new hits and old songs. Attention spans are very short today, so although new songs are listened to 100 times, the young people are bored of them within a month. I'll sing an up-to-the-minute song, then perhaps "Zachor" from Miami Boys, another current hit, then Shwekey's "Shomati" — and don't forget that for the younger generation, old is new.

AT A WEDDING, THE SONG I LIKE TO START THE SECOND DANCE WITH
I start the second dance with the most popular song of the moment — and that obviously changes every few weeks or so. Right now it's "Simu Lev El Haneshama,"sung by Shmueli Ungar on the new star-studded album of Moshe Cheskie Weisz's compositions, Lev El Haneshama.

MY ALL-TIME FAVORITE ALBUM
I would choose Lipa's vintage album Keneina Hora. It has a lot of unique songs — not the standard pesukim-to-music variety, and brings me back to the days I'd listen to it over and over as a yeshivah bochur.

MY MOST POPULAR CHUPPAH REQUEST
It's very individual. There is no such thing as the "Mi Bon Siach," and yes, "Pnei Le'elbon" is popular, but every chassan and kallah chooses something different. Chuppah music tends to cross community lines, too. I get modern couples requesting very chassidish songs, and chassidish couples who want more modern songs. It's always interesting.


THE PART OF THE WEDDING I LIKE BEST
Singing at the chuppah. It's a very emotional time, and it really moves me. Sometimes I sing for a whole wedding, and right at the end, as I'm leaving before the mitzvah tantz, people come over and compliment me for the chuppah music from hours before.

A SONG THAT TAKES ME BACK TO MY CHILDHOOD
Any and all the Moshe Goldman songs. That's what we played in our house when I was growing up.

THE HIGHLIGHT OF THE DINNER MUSIC
Somewhere in the middle I'll sing a piece of chazzanus. It could be Carlebach's "Mimkomcha" or Avraham Fried's "Shtar Hatenoim" — something that people will actually listen to and enjoy, not just background music.

MY FAVORITE SHABBOS ZEMIROS NIGGUN
The "Eishes Chayil" niggun of Breslov is an old, beautiful melody. It's especially meaningful to me, as I've recently gotten close to Breslov chassidus.

A ONE-TIME MEGA-HIT THAT PEOPLE DON'T EVEN REMEMBER ANYMORE
There are so many of them! "Ve'afilu Behastara" was huge just a few years ago, then came "Vehinei Hashem," then "Ribbon Haolamim Yadati," and then "Kiddish." Everyone wants to see his own song make it big, yet then it fades faster too, because people get bored. But that's not necessarily a bad thing — there are so many beautiful songs, and each one has its moment.

MY FAVORITE YIDDISH SONG
"Modim," a relatively new MBD song from his 2009 Kulanu Ahuvim album . It has a unique melody, and the subject of thanking the Eibeshter is of course a perfect fit for any simchah.

THE HIT DANCE SONG WHEN I GOT MARRIED
Well, that was nine years ago. I think it was "Zechor Ahavas Kedumim."
(Originally featured in Mishpacha, Issue 786)
Oops! We could not locate your form.
>