"I have to find the right balance of two styles, mixing and matching so everyone will be happy"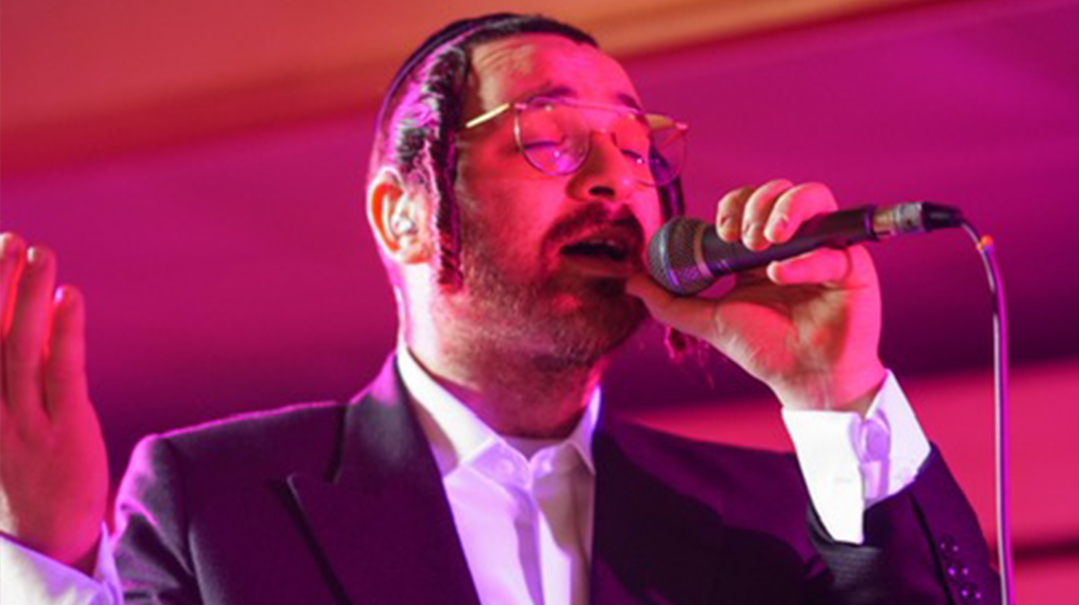 When it comes to creating a simchah that the chassan and kallah will truly enjoy, Bucky Gluck an effervescent soloist popular on the wedding circuit across the U.K., Europe, and Israel who leads the Manchester-based Sameach choir, has a tried-and-true method: "I always sit down with them before the big day to get a feel for which styles they like. Sometimes parents want something else entirely, and I have to find the right balance of two styles, mixing and matching so everyone will be happy."
HOW I'VE KEPT THE ATMOSPHERE GOING AT THE TINY, COVID-RESTRICTED WEDDINGS DURING THE UK'S ENDLESS LOCKDOWN
Joey Newcomb's "Thank You Hashem" is a Corona wedding staple, of course! And to rekindle the matzav in a small crowd, I find that Beri Weber's "Kerestir" niggun always gets the crowd pumped.
WHAT STICKING TO MY PRINCIPLES ENTAILS
Following the direction of my rav, I will not sing while there is mixed dancing. I once arrived at a wedding in the City of London, where the event planner had booked me for a twenty-five minute slot, within a line-up of other singers and entertainers. He'd assured me that dancing would be separate, but when I arrived, it wasn't so. I was stuck—I knew that I couldn't sing. When I asked what was going on, the bride's uncle, who was a lawyer, came over to censor me for "causing the couple embarrassment." The sticky situation was resolved by the kosher caterer, who creatively produced a line of huge flowering plants. In the end, the crowd loved the twenty-five minutes of well-known kumzitz classics so much that they kept asking for more, while the men and women kept to their own side of the flowers.
HOW I PREPARE FOR PESACH
We have a family nusach for the Hagaddah, which is a staple in the extended family. Of course, I need to make things kid-friendly, and my kids like to sing Hershy Rotenberg's composition for "Kadeish, Urchatz, Karpas, Yachatz" — that's the one Avraham Fried sang on Project Relax. I sing that with special-needs groups of children too, to prepare them for Pesach.
THE BEST FEEDBACK I EVER RECEIVED
Since I sing for a very diverse spectrum across the communities here, I once sang at a Jewish wedding in a very trendy South Manchester crowd, and some teens told me afterward that they never knew Jewish music could be even more entertaining than their regular nightlife.
THE FIRST TIME I SANG IN A STUDIO
In the choir on Shloime Gertner's first album, Nissim, in 2007.
THE INSTRUMENT I WISH I PLAYED
Saxophone —I just love that sound. What I actually do play is keyboard and acoustic guitar.
A SONG THAT GIVES ME CHIZUK
I'm thinking of "Modim" from MBD's Kulam Ahuvim album. It reminds me how much we really have and how much we need to keep thanking Hashem, even when things look bleak.
WHAT TRAVELING SOMETIMES MEANS
I sang at a family wedding in Amsterdam on a Monday night, and I was planning to take my family back to Manchester, then fly to Italy for a wedding on Wednesday. But snow in the Netherlands meant that our flight was cancelled, so I drove to the nearest station to catch a Eurostar train going through France and the Channel Tunnel to England. The travel was obviously much slower, but I managed to get my family home, and then, without even going inside, I turned around to Manchester airport to get to Italy on time.
WHAT I HAVE IN THE WORKS
Look out for an upcoming single with my good friend Shloime Gertner. Baruch Hashem, we sing together at dozens of weddings — I sang at his daughter's wedding, and he sang at my son's bar mitzvah — and we're now putting a new song out there.
A SONG THAT TAKES ME BACK TO MY CHILDHOOD
Yigal Calek's London School of Jewish Song albums take me back through the years. We used to listen to them a lot at home. I'm actually close to Yigal — he should have a refuah sheleimah — and went to visit him a few weeks ago with the choir. Of course, we sang a medley of his songs. And recently at a chuppah, I sang "Mi Adir" to the tune of the London "Hamalach Hagoel."
THE HIT DANCE SONG WHEN I GOT MARRIED
Shwekey's "Mah Mah Mah" was hot then. "Kol Dodi Hinei Ze Ba" ("Kol Hator Nishmah Be'artzeinu") from MBD's 1999 We Are One was out some time before, but we really liked it and kept it going.
MY FAVORITE YIDDISH SONG:
MBD's "Mama Ruchel ("Farendig aheim mit a Mishpacha grois…"). It's very hartzig, and it takes me back to singing together with my brothers at home. My mother loves that song, so we'd sing it for her.
THE BIGGEST CHALLENGE OF MY JOB
In day to day life, I will say that running this career successfully without a smartphone and WhatsApp (so far) is not easy. But I don't spend that much time with my kids, and in my eyes, this is one sacrifice I can make for them and their chinuch.
A SONG WITH BEAUTIFUL VOCAL HARMONIES
An old Baruch Levine song, "Ki Hu al Yamim Yesadah." The high part — "Neki kapayim uvar levav" — has beautiful layers of harmony. I use it with the choir to test that the sound system is perfect and that we're all in tune.
MY FAVORITE ENGLISH SONG
Abie Rotenberg's "Come with me, little Neshama'le." MBD's classic "Pray and Sing" and "I'm So Proud"come close behind.
THE BEST PERK OF THE JOB
I love being part of other people's simchahs — I live off the joy they produce.
MY MOST MEMORABLE WEDDING
A wedding in Golders Green where the chassan had spina bifida and the kallah was visually impaired. Their request was that we sing the London School's "Modeh Ani." Everyone gathered around together, and I was choking up as we sang this song of gratitude. I was thrilled to hear recently that this happy, thankful couple now have a baby boy.
MY CHUPPAH FAVORITE
"Daled Bavos" is always significant, and so is the heilige Ruzhiner niggun. After the kallah has finished walking around, we sometimes sing "V'yehi Rachamecha Misgolelim" from the Karliner Kah Echsof, or a short grammen about these precious moments that I wrote to "Koli Shema," the high part of Moshe Goldman's "Pnei L'elbon" niggun.
(Originally featured in Mishpacha, Issue 853)