| Washington Wrap |
Midterms Loom as Portent for 2024
| April 26, 2022
Regardless of historical trends, the Democrats seem to sense their vulnerability acutely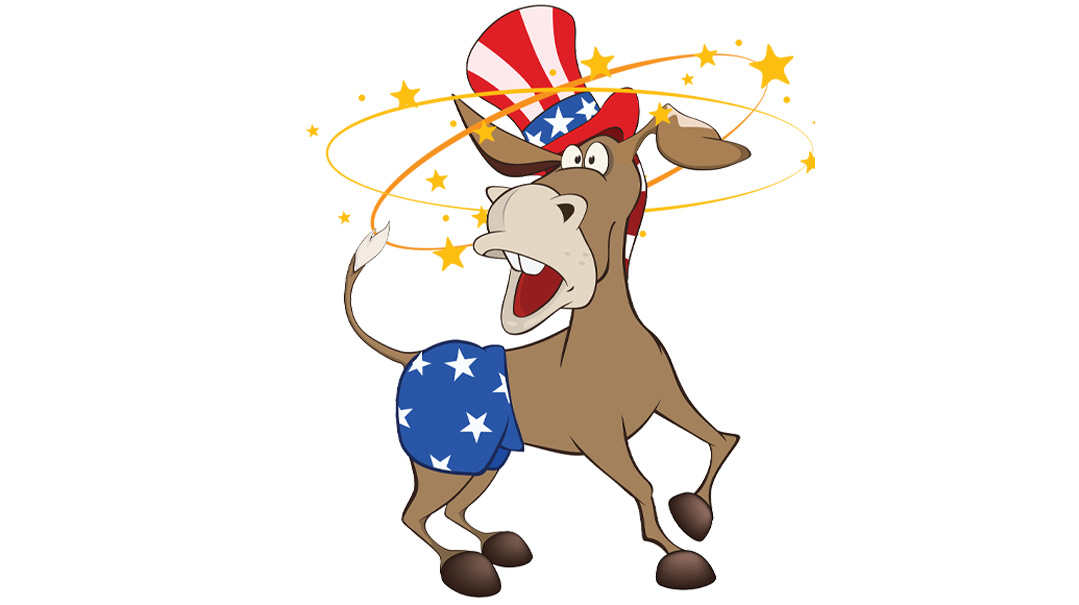 A little more than six months from now, on November 8, it will happen: The 2022 midterm Congressional election will put all 435 seats in the House of Representatives and 35 Senate seats on the line, in the greatest test to date of President Joe Biden's policies. The election will determine whether his Democratic Party gets to keep majorities in both houses for the rest of his term, or whether he'll lose at least one chamber, making it difficult for him to pass legislation and reforms ahead of 2024.
According to all projections, Democrats are set to take a heavy blow in the midterms. Inflation, the culture wars, and general disappointment in the American economy have put Biden's party on the defensive. According to the Cook Political Report, Democrats have 186 seats in the bag compared to 184 for the Republicans. The remaining 27 seats are toss-ups that either side could win, but in most of them, a Democratic incumbent is trying to hang on in an extremely close race. If Republicans can flip just a handful of these seats, they'll control the House of Representatives and Kevin McCarthy will oust Nancy Pelosi as speaker.
From a historical perspective, this wouldn't be an anomaly. The American political system is based on checks and balances, and the midterm elections are the voters' opportunity to hobble the president by electing an oppositional Congress, guaranteeing that the two sides have to reach compromises and work together to advance reforms and pass legislation. According to the Council on Foreign Relations (CFR), since President Truman, the president's party has lost an average 29 seats in midterm elections.
But regardless of historical trends, the Democrats seem to sense their vulnerability acutely. According to The Hill, the percentage of Democratic incumbents who have decided to retire (whether from fear of losing or because they understand they'll likely be in the minority and won't make an impact) is at a 30-year high.
Some 48 incumbent members of Congress are not running for reelection, of whom 30 are Democrats and 18 are Republicans. In fairness, some of the Democrats retiring are simply running for a different office — the Senate, governorship, and one is even running for mayor. Still, 22 Democrats are retiring from electoral politics altogether. One example is Ted Deutsch, who has decided not to run for another term and will instead serve as CEO of the American Jewish Committee (AJC).
The Biden administration will stay in business if Democrats only lose the House. Obama lost 62 seats in the 2010 midterms and Trump lost 40 in 2018, but both held on to the Senate, which was critical for their ability to confirm important appointments, from senior administration officials to ambassadors and Supreme Court justices.
Given that the Congressional redistricting mandated by the 2020 Census proved unexpectedly favorable to Democrats, Biden probably won't fare as badly as his two predecessors, but his party's narrow 12-seat margin makes it unlikely they will hold the House. But the Senate situation is even more complex for Democrats, as the loss of a single seat would be enough to end the 50-50 stalemate that allows Vice President Kamala Harris to serve as a tiebreaker.
Of the five Senate seats currently considered toss-ups, and three are held by Democrats — Mark Kelly in Arizona, Raphael Warnock in Georgia, and Catherine Cortez Masto in Nevada. Democrats can't afford to lose a single one of these races.
Republicans, for their part, will try to hang on in their two toss-up seats. One is in Pennsylvania, where two-term senator Pat Toomey has announced his retirement. The other is held by Senator Ron Johnson in Wisconsin, a perennial swing state in which Trump defeated Clinton by 0.7% in 2016 only to lose to Biden by 0.7% in 2020. Polls are predicting another close race this year. Ron Johnson enjoys the support of the RJC, while the JDCA and J Street are backing Democratic primary candidates.
Although Republicans hold an overall advantage, the party is riven by internal dissension over what Senate candidates to put forward. While some are pulling for candidates aligned with Trump, others want centrists who can win the general election in swing states.
One such swing state, Ohio, has leaned Republican in recent cycles, but Democratic candidate Tim Ryan is seen as strong with the blue-collar workers who comprise Trump's base. On the GOP side, Jewish candidate and Trump loyalist Josh Mandel was banking on the former president's support, only to be disappointed when Trump instead opted to throw his influence behind author J.D. Vance, even coming to Ohio to campaign with him on Motzaei Shabbos.
A similar situation exists in Pennsylvania, where Trump has thrown his clout behind TV personality Dr. Mehmet Oz, a choice that has been met with a lack of enthusiasm from his supporters. In any case, no one denies that Trump's endorsement has greatly improved the chances of both Oz and Vance.
Trump, whose personal prestige is at stake in these midterms, is hoping a wave of victories by candidates he endorsed in the upcoming primaries will serve as a sort of trial balloon for a potential 2024 presidential run. The Republican establishment, on the other hand, would like to put forward mainstream candidates who can appeal to voters on both sides in swing states, where a percentage or two of Democratic voters can make all the difference.
But Trump and Biden both know that in the final analysis, the 2022 midterms are only a way station on the very long road to 2024.
(Originally featured in Mishpacha, Issue 908)
Oops! We could not locate your form.
>