| On Site |
Men of Letters
| October 10, 2019
When repairing a Torah scroll, every stitch holds a story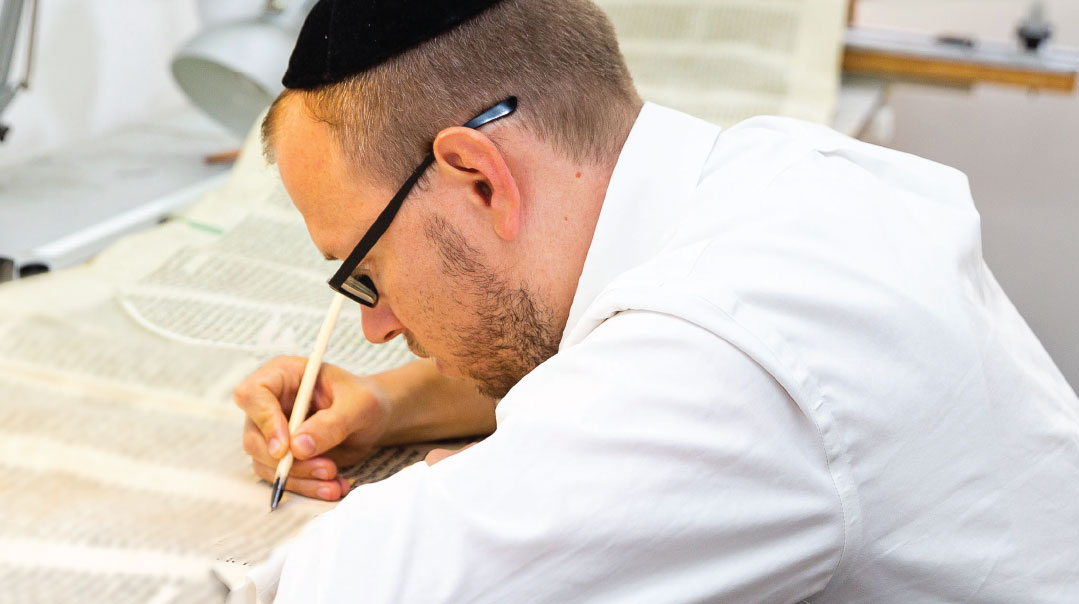 Photos: Elchanan Kotler
Every sefer Torah tells a story, not only by the way they're written, but by the way people endangered themselves throughout the generations to keep them safe. For the sofrim who restore these ancient scrolls, there's a message for the future too
It's been said that a nation that takes no pride in the achievements of its ancestors will never accomplish anything memorable itself. Rabbi Yitzchak Goldstein, director of Machon Ot, is determined to ensure that the Jewish people never loses touch with its most important heritage: the Torah.
Machon Ot (literally: Institute of the Letter) is located on Ha'Uman St. in the Talpiot industrial zone, an area that manages to be at once garish and dingy. Hidden away in the recesses of an ungainly building surrounded by shopping malls and hardware stores, the Machon's exterior is unassuming. But within it is a treasure house of Jewish history. Founded over 30 years ago with the aim of repairing aged sifrei Torah, the Machon is also a leading authority in restoration and maintenance of Torah scrolls. The Machon works with Israel's National Library to document ancient and unique scrolls and has compiled a registry of more than 16,000 Torah scrolls across the world.
Based on his decades of experience, Rabbi Goldstein can tell you the age and country of origin of any given sefer Torah, not only through more obvious clues like the mantle and box, but even through the shape of the letters, the width of the columns, and the nature of the klaf.

But Rabbi Goldstein says the individual stories he's encountered over the years form the chief interest of what he does. "Every sefer Torah tells a story," he says. As an example, he tells me about a restoration project he worked on several years ago. One day a man called him about a sefer Torah that his grandfather, Theodor Goldschmidt, had brought out of Germany during the war. Theodor had lost his leg fighting in the First World War for Germany and received the Iron Cross for bravery. His leg was replaced with a prosthetic.
Theodor then had three children, one of whom emigrated to Israel in 1935, urging his father to do the same. But Theodor, confident that Germany would never harm a wounded war veteran, refused to abandon what he regarded as his homeland. "Of course," Rabbi Goldstein observes, "things didn't work out that way, and at the beginning of the war, the wounded veteran was hauled off to a concentration camp. But before he was taken, he went into the shul, took out a small sefer Torah from the aron, and tied it in place of his prosthetic leg." He was imprisoned in Theresienstadt for three years, until a German soldier who had served under him in the First World War rescued him and his wife and helped them escape.
"The sefer Torah came to Israel," Rabbi Goldstein continues, "to Kiryat Tivon [near Haifa], where a shul was founded after the Holocaust. So I repaired this sefer Torah, and the great-grandson of Theodor Goldschmidt went up to his bar mitzvah aliyah with the sefer Torah that his great-grandfather rescued from the Holocaust.
"We fix what needs to be fixed," he sums up, "but the stories are no less important."
(Excerpted from Mishpacha, Issue 781)
>